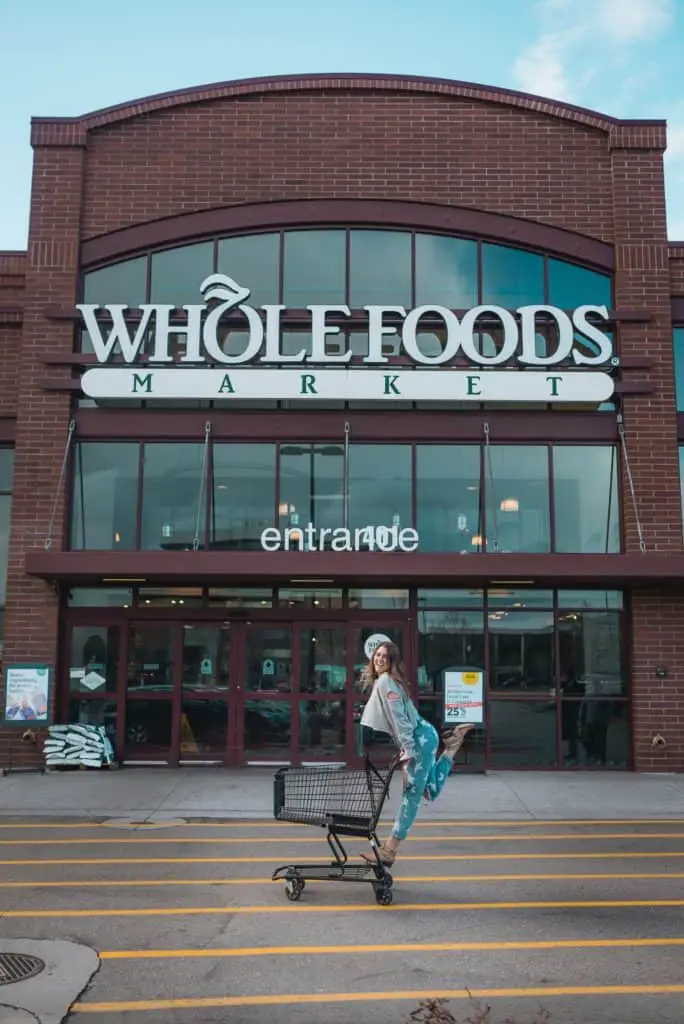 Whole foods as a class of food are good for bodybuilding and may be regarded as more nutritious than its opponent food type; processed food. Let's know Why are Whole Foods Expensive?
Whole foods are foods that are not processed or have been subjected to very little processing so this makes them remain close to their state in nature because they do not contain flavorings, added sugar, starches, and other artificial sweeteners.
Whole Foods Market is a popular grocery store in America that is said to be somewhat more expensive than other grocery stores across America but here's the truth. 
Everything at Whole Foods cannot be expensive at the same time, some goods are cheaper at Whole Foods than other grocery markets but an explanation to why goods at Whole Foods are expensive may be the high quality of goods and services, good knowledge of products, good environmental standards, and awesome décor. 
But then, no one will take that for an answer because that is just a surface-level answer, for clarity, this article will walk you through details on everything you need to know about Whole Foods and their prices.
This article carefully explains the overpricing issues at Whole Foods under the following subtopics.
Whole Foods before and Now.
How much does Whole Foods cost?
Things you may consider not buying at Whole Foods?
Incidences of accusations of Overpricing
Is Whole Foods more expensive than Sprouts, Trader Joe, Walmart, or the rest of its competitors?
Why is Whole Foods popular despite overpricing?
Is Whole Foods cheaper with Amazon Prime?
What makes the products at Whole Foods special?
Conclusion on the Whole Foods Overpricing saga
Whole Foods before and Now.
Whole Foods has quite a history and a story. 
One thing that should come to mind before any outright condemnation of the brand as regards the whole overpricing issue is that it has quite an entrepreneurial success story that has consistently featured change for consumer choice and preferences in the marketplace.
 Now, that's quite some loyalty, you know?!
The grocery chain first began as a single store in Austin, Texas under the name SaferWay in 1978.  It was just a small natural foods store although with prospects.
Two years down the line and a partnership took it to a massive natural foods store in Austin, Texas. It began with the desire of strategizing to meet the marketplace of consumers who wanted healthier, organic, and good food. 
And then, the consumer base increased gradually, the chain started spreading rapidly to different locations across America, and as the company went public in 1992, the Chief Executive Officer(CEO) thought it wise that the company spread even further across America up to 100 locations.
 As of 2020, Whole Foods had crept into more than 500 locations around the globe.
But then, for the record, the company has experienced troubles and scandals as regards overpricing hence reducing the dominance level they exercised previously in the marketplace especially now with the growing number of competitors all over the world and in America.
While there used to be a time Whole Foods was the only store widely and famously known for the sale of healthy, organic foods, that is no longer the case as there are even grocery chains all over the place willing to offer their products to consumers at rates way cheaper than anyone could find at Whole Foods and this has posed a significant threat to the overall profit margin and financial dominance.
How much does Whole Foods cost?
Studies in retrospection have shown that Whole Foods is more expensive than its competitor grocery stores on an average of 10% – 20%. This is not constant anyway, market prices go up and down as a result of the economy.
Market prices fluctuate from time to time which is not out of place but any fluctuation, it is believed that Whole Foods has remained on top of the game as long as prices are concerned. 
An article on MarketWatch sometime in 2015 had shown that prices at Whole Foods were so high and customers overcharged even beyond the supposed quality food and services regularly that they were fined $800,000 for deliberate overcharging of customers.
MarketWatch compared different foods at MarketWatch and other grocery stores and found the case so exorbitant.
Let's compare the prices of Bananas and peanut butter at Whole Foods and other grocery stores like Safeway, Target, and Trader Joe's.
While Banana at Whole Foods costs an estimated amount of $0.99 on average per pound, the same quality and similar quality at Target and Trader Joe's costs between $0.20 to $0.30 less.
Peanut butter costs about $2.79 at Whole Foods as against $1.79 at Safeway for a 16 oz. jar. This is like twice the price at Safeway, which means one can easily get two jars with the same amount as against getting just one at Whole Foods with that amount.
Things you may consider not buying at Whole Foods?
If you are on a slim budget and trying to manage resources, chances are high that you may want to buy everything at a reasonable price, quite unlike when the cash is flowing.
Some of them are:
Name-brand products. Name-brand products may be gotten at lower prices in other stores than at Whole Foods, so you may want to consider your option and go for the one that fits your budget.
Meats
Gluten-free products
Prepared foods
Kitchen staples
Salad from a salad bar
Deciding whether to get any of the above-listed goods at Wholefoods or not is solely a matter of choice. As much as they are expensive, they still get sold off! So, people have their reasons for this, so you choose!
Incidences of accusations of Overpricing
Whole Foods had to face accusations of overpricing labeled against it in June 2015 when the New York City Department of Consumer Affairs launched an investigation with the commissioner labeling the situation as the worst case of mislabeling.
 The accusation stirred up a need to assess prepackaged products which were subjected to being weighed and thoroughly checked. 
It was thereafter discovered that about 89% of the packages deviated so much from the actual weight which is a violation of federal regulations and this was just after Wholefoods had been fined for tax charging on nontaxable items and having inaccurate checkout scanners.
However, it is unarguably true anyway that these things as poorly calibrated scales, wrong application of tax code to an item occur on rare occasions and can happen in any store across the globe
Recently, competitors of Whole Foods have increased their scale of sales of organic foods and are even willing to sell off at a lower price than Whole Foods thereby making Whole Foods revise their price. 
Currently, Whole Foods sells lower than it used to if dated back to 2019.
Is Whole Foods more expensive than Sprouts, Trader Joe, Walmart, or the rest of its competitors?
A recent study done by the Bank of America Merrill showed that Whole Foods is still expensive despite its revision in prices.
 It is believed to be the most expensive grocery chain in America.
Items such as canned foods, cooking ingredients, pre-packaged foods, and similar items still cost more at Whole Foods than they cost at other grocery chains like Walmart and the likes. 
Some shopping items at Walmart are super cheap and quite affordable. 
But then, since Whole Foods does not have artificial flavorings, colors, preservatives, etc. that can make items at Whole Foods slightly more expensive.
 That is still not to say that items at the other grocery stores at Walmart are of lower quality.
Some items are even cheaper at Whole Foods than at Sprouts while for some items, it's the reverse. 
Shoppers somehow always manage to find their way to Whole Foods nevertheless because they believe you're most likely to get a complete shopping experience at the store. It's more like, everything in one place.
Why is Whole Foods popular despite overpricing?
This is more like a case of being original or birthing a novel idea and then having others follow suit.
 Whole Foods started when very few people were thinking of such a thing as a marketplace for whole foods, and since then it has held a reputation for good, healthy, quality foods for quite a long time that their history cannot just be wiped out in the sands of time.
Even recently, Whole Foods sees itself as America's healthiest Grocery store that seeks out quite healthy and good food. 
And even if it wouldn't have been too popular anyway, the whole overpricing scandal gave it wings to gain more popularity in America and beyond.
Is Whole Foods cheaper with Amazon Prime?
There may be no direct answer to this question. However, it could be positive because, with the acquisition of Whole Foods by Amazon, there was an introduction of discounts for Amazon Prime members. 
Amazon Prime members have the advantage of getting an extra 10% off on sale prices.
There are special benefits intended for Amazon Prime members and in a way membership is a way to boost the client base.
Prices were cut on several items immediately after the acquisition by Amazon but the reduction in rate did not affect every product. 
However, prices were raised months before the drop in prices, while the skyrocketing in price affected items like cookies, toiletries, ice cream, etc. the drop in price after acquisition just took the prices back to where they used to be initially.
What makes the products at Whole Foods special?
Whole Foods is prestigious for selling real natural products that are grown organically with no artificial ingredients. 
This way, customers trust that at the purchase of a particular product, there's no cause for panic on the actual health values of the food. 
There is a long list of ingredients that are banned at Whole Foods and some of these banned ingredients include the following.
Hydrogenated Fats
High fructose corn syrup
Artificial Sweeteners, colors, or flavors
Preservatives
So that is to say that foods containing any of the listed ingredients cannot be seen on their shelves
Good environment standard
Whole Foods is very keen on the environment because they understand the true function of hygiene to human health.
An instance is that you cannot see a plastic grocery sack at Whole Foods because they stopped the use of it as far back as 2008 even before eco-friendly became popular. In today's world, almost all Whole Foods stores recycle or compost far beyond what they send to landfills.  
They developed an Eco-scale for cleaning products and this scale is said to rank products based on environmental impact, safety, ingredients (cases of formaldehyde, phosphates, etc.), and animal testing. 
 Products are as well given a rating of yellow, green, orange, or red, and products that fall under the red rating category cannot be sold.
Awesome meat and Dairy Standards
Whole Foods does not sell livestock that falls beneath a certain regulatory standard. All of the meat available for sale at Whole Foods are certified to meet animal welfare standards set by the Global Animal Partnership. 
They also have very strict requirements that involve the animals to have spent not less than two-thirds of their lives on the pasture. 
There's what they call the animal welfare rating system which applies to all farmers and ranchers that they work with, the rating system mandates that the animals be reared with no added growth hormones, no antibiotics, no animal by-products in the feed.
Conclusion on the Whole Foods Overpricing saga
Whole Foods is quite expensive, fine. Whole Foods is healthy too! With voices raised, some prices have been slashed and products cheaper than they used to be, but Whole Foods is still seen as the most expensive grocery chain in America.
 Comparisons between Whole Foods and Trader Joe by consumers have been on the internet for quite a while but it is expedient that consumers understand that each brand may be understood as being unique to itself.
Maybe Whole Foods will never be a cheap brand because they believe in the value they offer at the price they do. 
Their comparison point is believed to be Kroeger. Before Amazon took over in 2015, Kroeger was about half the price of Whole Foods, now it may be close to a quarter except in some products where Whole Foods has become quite cheaper than Kroeger.
 Maybe a change in prices will still happen but for now, all fingers are crossed.
Why are Whole Foods Expensive?