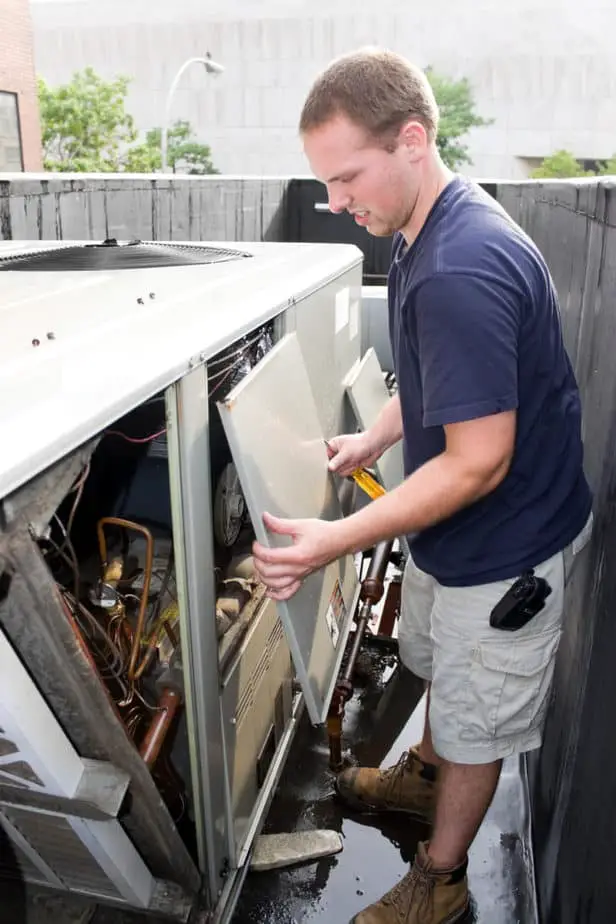 Air Conditioning Technician requirements have risen in the US after the development of new buildings and schools, so individuals can look into this career field for their prospective future. In this article, we will talking about AC Technician and present AC Technician Experience Certificate samples.
To become an Ac technician, aspirants are required to obtain basic education while also obtaining on-the-field experience while interning. Below, we will delve into the details of the requirements one must fulfill to be successful in this field.
Who is an AC technician?
Air conditioning technicians are individuals who are trained to work with cooling units as well as heating and ventilator systems. They use their theoretical knowledge and apprenticeship practice to install, maintain, and repair all these systems. These individuals may work independently or with a firm or with the government. They follow instructions to set up air conditioners in residential as well as workspaces. They also look through small places in order to check for damage and malfunctions.
Duties of an AC technician:
An AC technician is required to perform several tasks related to cooling, heating, and ventilating of the system. Some of the duties performed by them are:
They are required to maintain, repair, and install air-cooling units.
They work with ventilation equipment to ensure the proper functioning of a unit.
They check for malfunctions in electrical units and fix whatever is needed.
They repair or replace the parts that have been vandalized.
They make designs for making new air conditioning units along with their installation process.
They repair or install refrigerators and water supply units.
They communicate with customers and team members to identify and solve problems related to the profession.
They work with all kinds of tools used for installing and maintaining cooling systems.
Educational qualifications requirements
Academic degree-Aspirants must graduate from high school with credible scores or pass the GED test to admit themselves to an Ac program course to earn an associate degree. They are required to get training on the fundamentals and workings of refrigerators, ACs, and so on, in order to work as apprentices on on-the-job training.
Obtain a CFC handling certificate: Ac technicians to work on fridges are required to get a chlorofluorocarbon (CFC) certificate according to the policy of the US Environmental protection agency to ensure proper handling of this gas.
Get licensure: Many states in the US require their Ac technicians to obtain a license in order to work in this field. This licensure may depend on either the type of Ac technician one is or the type of work he is involved in.
Salary:
According to indeed.com, the average salary earned by an AC technician in the United States amounts to 23.69 dollars per hour. In addition to this pay, they may earn around 6,562 dollars as compensation for working overtime. The average salary range per hour may vary from 21 dollars to 50 dollars. Currently, an AC technician can earn the maximum in New York City at an average of 33.23 dollars, followed by Ohio and Phoenix. The company paying the most presently is Goettle Air Conditioning & Plumbing, giving an income of 50 dollars per hour. However, individuals should note that an individual's salary depends on the experience level of the person. This means people with experience of less than one year to two years will earn an average of 21.96 dollars. However, an individual with an experience level of three years to nine years will get an average salary of anywhere between 21.74 dollars to 27.02 dollars. Individuals with more than 9 years of experience get an average salary of about 32.09 and more.
Please note the salary denomination may vary according to the state and organization's policies.
AC Technician Experience Certificate
To whomsoever concerned,
This certificate is regarding the employment of XXXX (employee name) who was an employee (organization name) working in the position of Air conditioning technician from XXXX (date of joining) to XXXX (date of leaving).
During their tenure, he/she/they carried out all their duties with utmost sincerity and hard work. They performed all the tasks assigned to them to the best of their abilities, maintaining the company's standards. He/she/they have shown extraordinary leadership qualities which are also highly valued by their peers and colleagues. As per our observation, the employee performed all the assignments within the time duration required, thereby following all the organizational policies.
During the work period, the employee performed the following duties:
Fixed, maintained, and repaired environmental control systems in offices, residential buildings, retail stores, and other commercial structures using their knowledge of cooling systems.
Fixed compressors using instructions, tools, and engineering knowledge and also lifted them to transport them to the required platforms and floors.
With the help of hand tools, they installed evaporators in the cooling systems.
Prepared the tubes according to the required specifications using cutting and bending tools.
Snapped thread tubes according to the guidelines and specifications formulated.
Established expansion discharge valves.
Joined various types of control buttons related to various parts of an air conditioning unit to the control panels which will intern connect it to the source.
joined the air filters.
Tested systems for any leaks and errors to ensure proper functioning.
Replaced defective thermostats, fuses, wires in already installed units using tools.
Along with the above-mentioned tasks, the employee also performed various day-to-day tasks given to them as and when required.
We wish all the best to XXXX (employee name) for all their future endeavors.
XXXX (employer's name)
XXXX (title)
XXXX (organization's name)
Frequently Asked Questions regarding
How can I prepare myself for the upcoming interview for the position of AC technician?
Ans: Apart from answering the basic personal questions, interviewers look for employees who have a thorough knowledge of the course subjects so that they can apply the theoretical knowledge into practical work, so be prepared with in-depth information about all the concepts.
Is the job of an AC technician risky?
Ans: Yes, the profession of AC technician may cause lethal damage to the body due to exposure to carbon monoxide and frequent contact with high electricity. The practical aspect of the job is also extensively physically exhaustive for a lot of people.
Does an AC technician make 1,00,000 dollars per year?
Ans: Ac technicians make a good average of 23 dollars per hour and if they work for a firm, they may earn a high denomination income. However, to earn around 100k annually, the technician should opt to start their own firm.
Is knowledge of math needed to become an AC technician?
Ans: Knowledge of mathematics is mandatory to calculate the correct unit required to cool or heat a system in order to avoid an electrical mishappening.
How many average working hours is an AC technician required to devote each week?
Ans: On average, Ac technicians are required to work for an average of 40 hours a week, but it may differ according to the company's policy.
Aspirants should fulfill all the educational requirements needed to pursue the career of an AC technician while also thinking through the bodily damage that might occur to one in this profession.
Latest AC Technician Experience Certificate Sample