Story: How I failed university twice before ending up at a Swiss AI FinTech company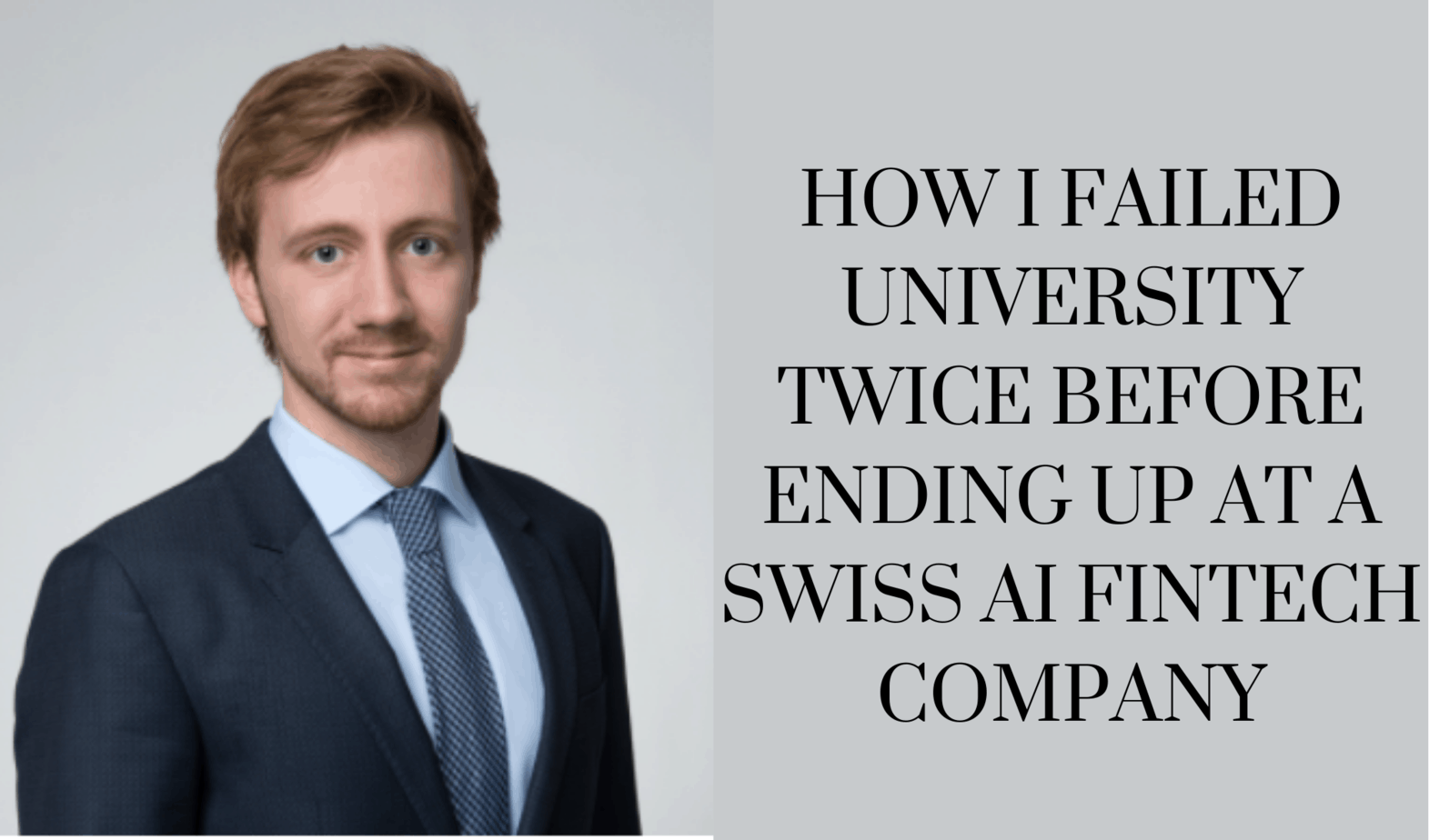 My name is Julian Osborne, I am 27, I studied political science, and I work for a successful Swiss Fintech in risk- and asset management as the Head of Business Development. The startup I work for just got selected for an Accelerator in South Korea, where I am the person responsible for driving expansion to Asia.
I am sharing some of the educational and professional experiences collected since leaving high school. There are four are areas of advice I give anyone reading this post. The first is to try out many things and not just sit around and wait for things to happen. The second is to ask plenty of questions. The third is to accept failure, but not to give up. And the fourth is learn to focus.
Trying things out
I had the chance to work at over ten different companies and organizations over the last nine years. These part and full-time jobs were in consulting (Roland Berger and BFC), financial services (STOXX and UBS) at Associations (SFTA and Mi-fi) at an NGO (BSCC), for several startups, student volunteering organizations, as a cashier, a tutor and a security steward in a football stadium as well as a swim coach. Though my learnings varied strongly from role to role, I believe I was able to take something from each position and the more experiences I had, the easier it was to find something new. The amazing thing is that you are very flexible when you are young, and you can learn a lot easier – that includes discovering jobs you do not want to pursue at any cost, respectively salary. I suggest anyone, try out whatever comes along – most of these roles had not been planned, but came up through being actively engaged and talking to a lot of people.
Plenty of questions
Because I tried a lot of things, I managed to get to know a lot of people – through meetups, parties, conferences, associations, jobs, networking events and presentations. People like to talk about themselves that is why I always asked many questions. It made the interactions more comfortable for me since I did not need to worry about saying much, while they had the time of their life sharing the latest news or even most of their life's story. Asking questions helps you get information, but also the knowledge that other people have derived from that information. Furthermore, almost half of my jobs and positions I was offered because either I asked for them directly or I learned about openings.
So, for those who managed to read this far and think that my career path seems somewhat rosy – I want to assure you that was not the case. As a matter of fact, I was terrible at getting a move on my life before the age of 22.
Accepting failure, but not giving up
I finished high school when I was 18 and went straight to university. I started with an engineering degree. Unfortunately, I was utterly unprepared to go full throttle into academic life and did not have any passion taking me that direction. I missed 80% of the lectures and focused on doing the absolute minimum to pass my necessary coursework. During the 2nd semester, I dropped out and decided to take a break for a couple of months. I then started with a degree in economics. However, I remained without a drive for several years until I failed almost all exams in my second last semester. That sucked a lot. I was 22, had never worked an office job (sort of where most people with a degree were heading towards), and all to show from my education were two failed degrees. That was a kick in the butt, and I needed it. I then started to study political science. After having just floated around the last four years, I finished my bachelor's next to working full time most of the degree in under five semesters. I continued with a master's degree in "Democracy, Development, and International Relations," sort of in the same mode – working and studying simultaneously. Somehow, I managed to keep my marks reasonably high, despite the additional workload.
What changed?
I have read and hear countless times, find your passion, and then hard work will come easy. However, that was not what helped me. I felt like I had tons of passions and things I liked doing, but rather than motivating me, it held me back. I could not bring myself to dedicate energy to only one matter. I feared losing opportunities in another area. What changed for me was the failure of my economics degree. It was a massive kick in the buttocks. However, I needed that because as a result, I learned how to streamline my entire focus on one thing – finishing my degree.
Learn to focus
Being able to focus is one of the first elements of doing a job well. As a result, I even had more free time next to my studies, which I used for internships and jobs. My office career started in a volunteering organization because I could not get anything else at the time. However, the work I did for free led to my first proper internship at a chamber of commerce, which was followed at a working student position at a major Swiss bank, that in turn took me to the next job and so on. Because I had failed, I was glad for any opportunity I could get, and I focused on it. It was undoubtedly tough at times, but once you learn to how to direct effort on the things you do this will not stay unnoticed.
Contact me
I am always happy to share experiences and interested in captive conversations, so please do not hesitate to reach out.
Read More: How You Can Become A Partner At An Agency At 25
How I failed university twice before ending up at a Swiss AI FinTech company