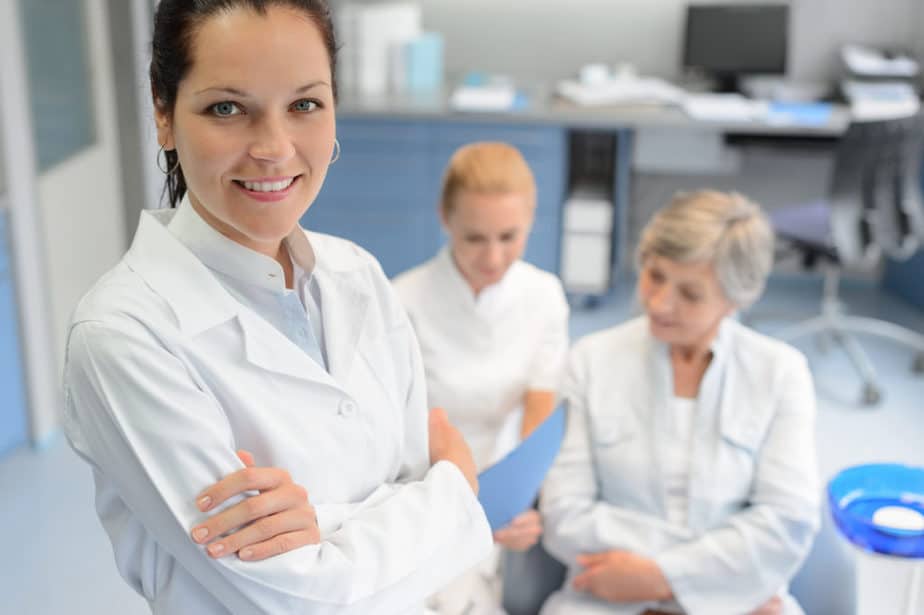 In the healthcare industry, medical assistants are now making impeccable waves in the labor. This means that the healthcare system is potentially creating more workspaces for medical assistants. However, there is a possibility that the medical assistant job will rise to 19% by 2029. Yet many people are recognizing the MA(Medical Assistant) job as a low-paying job. The majority of medical assistants earn so little because of low-level qualifications, cheap doctors, locations, specialization, and level of experience. You may find out other reasons why MA makes little income – but these reasons are much more considered.  Let's look deep into these reasons why they earn little wages. So, today's topic- Why do Medical Assistants Make so Little?
5 Considerable Facts About MAs Little Earning  
The answer above tells us why most medical assistants get little payment for their services. In this article, we are going to broadly assimilate these reasons. So, just stay on track and keep reading. 
Low-Level Qualification: People with low-level qualifications tend to make little income working as medical assistants. There is a clear distinction here. In the health industry, those who attended a traditional school can't be compared to those with technical healthcare certification or diploma. MA(medical assistant) is like an entry-level in the health sector.  However, as an entry-level medical assistant, your earning is nowhere close to a professional doctor's earnings. Even nurses earn more than medical assistants. Although several medical assistants are capable of doing almost what a nurse can do – but their qualifications make them earn less than nurses. While a doctor's earning is even nowhere to be compared. 
Greedy Doctors: If you are working under a greedy doctor as a medical assistant, it will be impossible for you to earn much. Greedy(cheap) doctors know only themselves, and they don't care whether you're satisfied with the dividend. You can spend years working for such a doctor doing almost what a nurse can equally do without getting any increment. Greedy doctors are inexpensive.
Locations: Location is another big reason why the majority of medical assistants make so little. When you go to the US, you will find out that top cities like Washington, Washington, DC, Alaska, Massachusetts, and Minnesota have good hourly pay rates. Medical Assistants(MA) working in other locations can't earn more than those working in the locations I have mentioned. Most especially, the hourly pay rate of those working in rural areas cannot be compared to the hourly pay rate of them working in urban areas. According to the Payscale medical assistants profile update that took place on the 14th of July 2021, states that the average hourly rate of medical assistants in the US is $15.62. Some MAs below average earn $12.23 per hour while those above-average earn $20.27 per hour. This data was derived from 24,464 US medical assistants' profiles. Likewise, the same mechanism can be applied to other nations. 
Specialization: A medical assistant isn't obliged to do everything. He/she has where they specialized in. For instance, a clinical medical assistant cannot be compared to an administrative medical assistant. Their obligations may differ – although they can still overtake duties.  Therefore, there are many areas of specialization. And your area of specialization determines what you will earn. 
Job experiences: A medical assistant who has only one year of experience in the healthcare industry cannot earn more than a medical doctor who has spent two years and above in the system. Their hourly pay rate can never be equal. So, this is another reason why some medical assistants earn less than those who do medical assistants.
Skills Affecting The Salaries of Medical Assistants 
Have you ever wondered why your salary is affected? Well, I think you do. There are several skills capable of affecting your salary. Notwithstanding, I have put down some popular skills and their impact on salaries. 
Leadership: As an average medical assistant who is having mastery of leadership, you are expected to earn $20.07 per hour. 
Medicare: If you are having Medicare skills, your average pay rate for your services is also expected to be $19.12 per hour. 
Gynecology : Those medical assistants who are skillful in the gynecology sector earn $17.29 per hour.  Additionally, there are a lot of skills you could obtain as a medical assistant – but the truth is that they all have different hourly pay rates. These skills and hourly rates aligned with those medical assistants working in the US(United State). 
The Most Usual Falsehood About MA Jobs 
If you are looking for fast-growing business sectors, the healthcare industry is one of those businesses. In this regard, the need for medical assistants is potentially increasing – but there are certain falsehoods about the MAs business. Some of these falsehoods are: 
There is no much demand for medical assistant positions: A lot of people have misunderstood this. They believe that the demand for them is declining. Notwithstanding, the job position isn't declining – the business Is even expected to grow by 19% comes 2029. That is to say, there will be more jobs openings for the medical assistant positions. 
Medical assistants are equal to nurses : This is another misconception that is also making waves. So many people think that they are equal to nurses. Well, that is not true. Someone who is a medical assistant can never be the same as a nurse. Even though the medical assistant is capable of doing what the nurse does, they can never be the same as a nurse. But this doesn't mean that MAs should make themselves look inferior to nurses. 
They work only in the office: Many people believed that they work only in a doctor's office. However, that is not far from the truth. About more than 50% of them work in the office of a doctor and clinics. But that's not the only place they can work. They work in medical labs, hospitals, urgent care centers, and so on.  More so, the majority of individuals also thought that the medical assistant profession is an easy job. You can obtain a medical assisting degree, diploma, or certificate, and that doesn't mean that the job is easy. The medical assisting job has a wide range of activities. 
Conclusion 
Medical Assistant jobs are low-paying businesses. A lot of people have seen it that way, and it's somewhat true. But right now, the MA job is fast-growing. In years to come, more workspaces will be created for intending MAs. Despite the low paying rate, some top cities do offer good pay rates to their medical assistants. 
Frequently Asked Questions 
What are the types of medical assistants? 
We have three basic types of medical assistants. They include: 

Administrative medical assistants.
Clinical medical assistants and 
General medical assistants. 



Where can I work as a medical assistant? 
As a medical assistant, you can work in clinics, hospitals, medical offices, outpatient facilities, patients' homes, and surgical centers.


How fast can I become a medical assistant? 
Although it depends on the duration you will spend to complete a medical assistant course. A course that takes a few months to roundup can only offer you a certificate. But the courses that will take you 2 years to complete, will offer you an associate degree. You can see that the medical assistant courses vary in duration. So, it's left for you to chose the best MA course. 


Can I take medical assistant exams without going back to school?
Yes, you can take medical assistants without going back to school only if you have substantial working experience. Your work experience should be able to qualify you for the exam. 
Why do Medical Assistants Make so Little?