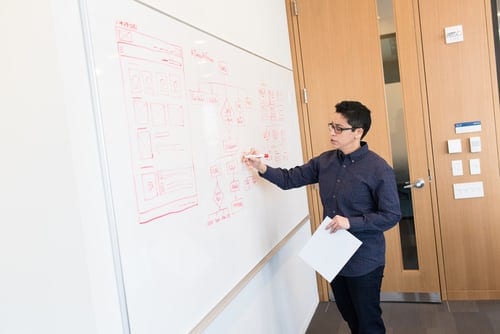 Welcome all, In this article, we will pull back and discuss the various letter giving to the teacher as a parent. I'll be explaining the different formats in writing a letter to a teacher right from the elementary level to higher grades of schooling and covered some tips and tricks to crack the efficient ways of writing those letters in various scenarios. This article is covered and packed with exciting samples and notes required to write a Letter to a Teacher from Parent.
Many situations seem to be tension free and out of stress where you place some good solution for that problem. But not all of them fit the same for all of the situations. In some instances, we might feel challenged and puzzled to address the problem itself, which will procrastinate our thinking process to decide and fit the right solution. When we feel stuck at some moments, perhaps we seek some help in various ways. We seek help from friends, colleagues, partners, etc.
Our solution seekers can find some way to help us out with the problems and probably lead us to take our first step and push to take the first action in framing the solution for the problem we actually wanted to make. 
Have you ever penned journals when you feel like dripping down your day's progress??
Have you given letters to your friends during birthdays?? Or romantic letters to your only partner pouring all your love and affectionate word by word poems?
I can all feel your heart thumping and jumping for the love of writing letters. You can include me as a good companion because when it comes to writing, I put all my patience into crafting the letter and giving it whomever I wanted to.  
I want to share some challenges that I faced when writing letters. My husband Nash and I were living in New Jersey with our sweet kids Jim and Pinci, both of them were doing their high school in a prestigious institution. Once due to my Nash job transfer to Pittsburg, we have to wrap our belongings and shift our needs to a new place. My kids had main board examinations where they lacked time for preparing for their exams. So we were in a tight situation where we had to write a formal letter stating the house shifting and transfer of my husband's job to Pittsburg. We exactly struggled to frame an authorized letter indicating the personal extension for appearing in the examination in their respective school. 
Well, it seems to feel easy and light writing informal letters. I can't even recall writing letters to my kids when they were doing their elementary and junior high schooling. I was so comfortable addressing the problem whenever we felt requesting leave due to sickness, picnic, shopping, partying, and various other reasons. During the informal writing, I myself stated the reason and brief the problem statement properly. But moving over to the position when I was stagnating in the briefing about the home shifting and personal date extension of exams, I was so confused in framing the content part as that need to be a formally authorized letter handing over to the Head of the Institution.
Letter to a Teacher from Parent
I would like to show you the formal letter that I exactly wrote to the Head of the Institution regarding the date extension of exams for my kids.
05/12/2018
Salena(Parent of Jim),
2518 Oak Street
New Jersey
Newyork
Zip Code – 30044
Dr.Josephine 
Head of the Institution
Xyz High School
New Jersey
Zip Code – 30018
Respected Mam,
(Subject: Appealing for the date extension of mainboard exams and attached the attested documents)
My Husband Nash is working as a product developer in Blinker.Ai. Due to push-up in his position in the present company, he moves to the superior role of designing the product at the tertiary level, which is the most critical assisting work for the main area of product development. So he has been positioned to work at the Pittsburg(The Company Headquarters). Thereby, we need to shift all the belongings from the present to the New Area. 
As it takes 10 days, two of the exams(Zoology and Mathematics) fall under these days. Kindly give Jim separate dates to write his mainboard exams so that the grades are not hindered. Also, convey the compensation details for paying with regards to the New Date extension, which Jim needs to be addressed.
All the supporting documents have been attached along with the letter you can use for reference and a copy of Nash's New Position Offering letter. Looking forward to your reply and procedures.
Sincerely,
Salena Nash
This was the format that I have used to write the letter for this particular problem that I faced due to shifting my house. To my surprise, for the first time, when I handed this letter to Jim's Headmistress of that institution, they didn't deny the approval of the letter and were convinced for the reason which I explained in the letter.
So my shifting problem was smoothly settled, and Jim was also able to attend those two exams on the post-scheduled dates from the Institution, which additionally solved my problem, and that would have never happened without the help of my friends, hubby who reminded me about the additional documents which I attached along with the letter.
Tip 1
You have to be careful such that the format of the letter changes according to each institution. So you need to initially refer to the format that the institution follows and satisfy them with the appropriate reason you give for the problem you are facing. I used the format for which the institution was following, and I came up with this writing.
Before diving deep into the different types of the letter that we give to the teacher, we need to be clear that the letter must be framed according to education levels. Say, for example, If your kid is doing elementary schooling, it isn't that necessary to write a super formal letter stating significant reasons. It can be lenient writing where teachers who take elementary kids can understand the problems that your grown-up toddler is actually facing.
But in other cases other than elementary studies, for the superior grades, your kids start to face other problems or any excuses that they need, should be properly stated perhaps some important documents can also be attached along with the letter as to how I did for my kid which makes the letter more formal and authentic.
Stages in Education
As I mentioned there are totally 3 types of education that we gain during schooling. These are listed as follows:
These are the age group ranging from 3 to 9 and matured toddlers who don't learn hard subjects but will learn the first feed of necessary fundamental education to make themselves understand and practically fetch their minds through alphabetical gaming, crafts, and activities so that the teacher who teaches them by observing the cues of how kids quickly respond and learn the primary education
This age group is for 10 to 13 students who are half matured and will have the interest to pursue things clearly in an understandable manner where they start to apply a lot of effort in knowing about the concepts. A teacher who handles these students will have to manage each student by knowing about their behavior, grades, and attitude towards others, which is where the teenagers start evolving. 
These are completely grown-ups and are probably called near adults because they start learning things practically. All of those assumptions, predictions start developing at this age. These are age groups above 14, and they have to start their career plan accordingly. So, teachers who manage these students category must be cautious in dealing with their behavior, grades as it shapes their upcoming lives to step into well-trained colleges where this schooling would remind them to cope well in colleges. Teachers here would mostly be friendly in nature and shape their attitude that would fetch the mindset.
Now that we have a clear mindset in knowing about the differences of stages in education, I'll tell you how to frame a letter for each category to have a sequential understanding of writing down an efficient and understandable letter to suit the needs of teachers.
Situation 1:
When your 6-year-old kid is sick and is suffering from a high-temperature fever, who cannot walk and sit properly. How to write a letter about this situation??
Sample Note 1:
Date
Dear(Teachers Name),
My kid(your kid's name) is taking some medications under the doctor's prescription as he/she couldn't get back to normal due to high fever and temperature rise. He/She will return after 10 days getting all the medicines and good sleep. 
Sincerely,
Your name
Tip 2
If your kids are doing elementary schooling, it isn't purely necessary to produce a super formal letter addressing the situation. You can explain specific details and, if asked, attach the medical certificate along with the letter if it is an above situation.
Situation 2:
Suppose your 9-year-old kid is unruly and hurts another kid where the teacher goes erratic due to such behavior, and the teacher asks an apology letter from you on behalf of the kid. How to approach such a challenging situation.
Sample Note 2:
Date
Your Name 
and 
Address
Teachers Name
and
Address
Dear(Teachers Name),
Subject: Apologising for kid's behavior 
Good day (Your Kid's Teacher's Name); I hope you are doing well and good. I have heard about my kid's unruly behavior that happened yesterday. I'm so worried that my kid's attitude distressed you and the affected kid. I'm sorry from the bottom of my heart that my kid ruined your class indulging in such a problem, and I promise you that it will never happen again.
I'll clearly address this to my kid and make him behave like a good kid where he/she wouldn't show such immature behavior. Kindly excuse me for the inconvenience that happened.
Sincerely,
Your name
Tip 3
Whenever you approach an apology situation in your kid's case, try to start with a greeting note for the teacher that would initially make the distressed teacher calm down and come out of the disturbing mindset about your kid. And then give a whole-hearted apology stating that this wouldn't happen again.
Situation 3: 
When your mother-in-law and father-in-law arrange a picnic for their anniversary, and personally, you have arranged for a short trip to your favorite destination to enjoy with your 11-year-old kid. How do you write a letter about this situation??
Sample Note 3:
Date
Your Name 
and 
Address
Teachers Name
and
Address
Dear(Teachers Name),
Subject: Requisition on granting leave for leading to a short trip  
As it is the 70th Anniversary of my kid's grandpa and grandma, we plan for a short trip that takes He/Her to return after a week to spend time with them. Kindly grant the weekdays of a holiday to make our trip successful.
I can thereby ensure that he/she is tracking the notes properly taken in the class from his friends and stay up to date.
Sincerely,
Your name
Tip 4
This Picnic write-up or vacation letter needs to be written properly where you note all time about what stage of education your child is pursuing, and based on that, the reason for the problem or requisition is briefed. This is because, for the different levels of education, the priority of granting leaves and holidays differs. As the vacation kinds of leaves mostly wouldn't be entertained or extended for too many long days and need to be planned accordingly. 
Situation 4:
Your 14-year-old kid has aced a top score among all the students, and you are pleased with his performance, and you feel like expressing your gratitude for tutors in his/her school who have been the one-way backbone of success and how do you write a happy note to his/her teacher??
Sample Note 4:
Date
Your Name 
and 
Address
Teachers Name
and
Address
Dear(Teachers Name),
Subject: Thanking you for my(Your Kid's Name)  
It has been six months since he had started his high schooling and taken up his course and subjects sincerely and working on the homework, activities, and assignments too by finishing it on time. All of your guidance and teaching has helped (Your Kid's Name) to ace brilliant scores in all the subjects and reminds me of a quote " A good teacher can inspire hope, ignite the imagination and instill the love of learning," and I can truly feel it from (Your kid's name).
Thank you so much for motivating him/her and staying with him/her for his success that boosted to gain a good score and allowed proving his/her excellence. On that happy note, we take him/her to celebrate his continuous success in a small sweet shop and hope you join us!!
Sincerely,
Your name
Tip 5
If you give a thanking note on behalf of your kid to a teacher, there is no bad in inviting them to an evening tea party or drink party. You can send a formal note stating that it would be a great pleasure to join the party along with you. So, you can invite them to attend any small party regarding celebrating a kid's success.
Situation 5:
Your 16-year-old kid has received poor grades in the current exams, and the teacher has informed the student to do well in the upcoming exams and asked to score well. How do you write back to the teacher??
Sample Note 5:
Date
Your Name 
and 
Address
Teachers Name
and
Address
Dear(Teachers Name),
Subject: Need of improvement suggestions for my(Your Kid's Name) in the exams
As I took a look at the recent scores of (Your Kid's Name), I was totally disappointed with the improper way of preparing for the examinations. I'm sure that he didn't give his/her full effort to excel in cracking his/her scores in the exams. So, to take a serious step, I have told him/her to start taking proper notes and maintaining separate hand scripts so that the notes aren't missed out, thereby assisting him as a good guide.
Apart from this, we'd expect you to receive some good learning methods by suggesting some additional materials that he/she can use as a supplementary during his/her preparing time of examinations and externally learn more to help in exams. Thank you for your feedback about his/her concern to improve in exams
Sincerely,
Your name
Tip 6
Ensure that you are telling all of the improper ways your kid is preparing for the exams, explaining the exact problem of why the kid has scored such a low mark. And most importantly, you can go with the suggestions option requesting your teacher to share some additional resources. It would fetch your kid with extra support and love from the teacher that makes him/her motivated when preparing and appearing for examinations.
10 Points to Remember to Write a Perfect Letter 
I want to list some 10 important points that you can use while writing a letter to your kid's teacher that applies to all the various grades of education and situation.
Follow the Format of Institution
As previously mentioned, it is important to follow the format that your kid's Institution tells to handover the letter having all your requests and other solutions needed. 
Address the Format
After getting to know about the college's format, start working with addressing the particular teacher and mention the teacher's names who are responsible for your kid. Mention perfect greetings to initially welcome the teacher to go through the concerns you are awaiting for your kid. 
Differentiating Formal and Informal
All of the letters that we write needn't be formal alone. For example, if your kid is joining the first day of school, you can write a small intro letter stating the teacher's wellness and fortune who is going to teach him/her through the entire year of particular grades. In this case, you can informally greet her good luck with his/her kid to do well in academics.
Clear Makes Better
Be clear in what you will explain in your letter with whatever concerns you need regarding your kid. If the letter looks so clumsy and not lucid, that would certainly make your teacher feel upset and confused and won't address your concerns properly.
Decide Before you Pen Down
Before you move on to writing the letter, decide whether you need to write a letter or address it directly in front of your kid's teacher to handle your situation and the needs of your kids. Because for some critical reasoning, you have to appear in front of your kid's teacher in physical presence and have a pleasant talk with the teacher.
Have Some Blank Space
I think this is the most basic point that everybody knows when writing a letter or any notes. We need to leave some blank spaces between those formats of headings or subheadings and maintain them until they sign the endnote space in the letter.
Refer Your Friends
I strongly suggest you have this point in your mind to help you whenever you feel like seeking some additional add-ons in your letter or helping you with valid reasons that can be included in the letter than what you thought previously.
Including Documents
In the relevant situations, whenever in need of any reference copy for the institution's letter, you have to attach it to give them as a reference for which the reason you stated will match and stay authentic.
Mention the Subject 
It is important to include the subject as it helps the reader give a quick glimpse before reading out your brief reasoning, which you mentioned in your letter. It gives a short glimpse, but it helps the teacher know the purpose of your approach.
Quick Run Through
Once you check the above 8 points, this is a must step to scan the whole letter and not miss any details if you had missed including it.
Conclusion
It would have been a long readout, which gave some clear ways of writing a letter using proper format under various criteria to address the situation and write for your kids' relevant concerns. I hope you all would have learned from the sample notes covering different situations and writing formal or informal letters. Also, make use of those 10 points, which help you write letters for your kids.
Also read Professional Tips for Writing a Cover Letter
Letter to a Teacher from Parent (Sample Examples & tips)