The National Football League (NFL), consisting of 32 teams, is a professional American football league in the United States and is a part of the four major North American professional leagues. Initially started with just 14 teams, NFL has gone through a period of power struggles and difficulties before settling into its current format. The NFL holds a number of notable records: the wealthiest professional sports league, the most-watched league, and the highest average attendance in any of the leagues worldwide being a few of them. Playing in NFL usually requires a person to play football in high school and college, because those are the places where the coaches and scouts always have their eyes upon. Let's know How To Get Into The NFL Without College .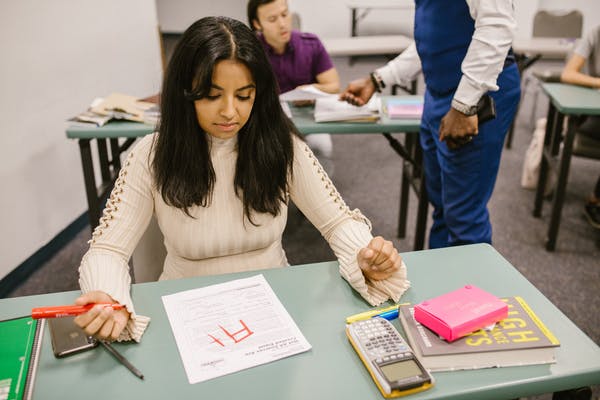 The NFL rules state that, in order to appear in the NFL draft, a person needs to have graduated high school. While it may be difficult to play in the NFL without college, it is not impossible. To achieve that, one needs to play football in high school, train hard and consider becoming a walk-on. 
In this article, we will be taking a look at how one can make it successfully to the cash-rich NFL without playing college football. 
Become a walk-on: Considering you don't play in college; you have to continue training hard and eventually try to become a walk-on. The term represents those players who are not drafted in by any NFL team, instead are 'tryouts'. The NFL teams call them to be a part of their training, giving these walk-ons a chance to showcase their skills. If they like what they see, they will give the player a chance. A number of former greats in the National Football League have started their career from this stage.
Be an exceptional player in high school: The laws permit anyone to be a part of the NFL drafts once they have secured their high school certification. If you were good at playing football in high school, chances are that you might have caught the eye of some coach who is well placed to earn you a call-up for an NFL team. Notably, it can be said that is during the high-school period when most of the to-be NFL players earn their first offers from various universities and colleges
Play semi-professional football: Even if you are not able to be playing top-flight football, playing the game at some level is a must. Finding a semi-professional or an expert staff would be helpful to you. Try to play for these clubs a few years prior to yours finding an NFL team and you must be able to show that you are the very best in the field and that you deserve the chance to prove yourself at a bigger stage.
Be a great athlete: Be it with college or without college, one needs to display top-level athleticism to stand a chance of getting into the NFL. If you want to play pace positions (wide receiver or security may be examples), run a monitor. Low center of gravity and great upper body strength would also help in playing in other positions. However, one thing needs to be pointed out that one also needs to be blessed with a good height to amplify their chances of getting through.
Get a tryout using NFL staff: These tryouts are usually held twice a year and this is your jackpot chance to fulfill your dream of playing in the National Football League. Among all of the tryouts, prove that you are the best and be consistent in your performances throughout the process. Give it your best shot in whatever task they assign to you and show them your knowledge and passion for the sport. In other words, you need to show them your appetite for success and how, if given a chance, you could prove to be the best in the business.
Have a good character: If you are trying to enter the NFL as a walk-on, it is a must that you have a good, determined, never say never attitude. You need to back up your sporting skills with a very strong character and decent grades in school. It must be remembered that the NFL scouts are not only looking at your playing caliber but also at your in-game IQ and how you react to certain situations. Small details make up the bigger person, they say. 
Do your research: Research as much as you possibly can about different football plays. Search for the resources wherever you can, and learn more about the position you want to play in, in particular, and about football and the NFL, in general. If given a chance, you should make sure that you make the most of your opportunity and this step would prove to be vital in yours achieving perfection with regards to the game.
Improve your skills: The ultimate goal should always be to improve on the skills which you have and develop new skills to try and master the football field. This becomes all the more important if you are trying to get into the most prestigious football league in the world. You need to exercise your skills each day individually and also take part in friend matches or pick matches to develop the team moves like defending, move catching, etc.
Always believe in yourself: The most important part of the entire process on your way to playing in the NFL has to be this. Throughout the process, you need to have the belief that you are made for elite-level football and no hurdles in your path can stop you from achieving your goals. It is not going to be easy to secure an entry into the NFL without a formal college education, but it is certainly going to be a journey worth taking once you have the necessary confidence and self-belief. 
Conclusion:
Thus, contrary to popular belief, you need not go to college to be playing in the NFL. This may sound to be a little ambitious, considering the rarity of these occasions, but the rules clearly mention no such requirement of a player needing to attend college so as to qualify for the NFL draft. However, the path for you becoming a professional football player in the most prestigious league in the world becomes much, much more difficult as the NFL scouts generally prefer faculty resumes and sports cassettes. Despite the aforementioned difficulties, there have been a number of players who have made their mark in the NFL without ever going to college, and there is no reason at all why you should not try to be one of those and set an example for the generations to come. 
Frequently Asked Questions:

We took a look at the most answered questions on the web with regards to the topic and compiled them here along with the appropriate answers.
Question. Which players have never attended college, yet played a starring role in the NFL?
There have been a number of such players over the years now who, somehow, managed to get into the NFL without ever attending college. A few names which come to mind would be Ray Seals, Vince Papale (the man on whose life the movie 'Invincible' was made), Lawrence Okoye, etc. 
Question. What happens if you don't get drafted in the NFL?
It usually doesn't sound good for your footballing career hopes if you are not selected by any team in the NFL draft. Any player who goes through the process unselected becomes an undrafted free agent, who can be selected by any team upon requirement. However, the occasions are very rare for someone getting selected after the earlier drafts and most of these players move on and try to have a separate career by either choosing to work or going to a grad school.
Question. Do age restrictions exist if I were to take part in the NFL?
There is no formal minimum and maximum age to take part in the NFL. However, the rules do mention that you need to wait for three years after completing high school to be a part of the NFL draft. That effectively means if someone is 16 years old when in high school, they would have to wait until 19 to be in the NFL. Similarly, there are no restrictions imposed on the upper age limit as well and at present, the oldest player playing in the NFL, Adam Vinatieri, is 46 years old.
Question. How can you get a chance to be a part of an NFL team?
One cannot simply walk into an NFL team and showcase their talents. All attendants, even at the training camp, are by invitation. If things are not going well, all you can do is to keep working hard and hope to earn an invite someday from a team. And once you get the opportunity, it is entirely upon you to make the most of it and get into the good books of the coaches.
How To Get Into The NFL Without College