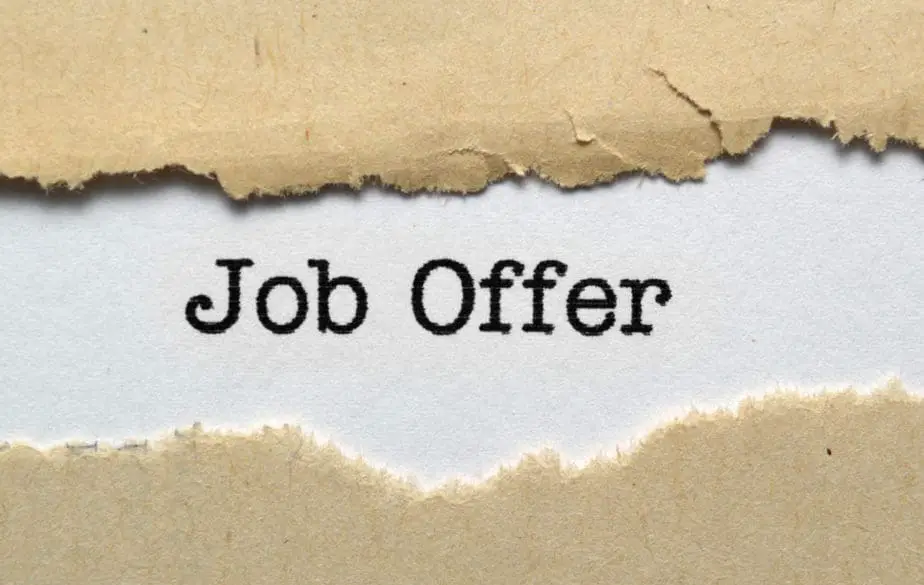 The written job offer is offered when the company selects you for some kind of position in their respective company. It's a way of communication through written mode which is offered to an employee who has been selected for a specific position. The job offer letter contains important information regarding the position and the job:- The salary, the status, the duties, supervision, contingencies, and starting date. It's a professionally written job offer. Let's know How long does it take to get a written job offer?
When job seeking, one has to go through many rounds of interviews before the company lengthens a job offer. One needs patience after clearing certain interviews. But still, people start wondering how long it takes to get a written job offer after those interviews. 
There might be many questions coming up in your mind. What's the expected time to hear back about your interview review? How much time does it usually take to receive a written job offer? 
Just know that there is no fixed rule or any other solid rule on how much time it would take for the employers to get back to you with a job offer.  
It can take more time or less time according to the nature of the company. If the size of the company is large then it might take 40 to 50 days as well. If the size is medium then it might take approx 30 days. But if the company size is small then it might take 20- 30 days. Still, there is no confirmation regarding the job offer. If it takes a lot of time then they might not be showing interest in your application. Also if they get back to you in 3 working days or just a few days after your application then they are eagerly waiting and wanting your presence in the company.
How much time does it really take?
Usually, it depends upon the position you have applied for. Still, you should not be waiting for more than a week. You should keep applying for similar kinds of jobs in different companies. For example, if you want to get hired as a marketing manager then apply for the same in different companies. So that it will be easy for you to have options to choose from them.
Time: Almost half of the companies say that it takes about 2 to 4 weeks approx a month for an interview for a job offer. But when considering any employer over there or any applicant they might tell you that it takes more than that. Because it's not that easy plus it depends upon the position you applied for. 
Position matters: If the position is higher, then it might take more time to evaluate and analyze as it's a big responsibility. 
Employee and applicant: Keep in your mind that the job offer is different in terms of employee and an applicant. According to the research, about 44% of people hear from an employer within a few weeks after they have applied. 37% of people hear back in a week. 4% of people hear back within only 2 days. 
Stressful time: This becomes frustrating and hard for the applicants. Because no one knows if you are going to be selected or not. After spending weeks you get confused and stressed out and want to get the job offer as soon as possible. It becomes more stressful when you know you did a great job in the interview. Also, you have so many expectations with that.
How is the process of getting the written job offer done?
What's the process: The Process is basically done on the basis of your resume, your past experiences (if any), a very important thing in this process is the skills you possess for the position you have applied for. 
Your interests are prior to any other thing: The skills and interests in that particular area are much more important than anything else. So make sure if you go for random skills or interests which you don't really possess, they will be marked as fake or kind of leaving a bad impact on the interviewer as well as the other people in the company.
Honest about the job: Be true and honest to the job application. So it will fetch you the offer letter super fast. The company asks you for being capable of the position you will hold. According to the position, build your personality in that way. It will become easy for any further, in-person meet-up. They will feel more confident in selecting you as an employee in their company. 
 Interview process: Let's first understand the interview process to clear up the doubts regarding the interview process as well. It will make you clear about how much time it would take. Because the interviewing and selection process also takes time. By this you can predict the time it would be taking.
For a job offer, the recruitment process is an essential part. The process is not the same for every kind of job. It may vary in terms of the employer, the position you are applying for, and also the sector you are working in.
Announcements of opening: The process starts with a company that announces job openings in various areas. By this, they start accepting the applicant's applications for the position they applied for. After applications, the submission process is followed up by reviewing those submissions. Which are reviewed by the system they have for monitoring the applicant's applications. Further, it is also double-checked by the Hiring Manager of the company.
Depends upon the applicants and size: There would be a number of applicants applying for the same position. This interview process might have several other interviews in it (it can be on any platform according to the company, it can be on a zoom app, in person, Google meet, phone call, or any other platform).
Selection Process: After the recruitment process there takes place the selection process which is much difficult and very stressful yet important for the applicants. In this process, the Employees are selected on the basis of the recruitment done. If the person fits the needs of the company then they are selected and given away the written job offer in a limited time frame.
Why does it take this much time?
The process takes a lot of time. Because there are several applicants and applications and obviously, it becomes difficult for the hiring manager to select the best and offer the written job to that person. You have to wait until the company gets back to you. 
The evaluation and analysis take time: 
 Firstly, they check all the applications of the applicants. Secondly, they look for the best applicant for the higher position. Thirdly, they search for the applications for which other employees are best. Then after considering all the things the hiring manager opts for the suitable ones and then they get the written job offer. 
Write a message for your peace of mind: 
If you feel like you are not getting any replies to the application you can write a message and can ask the Company about the selection status and how much more time it will take. Also do mention the reason behind your questioning the same.
What to do if you aren't sure about your job offer?
If you are not that clear with the idea of getting the job offer then you should search for other jobs and apply for them. To at least have a backup. Also searching about job openings would be a better option than sitting idle and taking stress over the previous job applications. Furthermore, you can involve yourself in some other activities.
One should wait and should not leave the current job. If you are applying for the job and waiting for the offer letter for the first time then you should be prepared with a backup job as well. But if you already have a job in hand and are still applying for another job then you should not leave that job until you get the job offer from another company. 
One should be suitable for the position: 
Know that offer letters are distributed to the ones whom the company feels are more suitable. There are so many applicants out there and choosing the suitable one among them isn't easy. So, people and applicants should also understand and be confident about their interviews. They should have confidence in them and be patient about the job offer. It might get late due to other problems as well. 
No one can predict the situations so it's better not to hurry and not to take the stress. If you feel like you have a good job and salary then you can apply for other jobs as per your interest but make sure you are confident and comfortable with yourself. 
It takes time. Have patience and faith in yourself. Don't let opportunities go off easily. Most importantly don't have regrets after getting the job offer. If the company pays you more then the work will apparently be more as well. Everything has its own pros and cons. So, think accordingly. Don't switch jobs until you have the written job offer letter in your hand and your foot right on the door.
Have patience- Be confident.
How long does it take to get a written job offer?