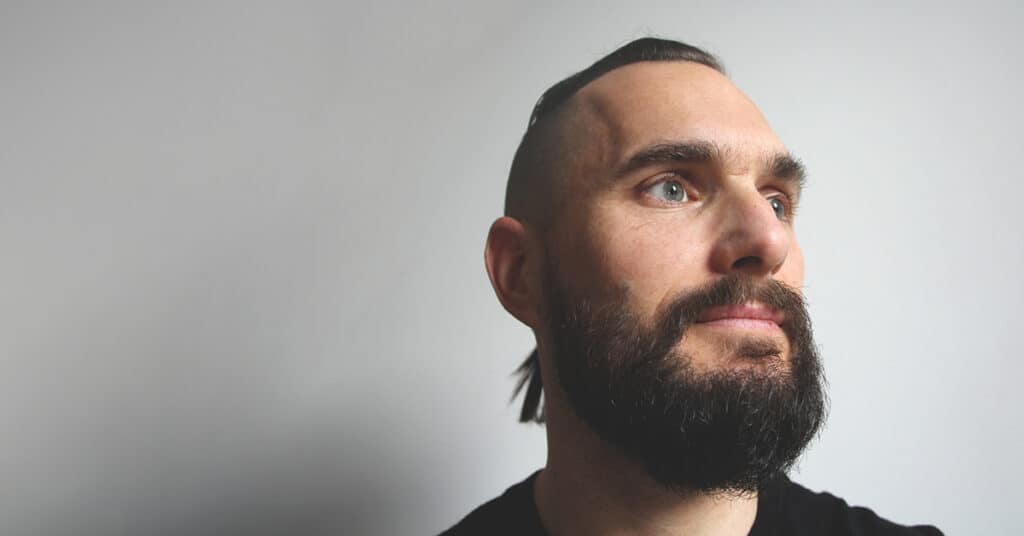 About Me | Freelance Graphic Designer
My name is Ashley Paul Smith. I've been a Freelance Graphic Designer for 14 years, the past 9 of which were as a freelancer. I've worked on large projects for blue-chip clients, right down to small up-and-coming businesses. I have extensive all-around experience, helping new agencies and companies off the ground and thrive and working for many long-term clients. I work remotely for all my clients, for creative agencies, and directly with several companies. My work includes many different things such as full brand development, website and app design, Identity, apparel creation, advertising, promotional collateral, exhibition graphics, illustration, and anything in between. Remote working has allowed me to travel, and I have been housesitting on and off for the last few years. I love the outdoors and the countryside and keep fit, mainly trail running or mountain biking, and calisthenics to weight training when possible. 
Website: www.apsdesign.co.uk
Back Story:
Growing up, I always enjoyed drawing and making things. However, it took me some deviation until I realized what I could really do to incorporate this into my career. I'd got onto a course at college doing IT, I didn't really know exactly what I wanted to do, but I knew I needed to learn more about computers in some ways. I did better than predicted at GCSE, but as I had to decide before having the real grades, I decided to go college rather than carry on and do A-Levels like most people. However, this wasn't so bad. It meant fewer exams and more practical work, which I preferred. I knew IT wasn't quite for me, but I found I really enjoyed designing and building out HTML websites. I went to the careers office, and they pointed me towards Graphic Design. I had thought about this before but had been put off by other people as if it was one of the careers that didn't make much money or that anything art-based wasn't a real job! Either way, confirming it was a viable path gave me the boost I needed to seek it out as it felt right. 
So from there, I had an interview to get onto the one-year pre-degree Art and Design course at Loughborough University. All I had for a portfolio was loads of random drawings, and I sold the idea of what I wanted to achieve using my digital know-how and passion for art. I got on the course, and it taught me a lot in a very short time. It was difficult, but I did well, and it gave me leverage to get on a degree course in Graphic Design. I decided I wanted to go to DMU Leicester, mostly to change up from Loughborough but to keep it local. It was a brand new course, but they did have some history before in Graphic Design. The course was okay, but I felt I drew most of my knowledge from the pre-degree, and this was more about pushing the creative boundaries, and I passed with a high grade and managed to sort out my first job just as I was leaving university.
The First Job in Graphic Design:
The job interview was a straightforward oral interview, then a second interview where I did some tasks under time pressure. With interviews, I tend to find they're usually looking for someone who fits in with the team and capability. I've since been on the other side of the table interviewing, and it's certainly about this. Someone once told me that an interview should always be two-way. You need to also find out what you want with the job and if it fits with you. I think this changes your mindset and makes you ask more of the right questions too. It's all about finding the right fit. The first couple of weeks at an actual job is hard. There is plenty to take in, getting up to speed on the programs, the systems they used, the way it all works, and office politics. It was a fast pace, with lots of small jobs mixed in with larger projects, so time management became critical. It taught me many skills, setting up for print, large-scale graphic creation, photoshoots, art direction, and dealing with 'clients' (Buyers usually), but it was mostly churned-out work. 
Eventually, I had been there too long and becoming stale, even wondering if it was the right job for me. I was being put under pressure by middle management, but thankfully the marketing director at the time sought to help me out. I had always wanted to work for myself, but my own self believe had been knocked. Under pressure, I decided I will have to do it. I told the Marketing director about this, and the next day he'd set-up a meeting with HR. They had a deal for me to work fewer hours under a freelance contract for a few months, basically giving them time to replace me and giving me time to set-up for myself. It was a big relief, and I quickly went about setting up as self-employed. 
Starting Out As A Freelancer:
I started to plug myself in as a freelancer, online, through social media, and by email. One of my first clients was a friend who was looking for a designer at the same time. I started working with her, and I actually made my first lump of money before I even got any payment from the deal with my old job. This gave me a big boost as I realized I was already self-supportive within the first month of working for myself. I started off emailing many different companies with a cv and portfolio and adding some interest in whatever company I was emailing. It takes a while but I think this is more proactive than just bidding on freelance jobs online or cold calling companies. I tend to find you start to get in touch with the right people on a more human level, which means you'll build a relationship with the client rather than just have one-off jobs through a website. 
One of the first contacts from emailing was a marketing company under the umbrella of other companies. They needed someone who could work a few days a week, and this gave me the freedom to find other clients and have a reliable source of income. I worked in the studio along with the different account handlers and got on well with them. Actually, looking back now, a lot of my other work has come from these guys as they've progressed in their own careers. The company transformed into more of a stand-alone agency too. I was fundamental in branding and designed the budding agency, giving me a niche in helping creative agencies off the ground. 
Key Takeaways
Life has its ups and downs, but it's worth understanding that all these experiences teach you something. Don't let others put you off you're path. Even use it to prove them wrong. Be adaptable; if you enjoy learning new things, make sure you do. New skills will always come in handy somewhere, and it's sometimes just finding the right fit. 
Don't underestimate people. Treat everyone as equals and help others where you can. You never know where others will end up in their careers, which may benefit you in the future, and word of mouth is king when it comes to getting good work. 
Be careful when working too much for one client. This happened to me, took up all my time for months, then got dropped one day as they didn't have the work any longer, and it took a few months to recover with my old clients. I find working with several clients key to good stability, and also it changes up the work, so you never get bored and keeps you fresh.
For creative influence, I don't really bother with magazines or graphic design-specific books, etc. I keep an eye on what I feel is good from places like Behance. However, I think I draw a lot of inspiration from everyday stuff and learning new things in other areas. For instance, I would be shopping online for something, but I'd see the brand and its marketing for what it is and relate this back. 
I've also realized that if you learn more about anything you're passionate about outside of your work, you can drive your career into those areas. Over time, I'm into fitness and built contacts in that industry, leading to work and a better understanding from a customer perspective. Basically, anything is possible when you put your mind to it, and success is built on what makes you happy in life and your work.  
Also read How I Became a Freelance Graphic Designer
How I Became a Creative Freelance Graphic Designer?