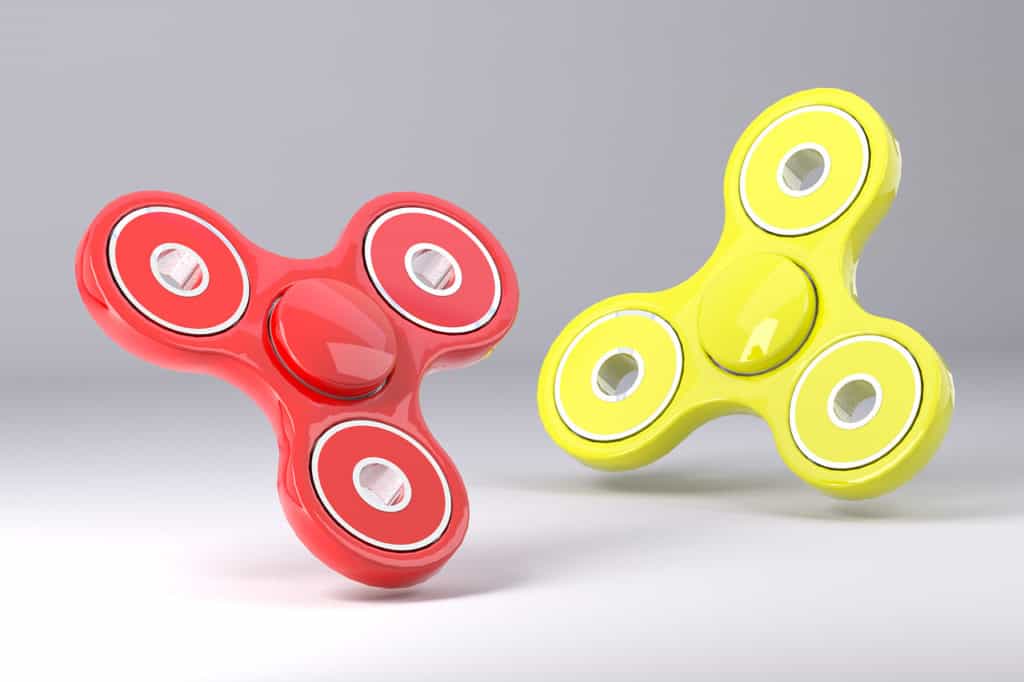 Gaining popularity for their unique purpose, fidget toys are tools that act as an aid for anxiety, stress, attention, calmness, and active listening. What is the best part about these toys? Both kids and adults can benefit from it! They may appear as simple toys. However, their utility in the mental-health line is unparalleled. The massive impact these tiny objects have truly make the mind boggle. 
These self-help tools come in various shapes, sizes, colors, and textures. Their sensory appeal is to be credited for the calming effect they have on people. Although these toys got popular by teenagers using them for leisure activities, their true purpose is to reduce anxiety, stress, restlessness, increase focus, attention, and aid active listening. 
After endless surveys, experiments, and observation, researchers agree that the physical aspect of these objects can help increase learning capabilities. Kids seem to focus more and listen better by using these toys! 
From a restless child to an anxious adult, everyone can benefit from this marvelous invention. However, there are a plethora of fidget toys, each so different in varied aspects. Keeping this in mind, here is a guide to some of the popular fidget toys available on Amazon, along with their purpose: 
Infinity Cube: Available for 10 dollars on Amazon, the cube's sleek design makes it appropriate for every occasion. It can be flipped in multiple ways, which leads to the constant movement of the hand. Great at reducing stress and increasing focus, this compact cube is definitely the right fit for you if you find yourself shaking your leg vigorously or getting distracted easily! 


Therapy Tangle: Widely popular amongst young kids is relaxing therapy, a.k.a. therapy tangle. Its multi-textured surface acts therapeutically for tired fingers and joints. As it is made up of plastic, it has been proven easy to clean. Available at just 15 dollars, this toy is definitely the way to go if your screen time is a lot or if your hands feel burdened by huge written assignments. 


Fidget Spinner: Popular amongst teens, this is a fidget toy you surely must have seen at least once in your life! Available in various colors for 13 dollars only, it is magnetic in nature and can be spun on your fingertips for long periods. Relaxing and satisfying are two adjectives that act as a perfect fit for this fidget toy. Be it as a leisurely activity or stress-buster. A fidget spinner can help you both ways. 


Crystal Clear Thinking Putty: It aids the sensory nerves due to its soft and malleable texture. Squishing the putty has proven to de-stress children and adults alike! This 14 dollar product is easily transportable thanks to the container provided along with it and creates no mess. 


Simpl Dimpl: "POP!" goes the buttons on this silicone fidget toy. It's no surprise that the colorful toy and its addictive buttons reduce anxiety and keep people busy for a long time. For around 16 dollars, this is a definite go-to for relieving stress and keeping your mind occupied in a healthy and fun manner. 


Zen Box Fidget Set: Remember the relaxing feeling of running your finger through grainy particles of sand? Wait no more for a vacation to live the feeling again, as this set does exactly that for you! Targeted for adults stuck working for long hours, this mini-beach box allows you to roll a rock or brush your hands through sand anytime. At 30 dollars, you can now enjoy the feeling of relaxation anywhere, anytime! 


Pop It!: For 17 dollars and 60 cents, this never-ending bubble popping game truly is a fun way to get rid of that extra workload stress or anxiety. A toy that appeals to adults and kids helps you overcome the feeling of being overwhelmed or tired.  


Flippy Chain Fidget Toy: Are you addicted to a bad habit you want to get rid of? Then this toy, mere bolts and rings, is the best way to go. Constantly being able to flip and spin allows people to keep their hands busy. At just 8 dollars, you quit a bad habit and have some fun in the process! However, its small size makes it dangerous for young children and should be kept away from them. 


Sterling Silver Spinner Ring: Nice to look at, even better when put to use! The constant movement of the outer rings is a cure for those constantly antsy and on their toes. Available at around 42 dollars, this stylish fidget ring is a steal. 
How to decide which fidget toy is the best fit for you? 
There are multiple factors to keep in mind when choosing a fidget toy. While there is no harm in buying any you want, for leisurely hours, however, if you're wanting a fidget toy for a particular purpose; these points might help you: 
Size: If young kids are consumers of fidget toys, you might want to buy medium-sized toys that aren't a choking hazard for them. As for adults, chunkier fidget toys may feel more satisfying, while smaller ones can be bought if a person travels a lot. 


Weight: Average Weight toys are ideal to buy as they can be transported easily. You may want to avoid light-weight toys because studies have proven such fidget toys to be less satisfactory while heavier ones act more relaxing. 


Behavior: Your behavior matters the most! The purpose of purchase is a major deciding factor in the kind of toy you will be buying. Anxious and restless people tend to turn towards hard, chunkier toys that fit in their hands, while people looking to relax and calm themselves incline towards a softer texture. 


Colors: Color increases creativity. If you are looking to boost your creativity and feel good, colorful fidget toys are the way to go! However, monochrome or single-color fidget toys help increase focus and attention. 


Sound: Distraction and focus are two major side-effects of different fidget toys.  If you're looking to distract yourself from overwhelming thoughts and anxiousness, noisy fidget toys would be the right fit for you. And if you wish to sharpen your focus and increase your attention span, purchasing a silent fidget toy would be the right thing to do! 


Cost: Are you a first-time buyer? If yes, then fidget toys ranging from a dollar to ten would be perfect for you! Experiment with cheaper options to find whether they benefit you. If you're an avid fidget consumer, then you might want to explore the costlier range of fidget toys and create a fun collection of your own! 


Purpose: Whether you are buying a fidget toy for fun or for a specific purpose, you might want to buy a fidget toy. Light-weight and small fidget toys are highly recommended for a passing time for their playfulness and easy transport. If you aim to reduce stress, anxiety, focus more and be a better listener, then bigger fidget toys can give satisfactory results due to increased engagement with the object. 


Audience: Introducing fidget toys to a large crowd? Then small fidget toys would be perfect for such an occasion. Their flexibility, compactness, and lightness create a fun and lasting impact. They are also a cheaper purchase and are durable. If you are setting out to buy a fidget toy for yourself or someone else, go in for a bigger option for its multi-purpose nature.
The beauty of these toys lies in the way they are engineered. From their texture to their shape, from the sound they emit to their colors, all of it engages some part of our brain. Our mind is a complex place. However, fidget toys have made it a tad bit easier and fun to decode for sure!  Popularized in 2017 through social media for their quirky patterns and uniqueness, fidget toys have truly revolutionized the way mental-health issues are being tackled on a grass-root level. Available at low costs on Amazon with amazing discounts, these toys have been made easily accessible to all for use! 
Why should you purchase a fidget toy? 
People may often misconstrue a fidget toy as a mere object for toddlers and teenagers to use for a while and throw. However, there is more to it than what meets the eye!
Conclusion
The world is your oyster when it comes to fidget toys. Each fidget toy is different from the previous, providing aid to different problems. Even the smallest aspect of a fidget toy has a huge impact on how the consumer perceives them. Their physical appearance is true what impacts a person's mind. Despite being called a "toy," it seriously impacts our minds, thoughts, and behavior. We hope the above points enhance and simplify your shopping experience when buying a fidget toy. What are you waiting for? Head to Amazon now and browse for the fidget toy best suited to increase your play and productivity. 
Also read Best Comfort Driven Accessories for Work from Home
Fidget Toys for Play and Productivity