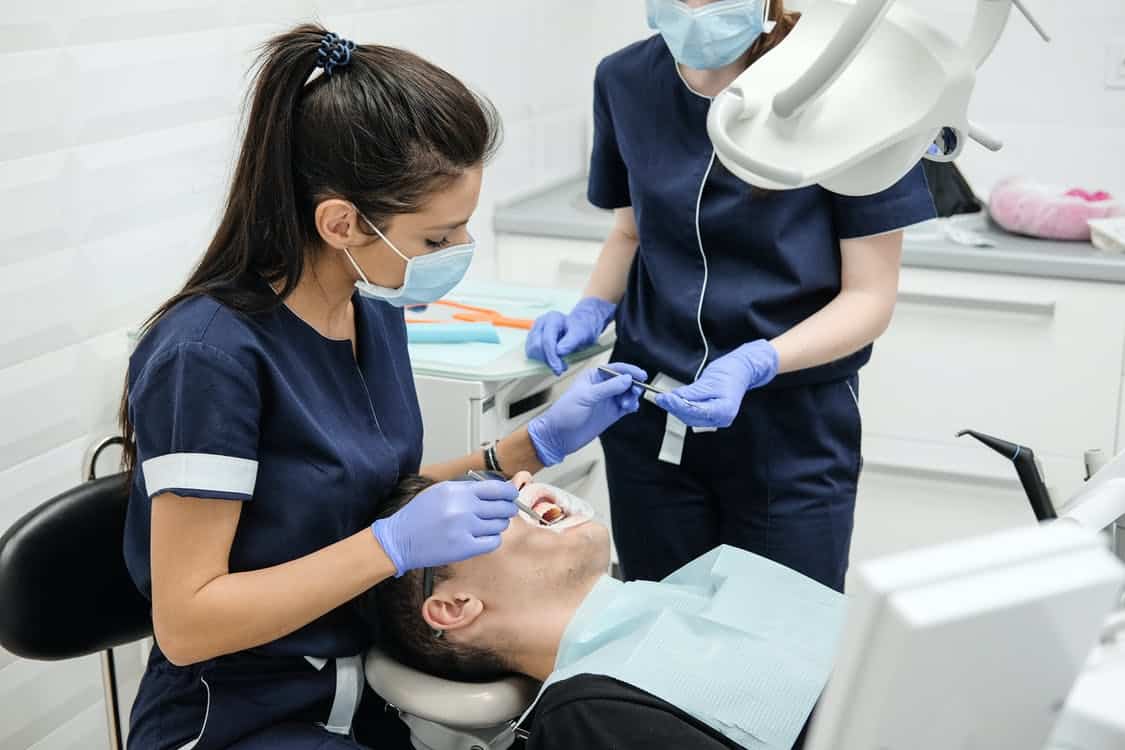 Dental Assistant vs Dental Hygienist? Dental nurse assists the dental surgeon. A dental hygienist referred as an oral hygienist.
If we observe from the outside, it is difficult for us to differentiate between a dental assistant and a dental hygienist. Most of the people who are outside of the dental field think these two areas one profession. But if you are planning to enter the dental field you must understand the difference between these two professionals.  For those who are going to enter into one of these professions, this article will be beneficial for them to recognize the difference, the level of qualification needed, the amount of salary that you will get, and separate duties.  In the dental field, there is a number of professionals. They work as a team during patient care. They are the Dental surgeon, dental therapist, dental assistant, dental hygienist, and dental technician. A dental surgeon is a specialized person in dentistry who is responsible for diagnosing, treating, and preventing dental diseases. The other members of the team have separate responsibilities and they help the dental surgeon in his/her treatments. 
Who is a dental assistant?
The dental assistant or the dental nurse is the person who assists the dental surgeon during the procedures. At a very early time, this position was dominated by males, but later on, females also came to take a part in this profession. Dental assistants always maintain the connection between the dental surgeon and the patient. Dental assistants help the dental operator during the procedures by helping to handle the dental instruments, preparing their patient, and sterilizing the dental instruments. Infection control during the procedure is also a very important thing to prevent post-procedural infections, so the dental assistant is responsible for infection control. He/ she should follow the given infection control guidelines. 
The dental assistant always is there to assist the dental surgeon during general anesthesia. He/she will monitor the recovery of the patient and care patient post-operatively. The dental assistant is responsible for documenting patent information. This person will schedule the follow-up details and maintain the administrative functions within dental clinics. It is important to protect both the health care worker and the patient from infection. Therefore always the dental assistant is instructed to wear personal protective equipment to reduce the risk of cross-infection.
The next important duty of the dental assistant is health promotion. Prevention is always better than a cure, so it is a must to engage in health promotion programs. There will be a number of health promotion programs for each year. Dental assistants can assist dental surgeons in screening programs in schools and the public. As the more number of dental graduates passed out each year from the universities, the demand for dental assistant also grows day by day. In some countries, they have expanded the scope of practice of dental assistants. They have made changes in their curriculum, which will make the dental assistants practice small tooth fillings. In most counties, the dental assistant position is not a registered position, but in the USA it is a registered profession. In most countries, a dental assistant should have the license to practice in the field, but this is not a must in the USA. USA dental assistants can practice without obtaining a degree.
Who is a dental hygienist?
A dental hygienist is also referred to as an oral hygienist. This is a registered profession. To be a dental hygienist a person must complete his bachelor's in dental science initially. Normally dental hygienists are not highlighted n the health care settings, but they play a major role in the health of society as oral disease conditions have become common among us. After completing their registration, Dental hygienists can practice alone. He/She will have a broad knowledge of dental diseases and complications. They can care for their patients alone. Following are some main duties performed by the dental hygienist.
Assessment of the patient's dental health and physical assessment
Screening for oral cancer
Removal of plaques which are the hard and soft deposits on the enamel
Application of sealants and fluorides
Patient education on good oral hygiene and nutrition
Periodontal charting 
Periodontal debridement
Prophylaxis treatments
Procedures to control periodontal diseases.
Among the dental hygienists, there is a licensed hygienist who is able to administer anesthesia and are able to do radiological procedures. Special training is needed for this. Sometimes dental hygienists work together with dentists and dental therapists. In the clinical setting dental therapists can advise their patients and can contribute to primary prevention.
Requirements in the USA
To get registered as a dental hygienist, You must complete a bachelor's degree program or a master's degree in dental school. Then you are allowed to practice as a dental hygienist.
Is being a dental hygienist stressful?
The most dental hygienist will undergo job-related stress. But it is important to manage once stress by themselves. During your training period, all these things will be managed. You are trained to cope with job-related stress.
How many years does it take to be a dental hygienist? 
It will take almost all 4 years to complete your bachelor's degree. It will take completely four years to licensed as a dental hygienist.
Is it difficult to be a dental hygienist?
Actually, it is a bit difficult to be a dental hygienist. You will have to dedicate much to academic and clinical education. There are so many articles saying that two-year college education is enough to be a dental hygienist. But the truth is we can complete this within two years if we have already complete the prerequisites. The prerequisites will be the completion of human anatomy, physiology, microbiology like subjects. 
Many researchers publish new research articles, they experiment and find new things. Science is evolving. After receiving the license a dental hygienist cannot forget the studies. Continuing education is essential to maintain the quality of the profession. The dental hygienist must update the knowledge about new findings and about the new technology. In most countries, a dental hygienist must maintain continuing education credits to relicense the license. So the path of being and maintain as a dental hygienist will be somewhat difficult. This can vary according to the personal tolerance level. While practicing as a dental hygienist for a long period one can experience back and neck muscle pain. This is because dental hygienist always tends to stay in the same position. So they need to refer to physiotherapy.
When you practice as a dental hygienist for years there is a greater risk to gain your body weight. As you will be busy with the patients your physical activity level will reduce. As your age goes you will have a risk of getting non-communicable diseases. Working within the public is hard. As a dental hygienist, you will meet different people with different personalities and it will be hard for you to deal with the public.
Dental Assistant vs Dental Hygienist
Dental hygienist
Dental assistant
Definition
The professional who diagnose and treat dental diseases and educate the patients and the public about oral hygiene.
The person who assists the dental surgeon during the patient care and responsible for health promotion and administrative work
Responsibilities
Diagnose certain disease conditions.
Remove soft and hard plaques on enamel.
Administration of local anesthesia where necessary.
Sealants and fluoride application to prevent teeth decay.
Provide patient education where necessary.
Sterilization of the work place and the dental instruments.
Assist the dental surgeon by handling instruments.
Arrange and do suction where necessary.
Recording patient information and update information
Schedule follow up care according to dental surgeon instructions.
Educational requirementsFour year bachelor's degree associated with dental hygiene.
Formal education or two years of vocational training.
Summary
They provide patient centered care. They brush and polish their teeth. They do screening for oral cancers. Treat and diagnose conditions like gingivitis and provide relevant education.

Mainly they assist the dentist in the dental procedures and engage in administrative work. They are responsible for infection control within the work place and prevent cross contamination.
Dental Assistant vs Dental Hygienist
Both the dental hygienist and the dental assistant help the patient to prevent dental diseases and aid in health promotion. These two professionals are important in the overall maintains of public oral health. If you are willing to enter one of these pathways, have an idea about each and every duty, responsibility, scope of practice, and educational requirements.
If you will continue your studies further, you must select your path as a dental hygienist. Then it will be easy for you to build your higher education as you are a bachelor's degree holder. Selecting this path will bring you easily to your targets.
How can a dental assistant become a dental hygienist?
If you are willing to uplift your position from a dental assistant to a dental hygienist, you must follow a related degree. After gaining your diploma and practicing as a dental assistant you can develop your carrier and develop as a dental hygienist. If you select your carrier as a dental assistant there are paths to becoming a dental hygienist.
also read: Nurse practitioner vs. nurse anesthetist
Dental Assistant vs Dental Hygienist | Know the Differences