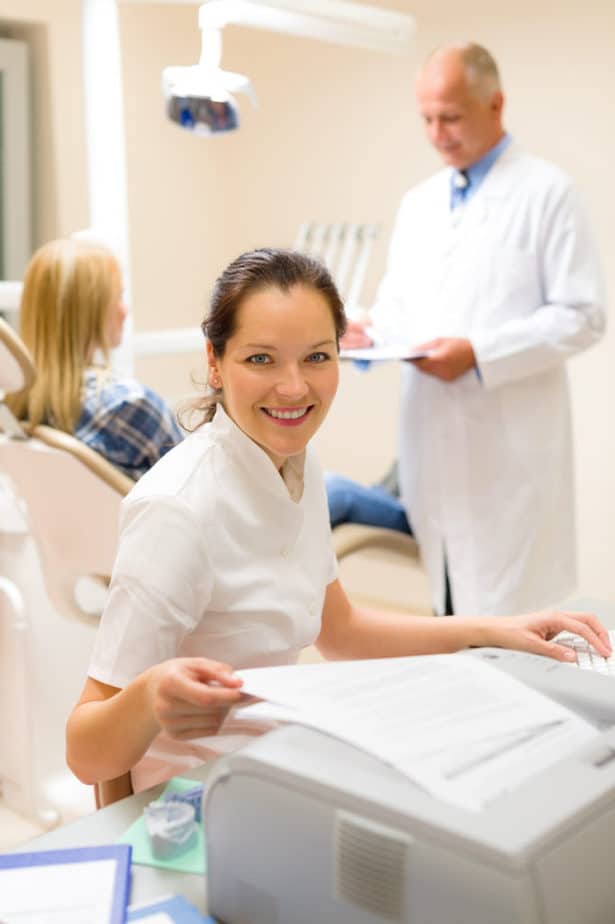 Are you planning to pursue a Dental career? Or are you done with your exam and now all set for your admission into a Dental Hygiene School? If yes, then I am sure you must have been overwrought for the Dental Hygiene School Interview Questions section. But worry not! We've got your back. 
– In many countries, people are often bewildered by the difference between a Dentist and a Dental Hygienist due to a lack of awareness about the field. Due to this, people are not much aware of who a dental hygienist is and what sort of work they do on their patients. Whereas, according to sources, the population of registered dental hygienists in the U.S is about 1,50,000+ with California topping with the greatest number of dental hygienists in a state in the U.S.
– This profession typically needs an Associate's Degree in Dental Hygiene after completing your high school diploma consecutively. Thereafter, the students undergo a series of tests and interview processes. To keep up the licensures, hygienists must complete their education requirements. What type of questions do you need to prepare and how to answer them crisply and shortly, will all be covered?
– An interview is a formal way of conducting a question-answer session with an employee/student/etc. There is a strict decorum that shall be followed to go for an interview.
Few tips to ace a dental hygiene school interview is to:
1. Practice! This will help prevent you from fumbling while speaking.
2. Reach your location at least 30 mins before the given time. Do NOT be late.
3. Watch dental hygiene school interview-related videos on the net.
4. Smile, show confidence, and stay focused throughout. Interviewers always read your body language.
5. Always address your Interviewer in a certain way. For example, Sir/Madam.
6. Do not reply with lengthy and brief answers. Keep your answers short, crisp, and to the point.
7. Start reading books. It will eventually improve your vocabulary and grammar.
8. Do not hesitate to take few seconds to think before you answer. But remember to not exceed the limit.
9. Sell Yourself. Your words are everything that is going to help you to get selected in the school so up your convincing game.
10. If needed, give them instances using hypothetical situations where you are dealing with an XYZ patient in an XYZ situation. This will be a cherry on the cake.
Dental Hygiene School Interview Questions
(You may refer to these answers for better understanding or may give your response that may justify the question more correctly.)
Q1. Tell us something about yourself?
✔ This question typically asks what got you through this point. Answer this question by mentioning your full name, age, origin, and a few of your details, if needed.
Q2. Why do you want to become a dental hygienist?
✔   I have seen good experiences of people who are in the field, or…
✔   I enjoy doing it, or…
✔   I have seen my family working in this program and it attracted my interest, thus…
Q3. What are your greatest strengths?
✔   Pick something that is related back to the dental field. For example:
"Inter-personal communication skills are my greatest strength, and this is why I am a perfect fit for your program". If possible, try to mention multiple strengths and be honest with your answer.
Q4. What are your greatest weaknesses?
✔   Always mention your weaknesses. NEVER say that you are a "perfectionist". For example:
 "I overthink things. In the past, I have struggled with overthinking things but that is something that I have worked on, and now it is something that is really becoming NOT a problem for me." This way you will shift your negative angle to a positive one.
Q5. What was the mistake that you made in your life? What did you learn from it?
✔    For such a question, try to give an example of the mistake that took place at your workplace. For example: 
     "I messed up an insurance claim one time and I called the patient and my boss to apologize. I was immediately able to admit my mistake and try to fix it as quickly as possible".
 Q6. What do you think an RDH does?
✔      Answer to this question shall be informative yet short. Such as:
"RDH is a preventative side of Dentistry. They are the ones that maintain our oral health and prevent them from decaying".
Q7. What is your understanding of your time commitment towards this program?
✔  This is a personal response type of question, answer it so. For Example:
"I understand that this will be my entire life and this is what I have been wanting to do for an 'x' amount of time, etc…
Q8. Do you have a plan 'b' if you do not get into this program?
✔  This is one of the most important questions of the set. You may prefer to answer this question as "Because this is something that I know that I really want to do, I would definitely take your opinion into consideration and apply next year for the same because this is the career path that I know has chosen for me". 
Q9. How do you handle stress?
✔  Be true to yourself while answering this type of question. Do NOT say that "I like stress and it is a good thing in one way as it motivates me to complete my 'xyz' tasks. 
You may rather start your answer by saying that "According to me, stress is handled in processes, etc.…"
 Q10. How will you impact the profession of dental hygiene?
✔  Usually, an answer to such a question shall be given from a sympathetic point of view. You can say that "I have known people with anxiety and so, I am kind of aware of the signs and symptoms and also because I am an empathetic person, etc.…"
Q11. Do you have any questions for us?
✔  This is a pivotal moment to express where your mind is at. So, ask something that you feel may increase your chances of getting selected. For example:
"What type of students are successful in your program". This type of question shows that you want to be successful in that program and where your mind is directing towards. 
 Let your question be honest, short, and real.
Dental problems can impair your ability to eat and speak properly which eventually causes pain and bad breath. Using a soft-bristle toothbrush and fluoride toothpaste plays a vital role in your oral hygiene. One NEEDS to brush twice daily and one's with braces shall brush after whatever you eat in order to prevent food to stick in your braces and teeth. Flossing daily, and visiting your dentist every six months for checkups and dental cleanings should be a must.
Put some restrictions on your diet as well. Start with reducing your sugar intake and consumption of alcohol to moderate. Any sort of tobacco should be avoided.
Q1] What type of dress code shall be followed for the Interview?
Ans: Avoid wearing informal. You are suggested to wear a shirt and a pant along with a blazer on top of it which would ace your formal cum professional look. 
         Add on (women) – Hair tied, decent footwear, avoid jewelry, avoid wearing makeup, no dark lipsticks, cut your nails, pressed clothes, sitting posture to be straight.
Add on (men) – A tie, properly set hair, formal shoes, cut your nails, sitting posture to be straight.
         The color code suggested: Black & White.
Q2] Few of the best dental hygienist schools in the US?
Ans: 1. University of Alaska Fairbanks – Fairbanks, AK.
2. Idaho State University – Pocatello, ID
3. New York University – New York City, NY
4. Lake Washington Institute of Technology – Kirkland, WA
5. Eastern Florida State College – Cocoa, FL
Q3] How much does a dental hygienist earn in the US?
Ans: Salary depends on the years of your experience and how much you established in your place. A rough idea of salaries by years of experience in the United States are as follows:
Less than 1 year- $34.31
More than 10 years – $46.45
Q4] What is the employment outlook for dental hygienists?
Ans: Employment of dental hygienists is projected to grow 20% from the year 2016-2026, faster than the average of all the other occupations. In simple words, the demand for dental services will increase as the population ages. The more the awareness rises, the more people will start recognizing the need for a dental hygienist, and therefore the number of student applicants will have a rapid boost.
Q5] What are the important qualities needed to become a dental hygienist?
Ans: Critical thinking, detail-oriented, interpersonal skills, problem-solving skills, dexterity, communication skills, are a few of the required qualities to become a dental hygienist.
Q6] Can I shift my field from Dental Hygienist to a Dentist?
Ans: Yes, you can. However, it is suggested to immediately apply for a 4 -year doctoral program to pursue/attain a Doctor of Dental Surgery (DDS) or Doctor of Dental Medicine (DMD) certification/license.
Dental Hygiene School Interview Questions- With Simple Answers