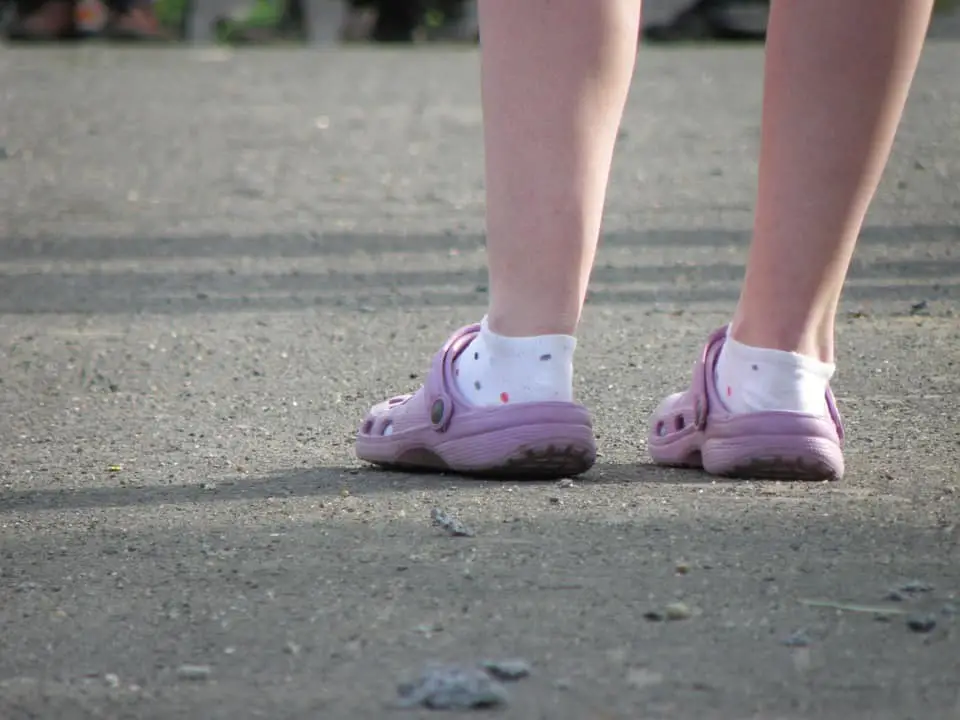 Can Nurses Wear Crocs: necessity the use of crocs in medical facilities provides support, easy to clean, ventilation, comfortable, durability
Today, nurses in performing their duties want to be comfortable. However, how comfortable can they be such that they don't dress or wear what isn't part of their dressing code? A common question that seems to resonate with newer nurses is the question of "can nurses wear crocs." While the answer will not be a straightforward one, we will explore everything you need to know about nurses and crocs. Firstly, crocs are non-slippery shoes female nurses wear, which provide comfort to their feet. It's natural to look for something comfortable to wear, but crocs are not shoes to wear in hospitals or medical facilities. 
Can Nurses Wear Crocs: No. They are banned because of safety and health issues. Nursing is a career field where people spend a large chunk of their time standing. It places a lot of stress on their feet, hips, heels, and calves in such a situation. Furthermore, the strain also impacts their back; due to this, most nurses prefer to wear something comfortable to minimize pain and strain from the body. With this introduction, this article's essence is to give you insight into wearing crocs in medical facilities whether any medical staff should wear Crocs with holes or not.
Should Nurses Wear Crocs with Holes?
Crocs were once popular among nurses due to their slip-resistance. However, nowadays, various medical facilities ban its usage because of specific issues. Additionally, crocs with holes are not exempted from the list of banned shoes in any healthcare unit. Before this ban, there were several issues in consideration towards the total ban. Some of these issues were:
Sharp objects can pass through the holes and cause injury to the nurses
Severe accidents can happen if the straps aren't worn properly.
The slipping nature of Crocs makes it a wrong choice since nurses transporting patients can easily slip.
Fluids and blood can drop through the holes, which can cause severe infection
Despite this, wearing crocs without straps is more dangerous than those with straps. The idea behind this is that they don't have any support at the end when worn. For instance, if you wear crocs without straps, you can't move patients smoothly as the crocs won't provide that free movement you desire. Healthcare workers should be protected against accident, and the authority is responsible in ensuring every safety standard are followed to the latter. These standards also including footwear and approach to work.
Because of the safety concerns, crocs with or without holes are banned from nurses in every medical facility; even those most healthcare workers consider them a good substitute for nursing clogs. However, when meeting specific meeting standards, you can't even think of using Crocs. Therefore, several medical facilities don't condole the usage of crocs in hospitals and laboratories. Nevertheless, some medical establishment allows crocs to use without straps and holes if you are a nurse. It's essential to check your company policy if it applies to you since the primary concern is sharp objects falling and causing danger.
Has nurses wear crocs previously?
Previously, nurses usually wear crocs in their healthcare units, but for a limited time before, they were banned by authorities because of health and safety concerns. The major debate for its ban is the protection against any uprising injuries from sharp objects falling. Despite the concerns, some nurses have criticized the concerns and policy by citing that these shoes provide comfort during their 12-hour shift at work.
Nurses prefer wearing crocs since they serve as substitutes to non-slip clog shoes. Crocs have different features that make these nurses wear them – after a long day. They feel less pain and tiredness when they wear crocs. Furthermore, it provides every necessary feature a right nursing shoe deserves. Given this, crocs are among the most loved nursing shoes even though they are banned. 
These shoes are non-slip resistant, comfortable to wear, durable, supportive, and provides excellent comfort while working in hospitals. These essential features make nurses love to wear crocs before the ban came. Many nurses have worn crocs for years and have provided the comfort and simplicity they deserve. Indeed, the lightweight and comfortable nature of the shoe makes it worth the try. Another reason nurses love using crocs is easy to slip feature; they don't have to bend low to wear it and respond swiftly to emergencies without wasting any time.
In this situation, a nurse can quickly put them on to attend to an emergency call; looking at it from this perspective, crocs save a lot of time since nurses can wear them within a second. Additionally, the slip-resistance feature enables them to be favorable among many nurses. They can smoothly go from one floor to another quickly without slipping. 
Do Nurses wear Crocs with Socks?
If crocs were to be allowed, nurses wouldn't support the idea of using socks since it defeats every intention of wearing a shoe. Furthermore, wearing crocs with socks prevents ventilation to their feet, which can pose a challenge for nurses who work over 12 hours in a medical facility. Because of this, they need to wear crocs without socks to relieve them from experiencing sweaty feet. Nevertheless, few nurses prefer using a sock to wear their crocs as it is merely a matter of preference or choice. It is all about what makes you relaxed as you carry out your duty.
We cannot dispute that nurses wear crocs with socks has been a significant point of discussion. For some nurses, it makes them look dumb wearing crocs with socks. However, crocs are somewhat a fashion statement for many. In all fairness, both sides' debate is viable. However, wearing socks defeats the essence of wearing crocs even though few nurses feel comfortable wearing them. On one side, we have nurses who see wearing crocs without nurses as ultimate comfort and fashion. Alternatively, some nurses wear socks because they experience sweaty feet. Interestingly, a small amount of sweat can be a breeding ground for bacteria and fungus.
Why Nurses wear Crocs?
We've talked about the debate about wearing crocs with or without socks or straps. However, it is essential to know why nurses wear crocs. There are a lot of reasons to necessity the use of crocs in medical facilities. The popular trend is to wear something clean and comfortable. After various research, here are the following reasons why we think many nurses love to wear crocs while on duty.
Provides Support: Crocs have a sturdier design, unlike trainers and boots. Since nurses are an integral part of any hospital, their role involves carrying and supporting patients daily. Therefore, wearing a hard piece of footwear can be discomforting and can cause pains in their legs and back. Therefore, to support their ankles and feet and protect their back, they need to wear something comfortable and support their bodies.


Easy to Clean: Crocs are made of rubber, and you only need a wet cloth to clean them up. To clean the crocs, you need to scrub the surface gently using a piece of water cloth. With this, you have cleaned your crocs, which is why many love wearing crocs. Furthermore, you don't need to do it frequently. Sometimes, rough strains such as blood can be hard to remove, which many consider unprofessional since some patient has negative thoughts to blood. 


Ventilation: Closed-off shoes make the feet sweaty, which causes bacteria and fungus to the feet. Chances are nurses might experience fungal infections in their feet wearing closed shoes. However, nurses feel less productive wearing closed shoes besides having sweaty feet.


Comfortable: Whatever anyone may think, crocs are comfortable whether they are allowed in the hospital or not. Different kinds of wear can tend to provide extended comfort when working for a longer time. Since they are made of rubbers, it provides a rigid frame, making it popular among many nurses.


No Laces: Another benefit is that it prevents someone from tripping, which causes damage while dealing with a patient. Without laces, you don't have to worry if it fits your leg. Hardly can nurses get stuck trying to wear crocs after wearing them in the wrong way.


Durability: Since they are made of rubbers, crocs have an extended lifespan, taking a long time to use. Although the color might change with time, it doesn't take away that they last long. Due to their durability, they provide the best cost-effective ways for anyone. You can confidently wear them without thinking of when to buy the next shoe.
Nurses and Scrubs
Now you have a clear understanding of crocs, we need to look at nurses' scrubs because they are essential to the healthcare profession. Scrubs are uniform worn by nurses in the hospitals. Besides making it free to wear, it serves as a symbol to recognize who works in a particular hospital. They help to identify bodily fluids and costs less to replace after worn. Nurses wear scrubs to create a kind of identification just like police officers and firefighters do. Scrubs make the profession and ability of the nurses clear for everyone. In other words, when a nurse wears a scrub, you can quickly identify that such a person is a nurse. 
Origin of Scrub Wearing
Nurses began wearing it for a long time before it became a conventional uniform. The origin of scrubs dates back to the early 19th century when the world was plagued by the Spanish flu, which raised concerns about its spread. This gave rise to doctors using cotton gauze masks during surgeries. It was during this time that nurses started using uniforms. These uniforms were of shirt lengths with shirtsleeves, which enable nurses to roll them up quickly. Because of its bulkiness, many nurses stopped wearing aprons. However, in 1940, various antiseptic measures were put in place to prevent the spread of pathogens and infections. 
Later, nurses and doctors began using a green-colored cloth to provide a contrasting environment during operations. As civilization increased, nurses' caps became obsolete, which gave rise to hospital scrubs. Today, they are the famous outfit you find in any healthcare facility, even though they may be of different colors. Modern scrubs are made of short-sleeves with a V-neck top. Today, the pants have a drawstring; today, nurses use warm-up jackets to wear scrubs while performing their duties. Surgical scrubs are blue or green, whereas nonsurgical scrubs are used outside the operating area. Today, scrubs provide mobility and comfort like crocs would have provided if allowed in most hospitals. 
Why nurses wear scrubs outside hospitals?
There are concerns about why nurses should wear scrubs outside hospitals since they are designed to be used within a health facility. Well, nurses wear these items outside to avoid any contamination. Before leaving the medical facility, they do change to their regular outfit. Wearing scrubs allows them to protect themselves against harmful bacteria. Interestingly, patients don't only make nurses get bacteria; the air from within the environment can contribute. 
Remember, professional nurses wouldn't wear their scrubs outside hospitals because of harmful bacteria from the hospital. When next you see someone wearing scrubs in public, they might not be in the medical field or are unaware of the health danger of wearing a scrub in public. Anyone can wear a scrub, but nurses have a high social status in society. Peradventure, you find someone regularly wearing scrubs outside the hospital environment; every likelihood such person has an inflated ego because of the pride of working as a nurse.
Most nurses feel that wearing scrubs is like wearing pajamas because of the flexibility and comfort it brings. It remains the only reason why some nurses feel about moving around with this uniform or running around. Besides that, it is merely laziness for an excellent nurse to wear scrubs in public as it is against the profession's ethics. Since these nurses spend hours taking care of patients, they get tired and find it hard to change before heading home. Apart from the two factors above, there is no reason to use scrubs in public places.
Tips to Wearing Scrubs
When wearing scrubs as a nurse, the color must match your undershirt. Your undershirt color and the scrub should match a standard office policy. If you don't want to wear the same matching color, you can opt to use a neutral color such as cream or light grey. You wouldn't want to wear a white scrub with a black undershirt, which can be offensive in an office environment.
Furthermore, you need to wear scrubs as approved by your healthcare policy. Different medical facilities have different kinds of scrubs and colors to wear. As a nurse, you need to adhere to every guideline and rules towards dressing and conduct. Nevertheless, it would depend on the facility policy as some nurses wear either white or light blue scrub when working. It is similar to using crocs when working as some facilities don't permit using it within the environment. Find what restrictions in your facility and stick to it to avoid any form of query.
Conclusion
Having the right footwear can help provide supports and stabilizes your feet. Working nurses needs to wear a shoe that offers cushions and supports. Crocs offer nurses the highest level of stability, support, and comfort for nurses working throughout the day. Nevertheless, as indicated in this article, most hospitals and healthcare facilities ban crocs in the workplace. 
Understandably, their concerns are acceptable because of the danger it poses to the wearer and patient. If you think you want to try them out, it is essential to consult your HR or look for the policy that guides dressing in your office. Generally, the question of can nurses wears crocs depends on where you work as a nurse.
Wearing a scrub is a standard for the medical profession, but not all scrubs are allowed within a healthcare facility. Importantly, scrubs are not meant to be worn in public because they can carry harmful bacteria after attending to patients. Therefore, ensure you use your scrub within the hospital and when you want to rush out, change into casual wear instead of using your scrub.
Finally, we do like to know your thought about wearing crocs in the workplace. Do you think the ban should be uplifted considering the benefits? Drop your comment below as we do love to know your opinion about scrubs and crocs.
Also read Can you have red lights on at night?
Can Nurses Wear Crocs? – Facts About Crocs