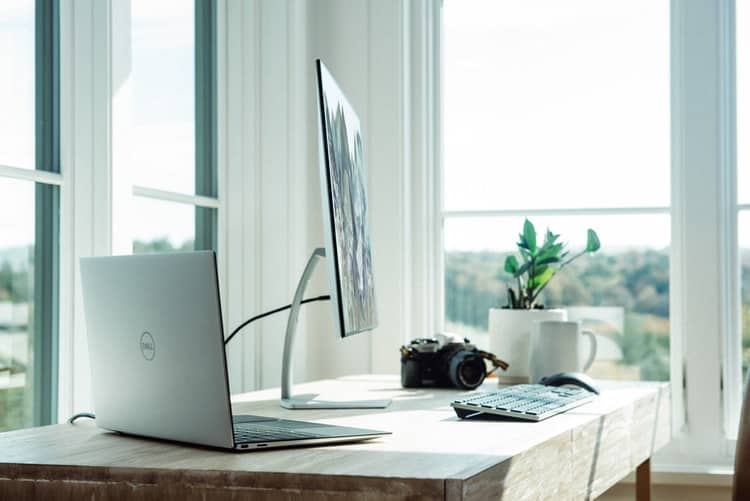 Best Desk Decors To Keep You Organized: Desktop Accessories and Caddy Storage, Office Leather Desk Pad Protector, Portable Mini Humidifier
Keeping your desk organized is often a major concern. A decongested desk allows for ergonomics, and you feel capable of working. Desk decorations are not necessarily meant to beautify your desk, but rather, they help keep you organized. Looking for the best decorations to make your desk look sleek and conducive to a great working atmosphere? You are just in the right place. Put together are the most comforting accessories you need to keep your working table free and will give you an enigmatic flow while you keep active.
Ten (10) Best Decorations For Your Working Desk
Once seated on your desk to work, you feel the need to let every weight off and be light again. This helps take the pressure off you and eases your mind. With your accessories taken off, you can't let them litter around your table.  Imagine having your accessories sitting pretty on this storage while at work, cute right? This storage does not just decongest your desk. It also keeps your accessories in perfect condition day in day out of your working days. Buying this will keep your desk and accessories in order and in good condition. It also has a 4.5-star rating.
Desk Organizer Storage Set
Rushing into your office on a day you're already behind resumption time to meet your desk arranged in this manner gives a great sense of relief. You feel relaxed as the stress of organizing your desk is already off your shoulders for the day. All that is left is to settle in and kick start your day since your desk is obviously arranged in this desk organizer set. It keeps every necessary needed item within your grasp. Asides from adding aesthetics to your desk and office, it exudes a sense of organization and readiness to have a great day. More so, it keeps every needed item within your reach and reduces unnecessary search and wandering, especially in a female workspace. Isn't that amazing? With its 5 star rating, to own this desk organizer set is to kiss goodbye to a hazardous and cluttered workspace.
Office Leather Desk Pad Protector
When you work into your office to see a fluffy desk pad protector on your desk, that sense of comfortability is instantaneous, and your work energy flows naturally. One major booster in a workspace is a comfortable desk where your working gadgets are not just secured, but your supple skin is saved from bruises that the edges of your desk might cause. This leather desk pad is just the right fit for any office desk. With this sense of comfort, working round the clock might even go unnoticed as the adrenaline rush keeps spiking your working morale. To purchase this desk pad protector is to purchase comfort for your workspace, plus its 4.5-star rating, it could only get better.
To handle phone calls with your hand on a busy day can be pretty much exhausting. While working and a call comes in, having to locate your phone can be tasking. A phone stand can keep the phone easily accessible. Multitasking can be achieved with a phone stand and the work target met on or before the deadline. Being a 5 rated item, it is strongly recommended.
When you walk into your office and get embraced by a mild scenting atmosphere, it could add to a prospective great day. Constant inhaling of refreshing fragrance is great for work as it can also ease a tensed and worn-out body. This mini humidifier is a perfect pick for it. It keeps your office and desks moist constantly with misty fragrance, and nothing can be more relaxing than breathing fresh air. As a 4.5 star item, it is perfect for eliminating bad and smelling scents in your office space.
Daily Motivational Flip Calendar
When you arrive at work, and your calendar is readily on your desk to put you through your daily schedules and meetings, it could be such a saving grace. This beautiful motivational calendar that can also serve as a scribbling pad is a good choice for desk decor, be it in the office or work from a home workspace. It serves as a subtle reminder of dates and events that precede. It also contains motivational quotes that keep your working spirit abreast. A piece as simple as this yet very insightful should not be underrated in a workspace. It also belongs to the 5-star category.
Desktop Flower Plant Vase
Sighting a vase on your desk from outside exudes a different sense of beauty and closeness to nature. Flowers (be it real or fake plants) in your workspace can easily reflect your personality and work ethics to a first-timer. This item does not just beautify but brings nature closer to you in a way with its mild countenance. The bulb vase also adds extra spikes to your desk. To have this 4 5 star item on your desk would be a delight for sore sights. 
Digital Alarm Reminder Clock For Office
When you arrive at work every day, the need to attend to paper works on your desk becomes primary at that time. In the process of getting your work done, you could lose track of time and engagements because you are so engrossed in work. You might even end up running late for a meeting or miss an appointment. This Digital Alarm Clock helps you keep track of time despite your busy itinerary. It's a perfect item and decor for any workspace. Being a 4.5-star item, to purchase it is to put an end to rush hour activities.
Headphone Stand With USB Charger
You know when you are working, and your phone is charging a bit far from you. Standing up to fetch your phone every time you need it can be pretty much exhausting, right? I thought so too. Keeping your phone within your reach while at work is as pertinent as getting the work done because you never know when you would get a call or need to access vital information from your phone. This Headphone Stand with a USB Charger could save you the stress of distraction. With the USB port attached to the stand, accessing your phone would be very easy to access and work delivery on time. It also charges your phone while keeping it within your reach. It's a 4.5-star item that should be found in any workspace. It's worth the ratings.
There are times when we find ourselves working late, especially when there is a target to meet our deadline to deliver certain paperwork or project. To meet up, you subconsciously end up working extra hours and late in the night sometimes, but the work can not be done in darkness if there's a power blackout. This LED shining reading lamp comes in handy. The light is bright enough to get you through a few extra working hours. It illuminates your office space at night while you're working with its mild shiny light. It is necessary to own this LED light in your office. It is also a 4-star rating item.
Frequently Asked Questions
How do I keep my desk clean and organized? Keeping your desk organized can result in a smooth sailing workday. First off, you have to see your desk as your sanctuary, i.e., you have to have your desk and see it as a primal place that helps you get your work done and puts money in your pocket. Also, keep important supplies within your reach. An organizer set would be perfect for this. Make sure to do away with items that could distract you during working hours, for example, teddy bears, football, cosmetic purse, etc.


How do I make my desk less clustered? The comfortability of your office is what boosts your working morale.

Have your work documents backed up on your computer to archive your paper works and create space on your desk.
Ensure to finish your daily targeted task to curtail unnecessary clustering on your desk.
File your paper works accurately in a drawer or shelf.



How do I accessorize my desk? Accessories are part of the things that beautify the office space.

Get a flower vase for your desk, and your choice of flower and the vase be relatable to your personality.
Own a table lamb in case of late hour work, this should not be a shouty light but a comfort exuding lamb.
Desk Decorations For Workspace
With all these places in your working space, having a super great and easy-going day at work is highly attainable. Working even under pressure could only get easier with this organization in place during work hours. Looking forward to an organized workspace, amazon is your one-shot shop for the purchases of these items. You can never go wrong with workspace apparatus from amazon.
Also read 32 Best Seattle Tech Companies in Seattle to Work For
Best Desk Decors To Keep You Organized