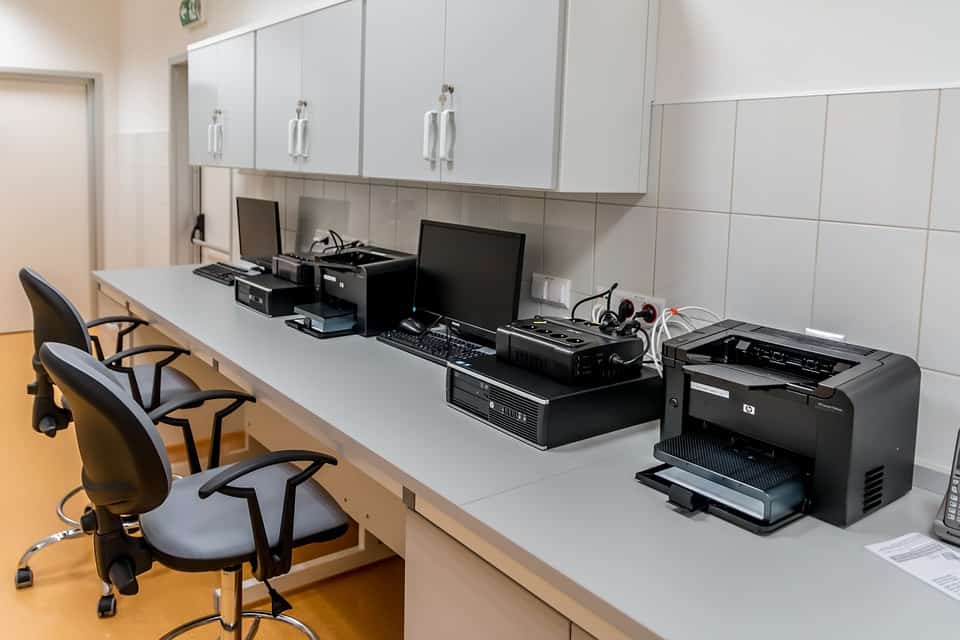 With the onset of the COVID-19 pandemic globally, more than 80% of working professionals who generally worked out of an office started working from home as part of some of the most widely followed safety measures to avoid the virus's spread. These measures meant that everyone had to equip themselves with office supplies, comfortable formal furniture to work with, and basically, set up a temporary home-office to work efficiently. Let us look at some of the basic things to be kept in mind while researching the pre-requisites to look for the best printers for work from home. 
This also meant that certain devices like printers had to be accessible to working professionals as it is a highly-used commodity in terms of official work. Be it for printing essential documents or making multiple copies for safe-keeping, a printer is one of the primary investments that is turning out to be highly indispensable at present. School-going children and university students will also face multiple needs to enhance further the reason to get a good-quality printer.
Things To Be Kept In Mind While Looking For A Printer:
We need to consider several aspects while looking for the best printer to suit one's personal needs and requirements according to their work capacities. Generally, people tend to overlook this step and end up buying either high-end printers that turn out to be overkill or buy a printer made for a lesser usage capacity that effectively fails to meet their requirements. The following features can be considered while choosing the best printers for work from home to suit one's demands:
Ink Type: This is a fairly fundamental aspect that most users tend to research deeply before narrowing down on the printer that suits their needs perfectly. Three ink configuration types are majorly used. They include:


Two Ink Type: This type is made up of two cartridges. One is used for black, whereas the other is used for all of the other different colors.

Four Ink Type: It is comprised of four black cartridges, cyan, magenta, and yellow. It is also widely known as the CMYK model.

Inkwells: This type of printer makes use of large inkwells that are refillable instead of cartridges. Inkwells are considered the most efficient option as they are designed for heavy usage and are economical. 
Apart from this, the other common type is a laser printer. Laser printers do not use cartridges for ink supply; they use toners. The pictures are of a higher quality and look more vibrant when printed with a laser printer than a standard printer. 
Usage: Generally, the usage level plays a significant role in deciding which printer will suit one the best. Let us look at the various classifications under this:


Text Documents Primarily: If your central area of usage lies in printing lots of text documents and comparatively lesser pictures of color, two-ink cartridges will suit you best.

Regular Usage: Both four-cartridge printers and inkwells will be suitable for this type of usage. 

Pictures – Oriented: A laser printer is the best for professional quality, sharp pictures. 
Best Printers For Work From Home:
HP Tango: The first product in our compilation of the best printers for work from home is the HP Tango Smart Home Printer. It is known for its exquisitely sleek design and compact nature. It is a smart device, which makes managing it extremely easy. The entire printer is covered with a book-like hardcover design that offers extremely high protection from dirt and impurities. It measures 3.6 by 15.3 by 9.7 inches and is 7.5 pounds heavy. It is designed in such a manner to make traveling with it efficient and comfortable by incorporating a single wire-port, that is, for the AC adaptor. There are no other ports apart from this on this device.


Price: $150.00
Features:

Can print 11 pages per minute (ppm) if it is black and white, and 8 ppm for color printing
 Cloth runway design for printed papers to land after printing
4 months of free ink is provided after installation
2 cartridge type of printer

Pros:

Modest price point as compared to competitors
Plenty of print-output formats are available
Setup is pretty simple and easy

Cons:

The colors are slightly inconsistent
Canon Pixma TR8620: The next product on our list is an all-in-one device. The Canon Pixma TR8620 deserves a place in our compilation of the best printers for home use as it does multiple functions like copying, scanning, document feeding, printing, and so on. It is compatible with both computers and smartphones and simplifies our work by a mile. Although it is an entry-level printer, its sophisticated features tell otherwise. It is best suited for low-volume usage, making it an ideal printer for work from home-usage. 


Price: $199.99
Features:

Automatic 2-sided printing option
20 sheet document feed capacity
4.3″ LCD touchscreen, along with a clean interface

Pros:

2 input trays
Supports Ethernet & Bluetooth
2 types of black inks are present

Cons:

Print speed is slow
The cost of running is high
Brother HL-L 2395DW Laser Printer: If you are looking for a premium-quality black-and-white printer, this will be the best bet for you. It is a laser printer that is compatible with an array of software, including Mopria, Cortado Workplace, Brother iPrint, Google Cloud Print, and so on. Print and scan features have been designed in a Cloud-based manner that works efficiently alongside Evernote, OneNote, Dropbox, and Google Drive. The latest wireless technology ensures that you do not face any hassle about comfortability and conveyance.


Price: $235.00
Features:

Prints 36 ppm
Equipped with a 2.7″ color touchscreen
Handles multiple sizes of paper (Letter, as well as Legal)

Pros:

Low-cost compared to other laser printers.
Easy to setup
Toner cartridges last long.

Cons:

Slightly slow in detecting networks
HP OfficeJet Pro 9015: This is yet another compact, easy-to-use printer from HP that has been exclusively designed, keeping in mind the needs of small, home-office spaces. Another added advantage offered by this device is the hands-on organizational assistance feature, Smart Tasks, that can organize various documents and receipts on either your printer or your phone. Several security features that comprise documentation protection, encryption, password safety, and Wi-Fi safety ensure that all of your documents are thoroughly safeguarded. It works fast and has competitive running costs.


Price: $209.00
Features:

35 sheet capacity with auto-duplexing
Borderless printing
Light-medium duty efficiency
10.9 by 17.3 by 13.5 inches by size and weighs 20 pounds

Pros:

Print quality is higher than competitors
Copying, faxing, and scanning possible
Compact build

Cons:

Single paper-input source
HP LaserJet Pro M15w: On our compilation of the best printers for work from home, next, we have the HP LaserJet Pro M15w, which is yet another sturdy and compact option for home/small office spaces usage. It is a black and white option and will suit those who are looking for a laser printer under this category. This device uses a single black toner cartridge. It does not possess a scanner. The printer can be connected to your system using wires or can be connected over Wi-Fi as well. The drum-unit of this printer is built along with the toner cartridge, and hence, the page yield will be excellent. This device's main feature is its price point, which is significantly lower than most of its inkjet equivalents. 


Price: $134.50
Features:

Prints 19 ppm
Smartphone application compatibility available
It has a tray capacity of 100 sheets
159 x 346 x 189 (mm) in size and weighs 3.8kg

Pros:

Simple specifications, yet highly efficient
Delivers mono-text and graphics properly
Pretty easy setup

Cons:

Auto-duplexing feature is absent
No LCD and other buttons available
HP Envy 6055: This is a color printer that is multi-functional with printing, scanning, and copying features. It is based upon the two-cartridge system. The manual-duplexing feature offered by this device saves our time and resources effectively. It is also configurable with the HP Smart App, thereby helping the automation process. Documents can also be shared from other applications like DropBox, Google Drive, and so on. This printer is pretty effective for printing photographs and does a clean job in that arena. It takes up less desk space and also leaves smaller footprints when compared to its other counterparts.


Price: $129.00
Features:

6.8 by 17 by 14.2 inches in size
Instant ink is used 
Compact body with easy storage

Pros:

Lower running costs
Good quality photographs obtained
Economic and multi-functional

Cons:

No flash-memory port
Slow print time
Conclusion:
We have come to the end of the compilation of the best printers for work from home use. Multiple variations include inkjet, laser, monochrome, color, and so on. It is entirely up to the users' preferences based on needs and requirements, hence based solely on their discretion. 
Also read Best Freelance Writing Websites
Best Printers For Work From Home