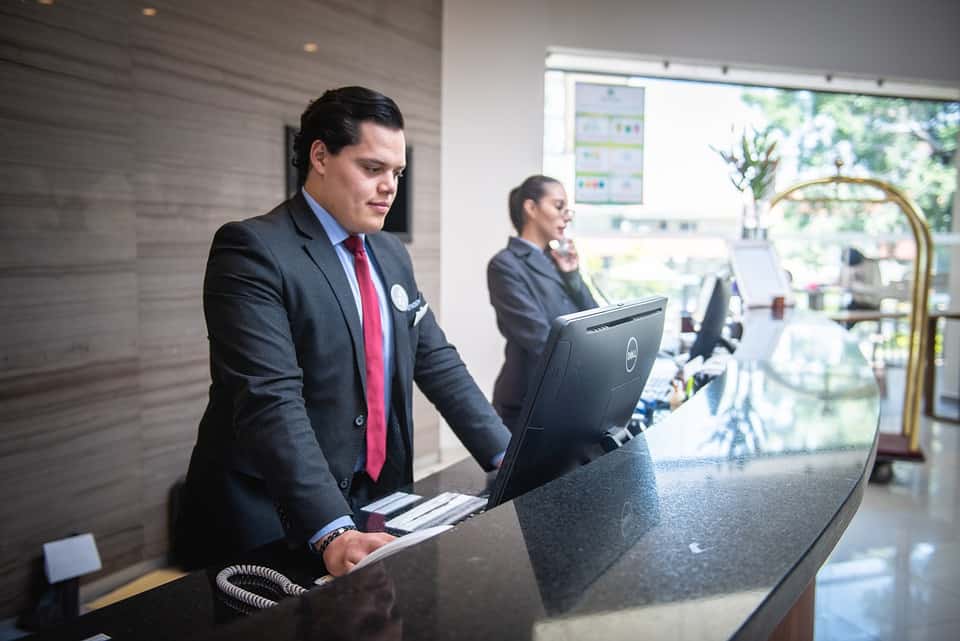 When applying to different jobs, you might think that a receptionist position or an administrative assistant position is the same. However, even though the two positions share some similarities, their differences are clear. The differences between a receptionist and an administrative assistant lie within their job responsibilities, required education, and salary. We will explore the details below to determine which type of job is the best fit for you.
Similarities between a Receptionist and an Administrative Assistant
In general, the two jobs are similar in nature, as both employees provide assistance to their employers and play a significant role in each business or company. Some of the common responsibilities are:
 Answering phone calls
 Handling scheduling and organizing meetings
 Managing documents 
In addition, both positions require multi-tasking abilities and decent communication skills. 
Difference between a Receptionist and an Administrative Assistant
A) Job Responsibilities
What are the Job Duties of a Receptionist?

Receptionists are usually the first point of contact in any company. In addition to any job duties they might have, some of the most important things they must possess are great communication skills, stress management skills, and a positive attitude!
Basically, the responsibilities of a receptionist might include:
Greeting and Welcoming guests 
Answering or forwarding phone calls 
Directing guests or visitors to the appropriate office or employee
Replying to emails and messages
Providing accurate information for clients or visitors
Making sure that the front desk is tidy and neat
Updating schedules and calendars
Preparing training and meeting rooms
Performing other clerical duties such as faxing, photocopying…
What are the Job Duties of an Administrative Assistant?
While administrative assistants have many receptionist responsibilities, they are responsible for many behind-the-scene duties. And usually, an assistant's duties require her/him to work closely with their employer, whereas a receptionist might be closer or more oriented towards the clients or the visitors. To put it simply, an administrative assistant's usual duties include inner company workings such as:
Organizing meetings or appointments
Assisting in preparation for meetings
Ordering office supplies (inventory)
Providing support for clients
Generating reports, or reviews
Carrying out administrative duties such as typing, photocopying, faxing…
Resolving administrative problems or issues
Planning different business strategies

A job description can include more specific duties depending on their niche beside the usual assistant responsibilities. Legal offices, for example, may ask for an assistant with a legal background. In contrast, medical departments can ask for an assistant with some medical knowledge or medical coding experience. In the end, it all comes down to each field.
B) Requirements/ Education
What it takes to become a Receptionist

Generally speaking, a high school diploma or an equivalent is usually required as a minimum education level for a receptionist job. Receptionists must also have communication skills and organizational skills. And usually, they must be acquainted with Microsoft programs such as Excel, Word, or PowerPoint. However, the employer will often provide the training. Here are some basic qualifications or characteristics one must consider:
Hospitality: Since the receptionist is the first point of contact in a company, he/she must have hospitality skills. They should greet clients with a warm smile and act in a friendly manner. So if you are not a people person, this position is basically not for you.
Presentable Appearance: In general, a receptionist must have a presentable appearance and a neat look. He/she doesn't necessarily have to be a model. However, a tidy appearance and attire are preferred. Maintaining proper attire will certainly reflect a proper image for the company.
Discretion: Often, a receptionist may be privy to sensitive or private information, and thus it is very important to remain discrete and low-key. A receptionist is not allowed to share any information about the company or any employer. Therefore, they should be aware of what kind of information is allowed to be shared.

What it takes to become an Administrative Assistant?
More often than not, an administrative assistant must at least require a high-school diploma. However, some companies prefer that their candidate have the following:
Certificate/ Diploma in Business Administration
Previous experience as an administrative assistant
Proficiency in Microsoft programs (Word, Excel, PowerPoint) 
Working knowledge of Google Docs
Excellent time-management and multitasking skills
Attention to details
Problem-solving skills
Obviously, if an administrative assistant is working for a specific niche or field, he/she must be well-knowledgeable in that field. An assistant in a legal firm, for example, must have some experience in the field and some knowledge about laws and obligations.
On the other hand, a dental assistant must have basic knowledge about the health and medical field to be as helpful as possible. Thus, if you have any specific background, it would be better to apply to a company that matches your field, vision, and ambitions.
C) Salary
While the two positions might seem similar, an administrative assistant is usually paid higher than a receptionist. According to the Bureau of Labor Statistics in the U.S. for the year 2019, the mean annual wage for a receptionist is $31,250 or $15.02 on average per hour. However, that would definitely vary according to each person's experience or education. In addition, each field or industry offers a different salary, so here are some of the top-paying sectors:
| | | |
| --- | --- | --- |
| Industry | Hourly mean wage | Annual mean wage |
| Postal Service (government) | $28.21 | $58,690 |
| Scheduled Air Transportation | $20.78 | $43,220 |
| Rail Transportation | $20.03 | $41,670 |
| Insurance and Employee Benefit Funds | $19.21 | $39,950 |
| Electric Power Generation, Transmission, and Distribution | $18.98 | $39,480 |
According to BLS, the annual wage is slightly higher for the administrative assistant, with an average of $39,850, or an hourly pay of $19.16 for the year 2019. In general, different industries have different salaries as well, where some fields may even offer an annual salary of $60,890. Take these sectors into consideration when applying to an administrative assistant position:

| | |
| --- | --- |
| Industry | Annual mean wage |
| Executive administrative assistants | $60,890 |
| Legal administrative assistants | $47,300 |
| Technical or scientific services | $45,100 |
| Medical administrative assistants | $36,580 |
Frequently Asked Questions
1) Can you become a receptionist/ administrative assistant without any previous experience?

You can become a receptionist/ administrative assistant without prior experience if you are not working in the legal industry or the medical industry, where previous experience in the field is definitely required. 

2) Which job position is the more suitable one for you?
Even though both positions are similar, some clues might help you identify which role you might prefer. If you are people-oriented, friendly, and possess customer service skills, then a receptionist position might be more suitable. On the other hand, if you are detail-oriented and have strong planning or problem-solving skills, being an administrative assistant would suit you.

3) What should you major in to become a skilled administrative assistant?
Usually, a strong administrative assistant would have a degree or a diploma in business administration. Even though one might not need a degree to apply to the position, it is better to have one.

4) Can receptionists/ administrative assistants work from home?
Basically, a receptionist is a person who greets clients as soon as they enter the company. He or she usually handles phone calls and schedules meetings. Working from home would be hard as the main responsibilities and duties are not being practiced. But, they can still be assigned tasks such as replying to emails, managing social media accounts… As for an administrative assistant, it is possible to work from home since planning business strategies, solving problems, or generating reports or reviews, can be done remotely. Thus if you are considering applying to an assistant position in the comfort of your own home, that would be a great option.

If you believe that you are hardworking, detail-oriented, and organized, then you might be a nice fit for a receptionist or administrative assistant job. Remember to search for the right field to work in, and do your own research before choosing or applying to any job, since having the right career will result in a happy life
Also read: ISFJ Careers: Best Jobs for ISFJ personality
Difference between a Receptionist and an Administrative Assistant?