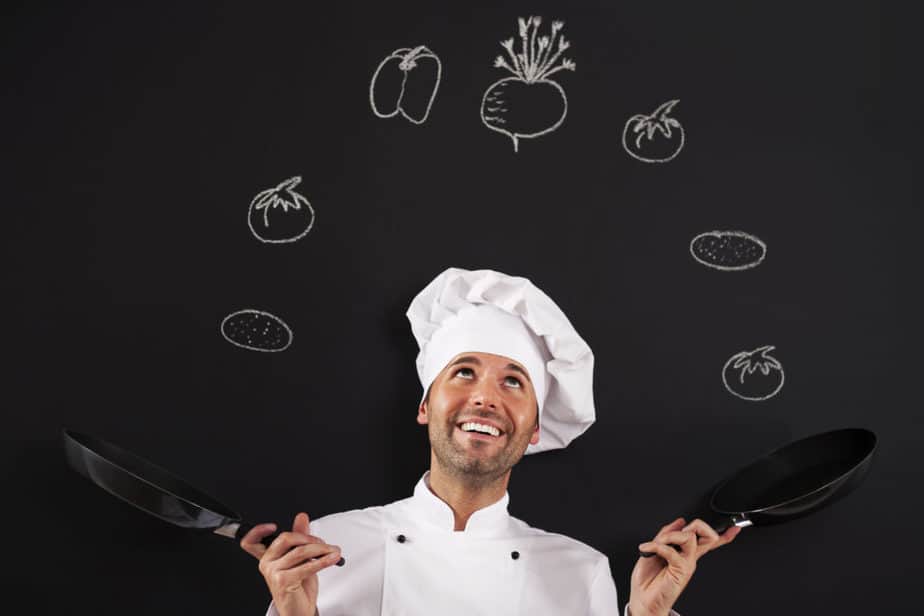 Being a chef, in this time period or generation, can be quite challenging and overwhelming. People expect a lot from you. They want their food to taste exactly how they want it and with no additional charges from your end. If you mess a dish up, you end up getting fired. Even if you are a chef at a small diner or at a big fancy restaurant, chances are, you are going to have to face the same everyday struggles. Today's topic- Chef Resume Examples.
Well, what is success without struggle? Here is your answer- it is as same as a perfect-looking meal without salt in it. 
Moving on, as there is a high demand for chefs nowadays, there sure is a hell of a lot of competition as well. Research shows that out of every 5 people, at least 1 wants to be a chef for a living. So if the population is say, 1000, then the number of chefs would be well, you do the math. 
Saying that to get a job at the restaurant that you desire to work at, your resume application, objective, and skills have to be extraordinary and outstanding. The competition is not getting any lesser or easier, with the time moving forward, the number of chefs is only increasing. 
Let's get started. 
Need of a Chef Resume
A resume is needed for your employer to get a better understanding of why you want the job, what your goals and ambitions are, what skills you have, your strengths and weaknesses, your qualifications, personal details, and everything else they need to know in order to get to the next steps of hiring you.  
It tells your employer in brief if you would be best suited for the job or not. A lot of people think that even if their resume is not up-to-mark, they will charm their way to the job in the interview, but that is a myth. A resume is of the same importance, or well, even more of importance than any other part of it as it is the first step you take towards the job you are applying for. 
Now,  we have seen people wonder that why do chefs, in specific, need to submit their resumes. Why can't they just cook something for their employer and that's it? Well, here's why : 
While your practical interview would tell your employer about the food you make, and how you make it, your resume will highlight your goals and ambitions.
It gives your employer a clear-cut idea about if you will be an asset or a liability for their restaurant/diner/cafe, etc. 
Your resume gives you a chance to standing-out from the other candidates. 
It shows them the skills you have, which could impress them. And they check if the skills are true in the practical interview. 
Previous work experience is what most employers are keen to know about and your resume particularly shows it. 
Skills you need to be a Chef and why you need them : 
The skills you need to be a chef can get as tricky, or as easy as you tend to see them. If you are someone who laughs at a challenge and completes it in no time as if it is your left-hand's game, then you are going to have absolutely no issues. But, if you are someone who gets intimidated by a challenge, then you are going to have some hard luck. But, buckle up because this is your resume for the job that you are after from many, many moons ago. 
The skills that you are going to need to be a Chef and why you need them are listed below : 
Basics of cooking: If you are a chef, or aspire to be one, this skill of course is a very basic skill that you need to add to your resume. The skills then can go from basic to medium, and then to a higher level. This will help to acknowledge that you know cooking from A-Z, and from Z-A. 
Being attentive: This is a very, very important skill. If you do not pay attention to details, you are most supposedly not a good chef and that is exactly the impression you are going to leave on your employer. You most certainly don't want to make a bad impression in front of your employer, so, 1 word should be on the top of your dictionary, and that is- Attention. Cooking food sometimes can be like taking care of a baby. It needs attention all the time and not to mention, it needs attention in all its minor and major forms. 
Leadership: You should know how to lead a team to the way to success, while giving each and every one of them the same value, and regards so no one feels less valued. Leading a team can also help you make a mark for yourself and what is better than that? Huh? (we know you can't think of anything else better than this so, chill.) 
Speaking up and listening well, when needed: As a chef, there are going to be many times when your team doesn't listen to you or to the fellow employees or denies the work you give them and that is when you should know to speak up. 
Also, with the title of being a chef, comes criticism. People are going to criticize you and your food every time they get the chance to and that is when you should know to listen and take criticism well. Obviously, when someone starts speaking beyond the boundaries, you are going to have to speak up for yourself.
Managing time well: When you work as a chef at a restaurant or café, etc., you have to make food for many people at the same time. So, you have to manage your time accordingly so that the customers stay happy and would want to come back to eat your food again. Nothing pisses off a customer more than waiting for their food for so long. 
Cleanliness: As the chef, you are in charge of what goes in on your kitchen and as the health department is very serious about the hygiene of restaurants and cafes, if your kitchen is suspected as unhygienic during the inspection, you have to pay a lot of charges. Unhygienic kitchens can also lead to the health department, shut down the whole organization and we assume that you don't want to be out of a job, right? 
 Not to mention, customers always come back to a healthy and clean restaurant and never to a place that smells like feet and feels like a garbage can. 
Multitasking: Multitasking becomes your forte when you become a chef as you are not making just one dish at a time. You have to give attention to everything that goes on in the kitchen. And you have to give PROPER attention and care to each and every dish. 
Organizing skills: There is a saying that goes by, which says, 'if you are not organized, then who the hell are you?' and well, we couldn't agree more. You need to organize everything as much as you can for the sake of not getting frustrated during a rush hour at work. 
Creative mindset: This is what most people look for in their candidates. Creative mindset. If you love to play with food ingredients and can make something new on your own and introduce it to the world, it not only makes a name for you but also for the people you are working for as well, and who wouldn't want that? We know we would. 
Passion: Well, if you are passionate about cooking, and that's all and everything that you want to do. If cooking is the one thing that keeps you up and if cooking makes you happy at the same time, and it shows, then you are in luck because everyone likes a genuinely passionate chef to work at their restaurant/café/diner, etc. 
Resume Objective- what to write and why
While writing your resume objective, you should keep these things in your mind :
It should not consist of long, boring paragraphs.
Explain in short- why you want this job, your goals and ambitions, and what makes you stand out from others.
Tell them why they should continue to read your resume and not reject it. 
Make sure to write all of this within the span of 3-4 lines and nothing more than that. The rest of your resume should do the work of telling your employer about your skills and everything else that they need to know. 
Make a first good impression by your resume objective and do not rush into it. Take your time in writing what you think will impress them so that they consider reading your resume further. 
Why write a resume objective : 
Your resume objective makes an impression of you in front of your employer(s) and it helps them understand that what you expect from the job and how much you want this job. 
It also makes their job easier because if they do not like your objective, they will discontinue reading your resume i.e. it will automatically be rejected. But, if you make a first good impression with a catchy objective, you are in for a treat, folk!
Chef Resume Examples 
Here is something to get the resume-writing stress off of you and help you understand better that how you can write an outstanding resume. 
First of all, let us walk through the format of writing a resume : 
Format : 
There are a lot of Resume formats out there, but this is the most basic one.
[Your name]                                                                     [Address]
                                                                                            [Email]
                                                                                            [Contact Number]
[Objective]- (3-4 lines maximum)
[Education]
[Work Experience]
[Skills]
[Certificates/Awards]- (if any)
[Reference(s)]- (optional, but is advised that you show at least one reference)
Example 1 : 
Jack Soloff                                                            XYZ Street, New York
Chef                                                                           [email protected]
                                                                                    47739XXXXX
Objective 
Enthusiastic about cooking and creating new recipes. Highly skilled with all the basics of cooking as well as at the high levels of cooking too. Eager to learn more and more every day and to make a great team. 
Education
MBA program in hotel management from AZT University. 
ASK High School, New York. 
Work Experience
2016-19  Head Chef
                       TmZ café, New York.
2019-2021  Barista
                     Starbucks, New York. 
Skills
Time Management: 4/5
Basic to High cooking skills: 5/5
Leadership: 4/5
Organization Skills: 3.5/5
Cleanliness: 4.5/5
Attention to details: 5/5
Multitasking: 2.5/5 
Certificates/Awards
Best Employee of the month for 3 months straight.
Best Barista in town award. 
Example 2 : 
Louis Litt                                                           HHH street, New York Chef                                                                             [email protected]
                                                                                     57439XXXXX
Objective 
Great at leading a team and have all the relevant skills needed to be an amazing chef. Takes work very seriously and is determined to become the next best chef the city will ever see. 
Education  
Diploma in the restaurant and culinary management, Institute of Culinary Education, LA. 
SKS High School, New York. 
Work Experience 
2020-2021 Internship 
                     Hstk restaurant, New York. 
Skills 
Cleanliness and Organisation: 5/5
Leadership: 5/5
Cooking: 5/5
Culinary Presentation: 4/5
References :
Ms. Pooja Aggarwal- Head Chef at hstk restaurant.
Mr. Rahul Khanna- a fellow employee at hstk restaurant. 
Example 3 : 
Donna                                                ARK Street, New York                                                                                                                                                       
Chef                                                                   [email protected]
                                                                            9372XXXXXX
Objective
I'm Donna and I'm Awesome. 
I consider myself the best head chef in the city and am currently looking for a restaurant, worth my time and skills. 
Education
Diploma in the restaurant and culinary management, Institute of Culinary Education, LA.
MBA program in hotel management from AZT University.
XYZ High  School, New York. 
Work Experience 
2012-2016 Head Chef
                    Alessandro's, New York
2017-2019  Head Chef
                      Jimmy's, New York
2019-2020       Barista 
                          CCD, New York.
Skills 
Leadership: 5/5
Attention to detail: 5/5
Culinary: 5/5
Socialising: 4.5/5
Organization and Time management: 5/5
Certificates/Awards
Best Head Chef in the city Award 2014-2019
The employee of the month, 6 times in a row.
Cooking show Awards 
References 
Jack- a fellow employee at Alessandro's
Mini- the owner of Jimmy's 
Nathan- a fellow employee at CCD
Here end the examples for your chef resumes. You can always choose your resume template from a website. 
You are good to go with writing your resume now. 
Frequently Asked Questions
Is being a chef worth it?
Answer: Nobody can tell you if something is worth your while or not. You have to figure that out for yourself that- am I passionate about being a chef? Can I handle the responsibilities? Is this the right path for me? And it will answer your question. 
If you were to ask us, If being a chef is what you desire to be and are passionate about, it is 100 percent worth it.
You know what you have to do, and that's your start. 
Are chefs rich?
Answer: Chefs at a reputed level, and at a reputed restaurant sure makes a lot of money, but there are a lot of people who end up working at small diners or pizza chains which leads them to make enough money to pay their own bills. So, if you want to succeed as a chef, choose the right path for yourself- if you want to work at a diner or a restaurant because both these paths are extremely amazing and in cases of your passion from within, money doesn't matter. 
Does my resume matter more than my interview?
Answer: Considering that your resume is the first thing anyone sees about you, it is definitely more important than your interview. If your resume is up-to-mark, then only the employer shows interest in you and considers you for an interview to talk about the rest of the thing. 
How can I make sure that my resume is up to mark?
Answer: You can ask your seniors to help with the same. Also, here are some points to keep in mind while writing your resume :
Make sure you write a catchy objective.
Your skills matter a lot, so make sure you write all the relevant ones carefully.
Write all your qualifications, certificates, awards, and work experiences. 
References are optional but if you add references to your resume, it sure will act as a plus-point for you. 
Typical working hours of a Chef?
Answer: It totally depends on the agreement that you have with your company and if you do not have an agreement, ask for one. Usually, Chefs can work from 8-12 hours, 7 days a week. Especially during holidays, due to the high demand at the restaurants, chefs are expected to work for as long as needed. 
Is being a chef, difficult?
Answer: What job isn't difficult? There comes a point at every job where you find it so difficult to work, that you feel the need to give up. But don't. Because those difficulties lead you to your success. 
How many years do I have to dedicate to become a chef?
Answer: It typically takes up to 6 years. 
Does being a chef have any pros?
Answer: Of course it does! Here are some of the pros of being a chef: 1. You can introduce new recipes to the world.
           2. It doesn't need a lot of theory work.
           3. Internship periods are short for chefs. 
           4. You get to learn a lot. 
Does being a chef have any cons?
Answer: Where it is good, there is bad too. Just like being a chef has pros, it sure has cons too. Here are some : 
Lesser pay, depending upon the type of chef you are and the type of organization you are working for. 
The industry is a little too competitive. As mentioned in the article above, every 1 in 5 people desires to be a chef. 
Working hours. If you don't have an agreement- you work, work, and you work. 
Different levels of chefs? 
Answer: You can find the different levels of chefs below : 
Executive Chef,
Head Chef,
Station Chef,
Junior Sous Chef.
Conclusion
There is a saying, 'if there is a will, there is a way' and we truly and completely agree. Being a chef and finding a job as a chef can be as easy and as hard as you make it. If you will think of it as a so-so thing, you will never be able to get it done. Get enthusiastic, be determined, work so hard that you stand out from all the other candidates. 
As we already said, we will say it again- being a chef in this generation could be quite challenging and, believe us, you, we are not kidding. 
Create a clear mindset of what you want to do and what kind of a chef you want to be, what skills you have, and what other skills you should have that you don't already have. Move on to the next step and create your resume(you already have the whole guide above in the article) and make it a resume worth considering for the job. Analyze your resume as if you were the employer and you were hiring someone. 
Your chef resume shows who YOU are as a chef. It tells your employer everything about you and you sure as hell want to make a first good impression. So take as much time as you need to create your resume, give it as much energy as it asks for, have a look at the minor and major details, and give it proper attention, and you are good to go. 
Chef Resume Examples- Their Skills, and Objectives