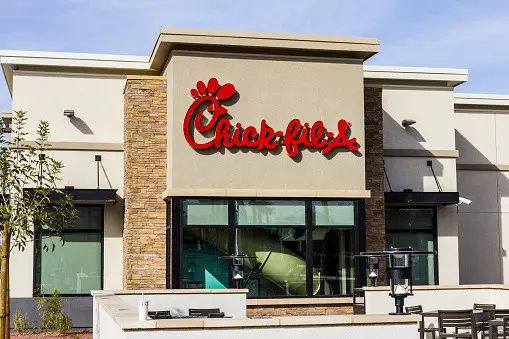 In this article, we will see How to answer 'why do you want to work at Chick-fil-A?'.
Introduction
Founded in 1967 by S. Truett Cathy in Hapeville, Georgia United States, Chick-fil-A is currently one of America's largest fast-food chains and the home to the original chicken sandwich, which they still describe as "original chicken sandwich with two pickles on a toasted bun. The name fil-A is a play on the American pronunciation of the word 'filet', the company name resembling their most beloved product, the chicken filet. With over 2,697 locations all over the United States and Canada and more than 35,574 employees, Chick-fil-A is nowhere near being done as they are seeking to venture out and open new locations in and outside the US.
A single restaurant that started out as "Dwarf House" in Hapeville in 1946, opened up its doors as Chick-fil-A first in 1967 and there has been no stopping since. As much as this fast-food chain is obsessed with its customers, customers are also equally obsessed with their favorite chicken sandwich place. The dedication of the company's employees and hands-on management has made the company report sales growth every single year since it opened its doors. What is a big plus point for Chick-fil-A is that they keep the recruitment and selected process for the entry-level jobs fairly simple, and they are keen on hiring young minds who are willing to dedicate their time and are passionate about making other people happy.
Interview Process At Chick-fil-A: 
The interview process at Chick-fil-A is not very complicated and involves few steps for entry-level jobs. Since Chick-fil-A is big on getting young dedicated minds involved, mostly students, the company offers lots of benefits that attract student applications. For most entry-level positions, having experience in the service industry is not mandatory. Usually, the first step of the recruitment and selection procedure is submitting the online application. After the submission, those applications with any incorrect details or with any errors are rejected.
Following this initial screening, is the compulsory aptitude test that all candidates have to take online. It consists of very basic and simple questions, quizzing on your general idea about the company, your take on the ideal way of treating customers, some logic-based and situational questions. The candidates who perform up to the company's set standards for employees are then called for an interview, usually in-person, in any one of their outlets, as per the candidate's location. It takes about three weeks for the company to reach out to you after you have submitted the online application, which Chick-fil-A also calls "an expression of interest". 
Having a resume or a CV is not mandatory when it comes to student recruits; but submitting one along with your application will make an impression on the employers and also, make you look determined and organized, two skills the company treasures in their employees. The Chick-fil-A interview starts with the introduction, rechecking of background details you had provided in the application form, asking about your education and academic career (if you are still a student), and then proceeds towards the behavioral and situation-based questions.
No Chick-fil-A interview is complete without the interviewers asking, "Why do you want to work at Chick-fil-A?" and, "Why should we hire you?". Having one answer prepared for questions like these and then tactfully changing it up wherever required as per the question, will be helpful for you. 
Answering "Why do you want to work at Chick-fil-A?" and "Why should we hire you?"
Before you sit for the interview, read about the company's mission statement, values and what they believe in, how they operate, and what their near future goals are. Referring to and including these points in your answer will make the interviewers realize that you have taken the time to read up about the company before appearing for the interview which shows dedication and grit.
When you are asked why you want to work at Chick-fil-A, start by saying that you know what the company stands for and since you support their ideals, you want to be their representative and contribute in your own way to help the company grow, in the larger sense of the word. Make sure to answer how you joining the team, will help the company first, and then proceed to say how Chick-fil-A is the perfect fit for you. if you start by saying that you like the part-time work schedule the company offers along with scholarship options, it will leave a bad impression on the interviewers and make you sound self-centered.
Chick-fil-A is massively customer-centric, and keeps its customers their top priority, closely followed by quality. They do not compromise with the quality of chicken which is ethically and hygienically sourced, their bun baked fresh in their stores, and freshly sourced vegetables. Include these in your answer and say that you would like to be associated with a fast-food chain that thinks about their customers so much and have always remained consistent with the quality of their products, a reason why the chicken sandwich at Chick-fil-A's has been America's favorite for quite some years now. 
Then talk about how the company offers flexible work hours and scholarship options which will be of great help for you (if you are a student). You can also mention that if given this opportunity to work at Chick-fil-A, you will be able to gain valuable work experience in the service industry and a place to learn and develop leadership skills. If you work well in a team and can cooperate with others, mention that and say that you think you will be a good addition since customer service is all about organized teamwork and understanding between the employees in a shop.
Frequently Asked Questions
Does Chick-fil-a Pay Weekly?
Chick-fil-A pays its employees bi-weekly.
How To Dress For The Interview?
If you are applying for an entry-level position, wear comfortable, decent, and casual clothing with minimal makeup.
How Long Does The Interview Last?
The interview at Chick-fil-A typically lasts for 20-40 minutes.
What About Uniforms?
Chick-fil-A provides all their employees with uniforms consisting of shirts, pants, nametag, and a belt.
How to answer 'why do you want to work at Chick-fil-A?'