Founded in 1998, JetBlue Airways Corporation is an American Airline, best known for its economic viability. With over eighty-five destinations within the United States and over a hundred destinations spread across North and South America and Europe, JetBlue operates as one of America's leading low-cost carriers (LCCs). Let us know What are the 'Overview Of JetBlue Airways Corporation'.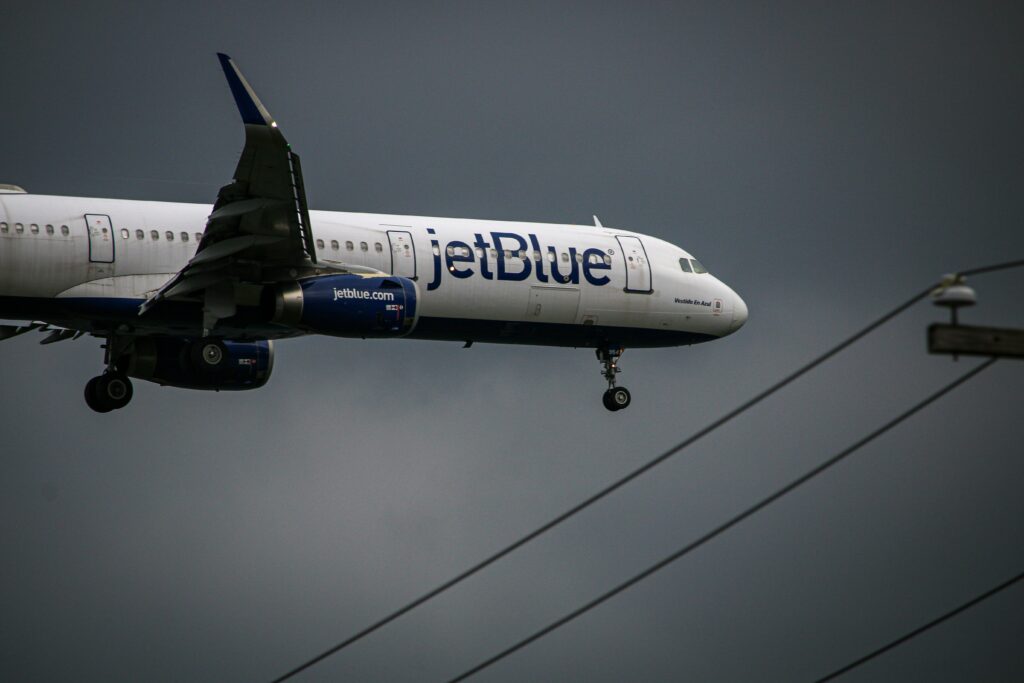 Overview Of JetBlue Airways Corporation
JetBlue Airways Corporation's headquarters are located in Long Island City, New York. Its business model focuses on a low operating budget, a single, efficient aircraft model (currently a fleet of Airbus A321LRs), and minimal distribution costs. It refrains from membership in major airline alliances, although it is part of several codeshare arrangements. JetBlue's subsidiaries include JetBlue Ventures, LiveTV and JetBlue Travel Products; JetBlue's investments include TWA Flight Center Hotel, JSX and Spirit Airlines.
SWOT Analysis of JetBlue Airways
Strengths:
With over thirty-five million customers a year and approximately nine-twenty-five flights a day, JetBlue has emerged as the United States' sixth-largest airline corporation. JetBlue owes its success to several features of its low-budget business model:
Despite being an LCC, JetBlue offers its customers a wide range of fare choices and fare classes, based on the time taken to board the flight, legroom, and prices for carry-on luggage.
JetBlue's "Blue Extra," its most popular fare option, gives customers extra services that are included in the price of the ticket. With a choice of seat (between thirty-two and thirty-four inches), carry-on allowances, screens at all seats, complimentary brand-name foods and non-alcoholic beverages and a no-cancellation fee policy, "Blue Extra" is a highly successful model.
JetBlue's cancellation fee exemption proved to be particularly popular when the coronavirus pandemic hit and several customers were forced to cancel or change flights.
The "JetBlue Flight Tracker" shows customers live flight details and flight statuses.
JetBlue customers do not have to worry about last-minute extra carry-on charges, as JetBlue offers several options in terms of luggage size choice.
JetBlue boasts luxurious legroom and comfort; additionally, customers are allowed to choose coach seat types. 
JetBlue offers high-speed in-flight WiFi and satellite radio services to all its passengers, which makes it an attractive choice. 
JetBlue cardholders can access additional benefits by earning bonus points with every JetBlue purchase. JetBlue's award system increases customer loyalty.
JetBlue flights usually have no stops and ensure an uninterrupted, worry-free, pocket-friendly journey.
With seemingly unrivalled entertainment services, attention to passenger comfort, especially in terms of legroom, live TV services, WiFi at all seats and complimentary snacks and beverages, JetBlue's service quality makes it a certified 3-Star Airline, ranking number one in USA Today's Top Ten Best In-Flight Entertainment (2021) and Best Economy Class (2021) lists. 
Weaknesses:
JetBlue has often scored low in terms of customer satisfaction. Although overall customer satisfaction seems to be increasing in the realm of airlines, the United States Department of Transportation has seen a marked increase in the number of dissatisfied JetBlue customer reviews and complaints.
JetBlue passengers have often complained of issues with flight delays and the mishandling of luggage.
Customers have complained of increased flight cancellations.
In 2021, JetBlue Airlines ranked at the lowest position in The Wall Street Journal's yearly ranking of American airlines.
Major LCC competitors Spirit Airlines and Frontier Airlines, whose planned merger is likely to boost growth, have ranked above JetBlue Airlines.
JetBlue's recent financial results indicate big losses. When this is coupled with the recent decision to buy Spirit Airlines, JetBlue's future seems rather bleak.
Most major American Airlines experienced profits and gains in the second quarters of 2022, while JetBlue faced significant losses, which brings the business model's viability into question. 
Opportunities:
The airline industry, as a whole, is recovering from the effects of the pandemic. JetBlue has made significant progress in terms of its post-pandemic comeback.
The airline industry does not offer too much competition in terms of economy experience, which still makes JetBlue a unique airline with popular backing.
Spirit has a successful business model and JetBlue's takeover of Spirit may prove to be beneficial, especially in times of recovery.
Power outlets, live television, greater entertainment availability and complimentary snacks and beverages are important criteria in determining an airline's popularity. In the economy and budget-friendly class, JetBlue still seems to have little competition in terms of these facilities, as other airlines show insignificant signs of improving or increasing the availability of these amenities.
In a post-pandemic world, LCCs are key to the airline industry, as affordability has become one of the first factors customers take into consideration. In this sphere, JetBlue has an important advantage over non-LCC airlines.
Threats:
Passengers have begun to prioritise reliability and timeliness over free WiFi, touch screens at every seat and entertainment facilities. JetBlue, unfortunately, seems to be fulfilling criteria low on the passenger priority list.
Customer service has proven to be a determining factor in terms of airline choice, where JetBlue continues to fall short.
Ultra-low-cost carriers (ULCCs) are gaining more popular appeal and are proving to be important sources of competition for low-cost carriers like JetBlue.
Certain cost advantages JetBlue benefited from in its initial years were highly dependent on the fact that it was a new airline, with new fleets of planes and lower wages for its employees. However, JetBlue has completed more than twenty years as an airline and is now losing several revenue opportunities to ULCCs.
Staffing, cancellations and delays have become an inescapable issue despite the end of the pandemic-era struggle. JetBlue is not exempt from customer dissatisfaction and revenue losses as a consequence of these problems that have experienced a build-up over the last two years.
Conclusion
Now We've learnt about 'Overview Of JetBlue Airways Corporation', Overall, JetBlue is still a unique airline, with almost unmatched facilities in terms of entertainment, complimentary foods and beverages, legroom and the absence of cancellation fees. Regardless, non-reliability, flight delays, schedule changes and cancellations, and poor customer service have proven to be major obstacles in the path of JetBlue's future viability. JetBlue's investments, particularly in Spirit Airlines – a massive, $3.8 billion undertaking, could help cope with recent revenue losses and improve its business model or could lead to an increase in losses. Despite a bankruptcy probability of 51% and disappointment amongst investors, JetBlue is looking to add destinations in Europe. JetBlue is still a key competitor in the airline industry. 
Overview Of JetBlue Airways Corporation