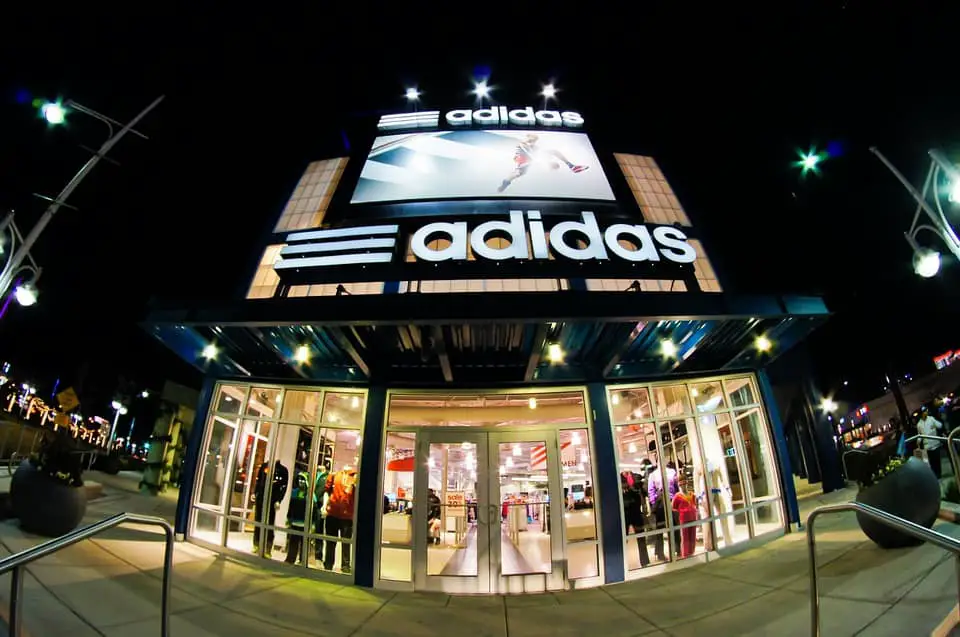 Introduction to The Brand
Adidas is a sports apparel brand that covers a wide range of sports-related services and goods. One of the leading companies in their industry, with Nike as a cutthroat competitor, the German company was founded by Adolf  "Adi" Dassler in 1924 in Bavaria, Germany. It quickly climbed the ladder to become the largest sportswear maker in Europe at the beginning of the 21st century and the second largest in the world. The current CEO is Kasper Bo Rorstead. The SWOT analysis for Adidas reveals the tenacity of the company and the kind of growth curve that it currently has and is expected to have in the future.  
Adidas is one of the oldest brands, and therefore, it enjoys an advantage in its established trust among the people. Being quite a common name for sportswear, it is pretty stable in its customer loyalty. Adidas also has an extensive base for distribution and sale, making it popular not just in select countries but also worldwide. 
However, the outsourcing policy of the brand can cause problems in ensuring the consistency in quality of service in Adidas. The limited nature of its product line has also emerged as a concern in a market that is increasingly diversifying its client base and catering to allied sports needs. Increasing its line of products is probably the most significant opportunity the company has as well. The onset of greater demand in using better, more sustainable, durable material in sportswear is also a gateway Adidas can be the first to enter. 
As mentioned before, competition in the industry can be a hindrance if Adidas does not diversify its product and services base and unique marketing. Counterfeit products are rampant in the fashion industry, which remains steadfast in Adidas' case.
Adidas Swot Analysis
Strengths
Strength of the Brand Name
Undoubtedly, Adidas' formidable brand is one of its greatest assets. Adidas, like Nike and a few others, is a luxury sportswear brand that is recognized all over the world. Not only does the brand have a large following, but it also has a great image. Adidas items are known for being both trendy and of good quality. Overall, Adidas' strong brand is a crucial factor in the company's ability to acquire such a large share of the premium sportswear market.
Historical Relevance
Adidas has had a prestigious legacy and heritage. It has played an essential role in shaping opinions in the kind of role sportswear plays in people's lives. This historical influence also spreads across the world in different groups in society. 
Network of Reach in Distribution
Adidas has a well-developed distribution network in addition to an excellent brand image. On a logistical level, the Adidas distribution network transports millions of items worldwide promptly. Customers have many options when it comes to how and where they can buy things when they are ready for retail. Adidas products are sold in physical stores worldwide, some of which are Adidas-branded and others which are larger-scale athletic merchants. Adidas has an extensive eCommerce presence in addition to physical sales. Thousands of online stores, including Amazon and Adidas own, offer products for purchase.
Product Diversity
While the brand itself is restricted to the sportswear market, it has a diverse set of products that it offers in this industry itself. 
Weaknesses
Outsourcing of Production
Adidas outsources its product manufacturing to Far Eastern factories, mainly in China, Cambodia, Vietnam. While this method allows the company to save money, it is also one of its fundamental flaws. Adidas loses control over how its products are created by outsourcing production operations to third-party vendors based in other countries. As a result, Adidas finds it incredibly difficult to ensure that all of its products satisfy the same high-quality standards. Adidas is also at the mercy of third-party suppliers because it outsources its product manufacturing. Suppliers can cease working if they are displeased with payments, for example. For a firm as large as Adidas, this can rapidly become a problem.
Highly Priced Goods
The brand does cater to a particularly placed audience that is financially able to afford its highly-priced, premium products. It has a narrow client base due to this. This weakness is also the cause for the increase in counterfeit products available in markets openly. It can undermine the product quality and image. 
Limited Product Line
Adidas also has a limited product line, which is a huge flaw. Adidas has yet to diversify its product line, despite diversification across several price ranges and overseas markets. This is in comparison with Nike, Fila, and other premium brands that offer a range of products and services. They also have a more prominent presence in terms of advertisements and endorsements. Adidas now nearly entirely sells sportswear, with a strong emphasis on footwear. It's difficult to imagine the sportswear business shrinking any further, but new competitors may quickly force their way into the market and suck up Adidas' market share. Adidas would be less affected by market fluctuations or new competitors if its product line were more diverse.
Operating Expenses
The raw material required for the manufacture of the Adidas goods is quite expensive. In addition to this, the labor costs are increasing as well. All these factors have led to a collective rise in the operating expenses for Adidas, which could have several implications.  
Opportunities
Scope for e-Commerce
Due to the COVID-19 pandemic, online shopping and retail services are increasingly being carried out on online platforms through e-commerce websites like Amazon, Flipkart, etc. Using this new development to reach out to bigger audiences could boost Adidas' sales and reach.
Rapid Growth in the Sportswear Industry
The rising sportswear market may be Adidas' most important opportunity. Health and fitness are more popular than ever, with no signs of slowing down anytime soon. This means that the number of individuals participating in sports will continue to rise, necessitating the use of proper apparel. However, this is hardly a one-of-a-kind opportunity for Adidas. Other sporting firms will be exposed to the same burgeoning market, and it will be up to Adidas to develop innovative strategies to stay ahead of the pack.
Demand for Sports Goods
Although the need for sportswear was stable in the past, more and more people have begun prioritizing sports and fitness apparel after the COVID-19 pandemic lockdown. This is a chance for Adidas to make sports apparel more economical and friendly to all groups of people, not just its usual set of customers. 
Using Better Raw Material
Science is further developed than at any other time. Consistently, new materials are found that have many advantages over conventional options. To add to that, customers are continually searching for items that are fabricated better. These two factors together present another chance for Adidas: the utilization of shrewd materials. By persistently putting resources into the turn of events and assembling new materials that can be utilized in athletic apparel, Adidas might have the option to offer a better item than its rivals. For instance, Adidas could put resources into growing new, breathable textures to keep sportspeople extra-cool in the mid-year, or different gums and rubbers to work on the response of running shoes with each progression.
Threats
Competitors
The threat of competition is always there in any business. Adidas is known for its heated competition with Nike, and they can't afford to lose its guard. Consumers currently pick between Adidas and Nike based on personal preference, as there is no significant difference in product lines or quality. This is why Adidas must maintain its brand image, as evidenced by the previously mentioned notion of celebrity endorsements.
Risk of Counterfeit Products
Counterfeit products abound in the sportswear business. Given the high prices of top sports gear brands like Nike and Adidas, it's no surprise that many customers are looking for a less expensive alternative with the same powerful brand. Although counterfeit Adidas products exist, the firm has successfully persuaded customers to buy the real thing. However, if Adidas disagrees with one of its international suppliers, the idea of a massive influx of counterfeit goods is highly frightening.
Conclusion
To maintain its current position, Adidas must strengthen its research and development and localize production to fulfill its goal of dominating the market and being the top brand for sportswear apparel, according to the brand's SWOT analysis. Aside from increasing client interaction, the organization must also focus on cost-cutting. For continued development and outstanding outcomes, the corporation must increase its presence in Asian markets. Adidas should therefore limit the outsourcing of its output and create the goods in-house, lowering the risk of excessive manufacturing costs.
Frequently Asked Questions
How can I know more about Adidas' production and manufacturing process?
You can refer to the Annual Report on https://www.adidas-group.com/en/investors/financial-reports/2021/. It consists of a detailed review of the company's suppliers.
Are Adidas products safe and adhering to social and environmental policy standards?
According to Adidas, all their products mandatorily pass biological and chemical safety tests. They also provide more details in their Annual Reports released on the website. 
Adidas SWOT Analysis- Know everything about it