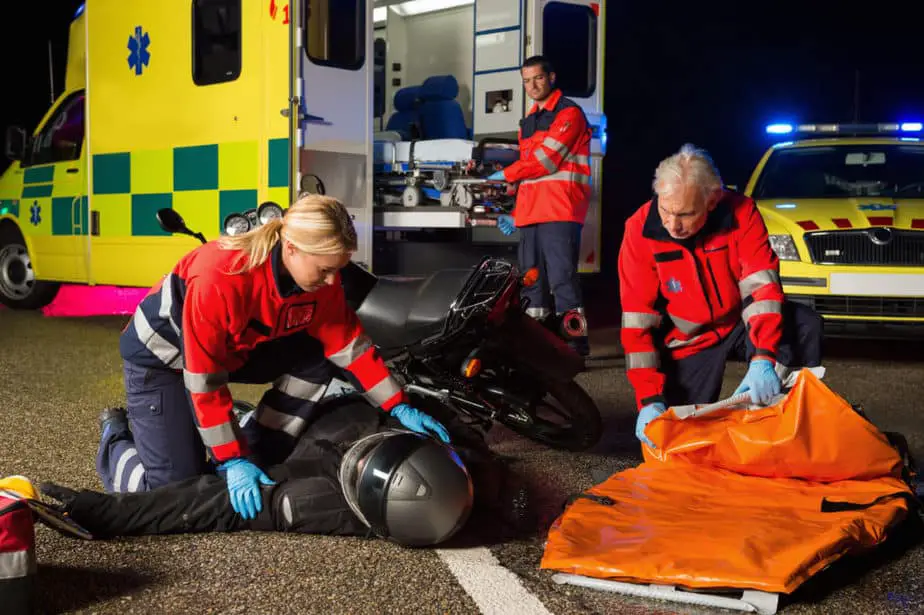 This article is all about the Paramedic Shift hours.
Paramedics are always lifesavers anywhere they are getting their work done. You would know that paramedics do not work the regular 9 to 5 as many other people do, mainly because their duties are needed 24/7. No one can predict when an emergency will happen, and there is the need to keep the situation at the minimum critical level until the medical professional arrives. The role of paramedics can be fitted into any industry or organization because of their training in first aid and lifesaving skills. Perhaps you are just curious about the working schedule of the paramedics if you are hoping to be a paramedic soon. This piece will highlight the shifting hour work schedule for paramedics and how they get their job done.
You might be wondering what the paramedic's shift looks like and if it impacts their performance and health status. Indeed, the paramedic's shift hours can be very stressful and no doubt challenging, so when you see an ambulance or emergency vehicle with some paramedic workers, you might want to appreciate them for their service. Typically, the paramedics work based on the schedule of the medical facility they work for.
Some of them work for 8, 10, or 12 hour day or night shifts. These are the regular shifts for some workers, while others work 24 hours on 24 hours off. In addition, the paramedics do some other stressful modifications, which might exceed 24 hours of job activities at a stretch. Averagely the paramedic staff is known to work for about 36 to 48 hours in a week, while sometimes they work overtime depending on the situation surrounding their work schedule. Although there are some other work schedules for the paramedics that use a 24 hour or even 48 hours long work schedule, this work schedule depends on the facility or agency they work for. 
The Paramedics overall shifting schedule
It is crucial that the paramedic's chiefs set a viable and less complicated shift schedule for their workers to function optimally and perform at the best energy rate they have got. Besides, the shift schedule for paramedics is always determined based on the time on task, areas to cover, on-call demands, and availability of personnel. Although, the length of shift observed by the paramedic's personnel varies from one state to another across the United States. Lengthy hours as a paramedic at work can lead to fatigue which can also lead to errors.
At the same time, there is also the possibility of system overload and increased delay in service. Every paramedic service is unique, and the length of hours in a shift varies a lot based on several reasons, which could depend on the equipment supply, availability of trained personnel, and many more factors. Another determining factor is the average time for paramedics to get a task done on an average. 
Some medical facilities or agencies see Task on Time under an hour as a completed task, while some charge on time is marked up to four hours for paramedics based on the duties. Understanding the number of hours required for an assignment on time can easily measure the number of calls a paramedic needs to attend to. More so, factoring in the travel time required for a team of paramedics to get to the station of assignment or location and back to the agency or medical facility they work for is another consideration that should not be ignored. Meanwhile, the vehicle and daily equipment pre-check routine and restocking of low first aid materials should give you a rough overview of a typical shift for the paramedics. 
Of course, one of the biggest reasons employees perform their tasks with dissatisfaction is the number of hours spent at work, which could easily impair the mental state of the workers. Unfortunately, it is always common and one of the norms practiced in the paramedic profession as they often tend to extend their working hours up to three hours after their original shift schedule has finished. Poor morale of the paramedic's crew is certainly exhibited when the workers are held past their normal shifting hours and are not often properly compensated for hours spent outside their normal working hours. 
The difference in paramedic shift time
There are various hours of shifting time scheduled for the paramedic staff, and most often, the shift hours observed by the medical facility or Agency A are quite different from what is observed by some other medical facility or agency. Here are some common shift schedules used by most organizations to apportion shifts for their paramedic workers.
8 hours shift tour
This is the regular American daily work hour schedule for workers; however, this isn't what operates in most cases for paramedical personnel who work for most medical facilities or some other agencies. With the 8 hour type of schedule, based on the type of agency the paramedic works for, any activity or work done after the 8-hour shift is considered overtime. The 8-hour shift includes driving to the location where the paramedic vehicle would be stationed, the pre-check routine, and every other necessary detailing to be done. This type of shift is considered one of the most tasking shifts to control the labor cost and resources deployed.
The 9 hours/12 hour mixed shift model
This is a shift that is designed to incorporate a little bit of flexibility. The paramedics are mostly scheduled to perform 9 hours or three 12 hours shifts in a week, consequently resulting in 36 hours. This type of shift allows a bit of time to rest after the successful completion of each shift. Before the paramedic hits 40 hours of overtime mark, they would have also enjoyed some rest. In addition, the paramedics would easily have some time off from the ambulance, giving them enough room to take a rest. This schedule is known to impact the workers positively, and they have an improved work and life balance in the process. 
The 24-hour shift
This type of shift is very demanding for the paramedics, and they would have to work for 24 hours straight without any break. Although it is unusual, some agencies or medical facilities place their workers on this work schedule. This type of shift is often operated in rural areas where there are low calls and low emergency cases to be attended to. This also gives the paramedics some time to rest in between their shifts and responds to calls when needed on time. However, it would be a disaster if an agency uses the 24-hour shift schedule mode in the city or any location where there is high demand for the paramedic's services.
This is because the inefficiency and risk management of the workers would be very alarming and could be potential trouble in the long run. However, if any medical facility or agency plans to use the 24-hour shift routine, they should provide a substitute where emergency providers can be prepared for long, excessive weeks of activity. 
More so, the effect of such long working hours would lead to fatigue and negatively impact the workers' performance, which would certainly be very tasking and challenging to the users. It is crucial to understand that the management and the paramedic's chief play a huge role in the performance of the staff, which is assigned to the duties of long hours activities. More so, empowering and adequate compensation must be provided.
36 hours or 48-hour shift schedule 
This is a very rare shift work mode. However, it is possible to have paramedics performing this type of work activity. For example, in rural locations where the demand for paramedics and emergency services is very low, paramedics are placed on 36 to 48 hours shift schedules. Besides, these crews often offer places to rest and take some time off in between the shift schedule. Some of the locations where this type of shift schedule is commonly used include rural areas, oil rigs, construction sites, and far remote islands. 
The power car shift model
Here is a rare shifting schedule where urban centers that demand paramedics' services at a peak volume of a short period are attended to with the use of the power car model. Crews of paramedics scheduled in the power car model are expected to complete their shift routine with several tasks completed. When this demand arises, the crews are either compensated separately or are expected to finish up their shift for the day in some situations like this. So, for example, say a power car is supposed to meet a four-trip demand and in the space of 8 hours and the trip was completed in the space of 6 hours, then the paramedic's team can return home hands-off for the day.
Finding the right shift schedule for the paramedics can be very challenging because emergencies can't be predefined. More so, it is easier managed if the shifts are scheduled based on the availability of workers and previous knowledge about the entire environment. 
Paramedics working in an ambulance
As it stands, the working hours of the paramedics can somehow vary based on where they work and what services they provide. The paramedics that work with ambulance services often have their shift activity is scheduled to be a 12 hours shift. So the 12-hour shift is mostly broken down into, say, 7 am to 7 pm, or 7 pm to 7 am. This seems to be the common work schedule used by most ambulance services. More so, the shifting schedule can be based on four days on and three days off basis, which could be like on 
Sunday – 12 hours on duty
Monday – 12 Hours on Duty
Tuesday – 12 hours on duty 
Wednesday – 12 hours on duty
Thursday – off duty
Friday – off duty
Saturday – off duty
Another shift rotation can come in the following mode
Sunday – 12 hours on duty
Monday – 12 Hours on Duty
Tuesday – 12 hours on duty 
Wednesday – 12 hours on duty
Thursday – off duty
Friday – off duty
Saturday – off duty
And the following week 
Sunday – off duty 
Monday – 12 Hours on Duty
Tuesday – 12 hours on duty 
Wednesday – 12 hours on duty
Thursday – 12 hours on duty
Friday – off duty
Saturday – off duty
Working with the fire department
Working with the fire department as a paramedic can also be a tasking and high-risk job duty because of the activities involved and the role you have to play in the patient's safety and life. It can also be very unpredictable and certainly stressful for the paramedic workers. This is why it is best to have a smooth shift rotation schedule and transition for the fire department workers. As a paramedic working with the firefighter department, your work can be in two main roles, which include 
Firefighting paramedics 
Ambulance Paramedics attached to firefighters
In the United States, most firefighters are also trained and certified to carry a paramedic's duty and emergency medical treatment on injured, wounded patients at any fire scene. In addition, they are always equipped with lifesaving equipment to help patients any time there is a need for that. 
Conclusion
Our work schedule as a paramedic is certainly dependent on so many factors explained in the content above. However, you must be aware that your performance can be greatly impaired with the number of hours you are working. More so, as paramedics that work in the city, your response time to call and duties is higher than the paramedics in the rural villages. With this in mind, you would be able to understand how demanding the paramedic's jobs are and what your preparations should entail.
FAQS
What is a paramedic's shift pattern?
Your expected standard working hours are supposed to be at least 37.5 hours on regular shift work, excluding the overtime duties, which always include weekends, public holidays, morning, day, evening, and night shifts.
Do paramedics work every day?
Most paramedics work full time, and some of the workers have to work overtime to cater to the increased demands of their services. Some paramedics work shifts in 12- or 24-hour increments.
Paramedic Shift Hours- All about it