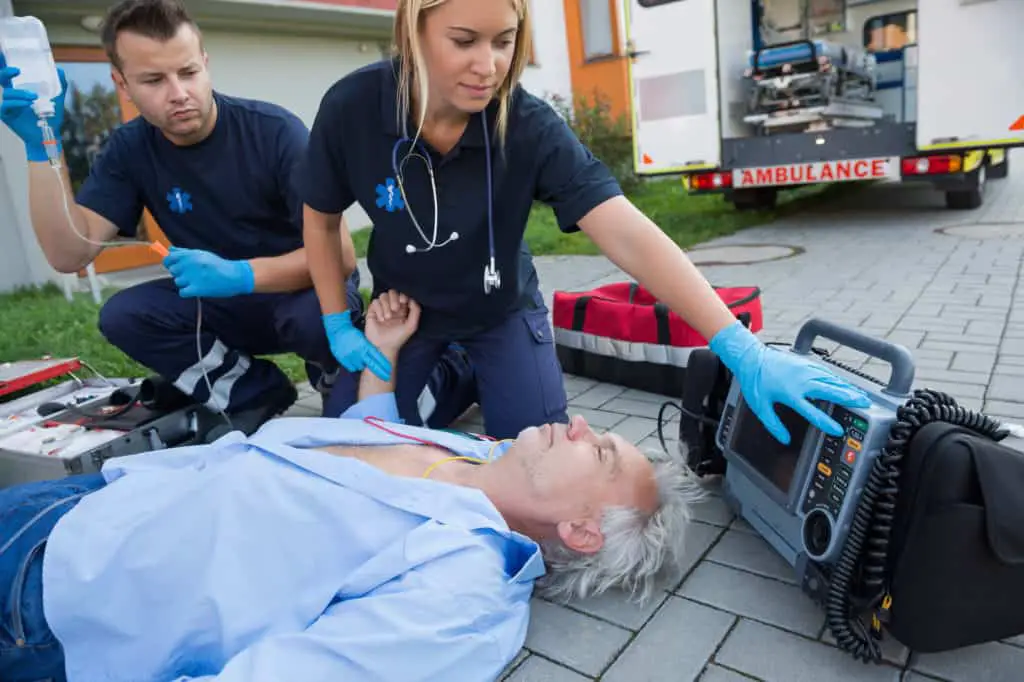 Due to the pressure of families, we grew up being so mainstream. Like whenever we are asked about our career choices, the answer is either doctor or engineer. We tend to neglect other career options that are quite beneficial for us and society. If we confine ourselves in this circle of doctors and engineers, we won't get to know that so many options are out there. These stereotypical movements lead us to unemployment. Okay, if you are dreaming to serve your society being a health worker, let me tell you, this field is all about teamwork. And this team is formed by doctors, physician assistants, nurses, paramedics, pharmacists, therapists, and rehabilitation specialists, technologists and technicians, even emotional, social, and spiritual support providers are needed to form this team. Here is the article titled- Paramedics to PA.
People who are working as Paramedics should be highly appreciated. A paramedic can possess the desire of being a Physician Assistant (PA), which is quite justified. A mountaineer never starts his/her journey with Everest. He/she starts with short hiking. Then he/she goes for Everest because now he/she is not starting with a scratch but with experience. Some ambitious persons do wonder if they can get the opportunities for their career advancement once they start as a Paramedic. The answer is yes, you can start your career as a Paramedic and later you can improve your occupational status. Like by being a Physician Assistant. If you are wondering whether a Paramedic can be a Physician Assistant or not, here is the big yes for you.
Here we are to help you out with some genuine tips to become a Physical Assistant from a PA. 
For this, we need to know What is a Paramedic and what is a Physician Assistant (PA).
What is a Paramedic or Who is a Paramedic?
A Paramedic is a health worker whose prime duty is to provide emergency service in the emergency department. Any patient whose condition is really bad needs emergency medical help is helped by a Paramedic. A Paramedic assesses a patient, provides emergency treatment, diagnoses, monitors, gives medication. In short, a person who is trained properly to handle the emergency but is neither a doctor nor a nurse is a Paramedic. A Paramedic is also called EMT (Emergency Medical Technician).
Duties of a Paramedic
Assessing a patient.
Providing emergency treatment.
Diagnosing
Monitoring.
Pushing injection if needed.
Giving medications to stabilize the patient's condition.
Dressing injuries.
Responding to emergency calls.
Informing hospital staff about the condition of the patient.
Communicating with the patient party.
Qualification and Training Required for being a Paramedic
To be a Paramedic you have to be part of the Paramedic program, generally, it is a two years program.
You need to be a student of Science. Biology, Maths, and English are required to get acceptance in a Paramedic program.
This program has two parts. One is classroom training and the other is clinical training.
You have to take the clinical training in emergency departments, like hospitals, fire departments, and ambulance companies
You need to get trained in advanced life support, basic trauma life support.
You need to study Physiology, Anatomy.
After getting the training, you need to sit for a licensing exam.
To be a Paramedic you need to get yourself registered with the Health and Care Profession Council (HCPC).
You can check the Health and Care Profession Council (HCPC) website https://www.hcpc-uk.org for detailed information.
Key Skills to be a Paramedic
Dedication
Ability to take responsibility.
Strong leadership mindset.
Effective community skill.
Driving skill
Hard-working
Energy for working 24 hours if needed.
Employers of Paramedics
Various organizations employ Paramedics to work with them, like the National Health Service (NHS). You can visit their website https://www.nhs.uk. Some NGOs also offer Paramedics to work with them. Paramedics get employed by fire stations, hospitals, ambulance companies, cruise ships. 
What is a Physician Assistant or Who is a Physician Assistant?
Does a PA aspirant first need to know what PA is? What are the duties of a PA?
Okay, so a PA is a health worker who works under a doctor. A Physician Assistant can check up on his/her patients, can prescribe medicines, also if they feel that the patient should go through some tests, they can advise them to go through tests like USG, ECG, blood test, stool test, etc. They can also give tips to his/her patients on how to live a healthy life, how to maintain hygiene, how to stay safe and avoid diseases as much as possible. Their responsibilities are almost the same as a doctor's responsibilities.
Duties of a Physician Assistant (PA)
Prescribing medications.
Prescribing tests like USG, ECG, blood test, stool test, urine test, CT scan, etc.
Diagnosing disease of patients.
Interpreting the test reports and detecting the cause of the illness.
Performing patient exams.
Assisting operations.
Qualification and Training Required to be a Physician Assistant
You need to come from a Science background.
You need to be a part of the PA program for two-three years.
This program consists of two parts- class training and clinical rotations. You can gather plenty of experiences through the clinical rotations. This part is going to be helpful.
After you complete this course, you need to sit for an exam PANCE (Physician Assistant National Certifying Exam).
You can appear in this exam six times. So, if you cannot make it on the very first attempt, you get more chances to clear it.
This exam is administered by the National Commission on Certification of Physician Assistants.
This examination is computer-based.
This is a five-hour exam.
PANCE consists of practical medical and surgical questions.
There are 300 multiple-choice questions (MCQ) that you need to answer.
The exam fee of PANCE is $550
You can visit the NCCPA website https://www.nccpa.net for more details.
Key Skills to be a Physician Assistant (PA)
Any job related to health should be handled carefully. One mistake can cause great harm. So, while a PA is getting hired, the employer always looks for some basic skills in a PA along with his pieces of training, certificates, and education. Such skills are:
Ability to take responsibility: As you are going to treat patients who are suffering from various diseases, you need to be able to take responsibility. Some of them can be in critical condition. So, they need to be taken proper care and that is expected from you.


Effective communication skills: There will be situations when you have to communicate with the patient and the patient party. If a patient's health condition gets worse, you need to let the family know. Here you will feel the need for communication skills. Interaction with patients is also important. It is important to know how they are feeling and to know this PA needs to communicate with the patient. If the PAtient is suffering from some psychological issue or if he/she is afraid to undergo surgery, a PA talks to them to make them understand the situation, to calm them. Because we always want assurance from someone experienced.


Compassion: A PA is highly expected to be compassionate towards his/her patients. A PA needs to have the patience to deal with patients of every age.


Hardworking: In some situations, PAs are expected to work 24 hours. Hard work is the key to success.


Physical fitness: AS a PA can be called for a 24 hours duty, physical fitness is the key requirement. An unfit person can not fit in this tight schedule.


Organization: A PA does not deal with one patient but many. So, he/she needs to be organized enough. If not, they cannot provide the patients with proper care.


Emotional stability: As a PA you have to witness a lot of unpleasant scenes. But the emotional breakdown is not allowed. You need to handle every situation, get over any unpleasant scene, and make yourself ready to serve another patient.


Positive energy: PAs have to deal with patients who are suffering from serious problems. These patients always count on the PAs and doctors. The positive energy of PAs gives those patients positivity and emotional strength too. We are witnessing the importance of this positive energy on social media platforms, health workers are dancing and singing for the covid-19 positive patients to cheer them up. 
The Working Hour of a Physician Assistant (PA)
Generally, a Physician Assistant works 40 hours a week. But this work hour may vary from situation to situation. If an emergency arises a Physician Assistant can be asked for a 24 hours duty. And he/she cannot refuse.
Uniform of a Physician Assistant (PA)
The Uniform of a Physician Assistant depends on the office he/she works. Mostly they are seen to wear white coats like doctors.
Physician Assistant Program
PA programs focus on:
Physiology
Anatomy
Microbiology
Medical Terminology
Principles of Medicine
Principles of Surgery
Pharmacology
Days Required to be a Physician Assistant (PA)
A Physician Assistant aspirant takes a minimum of four years to be a PA. But some aspirants take five to six years to be a PA.
Employers of Physician Assistants (PAs)
PAs are employed by General Medical and Surgical Hospitals, Outpatient Care Centers, Offices of Other Health Practitioners.
Salary of a PA:
In Connecticut Physician Assistants get paid $137,060, in Washington its salary is $129,520, in New Jersey $129,440, in Alaska it is $128,530, In California $127,520.
Ways to be a Physician Assistant (PA) from a Paramedic:
You must have a strong desire to be a Physician Assistant (PA), that is why you are here. You are in search of ways to list your career. This is natural for an ambitious mind to look for ways for his/her career advancement. Do not confine yourself in a smaller circle. Always set a higher goal and try to achieve that. If you have the potential, you will make it happen. Some of us are taught to set attainable goals, goals that can be achieved. But it is wiser to set your goal one level up so that the desire of achieving that goal pushes you to give your best. I don't know if you want to hear it, take the risk, prepare yourself, you can do it. Here we are going to discuss ways to be a Physician Assistant from a Paramedic.
As you have been a Paramedic, you are experienced enough in this field. And this is going to be your advantage in starting your career as a Physician Assistant (PA).
How would you like to see yourself in future days? If you are clear enough about this, you don't need to worry about anything else. Before starting anything, one should always ask himself/herself that whatever you are trying to start, you have detailed information regarding that and you are okay with that. Career choice should always be based on interest. If you don't find any kick or the work field seems boring to you, you can never make progress. If you choose a career that is not a match for you, you can't work on that. So, it is necessary to know the work setting and make up your mind. I don't think it will be hard for a Paramedic to perform as a Physician Assistant (PA) as both of their duties and responsibilities are the same. 
Communication:  As I have said, you have worked in this field as a Paramedic, therefore you have communicated with a lot of patients, handled a lot of situations, dealt with several horrible cases. You are skilled. Communication is one of the prime requirements to be a successful Physician Assistant.


Patient care and compassion:  A successful Physician Assistant (PA) knows how to take care of the patients and how important it is to be compassionate to them. These things he/she learns from his/her previous work experiences. It is seen that PAs who used to be Paramedic know these values better than the one who is starting his/her career as a Physician Assistant (PA).


Organization skills: A Paramedic is more organized than a Physician Assistant (PA). Paramedics are emergency treatment providers, so they always keep themselves ready for any operation. They give the basic treatment to the patient then pass all the information to the doctor for the doctor's convenience. For that, they have to keep a record of the information.


Emotionally and physically fit: Both Paramedics and Physician Assistants need to fit, be it emotionally or physically, so they can handle everything under any circumstances.


Shift experience:  Generally, a Physician Assistant's work hour is 9-5 but if an emergency shows up, they are called to work. But a Paramedic has no such work hours. He/she can be called anytime. So, a Paramedic already knows how to manage this situation.
Beginning of Your Journey as a Physician Assistant (PA)
After all these, you finally get the chance to start your day as a Physician Assistant (PA), the post you have desired. To be in these fields someone needs to have a strong desire to help others. By entering into this profession, you are taking an oath of serving society by all means. And this is a lifetime pledge, you can't run away from the responsibilities that you have taken. You are already familiar with the situation that may arise as you have already served your society being a Paramedic. I hope you have liked your previous job, that is why you are not leaving this field rather trying to elevate your position. That is great of you.
Thanks to you for not being mainstream, for exploring and choosing something unique yet helpful. We appreciate your willpower, which has made you strong enough to be practical. In this world of the rat race, we need to think wisely. Being stereotypical sometimes leads us to destruction. Thanks to you for breaking all the stereotypes about career choices, that being a doctor or engineer or a teacher is the only right choice to make. We highly appreciate your determination. We know it took a lot of courage to begin your career as a Paramedic. But you have made it anyway, right? Just like this, you will be shining as a successful Physician Assistant (PA), that we believe. 
Once you are all done with your PA training, you need to make a resume. That resume should reflect all your qualifications, training, and certification. A quality resume format increases your chance of getting hired by the recruiters of various reputed companies, organizations. You should add your work experience as a Paramedic without giving it a second thought. A reputed company always wants to hire someone who is experienced enough.
Frequently Asked Questions
How many times can someone appear for the PANCE?
The number of times that a candidate can sit for the exam is six.


What happens if I fail the PANCE?
If you fail the PANCE, you need to wait 3 months (90 days) and study hard to clear it.


Passing marks to clear the PANCE?
You have to get a score of 350 at least to crack the exam.


What is the application fee of the PANCE?
You need to pay $475 for this exam.


What is the highest paying PA specialty?
Dermatology is the answer. A dermatologist's yearly salary is $126,084.


Do PAs have their patients?
Yes, they do.
I think this is all you need to know to start your career as a Physician Assistant (PA). All the best for your future. And always remember that hard work and strong willpower can't be replaced by anything.
Paramedics to PA- A Clear Definition and their Duties