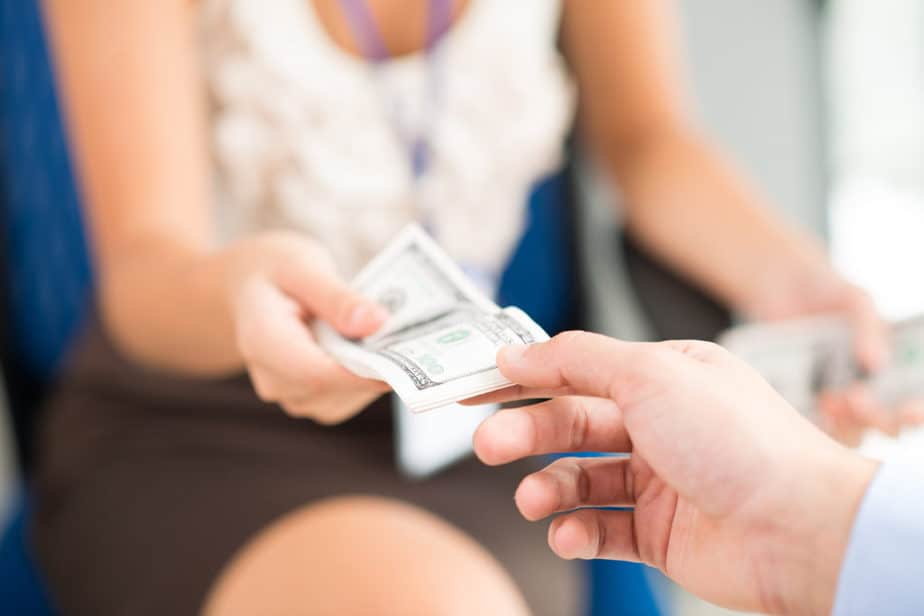 Ever visited Radio City Christmas spectacular, and gotten fascinated by the dancers dancing in the parades? The spectacular costumes, high kicks, long legs perfectly synced to bring out the marvelous posture and beauty of the Rockettes.  You are not the only one. The Rockettes have captivated their audience since 1925, with their all-female dance precision group. They perform with tremendous perfection and always leave the audience in awe at their dedication. Rockettes go through year-long tough practice to master the art and the pay is good. Read more about Rockettes Salary.
On average, a Rockette can get paid anywhere in the range of $1400 to $1500 weekly. The time of employment is short and limited and thus they get paid about $36,000 to $ 40,000. Other benefits are included around the year. 
Do you have a dream of becoming a Rockette and perform in one such spectacular gala? Here are a few details you need to look for before you become a Rockette and know what importance it could hold for you as a dancer.
What is Rockette?
The Rockettes is an American dance company developed in 1925, and performing in Radio city music and the New York parade. 
The Rockettes is a dance group that pays tribute to the original Rockettes by performing the age-long art in the "Parade of the Wooden Soldiers" and the "Living Nativity." The stage for the show has been developed ever since the performance, and the ever-growing demand of people to see the beautiful artform made the stage timings of the dancers be as long as 90 minutes. 
In today's time, there are over 30,000 Rockettes who have participated and achieved their dreams to perform in the spectacular radio city music festival, with over 75 million ticket holders that have taken their seats since 1993.
Audition process
The audition process is open to all and takes place in huge halls. The auditions are open to the public and thus we can see hundreds of dancers lining up outside the hall each year trying their luck to be in the best team. 
There is no order of selection and dancers can show their talents on a first come first serve basis. The audition goes on for two days each spring in Radio City. The procedure for the two days can be as follows.
You will be divided into groups.
As you enter the premise, dancers will be clubbed in groups of five or seven depending upon the rush and requirements. They will teach you different routines that you need to follow. The routines are based on jazz and ballets and elections are done from the groups to enter the further rounds. 
Each round gets more difficult than the previous.
Selections are made after every round.
The hiring managers are keenly looking for dancers that fit their criteria and can help them create a great show for Christmas. They keenly observe every candidate, through a series of routines. You will be taught some basic kicks and turns in the initial rounds. If you make it through the round you will be selected to go for the next round that includes jazz and ballet.
No feedback is given if you are not selected.
The harsh truth is if you are not selected for the group you won't receive feedback on why you did not make it. The company has hundreds of candidates to look at in just 48 hours and if you do not make it to round two, you would never receive feedback in where you lack. 
Don't lose hope and keep practicing your routine and working on your strengths. The next point is surely going to blow you up. 
Rockettes need to give auditions every year.
Whether you have been dancing for 5 years or are a freshman, you are never officially on the list of Rockettes dancers. You would be required to audition every year to secure your place on the team. 
Criteria to become a Rockette
Proficient in dance forms like jazz, tap, and ballet.
Dancers need to know the basics of jazz, tap, and ballet to become a part of the group. It could be of additional benefit to learn other forms, but these forms are mandatory and most required for a Rockette dancer. 
You need to be strictly within the height of 5 foot 6 to 5 foot 10 and a half.
The group is quite stringent about the height requirements and often requires their dancers to be of a certain height. This is because they perform in groups and illusions need to be created to give the same height to every dancer. On the audition day, you would be marked for the height without any heels on, that is stockings height is taken into consideration.
You need to be at least 18 years of age.
A candidate needs to be at least 18 years on September 15 each year to grab the position. The maximum age is not considered for the dancers, yet senior-most dancers often accompany the new bees in training and other performance-related tasks.
Is training required to become a Rockette?
Yes, official training is conducted once the candidate is selected in the group. Yet, many aspiring Rockettes undergo several pieces of training in their lifetime to mold themselves to be perfect candidates and also land a part in the prestigious group. 
For earlier training, women can attend Summer Intensive dance programs that can help them land the perfect job. The training is not compulsory, yet will help you in different aspects of knowing the profession better from an advanced point of view. The training being as rigorous as the actual show often gives a candidate an idea of whether they would like to continue to pursue it and can endure the work.
The summer program is conducted in off-seasons for the Rockettes and lasts for anywhere about one to two weeks for six hours a day. The program teaches the candidates basic Rockettes style and also conducts additional seminars on the topics of makeup, injury prevention, and many others.
Once selected by the official group of Rockettes, the training period lasts for months in the offseason. The hired candidates are given dedicated training in different forms of dance and makeup. They learn how to quickly fix their makeup, change looks under 78 seconds, and add perfect finesse to their dance.
Remember there are only 80 women that can perform every year, and the competition to get in is certainly not a joke. Dancers need to give their all to get in the group and prove their worth.
Salary and other benefits.
The dancers in the club often sign contracts under the American Guild of Variety Artists. The contract period lasts from anywhere between September to early January. Each Rockette receives yearly benefits. 
The typical salary of a Rockette ranges between $1400 to $1500 and given the contract period they can make anywhere between $36,000  to $40,000.
In the offseason they often pursue other forms of career like teaching dance classes, conducting fitness for other dancers, or also indulge in similar shows that can keep their payments at oar the year-round. 
Rockettes do not receive any housing reimbursement or traveling expenses.
How to become a Rockette?
Get your body in good shape 
A good physical shape is considered a minimum requirement for a Rockette. A Rockette needs to go through rigorous training hours during the season, they also need to be able to perform for 90 minutes and make 5 shows per day. This is nowhere a child's play if you are not in great physical shape. So get your body to work on core strength and flexibility.
Take part in summer programs.
The day of the auditioning can be a bit less overwhelming if you already know certain routines or how to go about a certain step that is taught to you. Summer programs handled by a few Rockettes can be useful for your career as they will provide you with routines that can improve your chance of getting hired. They can also give you positive feedback that you could work on.
Practice and finesse your strengths.
Practice and polish your strengths. As said, not even Rockettes with 5 years of experience need to audition every year for a place in the team, so master your skills and brush your strengths to retain against the top players. 
The journey to becoming a Rockette can be a bit overwhelming. There is rigorous practice, hours of struggle, rejection, competition, and so much more beyond the words. It takes a lot of willpower to sustain the real-life environment of the Rockette, but never give up. 
If you truly want that spot, fight for it and give yourself a treat to the glamorous world.
Conclusion: 
It's not going to be easy. Every Rockette goes through hundreds of struggles and ups and downs in their life to get through that one batch that can kick start their career. As a new bike or aspiring artist make sure you know the struggle and give it your best shot. 
Nothing comes for granted, participate in programs, mold your body, learn different dance forms, and know about the essence of the style. This will surely take you a notch closer to your dreams.