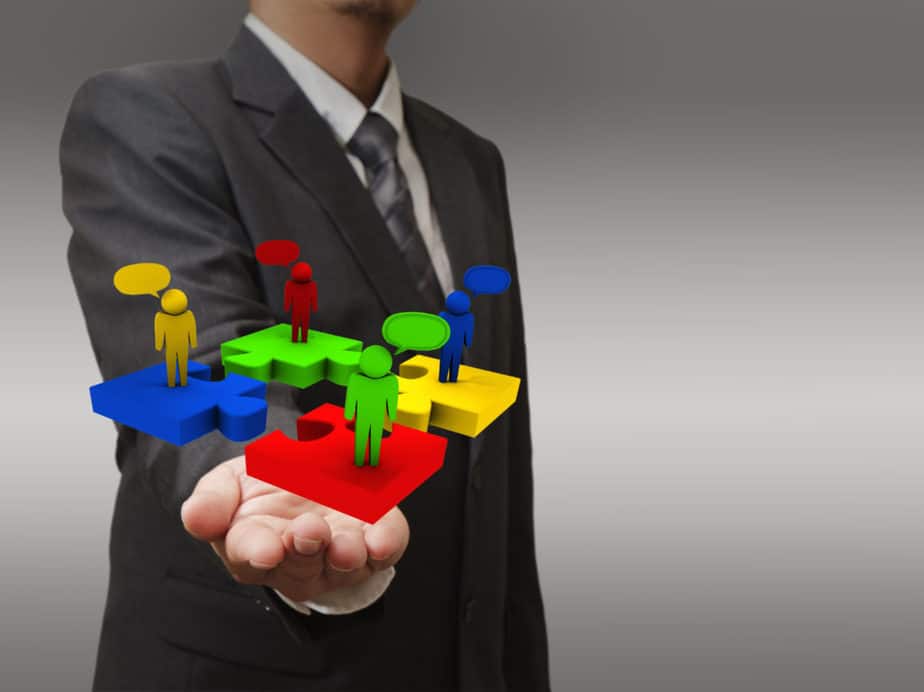 Organizations are traditionally defined as entities that have boundaries. While the external boundaries separate them from the customers and suppliers they also give them a definition for geographic reach. The internal boundaries are the ones that separate the management from the employees and divide the departments. Though the different departments work together towards achieving the same goals, those in the new environment within the global competition are characterized by not having any boundaries. Read more about Boundaryless Organizational Structure.
The term 'boundaryless organization' was first coined by former Chairman of General Electric, Jack Welch. It is a contemporary approach in the organizational design where there are no boundaries that divide them by job, function, hierarchy, and geography or that create distance between the company and its customers and suppliers. 
The boundaryless organizations attempt at removing horizontal, vertical, and exterior barriers. This enables the managers, employees, suppliers, and customers to work together, share their ideas, and recognize the best of those ideas for the organization. 
Types of boundaryless organization
Boundaryless organization is the ideal type of organizational structure in this fast-paced technologically advanced twenty-first century. There are chiefly four distinct types of boundaryless organizations. They are:
Network organizations
Virtual organizations
Modular organizations
Learning organizations
1. Network Organization
The various functions of such organizations are coordinated by market mechanisms similar to that of managers and lines of authority that are formal. Here they emphasize who can be more economical and effective over who fixes ties that are dictated by the organizational chart.
The important assets for producing finished products or services are present in the network and not held in-house by a particular firm. This makes it easy for them to work together with their partners in achieving their objectives.
2. Virtual Organization
One of the most interesting networks is virtual or dynamic organizations. They have an alliance of companies that are independent and share their costs, skills, and access to each other's markets.
Their network of independent companies is continuously evolving. Every partner in such an organization makes contributions only in the areas of their expertise or core competencies. Flexibility, as well as adaptability, is the chief advantage of the network and virtual organizations.
3. Modular Organization
These organizations are responsible for performing the core functions besides outsourcing the non-core activities to the suppliers and specialists. Normally the services that the company outsources are accounting, sales, data processing, and production.
They can be defined as hubs that are surrounded by networks of suppliers and these suppliers can be either added or removed according to their needs. Through their methods of outsourcing their non-core activities, they are successful in keeping the cost of the units low and also develop the new products faster.
They work most efficiently when their focus is on the right specialty and their suppliers are good. They usually concentrate and use their resources for main objectives, products, or services without any distraction.
4. Learning Organization
The concept of such an organization does not involve any specific design. They are organizations that have developed a capacity of continuously adapting and changing since all their members take an active part to identify and resolve the issues related to work.
Their employees practice management of knowledge continuously as they acquire and share brand new knowledge and finally utilizing it for making decisions or working. It has also been stated by various organizational designs theorists that such practice to perform their duties in the organization may be the only sustainable source for the competitive advantages. Their members must share and collaborate with the information on their activities at work of the organization whether they are of different specialties or different levels.
All of this is made possible when the existing physical and structural boundaries are minimized or eliminated. In such an environment the employees have the freedom of working together and collaborating so that they can learn as much as they can from each other which leads to the building of teams.
Such empowered employees and capable teams have very little use of bosses for direction and coordination. Here leadership plays a vital role that not only facilitates the creation of the organization's vision for the future but also makes the team members work towards it.
Examples of Boundaryless Organization
Some of the widely known examples of boundaryless organizations are:
General Electric 
Apple
Boeing
Airbus Industries
Toyota
Characteristics of Boundaryless Organization
The basic characteristics of boundaryless organizations are:
They use technology for everything
Their employees have the freedom to make decisions
They collaborate virtually
They have flexible work hours
The corporate hierarchies in them are minimum
They focus on customers
They have very little or limited supervision
Their career growth is horizontal
They emphasize the company's values
Advantages of Boundaryless Organization
They are very much responsive to the external and internal participants who exchange their ideas and feedback.
They are highly flexible
They make use of all their skills efficiently
They always promote innovation
They constantly empower their employees for being self-driven and deep thinkers.
They provide ample space for the creation of work-life balance depending on the employees' standards
Disadvantages of Boundaryless Organization
Their diverse collaboration makes communication for them difficult
There may arise confusion in their chain of management
They have very limited control since everyone is responsible for their tasks
The matters regarding compensation are often puzzling.
Conclusion
The concept of boundaryless organizations is gaining importance in the current times. But the companies at present usually follow a combination of such concepts along with the traditional ones. Such companies have hierarchies as well as corporate structures, but they give their employees more freedom for working hours and making decisions.
Frequently Asked Questions
Is the boundaryless organization a new type of organization?
The concept is a new one first coined by General Electric's former chairperson. 
Is Apple a boundaryless corporation?
Apple still follows the traditional concepts of hierarchical components but is largely learning boundaryless organization.
Do boundaryless organizations have departments?
Boundaryless organizations have no boundaries as the name suggests and hence no departments.
Are the work hours flexible in boundaryless organizations?
One of the advantages of boundaryless organizations is they have flexible work hours.
Boundaryless Organizational Structure- Types of boundaryless organization