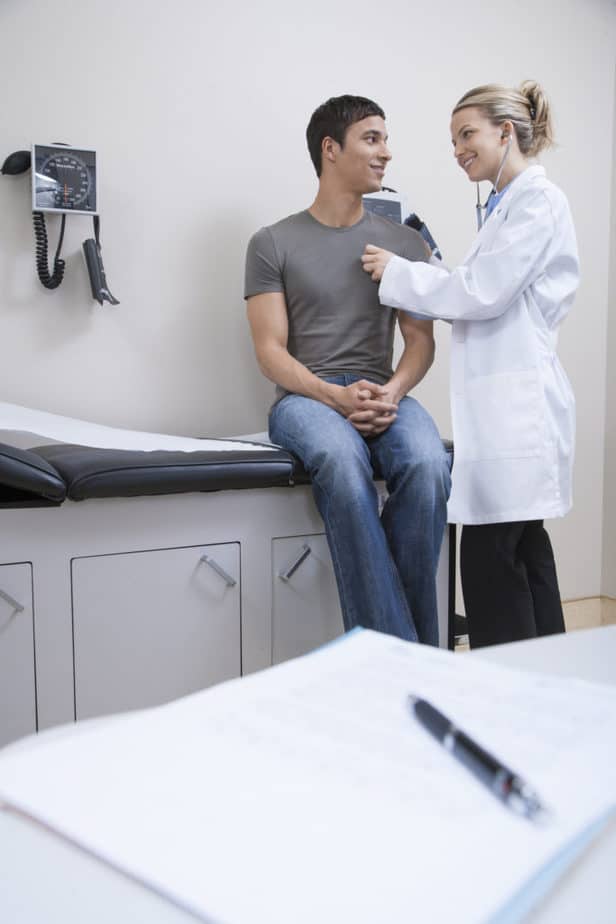 It is evident about the importance of having critical/intensive care in a hospital to prevent physiological deterioration, the demise of critically ill patients, and to provide the proper medical treatment during an extreme emergency. Thus, the extent of need in every hospital and their demand is always high. Such high demand for skilled physicians and their shortage nationwide fetches a good amount of salary even for the newly employed. What is Pulmonary Critical Care Physician's Salary?
A beginner Pulmonary critical care physician earns an average of $63,019 while an expert earns around $400,000 annually. A physician earns more than a Telemetry nurse, Critical care nurse, Pathologist, and MD. The Net pay is about 77.8% of the total salary while the rest is deducted due to taxes. To get an idea, the average salary per hour will be around $154, ranging from as low as $32.32 to as high as $205. With this minimum salary, one can easily lead a comfortable life in the US. 
But to get to this position, one needs to have an undergraduate degree. Most of the American medical schools offer a 4-year course or specialization course after a 3-year course in internal medicine. Further training in a specialized field is based on the graduates' choice, recommendation letters from consultants, and merit. The number of training slots is limited. 
For training in pulmonary disease, the clinical training is of 2 years (3-year in combined PCCM- Pulmonary and Critical Care Medicine program). The clinical training duration may vary based on the hospital. According to Accreditation Council for Graduate Medical Education (ACGME), the standard duration required is 18 months. The remaining 18 months are often spent in research, this is dependent on the type of program. Time dedicated to scholarly activities is not bonded to a mandatory time duration while to enhance the skills the programs often offer more amount of time to clinical training. 
To enumerate the clinical training, in the first 9 months of pulmonary training, the candidate is supposed to train along with a patient under pulmonary care under a teaching consultant. In the remaining 9 months, the candidate is put in charge of the critically ill patient in the critical care setting. Following this, a minimum of 6 months of intensive care training in ICU is required where the candidate is trained in diverse environments. 
They have to deal with different ICU settings of neurology, cardiovascular, trauma, or burn ICUs. In such settings, the training is often conducted under the guidance of surgeons or anesthetists. 
The path discussed above mainly focuses on Combined Pulmonary and Critical Care Training Programmes, while each of the programs is also available individually. Statistically, PCCM is not as popular as other medical branches of cardiology and gastroenterology. Recent requirements have made PCCM a highly competitive branch to pursue. Most of the trainees continue practicing while few choose advanced training in sleep medicine, interventional pulmonology, or transplant. The trend of the past 20 years has highlighted the fact that there is a significant improvement in the critical care sector after the recruitment of these specialized physicians. Further, the article highlights the additional aspects of PCCM programs, states offering PCCM, salary in each state for PCC physicians, etc. 
You can look for a detailed list of the programs at the following link-
List of Pulmonary Disease and Critical Care Medicine Programs for the year 2021-2022
Top 10 Pulmonary Critical Care in regions with respect to salaries annually 
Usually, the salary of each region depends on the fact that the more expensive the region charges for a livelihood, the more will be the pay.
Tennessee, Arkansas, New York – $500,000
South Dakota- $462,000
Illinois- $430,000
Texas- $414,000
North Carolina- $400,000
Vermont- $375,000
Indiana- $360,000
Utah- $350,000
Are you mentally fit to pursue this job?
Check if you can imbibe these qualities to pursue the job of a Pulmonary critical care physician.
Determination
Adaptability to different environments
Thoughtfulness
Decisive- to make decisions in midst of uncertainty
Complex reasoning ability
Interpretation skills
Constant polishing of physiological knowledge
Ready to face the unpredictable
Reasons to pursue your career in PCCM 
The ICU- The experience which brings you to a position where the most precious moments of an individual's life can be best saved by your efforts and if things are out of control- the fact that you did your best is an incredibly humbling experience. 
Pulmonary Medicine- Being more experienced have an upper hand in recognizing an abnormal pattern of illness in a patient who has not been diagnosed before for that reason, thus saving lives. 
Flexible Career- The freedom of choice of being an intensivist/ nocturnist/ outpatient pulmonologist/ interventional pulmonologist etc is a big advantage as your job polishes your every skill from all-around experiences and thus prepares you for the uncertain. 
Shift work- Surprisingly the job enables you the vantage of working in shifts rather than long tiring hours. You don't have to cut short your family time.
Job security- The demand for this job is ever increasing. The increased life expectancy among the population has led many people to develop chronic pulmonary diseases in the latter part of their life. Your skills will abide you and will increase your demand not just during a pandemic but also throughout your career.
Life as a Pulmonary Critical Care Physician
As said by Michael Depietro who is a Pulmonary Critical Care Physician in Philadelphia Greater Metropolitan Area: 
The day starts with an inspection of patients according to their treatment
Plotting the plan of action with your team of nurses/students/ clinical pharmacists etc, highlighting the problems to be first addressed
Jotting down the notes about the current health of the patient or assisting junior trainees in doing procedures that may be out of their capability
Administrative tasks, supervision
Hospital meetings/ attending nearby research studies/ prepare for the upcoming lecture or give one (if any)
Afternoon time is when the second round takes place to prepare for the evening team
There might even be an admission of newer patients into your ward
Chances are also there that your previous patients might face sudden deterioration of their health
Interaction with the family members of the patients
Handling 2 cases of the critical stage at the same time 
Pulmonary patients are usually the ones who are quite sick or on the verge of being sick, thus handling a variety of cases plus the new cases is also a big part of your day.
Preparing your to-do list/ calendar according to each patient's follow-up.
Where to apply-
There are many jobs for Pulmonary Critical Care Physician on the internet as mentioned below-
Location- Las Vegas, NV, US
Location- Indiana- MediaCorp, INC
Pulmonary/Critical Care Physician – Upstate New York Near Lake Ontario
Location- Watertown, NY – Integrity Healthcare Physician Recruiting
Location- IN, US- Merritt Hawkins
Future of PCCM 
 A profession of a Pulmonary Critical Care Physician is respectful as well as rewarding. The current technologies are more focused on improving the critical care sector as the number of cases has seen a gradual increase thus burdening the treatment of chronic illnesses. The future technologies are thus more promising. Those with PCCM are eligible to choose from pulmonary vascular disease, lung cancer, lung fibrosis, chronic obstructive pulmonary disease, and critical care sectors to pursue research or to add to their skills as a physician. Thus, PCCM will remain a principal choice for those who desire to pursue medicine in the US in the upcoming years despite the long road of training.
Pulmonary Critical Care Physician's Salary