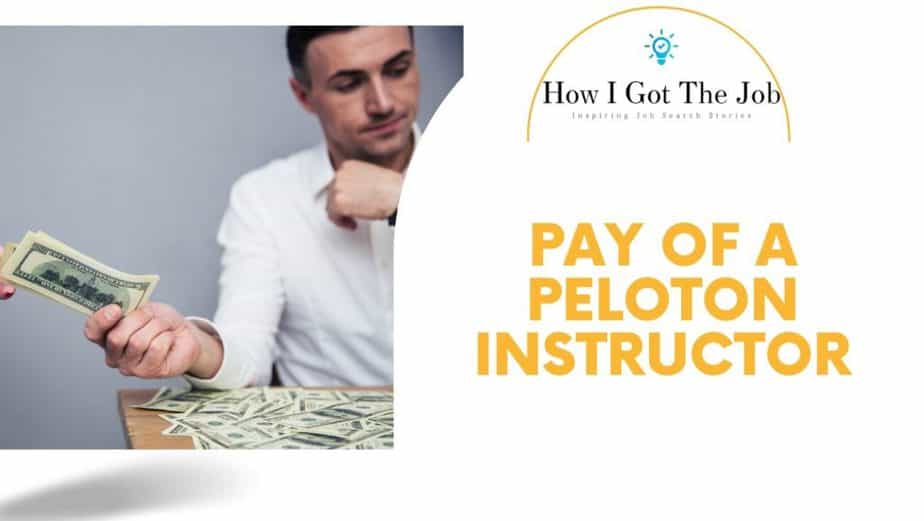 The New York-based, Peloton is a media and exercise equipment company. It was founded on 3rd January 2012 and currently, it has 2 studios and 95 showrooms across the States. A company that has approximately $2.981 billion assets apart from selling products, apparel also offers services in the form of fitness classes. The article highlights the salary of the fitness instructors employed under this service in Peloton. 
The Pay of a Peloton Instructor depends on many factors. With 10-15 classes per week, an instructor makes more than $500,000 annually. Although the company has not officially declared the actual amount which the instructors earn but according to Olivia Amato who has joined Peloton by March 2021, the instructors get about six-digit annual income along with stock options. This means that with one class an instructor earns up to $500. Each class lasts for about 20mins. The salary is different for each instructor according to their demand. When the company started this service, they offered stock options in order to attract popular instructors. The company pays you with a fixed amount every month or on an incentive basis. 
In order to understand in-depth how your salary is decided we need to know what qualities make you earn more. 
Being physically and mentally prepared
You need to know what you have signed up for; instructors in Peloton say that they are treated like professional athletes. They also undergo physical therapy every week for recovery or to prevent injuries. 
You will be required to teach and keep motivating others as you yourself are exercising. You should be used to speaking clearly while exercising. Let not exercises make you sound breathless.
As an instructor, you will be required to teach as if you are casually interacting with them. Let yourself loose and free and do more of what you feel like doing. The session will seem more enjoyable if it all comes in a flow. Your outgoing and confident personality will surely lighten up the session. 
Know what you are representing
Peloton was established with the core idea that exercising would become more accessible to people. The founder had an idea of attaching a monitor screen to the indoor bike, thus making the most of the technology. Your aim counts on you to serve most through that technology. Customers choose Peloton as they can easily customize exercises, duration according to their availability. Keeping up with customers' aims should also be your aim.
Be creative and an influencer
Anyone who knows about you should also know how you have modified your lifestyle completely for fitness.
Can I become a Peloton Instructor?
For this, let's check if you possess these basic skills required to become a Peloton Instructor-
Optimistic- the energy that you radiate affects your audience. Being optimistic will in turn motivate the members to achieve their goals and to keep going.
Good communication skills- it is important that you are clear in communicating the instructions and advice to your members.
Self-fitness- it is obvious that one needs to be fit enough to lead the members to reach their fitness goals. Being fit can also help your team members to take inspiration from you. You can also show your team the fitness goals that you achieved every day.
Patience- fitness is not something that can be achieved in a day or even a week, one needs to absorb the habit of exercising and eating healthy to get fit. As an instructor, your job of teaching your team members to be patient enough with themselves to achieve their goals, and even you being patient with them is important. 
Creative thinking- just exercises every day will easily make anyone bored and that in turn will make it difficult to complete the exercise. As an instructor, you need to keep the members up by cheering them. You need to be creative enough by presenting new challenges in the execution of a particular exercise, using different props for exercising, inducing healthy competition among the members, etc. 
Knowledgeable- it is crucial that the instructor knows about what he/she is working for. You should be knowing the proper foods/drinks before and after a workout, exercise science, technical knowledge, how to prevent injuries during exercising, how to maintain good skin and hair after exercising etc. 
How to become a Peloton Instructor?
It is really difficult to become an instructor at Peloton as there is only a team of 33 instructors training almost 1000 customers worldwide every day. There are three levels that need to be completed to begin as a fitness trainer. There is an audition before getting employed as an instructor. According to the companies needs and priorities, the instructors choose carefully for the apt candidate. It is a limited and tight field. It is always that the number of applicants highly outweighs the number of roles available. The more experienced and versatile you are, the more eligible you will be. The company mainly focuses on hiring 'talented' individuals- individuals with the right kind of personality. 
The importance of enjoying the job
As an instructor, your life will always be in the limelight. People already working as an instructor say that the job just does not focus on being a fitness instructor but much more than that. It comes from the past experiences that you gain by being a fitness trainer or any sports coach in other local organizations. Your experience as an instructor in local organizations will help you get an idea if you like the field or not. For a good long run in this field, you need to first like it. Experienced people say that they don't aim to work for money instead, they work for all the joy and energy the job offers. This doesn't mean that instructors are not paid well but it says that the satisfaction that comes from doing the job will only help you give your best every day. You will feel motivated by seeing people overcoming the obstacles that stand in their way of being fit. 
For more understanding, let's understand the experiences and lifestyles of the top best instructors rated according to the members.
| | | | |
| --- | --- | --- | --- |
| Name |  Before Peloton |  At Peloton |  Instagram site links |
| Adrian Williams | He was an athlete who worked as a personal trainer later he joined a boutique fitness studio has been in this field for more than 11 years. | He has also imbibed meditation into his schedule. He loves boot camp- strength training, running, stretching, and cardio. He is committed to the discipline |  @adrianwilliamsnyc |
| Jess Sims | Was a teacher before but bent on self-witness underwent HIIT, boxing, weight training, etc took training for becoming a fitness instructor for two years she started teaching in various boutique training studios in NYC. | Known for her motivational talks to constantly push limitsTeaches running, strength training, bike boot camps. Highly energetic and loves helping people. |  @jsimsfit |
| Tunde Oyeneyin | She was once 200 pounds at 18 age. She struggled with her weight and joined a gym she later continued with aerobicsShe kept on going to achieve her goals by focusing on what she gained thus landed up this career | Members in her class feel challenged as her class always leaves them drenched in sweat with a sense of achievement. She teaches cycling, boot camp, and strength training. She knows exactly when members might feel like giving up and thus cheers them up with a small pep talk. She believes that the 'mind is the strongest muscle'. |  @tune2tunde |
| | | | |
| --- | --- | --- | --- |
| Aditi Shah | She practiced yoga since she was a child she even pursued modeling and acting she continued her career as a yoga and meditation instructor | She is known for her calming presence teaches meditation, pilates, and yoga she helps people with anxiety | @diti22 |
| Selena Samuelaz | She pursued her career in acting later she discovered her interest in sports he chose to pursue boxing as her career later she turned into a boxing coach | Her classes majorly focus on lower and upper body strength training teaches stretching outdoor running, cardio, and strength training she also incorporates punching in her exercise sessions, making the session more energetic. |  @selenasamuela |
| Cody Rigsby | He started his career in dancing and music, he is a professional dancer who used to work for start-ups and as side-gigs in the fashion industry | Members often quote his classes as 'pure entertainment loves to make his exercises bliss by distracting the members with jokes and fun interactions. He teaches cycling, stretching, strength, and meditation. |  @codyrigsby |
The above-given list clearly states the different personalities of the instructors and how they implement it in their work. Apart from the list given above, there are many other instructors who are successful in showcasing their talent in a viewpoint of influencing fitness among members. You can clearly see the challenges that they faced before which made them stand out in the crowd to be selected as an instructor. Life as a Peloton instructor is full of joy as you are able to be yourself as well as earn a real good 6-digit pay- you work for all those 6-digits!
Pay of a Peloton Instructor