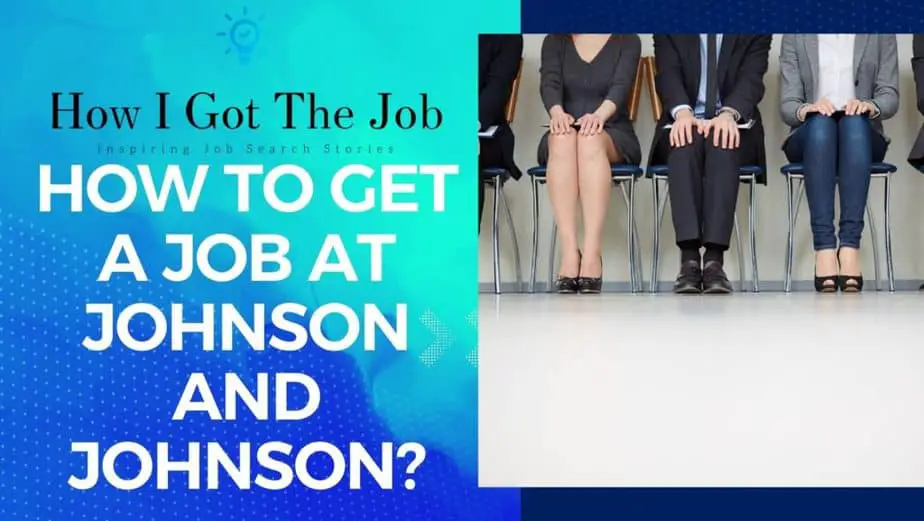 Let's see how to get a job at Johnson and Johnson?
Introduction
Johnson and Johnson is an American multinational company that was founded by three brothers, Robert Wood, James Wood, and Edward Mead Johnson in the year 1886. The company's headquarters lies in New Brunswick, New Jersey. With a Net Worth of nearly $435 billion and a network spread over 60 countries, it is safe to say that Johnson & Johnson is one of the leading pharmaceutical companies in the world. One of the biggest reasons behind Johnson and Johnson's success is their credo. They thoroughly believe in taking care of customer's needs first. Doctors, nurses, and patients are always on their priority list. 
Johnson and Johnson is the leading pharmaceutical company providing medicines and vaccines for diseases like HIV, cancer, and covid-19. Hence, this company only hires passionate, insightful, and innovative people in all fields. One needs to familiarize themselves with a four-step hiring process at Johnson and Johnson.
Steps
Explore – One can look up jobs according to their expertise in a certain field, location, or business segment on the Johnson and Johnson website. There is a search bar located on every page of careers.jnj.com. Johnson and Johnson also organizes a Global Talent Hub and after signing up, one will get notified with any new job openings or opportunity offered that matches their interests. 
Apply – Once a person has found a job on par with their skills and interest, they can go ahead click the "Apply Now" button present next to the description of the job. The applicant will be prompted to make an account, log in, and upload their resume and certificates. They may also have to answer a short questionnaire depending on the field of their job. Once the hiring managers at Johnson and Johnson have reviewed the application, a confirmation email is sent to the applicant and they have to proceed with the steps mentioned. If the invitation to Shine is received, they can also track the status of their application. 
Interview – Keeping the pandemic in mind, Johnson and Johnson is currently conducting all its interviews digitally. Depending on the job one is applying for, these interviews can fall under two categories.
1) Pre-recorded Interviews– Based on the prompts sent to the applicant, they can record their answers and upload them to their respective questions. After answering all the questions they can review their recorded answers and re-upload new ones if they aren't satisfied. This process only takes 15-20 minutes. 
2) Live video Interviews- These interviews are more like a traditional interview except they are conducted through a screen. The recruiter interviews the candidates about their earlier experiences, their goals, and their reasons to apply at Johnson and Johnson. This interview typically lasts for 30-60 minutes. 
Offer – Once accepted, the applicant will be receiving an offer letter containing the details of their new responsibilities, their job, the benefits that accompany the job, and other important information. If the candidate is satisfied, they can forward the message of accepting the offer letter and get hired. 
Is it hard to get hired by Johnson and Johnson?
Johnson and Johnson get tens of thousands of applications every year for various positions they offer. They work with data scientists, physicians, immunologists, scientists, lab technicians, and business managers to bring the best consumer goods and drugs to the market. Given all that, it is undeniable that competition is high when applying for a job at Johnson and Johnson. It is necessary to read up and research everything Johnson and Johnson have been successful till now. The candidate should be clear with what they are bringing to the table and if they are fit the role they are applying for. If one is unsure of their capabilities, it is better to apply for an entry-level job and work their way up to the director-level job. 
When preparing for the numerous interviews one might have to sit through, be prepared to answer questions that inquire about their past roles of leadership. Such questions are asked to know about the applicant's capacity of dealing with deadlines, high-stress environment, lack of resources, and most of all, how creative and innovative they can be. 
It is suggested to prepare answers that address these aspects beforehand and practice one's communication skills. Taking time to breathe and answer a question in detail without missing out on important information gives the recruiter confidence for hiring the said candidate. 
How did Covid impact the hiring process for JnJ?
With most of the workforce working from their homes, it has become difficult for JnJ to keep strengthening their roots, yet they have continued to do so. Johnson and Johnson recently announced the distribution of One Billion effective Covid-19 vaccines across the globe hence they are focusing more on hiring people who can help them increase their manufacturing and production. 
Johnson and Johnson created a portal, Shine where the applicant can experience total transparency and visibility of the end-to-end process of hiring. Covid has not impacted this process. Johnson and Johnson have also switched all of their interviews, internships, and co-op summer programs to an online mode which is facilitated through Skype, Zoom, and other means of video calling. 
What are some of the employee benefits at JnJ?
The employee benefits offered by Johnson and Johnson are just a reflection of their Credo. They have always strived for creating a safe space for their employees so they can give their best at whatever task they choose to take up. 
They offer adoption and fertility helpline for all heterosexual couples.
There is a Global parental leave available for all ( surrogacy based, adoptive, maternal, and paternal)
Child care benefits
Health Insurance for Hetero-sexual couples. 
College assistance for employees with college-going children
Two weeks off for volunteer work. One of them is completely paid for. 
Leave for the military. 
Pet insurance
Conclusion
There is no doubt in the fact that Johnson and Johnson have the best reputation when it comes to sticking with their Credo. The company has over 200 individual companies under its umbrella, all of them have their independence to be more entrepreneurial than others yet they come together to respect what the parent company stands by. Johnson and Johnson have three sectors it is known for, consumer goods, pharmaceutical, and medical devices and the company makes sure to stay on top of all of these sectors. They know they are good at developing better versions of existing products and they stick to that. 
For any employee of Johnson and Johnson, the opportunities ahead are endless. Depending upon the field of work, Johnson and Johnson is generous with promotions. Having the brand name on one's resume opens the doors for many high-paying jobs in the future as well. 
Frequently asked Questions
What is the starting salary of a pharmacist in Johnson and Johnson?
Depending on the level of education, certifications, years of experience in the given field, their GPAs in their results, and their achievements in past jobs, the range of salary for pharmacists at Johnson and Johnson falls under $151,143 to $170,653. The average salary is $160,483. 
Do Johnson and Johnson hire international students?
Yes, all the companies that come under Johnson and Johnson across the globe have internships and co-op programs for students who are doing their MBA, Undergraduate or Postgraduate degrees. The student must be authorized to work in the residing country and be fluent in the local language. 
Do Johnson and Johnson have a pension plan?
Yes, Johnson and Johnson has a pension fund program that provides retirement benefits of various kinds to the employees that qualify for it. Together with social security and Johnson and Johnson's pension plans, it is a very unique opportunity for employees to save for their retirement. 
Do Johnson and Johnson use personality tests during interviews? 
Yes, nowadays most fortune 500 companies have started including personality tests in their interview process to gauge the capacity of the applicant and make an informed decision about hiring them. Johnson and Johnson only want employees who truly fit in and personality tests are an easy way of finding that out. They use The Caliper Profile personality test, which is a compilation of 150 questions that test one's cognitive abilities based on numerical and visual pattern recognition. 
Do Johnson and Johnson work with healthcare professionals and why?
The pharmaceutical sector of Johnson and Johnson is one of the market's biggest developers of modern-day drugs. With ever-evolving technologies and new medical researches being conducted every single day, it is extremely beneficial for Johnson and Johnson to have real-life health care professionals with clinical experience to provide insight on the development of new drugs at Johnson and Johnson's laboratories. Collaborating with leading physicians enables the company to develop newer, more efficient surgical tools, medicines, and machines. Following the guidance of doctors, the company can address potential treatment gaps and misinformation about drug use and teach the correct usage of the products. The relationship between the doctors and the company provides the patients with a lot more effective and concentrated treatment.
How to get a job at Johnson and Johnson?