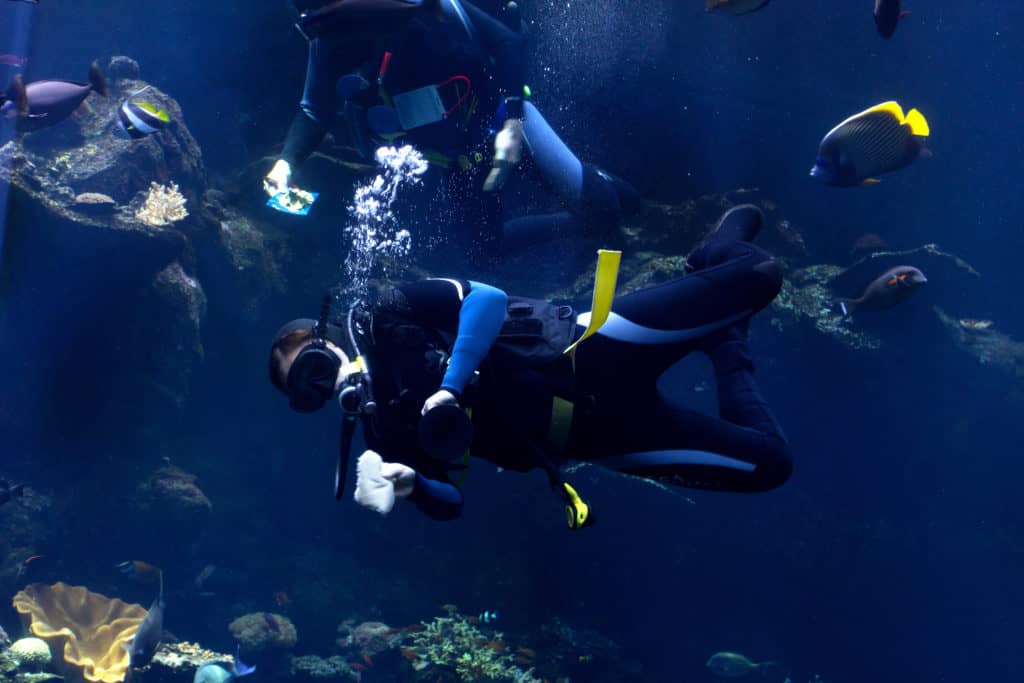 A commercial diver is an individual who carries out professional diving and gets paid for it. This job includes tasks to be performed underwater. Codes of practice and legislation regulate all procedures as they can prove to be hazardous. This career is challenging, but the thrilling lifestyle commercial diving offers can be found nowhere else.  Let's know about Commercial Diver's Salary in this blog.
If you aspire to be a commercial diver, this article will surely benefit you. Professional diving is a high-paying job, and salary is one of the major grounds to choose a career. The United States offers one of the most flourishing diving industries in the world. Here, we will highlight the earnings of a commercial diver along with common questions related to the career. 
The salary offered to a commercial diver varies from place to place in the United States. Also, experience and recruitment level are the factors that affect the salary. The approximate average salaries according to recruitment level or seniority are as follows:
Starting Level Commercial Diver – $15.61 per hour and $32,470 per year (10th percentile)
Junior-Level Commercial Diver- $19.47 per hour and $40,490 per year (25th percentile)
Mid-Level Commercial Diver – $24.03 per hour and $49,980 per year (50th percentile)
Senior-Level Commercial Diver – $33.18 per hour and $69,020 per year (75th percentile)
Top-Level Commercial Diver – $57.61 per hour and $119,830 per year (90th percentile)
Types of Commercial Diving Jobs
Many fields in commercial diving vary greatly in pay, risk, work hours, and experience. Different branches offered in commercial diving are as follows:
Offshore Diver
Salary – $1500+ per day (high)
Risk – Medium
It is the field where the diving is done outside national boundaries. Underwater welding is the most common task in this occupation. The usual tasks can range from measuring gaps for material replacements to welding a pipeline.
HAZMAT Diver
Salary – $1000+ per day (medium to high)
Risk – High
This job includes working in hazardous, radioactive materials, cleaning, and maintaining a variety of environments. In addition, there are responsibilities given to take care of emergencies such as nuclear plant meltdown, oil spills, etc. The divers work wearing special HAZMAT suits to protect them from the damaging effects of radioactive materials.
Saturation Diver
Salary – $3000+ per day (high)
Risk – High
Before opting for saturation diving, one must have to go through rigorous training to obtain mid-level experience. This is because the job demands diving deep into the waters for weeks. A four to eight week's off follows the hectic schedule.
Scientific Diver
Salary – $51,360 per annum (low)
Risk – Low to Medium
This job comprises examining and research based on underwater geology, archaeology, and biology. They collect underwater samples and conduct experiments. They are usually scientists working as professional divers.
Navy Diver
Salary – $63,602 per annum (low)
Risk – Medium
This job demands a leadership structure and working under strict rules. Main jobs assigned to you include underwater welding, maintenance of marine equipment and ship hulls, salvage, etc. The chosen military branch will do the training and tasks. They are very similar to offshore and onshore diving.
Commercial divers are in great demand at oil rigs, building boat ramps, or inspecting the underwater. Therefore, the states which offer these opportunities more than others pay higher to the commercial diver. Some high paying destinations in the United States are as follows:
Alaska – The average salary is approximately $78,480 per annum. It has the largest amount of untapped oil and gas reserves in the country. Therefore, the need for commercial divers in Alaska is increasing every year. Commercial divers are needed in scientific research as well. They help in underwater environmental surveys, vessel repair, etc. Though everyone may not be pleased by the fact of diving into the sub-zero waters of Alaska, there is not much to worry about. The modern advancements in diving equipment have made it much more comfortable. Hot suits which keep pumping hot water throughout it keep the divers warm. 


The Gulf of Mexico – The average pay offered for working at the Gulf of Mexico is $121 per hour for commercial divers. The Gulf of Mexico accounts for a huge quantity of gas and oil in the United States due to an enormous amount of offshore oil rigs. Therefore, it is not surprising to see commercial divers in demand in the Gulf of Mexico.  The majority of work provided here is offshore diving. Offshore diving is usually related to maintenance work such as oil rig inspection, welding, repairing of pipelines, etc. This work may also demand saturation diving.


California – The average salary provided here is $57,020. Still, less than the Gulf of Mexico, California stands at the 4th position employing commercial divers. It provides opportunities for a full range of services in marine construction, non-destructive testing, underwater inspection, coastal construction, an inspection of pipelines, and industrial plant repair. California is growing at a great pace in the commercial diving sector.


The Great Lakes – The average pay per year is around $54,490. The Great Lakes are located in the northern Midwest. They are situated along the border between the United States and Canada. They provide lots of commercial diving opportunities as a naval diver. It is home to a large number of shipwrecks and underwater animals. Here, divers can find shipwrecks dating back to almost four hundred years and above in reasonably shallow waters especially in Lake Michigan.

Commercial divers are usually assigned to recover the shipwrecks and destroyed vessels that fell out of luck. Also, they can find work in the repair or restoration of jetties and ports which are an indispensable part of our waterways. Many people consider the Great Lakes as a mecca for divers.


Washington State – The average salary package offered is around $56,640. It also has one of the nation's finest diving schools, 'The Divers Institute of Technology' located in Seattle. It employs many former commercial divers which opens the teaching and training sector for commercial divers. Onshore diving is one of the most common occupations for divers working in the chillier waters of Washington State. There is an ongoing project called 'Seattle Port Expansion' which involves the expansion of terminal 5 of the Seattle port. It is a great opportunity for commercial divers to work in Washington State.
What are the requirements to become a commercial diver?
The academic requirements for an aspirant to become a commercial diver are relatively little. Even a scuba diving competency is not needed. All the required qualifications include:
A high school diploma or equivalency
Proficiency in English
The applicant should be 18 years of age or above
Pass a diving physical. It is also called 'Fitness to dive' which certifies the physical and medical suitability of an individual to dive.
Obtain TWIC (Transportation Worker Identification Card). These are biomedical identification cards. In order to get the TWIC card, the individual has to pass the TSA background check and a threat assessment interview.
Should be able to swim four hundred meters unassisted
You can then opt for a commercial diving course by applying to commercial diving schools. You can fill the application in online as well as offline mode. You will be asked for a copy of your high school diploma or GED. In case of need for financial assistance, you can fill the FAFSA (Free Application for Federal Student Aid) form provided by the college. 
Some of the few certifications offered in this field are:
Job Safety Analysis (JSA) certificate
Qualified Rigger API (RP-2D) 
WAC 80-hour HAZWOPER Certification
Kirby Morgan Hat User/ Operator Certification
Cylinder Services Fill Station (FST)
Professional Commercial Diving Program Diploma
NAUI Open Water and NAUI Nitrox (EANX) SCUBA certifications
What are some frequently asked questions in a commercial diver interview?
Preparing well for the commercial diver interview can land you your dream job at your dream destination. Therefore, good preparation is a must. Preparing some frequently asked interview questions will help you answer swiftly, retain your confidence and get to know the hiring process in a much better manner. The following list contains significant questions to prepare for:
Tell us something about yourself, and why do you consider yourself a successful commercial diver?
What are the major responsibilities and duties of a commercial diver?
What should be the ideal lifestyle of a commercial diver?
What abilities do you have which will benefit you in this field?
Describe an event where you successfully repaired a piece of marine equipment that works mainly through mechanical principles?
What is your plan for prioritizing and organizing work?
What is your expected salary as a commercial diver employee?
Commercial diving is one of the most exciting jobs and brings you much closer to the marine environment. However, not many have a passion for diving deep underwater, and those who choose this profession are some of the most adventurous people. This post will prove to be of great help to you before embarking on your journey as a commercial diver. 
Commercial Diver's Salary- Types, and Its requirements