Almost every workplace needs a qualified receptionist to manage its outward-facing operations. If you believe you possess the necessary interpersonal skills and the capacity to remain calm under pressure, you are fit for the job of receptionist. But it is not so easy to get the job of a receptionist. It is possible with a flawless resume that impresses the hiring professionals.  Receptionists are skilled multitaskers who possess a diverse set of hard and soft talents. Developing a strong resume for a receptionist position might lead to career development. Getting hired requires a resume format that suits the company's style. let us know about that the Receptionist Resume Examples, Skills, Objective.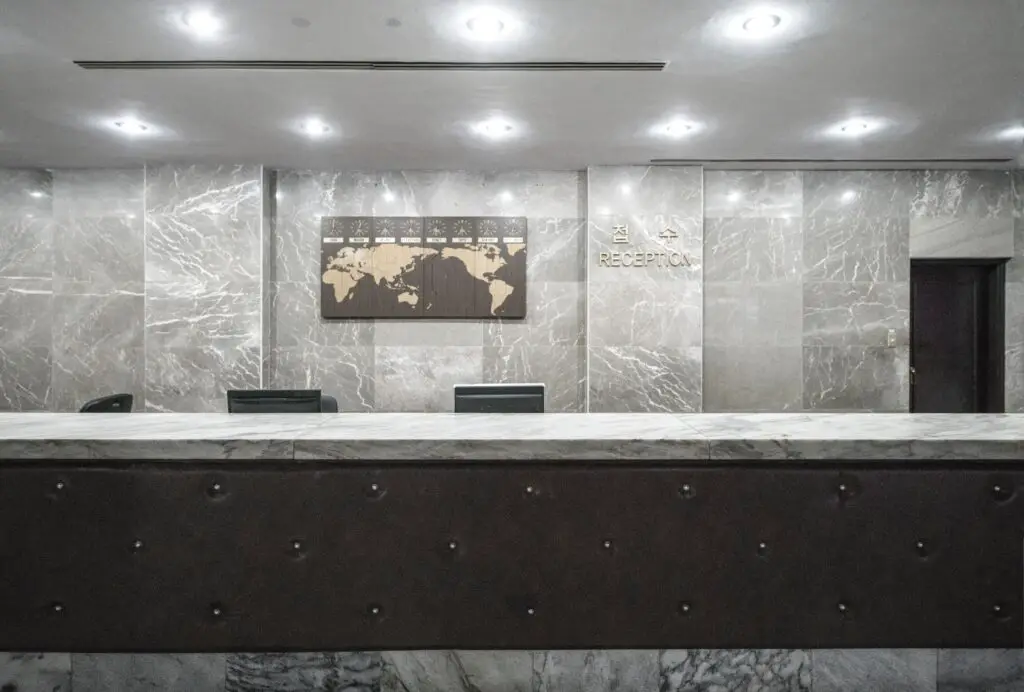 To write a flawless receptionist resume, you've come to the ideal place.  We are here to help you get your ideal job with the company you have always wanted to work with. The receptionist resume guide tips and samples in this post can help you build a powerful resume fast and effortlessly, increasing the likelihood that it will be viewed by employers.
Overview of the job of receptionist
The position of the receptionist is such that it is found in every business and company. A receptionist role is frequently used as a stepping stone into the industry, luring those who are young and inexperienced. Receptionists, on the other hand, fill vital jobs that are critical to an employer's operations and success. Receptionists often spend time assisting guests and informing the general public about the company they work for.  This is one of those occupations where you can do a lot of different things. Receptionist employment is available in practically every business, so you won't have any trouble getting work in this profession. Answering phones, welcoming guests, and delivering basic information about their business to the public and clients are all administrative activities that receptionists conduct. A receptionist is frequently the first person clients see when they walk into your office, it's essential that you have to be kind, professional, and capable of multitasking.
Why does one need a resume for being a receptionist?
As previously stated, the job of a receptionist is essential in every company and hence there is significant competition for the role. You are usually competing against other applicants with significant experience and talents during the recruiting process, which is why you must look for and use any chance to distinguish yourself as an excellent candidate. Your resume is a wonderful method to guarantee that a hiring manager notices you and your talents, and a resume is a great approach to ensure that managers notice you.
Duties of a receptionist
Receptionists must keep their ears to the ground and be informed of everything that is going on in the organization, from knowing when crucial meetings will be held to organizing deliveries and arranging travel for employees. You'll also be the first person that workers and potential clients see, so you'll be representing the firm at all times. Hence, your job will have a lot of responsibility. 
A receptionist's everyday responsibilities will include:
Greeting visitors and giving them a favorable first impression of the company.
Providing directions to visitors and answering their questions.
Notifying other staff of the arrival of a guest. 
Keeping security and telecommunications systems up to date.
Maintaining the security of the office by following regulations; keeping track of logbooks; and providing visitor badges to the guests. 
Maintaining a safe and clean welcome area in accordance with procedures, rules, and regulations of the company. 
Keeping track of and conveying various activities, abnormalities, and ongoing requirements.
Providing support to the team by completing duties as needed.
Answering the phone, taking and relaying messages, and providing callers with information.
Administrative and clerical support.
Preparing required letters and official documents. 
Sorting and receiving delivery packages. 
Making appointments and keeping a track of them on a calendar. 
Organizing and coordinating meetings. 
Using POS (Point of Sale) systems
Ordering goods for the office
Organizing both digital and paper-based file systems
Steps to take for tailoring the perfect receptionist resume
A perfect resume is not created by magic. It takes dedication and smart work to tailor a perfect resume to impress employers. One needs to include all the relevant things such as:
Education and certifications– To work as a Receptionist, you must have high school graduation at the very least.  If you have gained education from a business school or further pursued higher education, it helps to demonstrate a strong grasp of English and makes you more than ideal for the role. There are other certification programs that can assist you to demonstrate your Receptionist expertise while also showing your self-motivation. If you've specifically sought out a program like this, be sure to mention it in a separate Courses/Certificates area.
Resume objective or professional summary– Put carefully selected resume objectives or summary—a short and simple paragraph that demonstrates why you're the ideal candidate—at the top of your receptionist resume. The summary of your receptionist resume provides an overview of your career and emphasizes your most notable accomplishments. It functions as a trailer for the remainder of your resume. If you have relevant receptionist experience, you can use it. On the other hand, a resume objective explains everything you've learned thus far and how you are fit for the role. Choose briefly the resume objective if you're preparing an entry-level receptionist resume with minimal experience.
Skills and Experience–  Your resume should exemplify your skills and talents at every step.  Customer service experience or any other interpersonal, soft or hard skills should be sufficiently reflected. Any experience acquired by you in record-keeping, office machinery, or business software must be demonstrated. Read on below to find a section about necessary skills you could highlight in your resume. Additionally, you can highlight achievements from your previous positions (if any).  Just keep in mind that your work experience should be in reverse chronological order. It is more professional and appealing. 
Contact Information– Include details of your address or place of residence such as city, town, and area. State your phone number and email address. Additionally, you can state any web presence that you might have related to the position you're looking for. Make certain that any website you provide is immaculately professional and truly shines. 
Extra Sections- The best receptionist resumes offer more than just list your qualifications and expertise. They demonstrate it by including extra sections on your Resume. They demonstrate your verified accomplishments. Some of the items to put in that extra area of your receptionist resume are blogging or freelancing experiences, volunteering experiences, or any hobbies or interests. 
Tips and suggestion
Read the job description carefully.
You should personalize your resume according to the organization and position you're looking for to make it stand out. In order to do so, go over the job description again and look for any relevant experience or abilities. Then, when you tailor your resume, be sure to include some of the job description's keywords. You may also catch the employer's attention by mentioning the firm to which you're applying in your resume objective. 
Include relevant skills and experiences.  
Highlight both your hard and soft skills in the resume. The best resource you have is your personality attributes; be sure to incorporate them on your receptionist resume. The following are some of the abilities and knowledge that are commonly listed in a receptionist job description:
Organizing abilities
Communication abilities, both verbal and written
Ability to multitask
Skills in administration
Skills in customer service
Knowledge of specialized software programs, such as Microsoft Office
Effective skills in problem-solving
Emphasize your strengths and abilities
In a resume, highlighting your unique abilities and knowledge is a terrific method to make your application stand out. Choose a few distinct qualities that would be advantageous in the role, and utilize them as the cornerstone of your resume. Highlight them through your various experiences and jibs undertaken. 
Include your degrees, certificates, and experience on your resume.
You should describe any training, education, or experience that has prepared you for the receptionist position you're looking for. 
Connect everything to the job
Rather than merely listing your finest qualities and accomplishments, strive to demonstrate how these credentials will help you contribute to the company and job by detailing how you intend to use them.
Format it well- It's ideal to format your resume that reflects the culture of the firm to which you're applying. Looking for a job as a corporate receptionist in a conservative company? Make your resume official and attractive. Make a contemporary, creative CV for positions with laid-back firms.
Improve the particulars properly-   The chronological resume style is likely the greatest option for constructing your CV. It's the most popular format for job searchers in general. However, if you are new to the workforce, making a significant career transition, or your most relevant experience does not include employee jobs, you should consider alternate resume formats. A functional resume style can be useful for showcasing transferrable abilities or training, as well as for people who have worked for themselves.
Skills required
Your CV allows you to emphasize the skills you have that make you uniquely suited for an available position. Your qualifications should be stated several times throughout the text, particularly in the resume aim. This is the first paragraph a hiring manager will read about you, and you want to make it clear that you can handle the job's requirements.
A receptionist must show a wide range of skills on a regular basis. Because this section will only be three to five words long, make sure you concentrate on traits that will catch the employer's eye. If you think you have what it takes—amazing interpersonal skills and an incredible ability to stay organized make sure to highlight them. Some of the skills which you can sufficiently highlight are:- 
Experience in supply management
Efficient typing skills.  40 words per minute typing speed. 
Dexterity in handling office equipment such as copiers, photo-copy machines, fax machines, multi-line phone systems, etc. 
Good verbal and written communication.
Multitasking and time management are strengths. 
Capable of handling workload and handling stress. 
Good knowledge of Microsoft Office (Word, Excel, Outlook) and information management software. 
Excellent public, supervisory, and peer communication. 
Electronic mail and office suite software expertise, including Microsoft Outlook and Corel WordPerfect.
Understanding of record-keeping and file-management systems. 
Time management and scheduling abilities. 
Excellent organizing skills and meticulous attention to detail. 
Active listening and critical thinking abilities. 
Professional and discreet demeanor. 
Working experience on a phone switchboard with 1–8 lines.
Tips to write a receptionist resume objectives
A receptionist resume objective, also known as a career objective or objective statement, offers employers a description of your short-term professional goals and motivations for pursuing work. Since a receptionist must have a wide range of talents and abilities, you should emphasize your strengths and experience throughout your resume. These are frequently inserted at the very beginning of a resume to catch the attention of a hiring manager, establish that you are an ideal prospect, and urge them to keep reading. 
The resume goal consolidates just the most relevant information into a succinct and effective statement, whereas the resume should give a more thorough perspective of your experience and talents. A good receptionist's resume aim is between one and two sentences lengthy most of the time. Remove any unnecessary filler words throughout the text, such as "like," "the," and "a," to focus the reader's attention on the vital elements.
An objective should be towards the top of your resume. It should be a brief statement that emphasizes your qualifications and strengths. You don't want this portion of your resume to be overly long, as it may bore the reader or lead them to believe you didn't put in the effort. To get your receptionist resume off to a good start, make sure your objective statement is clear and provides value to the business. Following are some examples of objective statements to include in the receptionist resume- 
A dedicated professional with a proven track record of organizing appointments and executing administrative duties seeking a career as a Receptionist with Growmore.
Get a job as a receptionist at ABC Company and use your resource allocation, production tactics, strategic planning, and human resources modeling talents to good use.
To obtain a Receptionist position at ABC organization based on a solid education and experience engaging with subordinates, colleagues, and superiors.
To land a job with an intriguing new organization that will allow me to demonstrate all of my clerical skills while also fostering a symbiotic connection.
Looking for a receptionist position where I can use my computer abilities, writing and spoken communication skills, and organizational skills to good use in order to make the workplace run more smoothly.
Professional summary
A resume summary is believed to be very appealing to employers. It can contain any relevant information that does not fit in the other sections of your resume. The main goal of the professional summary is to engross the reader and encourage them to keep reading. A professional summary may be used in place of a resume objective if you want to be more precise about your prior experiences and boost your chances of impressing your employer. Here are some sample professional summaries:
I am a hardworking and energetic individual with three years of experience.  I seek the position of a receptionist with the Hilton group where I wish to demonstrate my Microsoft, interpersonal and organizational capabilities to offer excellent customer experiences while ensuring the organization's efficiency. 
I'm searching for a receptionist position with Health Hub to use my administrative talents and understanding of medical billing and coding to improve the customer experience by reducing processes and procedures." 
I am a dedicated and passionate receptionist who wishes to join the Victory organization to provide professionalism and poise to their front desk. Operating a multi-line phone system, giving clerical help, and dealing effectively with clients and queries are some skills that I have demonstrated.  Attentive to details and well-managed, possessing a desire to meet and excel in my position. 
I'm a recent college graduate looking for a job in the private sector. Looking for a receptionist position where I can put my demonstrated organizational and technological talents to use. I'm looking to broaden my skill set at a company that will help me advance. 
Receptionist with a certificate to work in a developing firm, with excellent typing abilities, a basic understanding of computer hardware and software, and an engaging attitude to welcome colleagues and clients. 
Looking for a receptionist position where I can use my computer abilities, writing and spoken communication skills, and organizational skills to good use in order to make the workplace run more smoothly. 
Adaptable Front Desk Receptionist with expertise in a wide range of sectors and a track record of providing outstanding customer service. Experience managing all aspects of front office administration, including multi-line phone systems, scheduling, and maintaining reception and waiting rooms is required. Hands-on experience with Microsoft Office, Millennium, and QuickBooks to help with day-to-day office operations.
Template
Name
City, Zip Code
Phone Number(s)
Email Address
PROFESSIONAL SUMMARY / RESUME OBJECTIVE
3-5 lines describing your skills, visions, and experience and taking your employer into the confidence of your abilities. 
Location
Dates of Graduation
Location
Date of Graduation
Location- Company name, City, State
Responsibilities (Provided a bullet by a bullet list of the responsibilities you undertook in the position.)
Location- Company Name, City, State
Responsibilities
SKILLS AND CERTIFICATIONS 
Give a gist of all those skills that you will be offering in this position. 
Give any references that might boost your chances of employment. Preferably from the previous employers. 
 Resume guide
Caroline Patrick
New York City, NY 00926
Home: 000-000-0000 | Cell: 000-000-0000
Professional Summary/ Resume Objective
Receptionist with more than 5 years of experience in the industry.  Polite, courteous, and skilled at being productive under work pressure Exceptionally well-organized, self-motivated, and computer savvy. Looking forward eagerly to holding the front desk at Fell group with confidence and poise Holding a  bachelor's degree in communications. 
Oxford College of Emory University
 BA. (Hons) 
September 2008- July 2011
Mystic Falls High School, Virginia
October 2006- July 2008
Johnson and Johnson
Ohio
01/05/2019- Present
On a daily basis, greet up to 70 patients and guests, validating current personal and insurance information.
Maintain a multi-line phone system that serves as a point of contact for around 60 phone calls every day. 
Respond to email inquiries promptly, within 24 hours of receipt. 
To ensure correct data is captured in the patient management system, create, update, and arrange appointments. 
Implemented a system to quickly identify accounts that require insurance verification, resulting in a 70% reduction in the time spent looking for inactive or canceled insurance. 
Review and submit up to $20,000 in insurance payments on a daily basis. 
Follow the opening and closing procedures.
Sabre Mifflin
Scranton
01/06/18- 20/04/2020
Enter private and business-critical data into databases and Microsoft Excel spreadsheets with precision.
For management staff, prepare and proofread time-sensitive papers and correspondence.
Keep track of and buy office supplies 
Visitors (25+ each day) were greeted warmly and building access badges were distributed.
Through outstanding product expertise, providing clients with advice on promos and offers. 
Checked deliveries and refilled and merchandised stock in accordance with corporate standards.
Can type 50 Words per minute. 
Expertise in MS office
Multitasking
Team leadership
Professional Bureau Secretary, 2017 – Ministry of Ohio
Business Management, 2016- University of Colorado 
Conclusion
To get the job you desire, you'll still need a stellar receptionist resume. Receptionists are skilled multitaskers who possess a diverse set of hard and soft talents. Developing a strong CV for a receptionist position might lead to career development. Getting hired requires a resume format that suits the company's style. In order to make your resume stand out from the crowd, make sure to follow all the guides and suggestions given above and you are good to go.
Receptionist Resume Examples, Skills, Objective