Sory: How I Built My Career In Graphics Design & Customer Experience Management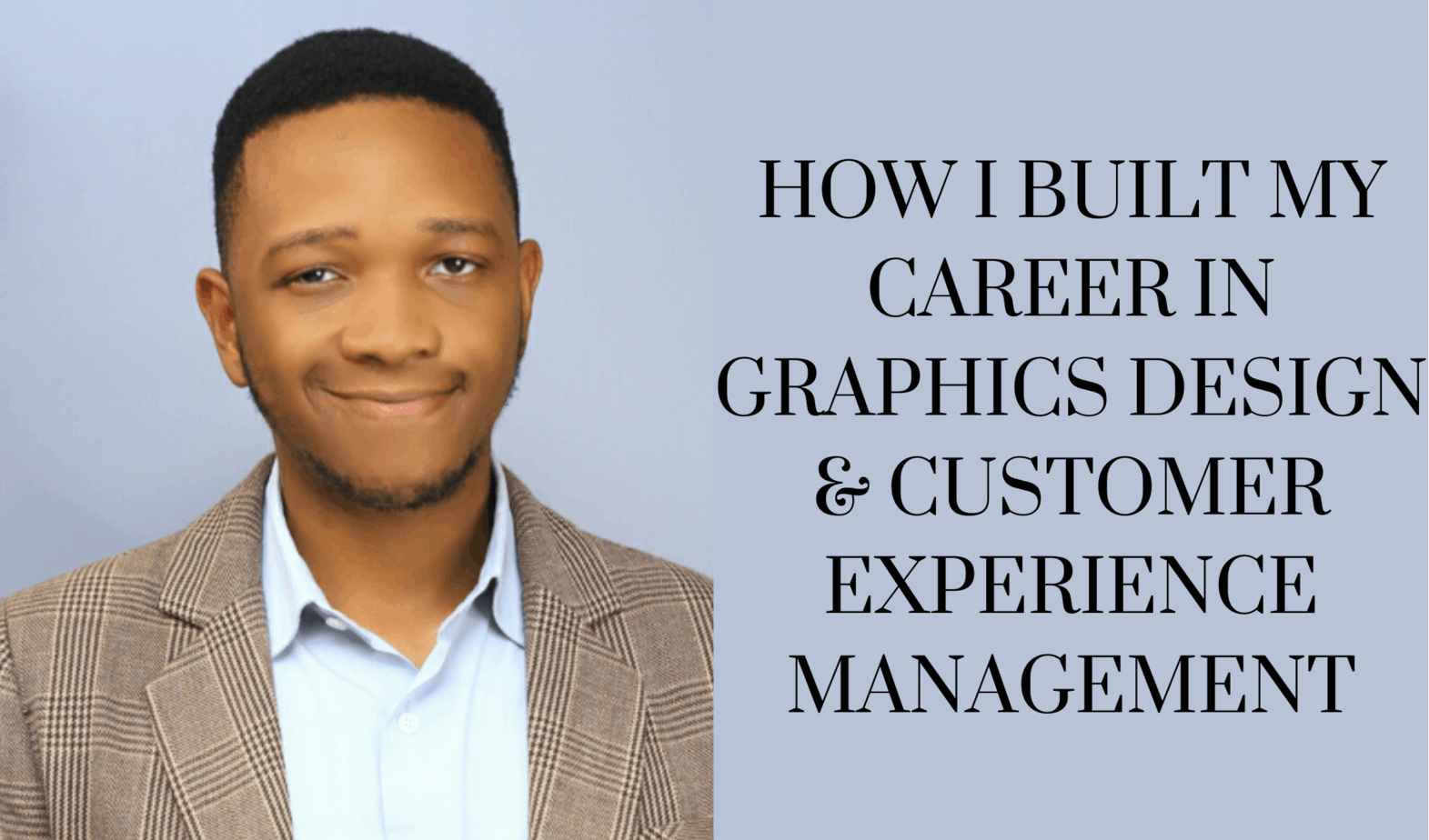 My name is Kelechi Okeke I specialize in Branding & Customer Experience Management. I help businesses design experiences that leave their customers satisfied, loyal and willing to talk about the brand in a positive light. I am also the founder of cxservice360, a customer service website which is visited by thousands of business owners and professionals every month.
Back in 2009, while Majoring for a computer science degree, I took up Graphics Design as a hobby because the process of conceiving an idea in my mind and bringing it reality through design excited me thoroughly. I would manipulate images, design ads, flyers and edit photos or just try new stuff from tutorial videos on YouTube. My favorite tools at the time were Adobe Photoshop & Cinema 4D. I typically spent my free time creating new projects on my laptop.
I graduated in 2011, and by 2012 I was deployed to serve the nation under the compulsory 1-year National youth service program. A few weeks to the end of the Youth Service program, I was invited for an interview with a Branding & Printing Firm in Lagos. The interview was practical; I was given a number of graphic design tasks & timed. I accomplished the tasks and I was given an offer to resume work as soon as I concluded my NYSC program. As a Graphic designer I would typically work 6 days, and try to make the most out of my Sundays. It was a very busy schedule and the pay wasn't too great, but the career gave me an opportunity to interact with customers, flex my creative muscles, and also learn how branding works.
From Designing Graphics To Designing Experiences
I worked with one more branding agency as Graphic designer, before switching to a career in customer experience management. In 2014, i got employment with a leading financial institution in Nigeria. I was to deployed to the join the newly formed CX team.
Within a few weeks my concept of customers, customer service and business was transformed. I realized the value of a positive customer experience and the importance of loyal customers to a business. I became very intrigued by the concept of a customer experience. Being naturally curious I started trying to learn & understand everything i could about it. I became an avid researcher and daily I would search the internet for articles, read books, attend conferences and reach out to industry leaders directly if i had questions.
One day during my research, i realized that a lot of basic customer service knowledge was not easily available online. The idea of cxservice360 was born – A website where anyone can easily read up and learn about important customer service concepts and topics.
From Profession to Hobby
I designed the website and published my first article in February 2016.  Since that time I have been publishing an article every week. I have gotten employment offers, and had people invite me to train their employees on customer service through articles I publish on the website. So far, it has been a very exciting adventure managing the website and publishing new articles every week. It is now a hobby I am passionate about.
Conclusion
My motto is to never stop learning & never stay idle because I believe knowledge is power. Each day I'm constantly in search of new knowledge. I read blogs, analyst reports and watch videos. Learning or developing marketable skills is very important in the life of every human being, these skills will largely determine your earning power. My decision to learn graphics design made a lot difference in my life, it's a skill that always comes handy and just makes everything come together for me.
My advice for anyone looking to get employment, is to acquire and develop skills. It could be programming, public speaking, data analysis or computer and electronics skills. Depending on the career sector and profession you want to work in, there will be specific skills, abilities and knowledge needed for the job. Find out what skill(s) you need and make the effort to be really good at them. It's always easier said than done – Learning a skill takes time, patience and consistent practice. You won't see results overnight, but if you start now and take it one day at a time you will significantly improve your chances of getting the job of your dreams and even excelling in your current career path.
Kelechi Okeke is an avid customer advocate, he works as a customer experience analyst, content developer and  graphics designer in Lagos, Nigeria. He is the founder of customer experience website cxservice360 and is nationally recognized as a Nigerian Customer Service Ambassador. Connect with him on LinkedIn
How I Built My Career In Graphics Design & Customer Experience Management