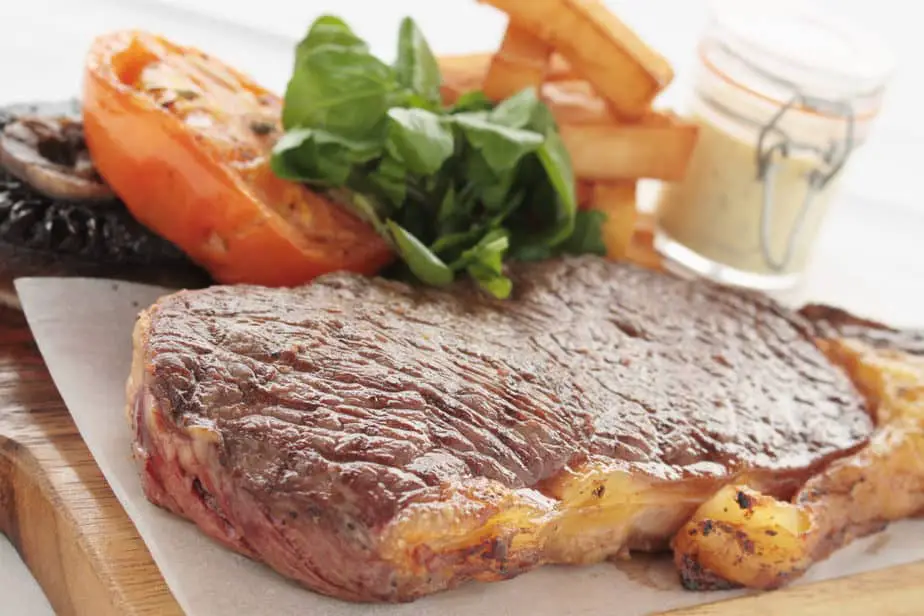 Outback Steakhouse is an American restaurant chain, based in Tampa, Florida. The outback steakhouse is an Australian themed restaurant, that has more than 1000 locations in countries like the United States of America, United Kingdom, Canada, Brazil, Mexico, Japan, China, Hong Kong, Malaysia, Taiwan, Singapore, Costa Rica, Argentina, Chile, South Korea, Indonesia, Ecuador, and Australia. The Outback Steakhouse is most popularly known for its signature menu items. These items include the famous Bloomin' Onion. The onion is cut into what looks like a blooming flower, breaded and fried, and served with mayonnaise and horseradish sauce as the signature dish of the restaurant. Here, we'll discuss Who owns Outback Steakhouse?
Outback Steakhouse serves several cross-continental cuisines as it has an Australian theme. The dishes on the menu of the Outback Steakhouse include a large variety of seafood, salads, burgers, and what is the most important to a steakhouse, the steak. The Outback Steakhouse is a wholly-owned subsidiary of the food company Bloomin' Brands and earns annual revenue of about $3.8 billion. 
Owner of Outback Steakhouse
Outback Steakhouse was originally owned by OSI Restaurant Partners. OSI Restaurant Partners owned and ran the Outback Steakhouse in the United States until it was acquired in 2006 by Bloomin' Brands.
Bloomin' Brands
Bloomin' Brands, a restaurant holding company that owns several restaurant chains in the United States, was founded in Tampa, Florida in the year 1988, where the company is also based currently. Bloomin' Brands was founded by Tim Gannon, Bob Basham, and Chris Sullivan in 1988 in Tampa, Florida with the first Outback Steakhouse opening the same year. The company was renamed Outback Steakhouse Inc., as it went public in 1991. The company at this time had a total of 49 restaurants as a part of the restaurant chain.  
The company opened the first Outback Steakhouse in Canada in 1996, marking the beginning of its international expansions. The restaurant chain later expanded to a total of nine locations in Canada in the state of Ontario. All these nine locations however were later shut down in March 2009 as a result of poor economic conditions. Later in June of 2009, Outback Steakhouse opened a restaurant location in Niagara Falls, Canada. Another location of the restaurant was also opened in the Niagara Falls province of Canada, after the outstanding success of the first one. These two are the only working locations of the restaurant in Canada.
In 2006, Bloomin' Brands procured the OSI Restaurant Partners for $3 billion. Before the company's merger with Bloomin' Brands, OSI Restaurant Partners, Outback Steakhouse Inc. owned several other restaurant businesses such as Cheeseburger in Paradise, Paul Lee's Chinese kitchen, Roy's, Lee Roy Selmon's, Bonefish Grill, Carrabba's, etc. Apart from these, OSI restaurant also opened a subsidiary with the name Blue Coral Seafood and Spirits in the year 2006. About 15 locations were planned for this subsidiary, two of which were opened in California. One was opened in the districts of Orange County in Newport Beach and the other was opened in San Diego. Bloomin' Brands, however, decided to close this subsidiary in 2009. Restaurant Chains:
Bloomin' Brands owns and runs several Restaurant chains. As of 2021, these restaurant chains include:
Aussie Grill by Outback Steakhouse
Abbaraccio, which operates in Brazil only
Fleming's Prime Steakhouse and Wine bar
Bonefish Grill
Carrabba's Italian Grill etc.
Bloomin' Brands has an overall annual revenue of $4.2 billion and employs around 93,000 workers worldwide.    
Founders
Bloomin' Brands was founded in August 1998. The company started in Tampa, Florida, and expanded worldwide via purchasing and acquiring several other companies. The four founders of the company are:
Robert Basham, better known as Bob Basham was one of the co-founders of Outback Steakhouse, LLC. He was also the co-founder of OSI Restaurant Partners, LLC, serving as the company's president since the year 1991. Even after the company's merger with Bloomin' Brands Basham continued to serve as the company's Co-chairman from March 2005, the company's vice chairman until June 2007, and also as the company's chief operating officer from 1991 to 2005.  He also served as the director of Bloomin' Brands from 1991 to April 2013.  
Tim Gannon co-founded Outback Steakhouse, Inc., with his three other business partners. He became partners in the brand in 1987 on the proposal of Bob Basham and Chris T. Sullivan. He developed Outback Steakhouse's signature Bloomin' Onion recipe along with many other dishes on the restaurant's menu. Bloomin' Onion was such a global success making more than 1 billion USD for the restaurants. Under Gannon's leadership, the company expanded to over 1400 locations in the western hemisphere. 
Chris T. Sullivan, another co-founder of Bloomin' Brands, is currently among the directors of the company. He has formerly served as the company's chairman and director. 
Another partner in the business was Turdy Copper. Once a school teacher, Trudy Cooper currently serves on the board of directors of the company and has recently ventured on along with her other business partners to start a new chain of restaurants. 
Subsidiaries of Bloomin' Brands
Bloomin' Brands has several subsidiaries and restaurant chains. These include the following.
Fleming's Prime Steakhouse and Wine Bar: Flemming's Prime Steakhouse and Wine Bar is an American restaurant and steakhouse that is owned and run by Bloomin' Brands. It is a wholly-owned subsidiary of Bloomin' Brands and is based in Tampa, Florida. Their menu includes steak, wine, and several other dishes from American cuisine. Fleming's Steakhouse is a fine dining restaurant chain that serves dishes like calamari, which is a squid recipe wherein the squid is prepared by frying and served with chips, popularly as fish and chips in the UK and the United States. Fleming's Steakhouse and Wine bar also serve seasonal preparations along with crabs, lobsters, and other seafood. Their chocolate desserts are also popular among their customers. Fleming's Steakhouse and Wine bar has, as of 2021, a total of 64 locations in the United States.


Bonefish Grill: Bonefish is a solely owned subsidiary of the company, Bloomin' Brands. It is based in Tampa, Florida, started in the year 2000. Bloomin' Brands procured Bonefish Grill in the year 2001. The restaurant operates in more than 200 locations in the United States, serving dishes of the American cuisine, specializing particularly in seafood. The company has an annual revenue of $619 million as of 2017. Bonefish restaurants are usually only opened for dinner. Their menu largely consists of wood-grilled fish and seasonal drinks. The company has also been experimenting with alternate menus that offer gluten-free options, Spanish cuisines, and also menus in Braille for the visually impaired.


Carrabba's Italian Grill: Carrabba's Italian Grill is a Florida-based restaurant chain operated by Bloomin' Brands, specializing in Italian American Cuisine. The restaurant was founded in 1986 in Houston. The restaurant chain operates today, in more than 200 locations in the United States, Brazil, and Canada, making about $687 billion annually. Carrabba's Italian Grill's first international location opened in the year 2015 in Brazil but was rebranded as Abbaraccio. Carrabba's Italian Grill serves premium Italian American cuisine, including pasta, pizza, chicken, and seafood. Chicken Bryan is one of Carrabba's Italian Grill's most famous dishes that has 8 ounces of grilled chicken breasts served with goat cheese, dried tomatoes, and compound butter sauce that is made up of ingredients like basil and lemon. Chicken Bryan is named after the Texan city of Bryan. 


Outback Steakhouse: Bloomin' Brands' wholly-owned subsidiary Outback Steakhouse is among the most successful of Bloomin' Brands' restaurant chains and has over 1000 locations worldwide. The restaurant chains have an Australian-American theme and serve cuisines inspired by the same while also serving traditional steak. Other than the restaurant business, Outback Steakhouse has also been actively involved in platforms like GroupRaise where non-profit organizations can book restaurant fundraisers. Outback Steakhouse has also been involved in politics. The founders of the Outback Steakhouse have been active contributors to Republican Party, contributing around $300,000 for the election cycles. The Outback Steakhouse has also been one of the largest donors for the election cycles in the food sector. 
Careers at Bloomin' Brands
The employees at Bloomin' Brands are expected to be wise, courageous, hospitable, kind, and fun. Bloomin' Brands is a company of restaurants, and their restaurants were founded by brilliant restaurant operators that are driven by a genuine passion for food and desire to serve good food. Bloomin' Brands focus on serving their customers with high-quality food prepared by using genuine and fresh ingredients. The Restaurant chains under the company pay added attention to safety and hygiene. The salaries at Bloomin' brands range from about $56,000 to $100,000 annually. An average server at Bloomin' Brands makes about $10 an hour. Bloomin' Brands offer their employees 401k retirement plans, annual bonus, competitive salary, discounted meals, and adoption assistance. 
FAQs
What is Outback Steakhouse most famous for?
Famous for a lot of dishes that are served in the Steakhouse including premium-quality steak, Outback Steakhouse's most popular dish is the Bloomin' Onion.


What meat does Outback Steakhouse serve?
Outback Steakhouse uses wet-aged choice-grade beef for its steaks.


What are the most popular meals served at Outback Steakhouse?
Among the Steakhouse's most loved meals are Baby Back Ribs, Bloomin' Onion, and Grilled Chicken on the Barbie.
Who owns Outback Steakhouse?