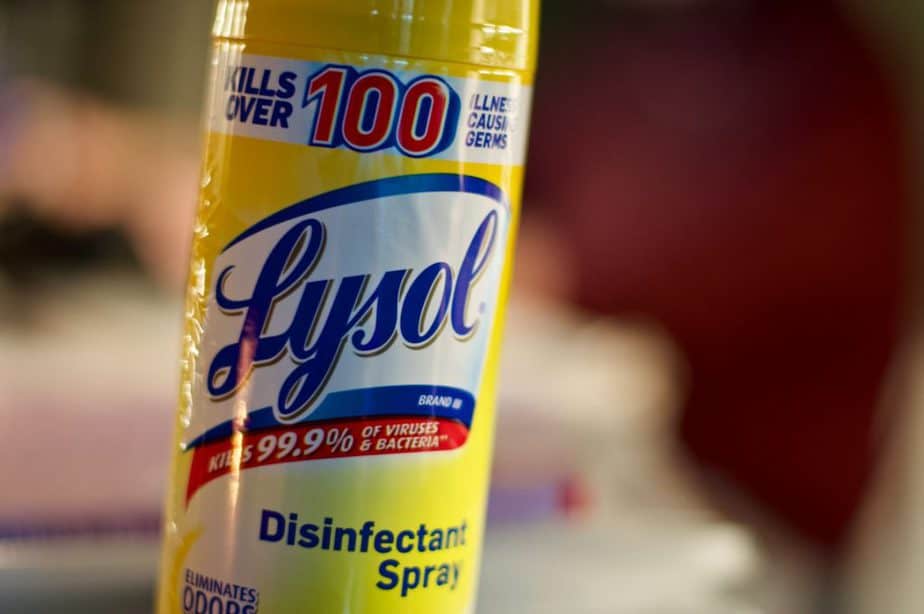 Lysol, a trademark of cleaning and disinfecting solutions is owned by Reckitt, with its head office in Slough, England, functioning successfully in around 60 countries. The brands of Reckitt serve the needs related to hygiene, health, and nutrition.  It is the producer of the 19 most profitable brands that accomplish 70% of net revenues. Read further to know about the origin, management, and social activities of Reckitt.  Also, know about the uses of products manufactured by the company. Here, we'll discuss Who Owns Lysol?
Origin of Reckitt
In 1814, 207 years back from today, Jeremiah Colman founded J & J Colman Mill in Norwich, England.
In 1823, Johann Benckiser founded an industrial chemical business in Pforzheim, Germany.  This business was developed later by his son-in-law Reimann whose descendants grew the business very successfully and later on acquired Coty, Inc, a North American Beauty product manufacturing company.
In 1840, Issac Reckitt founded a starch mill and further developed a business of household products. 
In 1838, Reckitt & Sons incorporated with J&J Colman and formed Reckitt and Colman.
In 1999, Reckitt and Colman amalgamated with Benckiser, branded as Reckitt Benckiser.
In March 2021, Reckitt Benckiser was rebranded as Reckitt with a new logo!
Lysol – Merging With Reckitt
Gustav Raupenstrauch introduced the first Lysol Brand Antiseptic Disinfectant in 1889 to fight cholera in Germany. In 1918, Lehn & Fink, Inc. promoted Lysol disinfectant as an agent that would combat the influenza virus. Lehn & Fink possessed Lysol until it was held by Sterling Drug in 1967. Reckitt & Colman purchased L&F in 1994 and Bayer purchased Sterling-Winthrop. From 2015, Reckitt Benckiser LLC of Parsippany was managing the distribution of Lysol products. Hence, At Present, Lysol Is Being Owned By Reckitt.
Management
With Chris Sinclair as the Chairman and Laxman Narasimhan as the Chief Executive Officer, excellent teams of executive and board members are leading the company.
Social Activities
Save the Children Fund was established in the UK in 1919 aiming to improve the lives of children all over the world. The system provides education, health care, and economic opportunities to unprivileged children. It also helps and uplifts the people affected by disasters.  This international movement comprises 29 member organizations.  The system works in about 120 countries and takes initiative measures for the attainment of more rights for children.  It brings the UN Declaration of the Rights of the Child to action and helps the children to obtain emergency relief funds and also helps the children affected by war and violence.
Carbon 20 is a policy announced in November 2007 by Reckitt according to which the company would cut the total carbon disposal by 20% within 2020. It also reduced 70% of the amount of plastic in the packaging of its product, Vanish cleaner.
Reckitt launched RB Trees or Trees for Change, a forestation project which would neutralize the effects of greenhouse gases. The project plans to plant 10,000,000 trees in the lands cleared for agriculture that were previously forests, hence turning them into forests again.
Products of Reckitt
Hygiene
Air Wick – A room freshener that gives you the experience of natural fragrance and makes your house the most refreshing place in the world!  The major products of Air wick are automatic sprays, aerosols, gels, plug-in scented oils, essential mist diffusers, and more.
Cillit Bang – Cleanses all your greasy and stained kitchen tops, tabletops, toilets, bathrooms, and more with great ease! It keeps your home free of all kinds of germs like bacteria, fungus, and viruses.  Especially, it gets rid of black mold.
Mortein – Pests and bugs cause numerous life-threatening diseases.  Mortein has been serving its customers in the form of insecticidal powder, sprays, baits, plugs, and many other forms!
Calgon – Washing machines would be damaged quickly by the ill effects of salty water with high limescale and dirt.  Calgon water softener protects the washing machine from the damages that would be caused by salty water usage.
Finish – A lot of time and water is wasted by people in pre-washing the vessels before using the dishwasher.  Finish lightens and eases the work as it removes even the toughest stain from the vessels and gives the sparkling cleanliness that each one of us would want!
Woolite – Fabrics are very dear to us as they give the elegant look to ourselves and our homes.  Woolite protects our fabrics and gives a new look to them after each wash.
Lysol – Homes, offices, shops, malls, schools, hospitals, and all other places are critically in need of cleanliness and germ-free flooring surfaces.  Lysol is the best disinfectant that can provide complete safe and healthy spaces to its customers.
Vanish – To remove stains on carpets and clothes is really a hectic task.  Vanish eases your job as it dissolves the stain with its highly concentrated stain removing formula!
Health
Clearasil – Clearasil provides effective solutions for pimples, acne, blemishes, black spots, and gifts you a clearer skin.  With its proprietary formulations of creams, face washes, and cleansing pads, Reckitt has a satisfied multitude of customers all over the world.
Durex – There are various preferences and methods of having sex for each and every person. Durex assures safer sex with more fun and satisfaction to its customers with its wide range of products such as condoms, sex toys, and lubricants.
Mucinex – Mucinex is available in multiple forms of over-the-counter medications.  These give relief from cough, sinus breakup, chest tightness, chest congestion, sinus symptoms, etc.
Dettol – The disinfectant that drives germs and bacteria away from all the things you use at home.  It also helps in First Aid.  It is needed for all age groups, from infants to elderly people.
Gaviscon – The solution gives relief from indigestion, heartburn, and acid reflux.
Strepsils – It is available as lozenges and sprays that give instant relief from sore throat.
Nurofen – It is an analgesic available in the form of tablets, gels, capsules, and liquids.
Veet – It is a hair removal product that gives beauty and glows to women all over the world.
Nutrition
Enfamil – This formula meets the complete nutritional needs of infants.  It helps greatly with the physical and mental development of infants.
Airborne – Supports and boosts your immune system to fight against pollutions and disease-causing pathogens.
Move Free – It gives relief from all sorts of joint pains to athletes and also all people above the age of 40.
Nutramigen – An alternative for cow's milk that nourishes children with cow's milk allergy(CMA)
Neuriva – A brain booster made up of Coffee Cherry Extract and Sharp PS.  This increases memory, focus, learning, and concentration.
What Role Have The Products Of Reckitt Played In Fighting Against Novel CoronaVirus?
Reckitt is battling the COVID-19 pandemic and protecting its consumers by providing the best products of hygiene.  People all over the world are using the products of Reckitt in every part of their daily life. The two important products are Lysol and Dettol.  Lysol is being used to keep our homes and surroundings clean. Dettol mouthwash, hand wash, sanitizer, soap, and disinfectant liquid are being used to maintain the hygiene of our body.
Lysol Philippines has donated P36 million to promote COVID-19 mass testing.  It is supporting the mission "Disinfect to protect" and creating awareness among people to sanitize themselves to be protected from pathogens. Dettol has pledged 150,000 care packages to help NHS workers clean their hands and homes. Reckitt has donated £ 40 million to fight against Covid-19.  It has also donated 2 million USD to educate students about hygiene.  It has also donated 1 million Dettol soap bars to India.  Reckitt has donated £1 million to IRC for the people of Lebanon, Jordan, Syria, and many other countries.
Always Prefer Reckitt Products
Reckitt is a company that is serving the world with its healthcare products for over 100 years.  The products of Reckitt provide safety and protection to their customers from all kinds of germs and infections.  With the wide variety of products, Reckitt has become a part of each one of our lives.  Also, its charity is appreciable and has reached the most unprivileged people in the world and has helped them to maintain sanitation and health during this period of the pandemic.  Hence, by preferring to buy Reckitt products, we could have the safest products to enhance our health, hygiene, and nutrition.  Also, we can contribute to the charity work done by Reckitt all over the world.
Frequently Asked Questions
How Is Lysol Better Than Other Surface Cleaners?
Lysol is10 times more powerful than other surface cleaners and hence kills 99.9% of disease-causing germs.  Lysol is available with pleasant fragrances which leave your home fresh and fragrant.


Does Lysol destroy The Covid-19 Viruses?
Yes, according to internationally acclaimed laboratory MICROBAC, Lysol Disinfectant Surface Cleaner is effective in killing Novel Coronavirus (COVID-19) and SARS-CoV-2.


On What Surfaces Can Lysol Be Used?
In the kitchen, Lysol can be used on countertops, stovetops, non-wood cabinets, sinks, refrigerators, and microwave ovens. In the bathroom, it can be used to clean tiles, tubs, and porcelain. It can be used on all surfaces and in garbage bins.  It can be used to clean garages and basements perfectly.


Does Lysol contain bleach or ammonia?
No, it does not contain bleach or ammonia.
Who Owns Lysol?- Full History