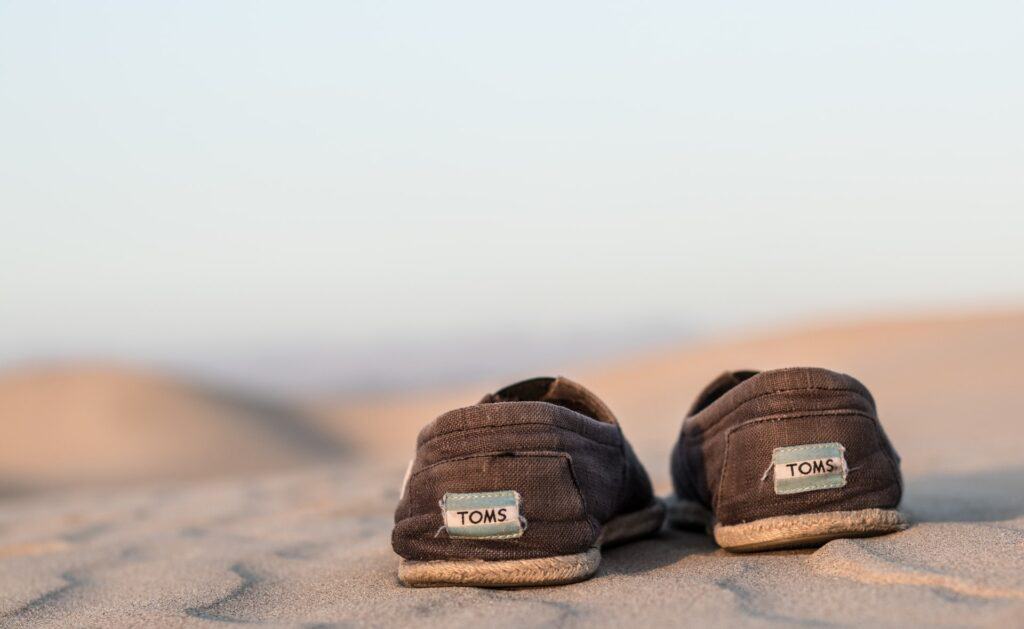 The TOMS sneaker is not just a trendy shoe for all ages, genders, and adventures. We will discuss TOMS Mission Statement here. But TOMS is actually a massive brand with an even bigger heart. In fact, Blake Mycoskie founded the enormous shoe corporation in 2006, and with their growing community, TOMS has continued to help others with one sale at a time. Before buying any product, most consumers want to feel inspired and want to know that they're buying from a company they can trust. For example, companies like Apple, Nike, and more have found ways to follow their vision. However, to vision is just the idea the company would like to accomplish. The mission is the steps and processes that the company needs to take to reach its vision. To conquer your business's vision, Forbes described that businesses need to communicate their purpose to reach their vision. Luckily, TOMS's purpose has continued to flow throughout the last fifteen years with their partners, employees, products, and of course, their one-for-one model. Let's look at their vision, mission, and how they've implemented it into their daily sales. 
TOMS Vision
TOMS 2020 report expressed that the company's latest vision is to help humanity thrive! Though they can only achieve complete success through their "relentless pursuit of equity," TOMS realizes how broad this statement truly is and is determined to focus on various factors to achieve their vision, such as "providing people and communities with the specific resources that they need." TOMS also uniquely creates two-way partnerships. They do not merely collaborate with a brand, but they discuss how both companies can help one another with their goals in the most sustainable way. 
The sneaker corporation TOMS has already invested in a few categories: mental health, ending gun violence, and increased access to opportunity:
Promoting mental health is the first factor for the company's vision. TOMS has made mental health a point of focus, as they believe that our mental health affects our greatest potential to create change. This starts with supporting organizations, partners, and individuals by "reducing stigma" and providing each other with the best mental health resources. 
Ending gun violence was a major theme for the company in 2018 when TOMS collaborated with influencers and nonprofit organizations to help Americans live in a safer social environment. According to TOMS statistics, they've donated at least $5 million towards the end of gun violence in the U.S. alone. 
Increasing access to opportunity works hand-in-hand with promoting mental health and ending gun violence. TOMS believes that the company will provide communities with more access to greater opportunities with the right resources and the correct innovation. 
TOMS Mission Statement
TOMS's mission statement is a strategy like no other. The shoe corporation has "commit one-third" of their profits to "grassroots good, supporting people building equity at the local level and driving progress from the ground up." Now, TOMS has continued to venture into helping people by saving over "100 million lives" with their One-on-One model.
TOMS have chosen grassroots organizations, as they believe that "true progress begins on the ground, with organizations led by those closest to a community's obstacles and opportunities." They will focus on grassroots efforts to serve communities and create a much greater influence over time through their leadership and immense passion for giving back to society. 
In the company's most recent impact report, TOMS Chief Strategy and Impact Officer Amy Smith stated: "I'm excited to share that we're evolving the One for One model. Using the learnings and the resources it's given us, we're throwing all our weight into a model that allows us – and you – to support progress at the local level." 
How was the One for One model created? 
For entrepreneurs dreaming of change, you might recognize TOMS's term and previous slogan – the "One for One" model. According to ourgoodbrands, our favorite sneaker founder Blake Mycoskie came up with the genius business technique while vacationing in Argentina. 
When Mycoskie was diving into the country's wine culture, he stumbled upon a group of female volunteers who spend their time volunteering to collect old shoes from upper-class households to help children's journey to school. 
Once Blake Mycoskie heard the women's fascinating story, he immediately joined the volunteer adventure. Since then, Mycoskie set up a meeting with his friend and a shoe producer and designed the perfect shoe (the Alpragat) that would not only do a successful business but would help children across the globe in need.
TOMS's Mission Continues
Thanks to TOMS's impressive prices, with every pair of shoes sold, TOMS promise to deliver shoes to various communities around the world completely free. Their charitable mission is truly inspiring as they motivate consumers to buy their stylish products while helping those in need.
TOMS provides a large selection of shoes such as their infamous alpargatas, slip-on, sneakers, espadrilles, heels, wedges, sandals, and flats. Customers do not need to worry about affordability either, as their shoes range from $49 to only $74, including men's, women's, and the perfect kicks for kids. Their online and various worldwide stores have made it extremely easy for shoe lovers to find a comfortable pair of shoes alongside spending money towards the brand's charitable cause. 
Business Today noted that in 2011, TOMS expanded its range of products went from sneakers to sunglasses. Though sunglasses may not be a necessary item, they decided to adapt and provide another charitable mission. TOMS stated that with every TOMS eyewear sold, they would place a certain amount from their profit to help restore a person's eyesight! According to multiple sources, TOMS has restored over 400,000 people's eyesight and has continued to help those in need. 
TOMS founder didn't stop there – Mycoskie released his biography Start Something That Matters (2011) which focuses on his personal life and, most importantly, his dream for his company, and unsurprisingly, with every copy sold, a child receives a brand new book. 
TOMS Roasting Company
Nearly three years later, TOMS's most interesting venture has been TOMS Roasting Company. The coffee company's greatest mission is to "provide one week of safe water for a person in need." They provide coffee from the most interesting locations like Malawi, Guatemala, Honduras, and Rwanda. Today, you can find any one of TOMS blends in Los Angeles, Austin, Texas, New York, Chicago, or online. Besides, for TOMS providing coffee for water, the public is welcome to join in on the philanthropist fun by volunteering and more! 
TOMS Bag Collection
In 2015, TOMS's classic sneaker company decided to grow its accessories range with the TOMS Bag Collection for pregnancy on the go! These bags created with a unique "birth kit" to help women deliver their babies, alongside trained staff, has become a huge success. Since the launch of their feminist bags, they have already saved a total of 25,000 births and counting. 
TOMS collaborated with the nonprofit organization Every Mother Counts. Their vision for the birth kit is to include "all the necessary materials and sanitation equipment for a woman to give birth in her home, where most women in developing countries are giving birth," according to Blake Mycoskie. 
On the other hand, TOMS has launched another bag collection called the High Road Backpack Collection. Their goal with the High Road Backpack Collection is to help prevent bullying across America. Now, ourgoodbrands confirmed that TOMS had helped nearly 70,000 students alongside their partner No Bully. In addition, just like their successful mantra, with every bag purchased, "TOMS will help stop bullying, one youth at a time." 
TOMS's Visionary Partners 
One of the most interesting programs that TOMS provides are trips for their employees. It's true – the company's mission hopes to help communities with their "day-to-day" life which starts with their employees. Each trip helps TOMS employees connect with their Giving Partners and promotes the company's entire brand. 
In TOMS 2019-2020 online report: "These trips give our employees a chance to learn more about our partners, the needs of their communities and how their day-to-day at TOMS contributes to a much larger impact." 
The stylish shoe company has managed to partner up with some of the most impactful companies in the U.S. and the rest of the world. In a 2019-2020 report, TOMS reported that they have collaborated with nonprofit and social organizations such as A Hand Up to Success (U.S.), BRAC (Bangladesh), Helen Keller International (Vietnam, U.S.), La Maison des Femmes (France), Project Fearless (Netherlands). 
Blake Mycoskie's company believes in conquering social challenges and, most importantly, supporting diverse perspectives. In fact, TOMS is currently working their own Giving Advisory Council to help various communities sustainably. 
TOMS's Mini Missions
Though TOMS may look like their entire company is about helping the less fortunate get the best footwear, in recent years, they have also managed to expand their key initiatives by donating numerous amounts checks to nonprofit organizations focused on social issues like "gun safety." Forbes also reported that in 2018 the sneaker founder Blake Mycoskie donated a total of $5 million and has used the company's media platforms to promote certain social and cultural issues. 
TOMS has focused on bringing cultural conversations to its consumers and partners. In fact, Blake Mycoskie confirmed on The Tonight Show, starring Jimmy Fallon in 2018, that the company's campaign is to "end gun violence" after his wife was terrified to take their child to a school shooting in Thousand Oaks, California. Mycoskie told his wife: "We're going to do something about it." 
Since then, Mycoskie's TOMS has used its online platform for background checks for every American citizen to write postcards to their representatives. TOMS has also brought in social media influencers and nonprofits to continue the fight against gun safety in the U.S. and hopefully across the globe. 
They have also donated a total of $135,000 to support racial justice, including donations to Black Lives Matter, a grant to LIVE FREE/Faith in Action, Cities United, and their most generous grant to Community Justice Action Fund. And, of course, they have donated $2 million to support COVID-19 testing, mental health support, and treatment for patients back in April 2020. 
How sustainable is TOMS? 
TOMS isn't slowing down anytime soon. Going forward, TOMS has announced that they will continue to try to improve lives and take care of the most vulnerable communities worldwide. As their 2020 impact report stated, TOMS want to continue giving back, but most importantly, they would like to maintain sustainability for the next five years. 
TOMS thrives on developing earth-friendly products, continuing to reduce waste and energy, sourcing sustainable resources like cotton, continue to find new ways of packaging their products, reduce their carbon footprint, and maintain a transparent approach with new ideas and face challenges head-on. 
TOMS packaging is extremely eco-friendly as they use "earth-friendly materials" such as 100% organic cotton, eco-fiber, bioplastic frames, mineral glass lenses, and recycled Strobel boards. However, their production process is also extremely eco-friendly and includes their plant dye, which is reportedly chemical-free made from natural botanicals. 
TOMS: The B Corporation
Thanks to TOMS's drive to change the world one product at a time, in 2018, TOMS is officially a B Corporation. This means that TOMS is legally required to follow extremely high guidelines to assure the best social and environmental performance, transparency, and accountability. 
To maintain their B Corporation certificate, TOMS has to reach the highest inclusive and sustainable processes. The more the company shows initiative and remains eco-friendly, the higher their points become. According to TOMS, their B Corp points had skyrocketed from 80 points in 2018 to 121.5 in 2020. 
However, TOMS is waiting for its next review, which happens every three years and focuses on its employees, customers, society, and most importantly, the environment. Do you think the shoe empire will maintain their B Corp title? With their charitable vision and mission, we sure hope so!  
Reference:
https://www.toms.com/?setCountryPreference=US
TOMS Mission Statement: Stepping in the Right Direction