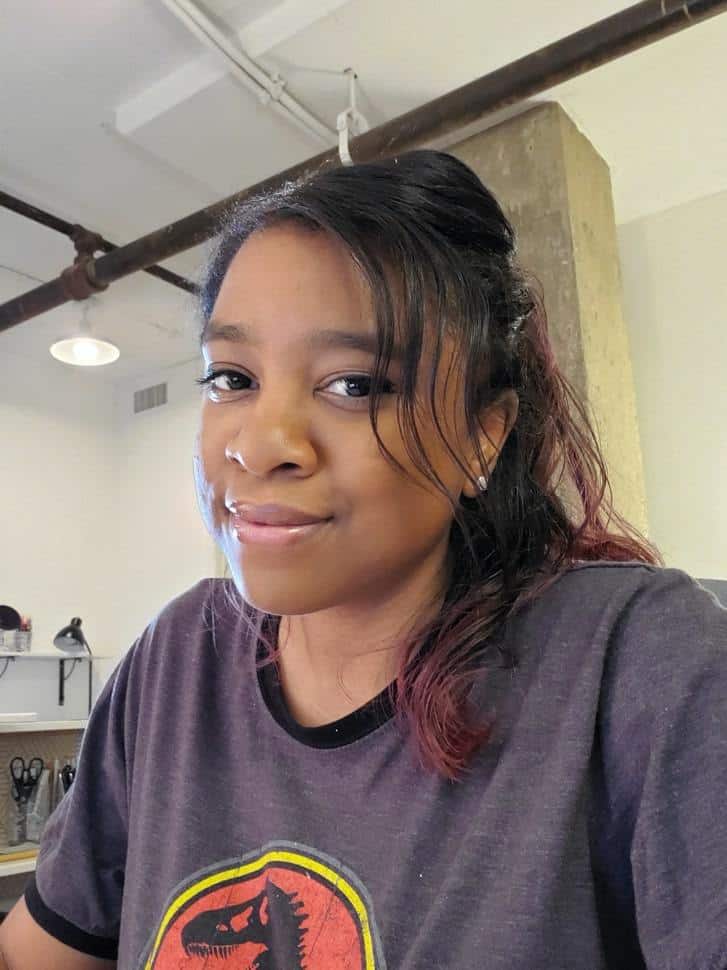 Chantel Grayson is an author/illustrator living in Dallas, Texas. Sharing with us her journey on how she became a Graphic Designer and Self-Published Author
I will openly admit that I rarely attended the best schools growing up. My parents loved me and worked hard, but like many, I attended whatever school was convenient. Pair that with the fact that I moved around A LOT, my academics prior to high school ranged from predominantly affluent schools to where they taught stocks as a reward system, to at-risk schools where I had to pass through three metal detectors to get to class. This only enhanced my natural shyness and made me an easy target for bullying considering I was always the new girl and essentially a melting pot of different cultures from different socio-economic peers. I was in the mindset of why would I try to make friends considering I won't be here next year? I found my support system in books and stories I used to write as a child.
Thankfully, my parents were adamant I attend the same high school. Always scoring high on English/Language Arts curriculums, I was advised by a counselor to enroll in a Journalism program. At first, I loved it. I had a tight group of people I worked with and Journalism melded many things I loved: writing, graphic design and photography. It also helped me break out of my shell just a bit. Over time, talking with people (from students to teachers to business owners) became easier.
In college, I continued on the path of Journalism. However, I realized very quickly, that creative writing had very little use in the field of news publication, but I was still able to enjoy graphic design. I liked making page layouts and seeing something go from being pixels on a computer to a physical copy of a newspaper in my hand. I had excellent grades and a dream of working for an entertainment magazine company in California. Instead, pressure to make money had me accepting a position as a web editor for a local news station while I was still in school. From the outside, it might have appeared stylish and revered. I was even working two additional jobs while in school and able to sustain myself. But for years, I slowly decayed behind a desk. The media was depressing. Co-workers were sharks trying to get on screen. Poor health was causing me to lose my hair and I was the target for many racial jokes. To say that I was underpaid, would be an understatement. For being the sole web editor/photographer/web designer for an entire station, I made the second-lowest salary—I was even paid less than the receptionist.
I knew that news television wasn't for me. After a series of odd jobs, I slowly began writing again. Just a few stories here and there, the type of fantasy, romance and humor that I enjoy. Graphic design was a skill I used on the side. Being able to freelance helped me make a bit of money and it also forced me to keep my skills current and sharp. How to merge the two…
Eventually, I was hired as a librarian assistant. I was to help create graphics and marketing materials for library programs and services. Being surrounded by books and stories shook something within me. Something great. When I got off work, on my lunch break, before my shift, I would write, write and write some more. It got to the point where I had a backlog of novels stuffed onto a hard drive. I thought I would give querying a shot, just to see what would happen and what I should expect.
When it came to the query process, you truly are in the trenches. I laugh now when people say they feel heartbroken over one or two rejection letters. Try having dozens. I had to eventually take a step back and ask myself two things: From a marketing standpoint, is what I'm writing fitting of the market trends today? And, most importantly, why am I writing?
Knowing the answers to those two questions was reaching the top of the mountain and exhaling. My childhood without friends was filled with my imaginary creatures and characters that comforted me. They made me laugh, they had magic in their lives, and they had strong support systems. At the time, fantasy stories, fantasy comedies or fantasy dramas were, in my opinion, not what agents were looking for. I was trying to publish a book in the age of social justice. #BlackLivesMatter, #MeToo, #OwnStories, #WeNeedDiverseBooks and stories with LGBTQ characters were lacking in the literary world and agents were doing their diligence to fill that void. Being a minority and lover of books, I was grateful for the support. But being a writer and marketer, I understood this was not the age for my genre.
And then, I leaned into the answer of my second question. Why am I writing? Was it to get famous? No. Was it to make a lot of money? No. Was it to make this my full-time work? No. All of these would be nice bonuses, but they simply were not what drove me. I was writing because I loved it. And if I would love it, why was I being discouraged trying to please imaginary readers?
Luckily, I had two things. A working computer and a knowledge of graphic design.
And of course, my English teacher husband who kindly volunteered to edit my books for me.
Sorting through my horde of novels I had previously written, I was looking for the one. The debut that screamed me. I found it in a recent story called The Interim of Olympus—a historical fantasy romantic comedy featuring the Greek Gods. I read through it, handed it off to my husband and dove into all the research, marketing and procedures for self-publishing. It was by far the HARDEST thing I had ever done. From social media, to web ads, to my author website to my book covers and illustrations, I was always working on something, trying to squeeze an additional hour into the day and not paying for anything other than my Adobe subscription, website hosting and a few digital ads. Using my library card, I had access to Lynda.com, which is an excellent resource for learning hard software skills. And of course, for the quick bits, I turned to YouTube tutorials.
Quarantine helped add an additional three hours into my day (I no longer had to commute to work or travel for lunches). I would work my shifts in my home office, clock out, have dinner, and move to the couch for my writing. I developed pains in my hands and fingers, a permanent indent where I grip my pencils or tablet pen. I am waiting on the day I will develop an ulcer and I have eaten more mac and cheese and slowly kicking my coffee addiction away. And…I am LOVING EVERY MOMENT!
On August 31, three days before my 30th birthday, The Interim of Olympus was live. Physical copies were being purchased and my family was sending me photos of my book in their hands. Publishing my book was a personal dream, so my intent was not to tell anyone. But I was so proud, I couldn't help myself. I told my family and word spread from there. I am currently working on that book's sequel and debuting another novel of a different series. Once I finish self-remodeling my office into a 19th Century Victorian writer's room/painting studio, I will begin working on my anthology.  
I enjoy my job as it is a happy meeting place for my love for books and graphic design. But I am working towards a goal of being a full-time writer, and part-time illustrator/painter. That's the thing with dreams. They are simply milestones on a laundry list of long-term goals and the goals are never ending, never preventing me from growing and knowing more today than what I knew yesterday.
HOW TO PREPARE FOR AN INTERVIEW
Once you've acknowledged that there are two manners of speaking—informal/formal—you must learn the difference between the two and that each is accompanied with their own body language. No matter the job, you have to be adaptable when you're speaking with someone who may hire you, especially if you are a minority. They are not your friend or family member and should not be addressed as such.
You don't have to go out and buy a self-help book to teach you how to speak appropriately. I personally find them a bit dry and tailored to the writer's experience which most likely won't reflect your own. Read books set in older time periods, such as historical fiction novels set in 19th Century England. Yes, Sherlock Holmes can count. Writers had to write a bit more intelligently back then to get published and have an expansive vocabulary. You can learn proper English and learn new words by looking up the ones you don't know. In fact, you can do that with many books.
ADVICE ABOUT CV/RESUMES
As a graphic designer, I used to think my resume had to stand out. I have since learned otherwise. Simplicity is always better considering you want your resume to be easy to read. Black and white with a little bit of grey if needed. If you want to standout, you can add a professional headshot or a funny quip in your "objectives" section. But when in doubt K.I.S.S.—Keep It Simple, Stupid. Many times, a job will have a section for you to upload an additional file and this is where you can add a bit more personality. You can charm them in your cover letter or wow them with a portfolio.
Something to keep in mind, from being someone who used to hire people, printing out resumes that have so much color on them or that are oddly formatted are not printer-friendly. Often times we print multiple and we don't want to waste the ink or our time.
ADVICE FOR SOMEONE LOOKING FOR A JOB
Start looking for a job before it's time to start looking for a job. I hope I am not being too careless when I say that people love flattery. If you are young or new to an industry, write to someone who already has the position you're looking for. Don't tell them you are looking for a job but tell them that you are wanting to speak with them and ask them how they got to where they are. There are many nice people who will invite you to lunch and share their story. Learn from them and also learn about them so that you can follow up with a personal email later. If you're memorable, they may remember you for a future opportunity. I had someone offer me freelance work on the spot.
Don't view this as being invasive or aggressive. Asking for help and advice shows your humility and it also shows that you are eager to learn. Do this now, even if you're not actively looking. Do this if you are considering making a career change. You will receive the most honest of answers from those who are already in that position and have taken that journey. Their lives have written their steps of success, so read them.
WHY DO YOU THINK YOU WERE SELECTED AMONG OTHER CANDIDATES?
When I applied to work at the library for the graphics position, I had previously applied for a position as a shelver. I was looking for something part-time while I continued to write and do some freelance on the side. However, although I was applying for an entry-level shelving position, I brought my professional resume with me and a portfolio of my work. You just never know. Just as I didn't know that they noticed my graphics experience on my resume, someone asked where they could find my work. I pulled out my portfolio and boom. I am sure I was the only person who applied for that position who came with that. I didn't get the position because they said I was "over-qualified" even though I explained I was just looking for something simple and part-time (and something that would surround me with books). But I remained polite and respectful and followed up with thank you letter. A few months later, a full-time graphics positioned opened up and my interview panel had remembered me and told me to apply for it. I didn't know they had a graphics position at the library, so I was surprised and thrilled. I applied. A month later I got the job. 
LESSONS FROM JOBS YOU COULDN'T GET?
Your physical address is such an important factor, that they don't teach you this in school. It's something you pick up on. Going back, I wouldn't change anything about my life, as I am very happy with where I am today. But if I had children or if someone asked me, I would tell them to go to school where they want to work. Many people want to live or work in big cities such as New York or California. The job market is insane and it moves FAST. Many places are looking for people to interview one day and begin work the following. So if you're out of state, you're being overlooked by someone who can hop in their car and be there to take your place in fifteen minutes (I learned this by having lunch with someone who had worked in the entertainment industry). Many jobs can't afford to pay your relocation fees or work visas. If they can, you truly need to impress them by having a strong portfolio—preferably something online so they can get to it. If you were to go to school or simply move to those areas, many doors would open to you simply because you already live there. You don't even need to go to the most expensive school as your portfolio and body of work speaks way more volumes than your degree. The time of a business, big or small, is precious and they are usually wanting to fill a position quickly.
The same applies to out of the country. If you want to live abroad, either attend school or enter a work program (there are many that cater to English speakers who can teach). Once you're there and you have roots, you can begin looking for other work.
HOW TO KEEP UP WITH TRENDS
If you are wanting to be an illustrator I strongly recommend purchasing "Art of…" books. You will learn from people in the industry their techniques and thought processes. Some of my favorites are The Art of Into the Spiderverse, The Art of Zootopia, The Art of Bayonette and The Art of Borderlands.
If you are wanting to be a graphic designer, I recommend reading Digital Painter or Digital Artist or Photoshop Magazines. Many tips, tricks and discount codes for software are tucked within those pages. You can also see the work of a variety of artists and follow the trends across many programs and mediums.
Books are a bit trickier considering there are so many. Just as I wouldn't recommend a genre of movies I can't recommend a genre of books. But I do make use of fantasticfiction.com. It's a site where you can see all fiction books, by author, their various pennames and their series—in order, with pictures. They have a "recommended for you" section as well as a section for authors to list their favorite books from fellow writers.  It helps me keep up with books in a series.
SHORT BIO
Chantel Grayson is an author/illustrator living in Dallas, Texas. She graduated with honors from the University of Texas at Tyler and currently works at the Irving Public Library.
Website: https://www.chantelgraysonbooks.com/
Twitter: https://twitter.com/chantelgrayson
Instagram: https://www.instagram.com/channysart/?hl=en
Read more Interesting articles on Business Development
How I Became a Graphic Designer and Self-Published Author