A manager just like the name implies is a person whose primary duty is to manage something like a business, event, training, etc. A manager oversees the internal and external affairs of a company, an organization, etc. No matter the industry, proficiency in managing businesses has become a much-needed asset in today's professional/business world. There are usually different names for Managers, they go by a variety of names,  highly dependent on the industry and also. As a manager, there is a large number of jobs you can do, and knowing the right management job titles is of great benefit when hunting for a managerial role.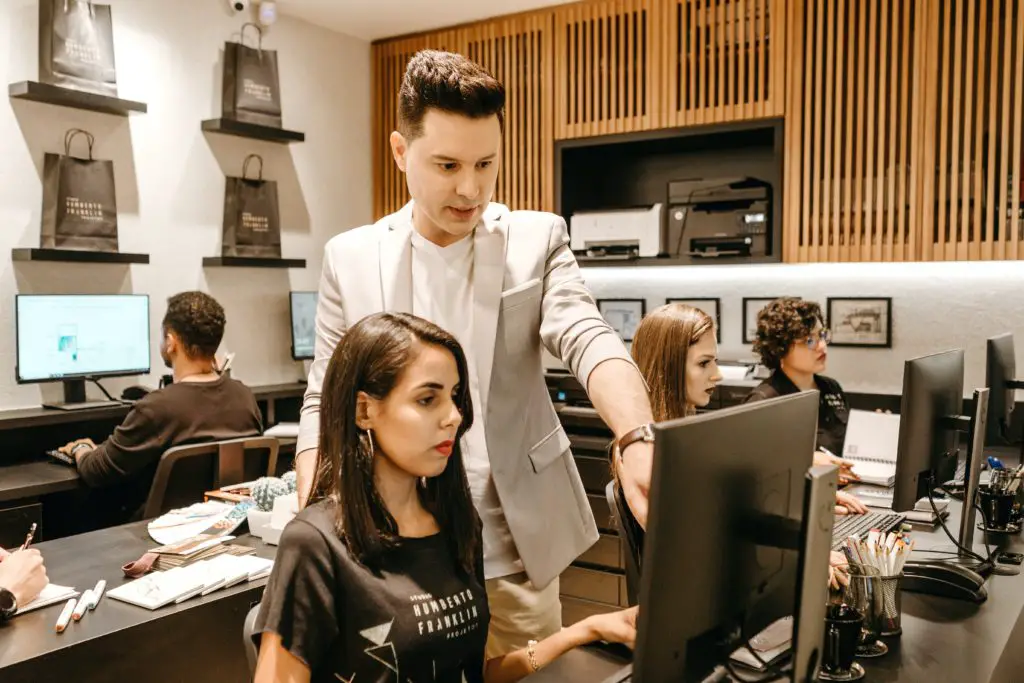 What do we mean by management role?
A management role is a job that needs coordination and management skills. Education requirements vary for a managerial role, job, or position. In some cases, some middle managers and supervisors do not necessarily need a college degree. Nevertheless, they require some technical and industrial skills.
What skills should a manager possess?
Organization skills: Managers are responsible for overseeing industry-related tasks and employees, they also assign tasks to the employees depending on their job specifications. The organization is necessary to guarantee that everyone on their team, including themselves, fulfills their (the company) goals and objectives
Communication: An important skill a manager must possess is communication skill. Regular and constant communication with members of their team is required to ensure that they have the adequate tools and resources they need to complete their assigned tasks and company goals.
Decision-making: Good decision-making is the bedrock of every company or organization. Often will be required to make decisions for their team members. Decision-making is a necessary skill for every manager.
Problem-solving: A manager should be efficient in problem-solving. A manager should be able to solve the problems their team members encounter, whether it is an internal conflict or whether it is the assistance they need in overcoming a challenge. 
Collaboration: Managers should be able to collaborate and reach an agreement with their team and other managers. Managers are usually required to work with other managers to confirm everyone is meeting their objectives.
Delegation: Managers should be able to assign assignments and tasks to their team members without sentiments. This skill requires a manager to know each team member's strengths and weaknesses.
Motivation: Mangers confirm that their team members stay propelled and energized to maintain impressive degrees of productivity at work and reach personal goals, as well as team goals. Managers are required to regularly motivate their team members.
Management job titles
Every industry requires managers, even the most mundane jobs now need roles. There are various job titles used for managerial positions. 
Administration
Administrative managerial roles can differ in domain and title depending on the specific needs of every company. Administrative roles usually require intensive and advanced business training and knowledge. Administrative managerial roles require a sort of degree, whether Bachelor's degree, Masters's degree, or Doctorates. Administrative manager schemes and organizes services for the company. Services like organizing meetings, supervising mail distribution, etc. 
Other administrative managerial titles include:
Office manager: Office managers see to the effective and efficient running of an office day to day activities. The responsibilities of an office manager include organizing meetings, events, and conferences, managing the office database, etc.
Facilities manager: A facility manager sees to ensures that the services meet the needs of its workers by inspecting and repairing plumbing or electrical faults. They are responsible for the care and supervision of the office buildings to meet safety and health standards.
Account executive: An account executive is usually found in the sales, advertising, finance, and marketing sector. They are responsible for making sure that all their customers need needs are met, generating leads, and closing sales.
Branch manager: A branch manager oversees the activities of a specific corporation's branch.
Risk manager: A risk manager is responsible for managing an organization's risk and minimizing the adverse effects of the risk on the company. 
Program manager: A program manager is in charge of leading several interdependent projects to achieve strategic objectives. They are in charge of coordinating and overseeing the achievement of organizational missions and expectations.
Administrative director: An Administrative director is responsible for overseeing the administrative, and operational system of a company or organization.
Business administrator: A business administrator oversees the day-to-day operations of an organization.
Software and IT
Managers in this department(software, computer, and IT sector),  manage a team of employees and also handle IT and other technological tasks. They evaluate the technological shortages of the organization and make plans on ways to fill up those shortages. Those working in the IT sector are required to have at least a bachelor's degree in a field like a computer science, ICT, and management information systems. A handful of people on this career path go ahead to earn advanced degrees, like master's degrees, to boost their skills and be at more advantage when applying for jobs. Management job titles for this sector are:
IT manager: An IT manager is responsible for leading the Information Technology department and overseeing the overall performance of an organization's electronic networks. They are responsible for coordinating and planning all computer-related activities in a company, institution, or organization.
IT supervisor: An IT supervisor is responsible for the maintenance and installation of an organization's technology systems.
IT director: IT directors are in charge of overseeing the technical infrastructure within a company or organization while still leading a team of IT staff.
Project manager: Project managers have the duty of planning, directing, and organizing the completion of projects for an organization. They confirm that these projects are on funding and are finished on time.
MIS director
Director of application development
Director of computing services
Technical services manager
Construction 
Construction managers manage the construction site daily. They supervise the labor force, monitor sub-contractors, and inspect materials and work. Generally, a construction manager oversees the building of commercial and residential structures.
Project manager: A project manager is responsible for the planning, organization, and execution of specific projects for an organization.
Foreman: A foreman is a person in charge of a group of workers.
Project executive: Project executives monitor program and project performance and develop the strategic program and project goals.
Construction area manager
General contractor manager
Project superintendent
Food services
The food services manager like every other manager supervises and handles the everyday operations of a restaurant. Food Service Manages have the responsibilities of managing staff and also participating in food preparation, packaging, and dispersal. A food service manager does not necessarily require a degree but must be proficient in managerial skills. A few of the most common managerial roles in the food services industry are:
Restaurant manager:  Restaurant managers are responsible for recruiting and managing employees, handling customer complaints, and generating financial reports. Restaurant managers ensure that restaurant activities run smoothly.
General manager: 
Food and beverage director
Wait staff manager
Kitchen manager
Banquet manager
Catering manager
Foodservice manager
Foodservice supervisor
Foodservicedirector
Healthcare
In the healthcare sector, we have administrative managers and medical managers. The medical managers are required to have a degree in medicine, science, or any related field. The administrative managers are responsible for the organization, planning, and coordination of the hospital's data, finances, and every other thing.
Medical administrator: Medical administrators oversee the management of health care delivery. They manage healthcare delivery using their medical and clinical knowledge to direct the operation of hospitals, healthcare systems, and organizations.
Program manager
Chief of surgery: The chief of surgery is also addressed as the Chief Surgeon. They are medical professionals whose role is to supervise surgical departments, direct staff, and educate interns and trainees. They also act the role of the presiding administrative head of all surgical matters.
Chief physician: The Chief physician is also addressed as the Chief of medicine. The chief of medicine is superior to all other physicians and is in charge of all medical matters.
Charge nurse: The charge nurse is in charge of overseeing and managing a nursing unit or department of the hospital. They have the burden of making sure that the daily activities run smoothly. They oversee patient care and staff management.
Practice administrator
Nursing director: Nursing directors are nurses who are in charge of the administrative work of an organization, company, or industry in the health sector. Thru is responsible for leading and supervising a nursing unit.
Nursing manager
Health information management director
Health manager
Marketing and advertising
Marketing and advertising managers are in charge of coordinating and directing advertising campaigns for their company. They are responsible for the packaging and branding process of a business and their goal is to foster a relationship between the business and customers.
Managerial job titles for this industry include:
Marketing director: A marketing director is a person responsible for managing, leading, and guiding the marketing department of a company.
Marketing manager: A marketing manager has the task of promoting a business product and service. They are responsible for the positioning of a brand.
Marketing communications manager
Advertising manager: Advertising managers are responsible for creating, planning, and directing ads campaign for companies. They monitor all the advertising and publicity activities of a company.
Product manager
Brand manager
Promotions manager
SEO manager
Account supervisor
Content marketing manager: A Content Marketing Manager builds and distributes shareable content online. Its goal is to increase brand attention and presence and drive traffic to their website through online marketing. They are in charge of planning, creating, and bringing a company's content strategy to life.
Digital marketing manager: Digital Marketing Managers are usually required to have a bachelor's degree in a field like English, Marketing, or Communications. They work hand in hand with the content marketing manager on the creation and distribution of content. They create copies and write emails that will be used for marketing campaigns.
Business development manager
Communications director
Commercial lines manager
Public relations director
Sales
Sales managers are in charge of overseeing a staff of salespeople.  Most sales managerial roles require an undergraduate degree in business administration, marketing, or any similar field. Some common job titles for managers in the sales sector include:
Sales Manager: Sales managers are in charge of guiding and leading a team of salespeople in a company. They lead their team to generate leads and meet customer needs and satisfaction. Sales managers are important in every business sector.
Store manager
Account manager: An account manager sustains a company's relationship with clients to ensure that they continue doing business with the company. They are held accountable for the supervision of sales and management of customer accounts within a business sales manager financially.
Area sales manager
Outside sales manager
Market development manager
Direct sales manager
Sales director
Sales supervisor
Training and development
The training and development sector is also called human resources. It provides opportunities for several different managers. Training and development managers are people/human-related. They all work together to manage the affairs of the employees in a company. Some common job titles for this sector include:
Human resources director: Human resources directors are in charge of handling employee relations, overseeing the HR systems, and taking executive HR choices regarding policies and strategies. They are in charge of a company's employment process.
Human resources manager: Human resource managers are in charge of leading and directing the routine functions of the HR department. They are in charge of all employee affairs.
Learning manager
Director of learning
Development manager
Education and development manager
Training manager
Executive
Executive roles are the greatest ranking employees in a company. The executive role is attained with several years of knowledge in a particular field. The most common executive-level roles include:
President
Vice president
Chief executive officer
Chief product officer
Chief data officer
Chief financial officer
Chief information officer
Chief marketing officer
Chief operating officer
Other managerial roles
Social media manager: A social media manager is one whose responsibility is to maintain and build awareness for brands online. They are in charge of operating a company's social media accounts and facilitating customer service. A social media manager works hand in hand with the content marketing manager and the digital marketing manager.
Product manager: A product manager is a person who evaluates and identifies a customer's needs, runs an evaluation on those needs, and communicates what success looks like for a product. Their final goal is to turn their product dreams into reality.
CONCLUSION
All managers generally have the roles of overseeing, planning, directing, and coordinating a particular sector. There are four common types of managers. They are; the top-level managers, middle managers, first-line mana, and tham leaders.
FREQUENTLY ASKED QUESTIONS
– What are the qualities of a good manager?
A: Good communication skills, ability to develop talent, good leadership skills, and organization skills.
– What is another title for the manager?
A: Supervisor, Coordinator, Leader.
– What is the median salary for managers?
A: The salary range for managers depends on the industry. The administrative manager earns $96,180 yearly, a medical and health service manager earns $99,730.
The Management Job Titles – And Know More