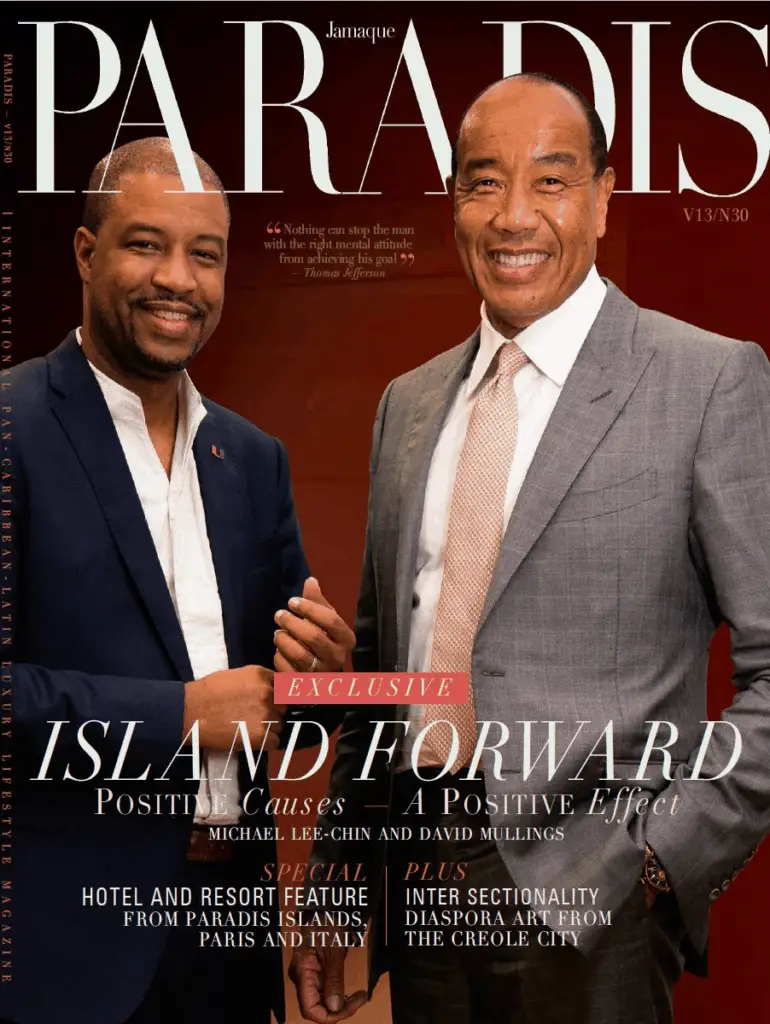 Connecting The Dots Looking Forward – David Mullings's Journey: Small private equity fund taught me that it is far easier to raise money
Graduating high school in Kingston, Jamaica at 15 is not uncommon although it is a year earlier than most students. This was due to me being born in January and thus able to start earlier. The US college system did not require me to attend the customary two years of 6th form in the British system which Jamaica inherited and so my parents, a medical doctor and a nurse, encouraged me to attend a community college at age 15, now Broward College, eventually securing a scholarship to the University of Miami (UM) and graduating at the age of 19 years old.
My college experience was very different than most because I had already laid out a life plan from age 15 to age 30, broken into blocks of 5 years and then created a rough outline of age 30 to 50, with the core goal of becoming a positive role model for young people around the world, especially young males in Jamaica. I arrived at two options to achieve this: 1. Become a star football player (soccer) and use that for good or 2. Become an entrepreneur who owned businesses, including an entertainment company that could positively influence people through music and film.
Being 15 in college means that everyone thinks you are a genius and it also makes relating to fellow students very hard. The girls think of you like their little brother and the guys don't see you as a man yet. However, I made lots of friends by tutoring, playing sports and being active in the Caribbean club. At UM, my brother and I were DJs for many Caribbean parties and that allowed my creative side to be seen.
I am a very focused person so my college experience was very calculated. Even though majoring in Biology and minoring in Chemistry, I took enough Religion and Economics classes to pick an additional minor, choosing Religion because it was more fun to have a science degree with Religion as a minor. This ensured that I learned a wide range of subjects because that knowledge was going to be useful at some point in my life based on my discussions with my father.
After graduation, I went back to Jamaica to play football (Soccer) for Real Mona F.C. as a forward, then worked for a non-profit, Birdlife Jamaica, which led to consulting at a small business loans company conducting a customer survey and presenting a 5 year expansion plan to the Board of Directors. Intending to pursue an MBA to get the business show on the road and securing a half-tuition scholarship for my first year to University of Miami Herbert School of Business at age 20, football was out the door. My focus was now on the entrepreneurship path. Maybe I could eventually buy a football team and walk on in the 90th minute.
A person I admired, Michael Lee-Chin, said that you should find a role model, get the recipe and not change the recipe. He became my role model since Warren Buffett was his and I realized that it would be easier to eventually buy an entertainment business than raise capital to start one. Studying private equity and investing in order to become a better entrepreneur was now essential. Michael has repeatedly talked about his recipe and his life is an open book so I became a student. Now, he directly coaches me and earlier this year we appeared on a magazine cover together, a dream come true. As an investor, I get to help other people make their dreams come true and have an outsized impact on a society or even multiple ones. Asset Management is an interesting career choice because it is highly scalable, has great financial leverage, no receivables and once you cover your fixed costs, the margins are massive. This is a great way to impact the world and that was always my goal since I was 15.
While in college, my first job was at Blockbuster Video. It taught me the importance of customer service, presentation (the movie shelves were always fixed after closing which now has me obsessively putting things back where I found them when I go to a store just to give the staff less work). It also taught me how to read people and help them find something that they would enjoy. There is an art to asking questions without seeming intrusive and it would help me identify the right movie for a customer. That Blockbuster experience in 1997, most importantly, allowed me to better understand the rise of Netflix over the next few years. The huge opportunity of entertainment became my first business case study in how a profitable business can be disrupted because of a lack of innovative thinking by the management – Ignore technology at your own peril.
Other jobs have been crucial to the person I am today and the way that I treat my team members. Those jobs included working for the largest mortgage provider in the Caribbean three times, including launching their internet banking platform and designing savings, investment and mortgage products for them; two digital marketing agencies and co-managed a US$1.2 million per year display and pay-per-click budget for a large mutual fund provider. Creating 33,000 keywords personally and overseeing the landing page design and post-click marketing experience taught me the power of selling to retail investors while confirming how transformational digital marketing is when done right.
Working for a small private equity fund taught me that it is far easier to raise money to buy an existing profitable business than it is to raise for an unproven startup even though most people are obsessed with starting their own business and raising capital for it thanks to the media. Meeting many wealthy people and understanding what drives them, the books they read, the way they structure their portfolio, how they make their decisions, taught me about single family offices. Working for a hedge fund allowed me to see another part of the investment world and learn additional approaches to portfolio management and how to raise capital. Helping to develop the pitch deck, meeting with potential clients, being forced to learn golf, all came in handy. These experiences made me very comfortable around wealth and prepared me for launching my own investment firm. It gave me confidence to see firsthand that none of these people were any smarter than me, just focused, meticulous about sticking to their framework and being lifelong students.
Working in the investment world made me truly understand why Warren Buffet says that "The most important quality for an investor is temperament, not intellect. You need a temperament that neither derives great pleasure from being with the crowd or against the crowd."
Job interviews have not been a regular feature of my life as I usually get approached about a position because someone came across some work I had done or something I had written. Most people apply to jobs instead of making people come to them. I think of it like marketing: Get people to come to you and you have a higher chance of conversion. In preparing for an interview, researching the company in detail, interviewing them as much as they are interviewing me so as to find things in common, figuring out what experiences I have that would add value to the business and having an answer for why this particular company is where I want to work without worrying about the salary was most important. Too many people fixate on compensation instead of just getting inside and proving yourself. It's easier to be inside and move to a new position than to get the one you want. Dressing sharp regardless of the position. and wanting them to see the best version of me as their first impression. I wore a suit and tie to those interviews regardless of the level of the position. You only get one shot at first impressions.
Your CV should be the same: Be bold and standout. Be memorable because someone looking at 100 CVs should be able to remember yours, just like a business card should standout. Most people don't have time to research you in-depth and AI is even sifting through CVs first nowadays so do something different to catch the eye of the company. Focus on only the most relevant work history and experience instead of just listing out the chronological order of your work. Your Cover Letter is the most important because this is where you get to tell your story. Work on your writing skills and study what makes a good story: A calling to adventure, encountering a challenge, securing a mentor and then overcoming the challenge. Never come across as a know-it-all who has never failed. It is not true. Tell a story about overcoming adversity in a way that is relevant to the business. Great companies want to hire dynamic problem-solvers. Be one of those and seek out great companies. Avoid all other companies because you will eventually be looking for a new job either because you hate the firm or because their lack of innovative thinking causes them to be the next Blockbuster Video.
My book recommendations have been written as a blog post and they are required reading for my entire team as well as the founders we invest in. The list is here – https://link.medium.com/rXv1ZEJO4bb. The first and most important book is "How Will You Measure Your Life" by Clayton M. Christensen because most people have no plan for their life, they just meander and life happens to them instead. If you do not have a destination, then you will wander for the rest of your life and be unfulfilled. The book list is in the order that I believe is best for helping people achieve outsized success as defined by you.
Books help to foster a constant desire to learn. You cannot ever believe that you know everything and so I constantly read widely, listen to podcasts, sign up for webinars, listen to what younger people are talking about and stay on top of business, technology and pop culture trends.  I study how things become popular and what makes people talk about something. I especially like to experiment with things so whether it is testing Facebook boosted posts or Instagram Reels on my own, shooting and editing video on an iPhone to understand how it  works, setting up my Twitch channel to stream games and see what the hype is about, I learn by testing and iterating after reading. There is no substitute for hands-on experience. It gives a better appreciation for how something actually gets done or how it works.
Key podcasts for me are "Better With Paul" by my good friend Paul C. Brunson, "Secrets of Wealthy Women" by the Wall Street Journal (just ended), "Masters in Business" with Barry Ritholz, "Freakonomics Radio", "How I Built This" and "Planet Money" by NPR, "Axios Re:Cap", "HBR Presents Exponential View with Azeem Azhar" and "Reasonings With Odessa" to keep me updated on the culture (we sponsor that podcast).
Events are now mostly virtual so I attend most of the ones put on by Worth Magazine. In person are yearly Family Office Association events in January and March as well as those by the Opal Group and a Latin America investment conference in October. These events allow me to network, see old friends and learn a lot about what is going on in the world because investors pay close attention to politics, economics and markets. It is important to attend industry events in your chosen career field and build relationships. Who you know is not as important as who knows you so network and bring value to others. This is helpful when looking for a job.
Another piece of advice is to find someone you look up to in your field and offer to work with them on a project in any way. Don't care about the pay, just offer to help. Prove yourself worthy of being involved in their work and they will find a way to bring you on board, even if they have to create a new position for you. I accepted an absurdly low salary from the hedge fund when they approached me was because it got me to be inside, learning from a great investor, traveling with him to meetings that few people would ever get into and attending investment conferences where 99% of the people do not look like me. Getting a seat at a table is crucial to outsized success so find a way in.
My current position was created by me but before that, a hedge fund had recruited me because they read a number of my posts on LinkedIn as well as a Quora answer about how to launch a hedge fund. Making myself visible, differentiating myself from the pack, knowing the Miami area where they were targeting, thanks to my schooling there, willing to drive from Orlando to Miami and spend a week each month in Miami was important. Being coachable, bringing ideas to the table, speaking truth to power and a fast learner helped. As a young firm, they needed people willing to do things outside of their formal job description. Too many people do not want to go beyond those artificial boundaries but I played competitive sports and sometimes the forward has to run back and defend as well. Team players win games.
The jobs that I couldn't get were usually because the interviewer felt that I was either over-qualified or under-qualified but I did not mind because companies that think that way don't become great or stay great. Narrow-minded hiring practices causes companies to miss out on great talent. The key lessons picked up from the jobs not landed are: 1. There is always another opportunity so don't stress; 2. You are interviewing them as much as they are interviewing you; 3. Most people do not think creatively and so only paint by numbers instead, hiring cookie cutter candidates who say the right things; 4. The culture of the company matters more to me than anything; 5. Many managers have egos and are threatened by those who read more than they do or think quicker on their feet.
My journey is different than most but I do believe that as long as you commit to being allergic to average, focus on being excellent at whatever you choose to do, no matter how small, decide to standout, and remain coachable, you can build a career in the field of your choice. Remember to find a role model first and study their life, their decision-making frameworks, why they made those choices and not just what choices they made. Learn their recipe and then adjust for the current times and get cooking.
David P.A. Mullings is the Founder, Chairman, and CEO of Blue Mahoe Capital Partners, a private investment firm. He is also a Director of FundBLACKFounders.com, an advisory board member of the Caribbean School of Data based at the University of the West Indies Mona School of Business and Management, and Chairman of the board of the Mentorship Innovation Entrepreneurship Programme for the Development Bank of Jamaica.
Also read: My Journey From Studying Physical Education and Psychology to Being a Project Manager, and a CEO.
Connecting The Dots Looking Forward – David Mullings's Journey