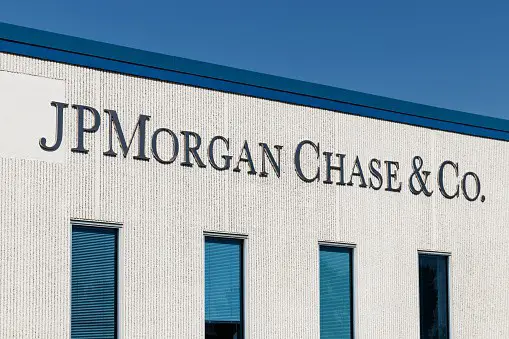 In this article, we are going to see the JP Morgan Job Titles.
J.P. Morgan Chase & CO. is an America based multinational investment bank and financial services holding company. Founded in 2000 by John Pierpont Morgan, John Thompson, Balthazar P. Melick, and Aaron Burr, it is a major investment bank and major provider of financial services. Headquartered in New York City, the company is now incorporated in Delaware. 
JP Morgan & Chase is considered the universal bank and provides services like investment banking, asset management, private banking, private wealth management, and treasury services. As of 2020, the net income of JP Morgan Chase & Co. was $29.13 billion. 
According to the JP Morgan Chase & CO. website it has assets of more than $2.7 trillion employing 240,000 employees and operates in over 60 countries across the globe. The various sectors operating under JP Morgan include Asset & Wealth Management, Corporate & Investment Banking, Commercial Banking, and Community Banking. 
JP Morgan Job Titles 
JP Morgan provides career opportunities in various sectors for both professionals and students. The employment opportunities in these sectors are: 
Asset and Wealth Management 
This sector works to provide advice and other personalized services for individuals having high net income, organizations, retail investors, and other companies who require strategies for asset management.  This sector provides investment management for all asset classes which involve equities, fixed income, alternatives, and money market funds. Its different services for the individual investors are retirement products and services, banking services for trusts and estates, loans, mortgages, and deposits.  Job seekers and professionals find employment generally in these areas: 
Vice President- Wealth Management 
This individual will be responsible for managing client relationships by understanding the needs of the client, giving advice and solutions to ensure that client has excellent experience, providing advice on the balance sheet, asset allocation, investment management, wealth planning, and credit and banking needs. 
Collaborate with internal specialists for overall expertise experience for the clients, connect with clients, and comply with risk and control policies, guidelines, and measures as per the company. 
Qualifications Required 
Six to seven years of experience in Banking and Financial Services, bachelor's degree; MBA, JD will be preferred, License certification of series 7 & 63, a dynamic professional, strong communication and organizational skills, presentation skills, experience in investments, wealth management and credits. Proven knowledge of equity, fixed income, investments, and real estate.
Salary 
The salary of a Vice President in Wealth Management at JP Morgan Chase & Co. is $122,464 per year which is 8 percent below the national average. 
Commercial Banking Treasury Client Product Implementation Specialist 
Responsibilities 
Maintain expectations of the timeline and document requirements of the client, ensure client satisfaction, possess experience in ownership, experience in internal communication, management of the implementation issues, escalations, and error solutions. 
Have problem-solving and decision-making ability, ability to maintain risk process, awareness, ownership promptly. Ability to maintain long talks with clients and partners. 
Qualifications Required 
Problem-solving, strong communication skills both verbal and written, interpersonal and relationship making skills, can maintain conflict and internal resources, ability to resolve issues, analytical and mathematical skills. Knowledge of MS Office, mainly MS Word, Excel, and Outlook. 
Preferred Qualifications 
One to three years of experience in Sales, Risk Management, Client Servicing, Portfolio Management, and Implementation Function, negotiable skills, organization and prioritization skills, project management skills, College degree, and knowledge of cash management. 
Salary 
The salary of a Commercial Banking specialist is $82,162 per year which is 22 percent above the national average. 
Commercial Banking
Compliance Manager 
The responsibilities of a Compliance Manager are, evaluating risks for businesses, assisting in exam interactions and audits, identifying and articulating metrics, acting as a support for senior business leaders to support compliance programs, develop and implementing training videos and programs as per requirement. 
Qualifications Required 
Bachelor's degree or professional certification, strong communication and decision-making skills, work experience in financial and regulatory compliance management, and knowledge of banking regulations of the US. 
Salary 
A Compliance Manager gets an annual salary of $73,271 per year. 
Consumer and Community Banking 
This sector serves consumers which are generally small businesses in financial services which involve personal banking, lending, credit cards, payment, and investment advice. 
Machine Learning Data Scientist 
The responsibilities include developing machine models for making impactful decisions, constructing learning models, providing assistance to other management teams as per requirement, developing innovative modeling for production, and ability to teamwork with marketing, risk and management, technology throughout the development lifecycle. 
Qualifications Required 
Professional certification or master's degree in computer science, data science, and engineering, experience in coding working with data technologies, designing and implementing data models.
Salary 
The salary of a Data Scientist annually is $118,000 per year, which is 18 percent below the national average. 
The clients of JP Morgan consist of wealthy families, banks, small businesses, organizations, and corporations.  It provides extensive opportunities for individuals to begin their careers In different sectors with great pay and benefits. 
Frequently Asked Questions 
Ques 1. How is the working environment and pace at JP Morgan Chase? 
Ans 1. The working environment at JP Morgan Chase is often stressful and fast-paced. 
Ques 2. Does JP Morgan pay weekly? 
Ans 2. In some sectors like operations, the pay is biweekly whereas in other sectors pay is monthly or weekly. 
Ques 3. What are the part-time hours for employees? 
Ans 3. The part-time hours at JP Morgan Chase are around 20-25 hours per week, which can get an increase often.   
Ques 4. How is the interview process like at JP Morgan? 
Ans 4. The interview process at JP Morgan is not that flexible as they require professionals for most of the job. They ask questions related to finances, your experience, and risk management. Prepare for the questions given on the web for the interview. Wear formal. 
Ques5. How long does it to get hired at JP Morgan Chase? 
Ans 5. It takes about a month to get hired, you will get interviewed in many rounds with different teams. 
What are JP Morgan Job Titles?