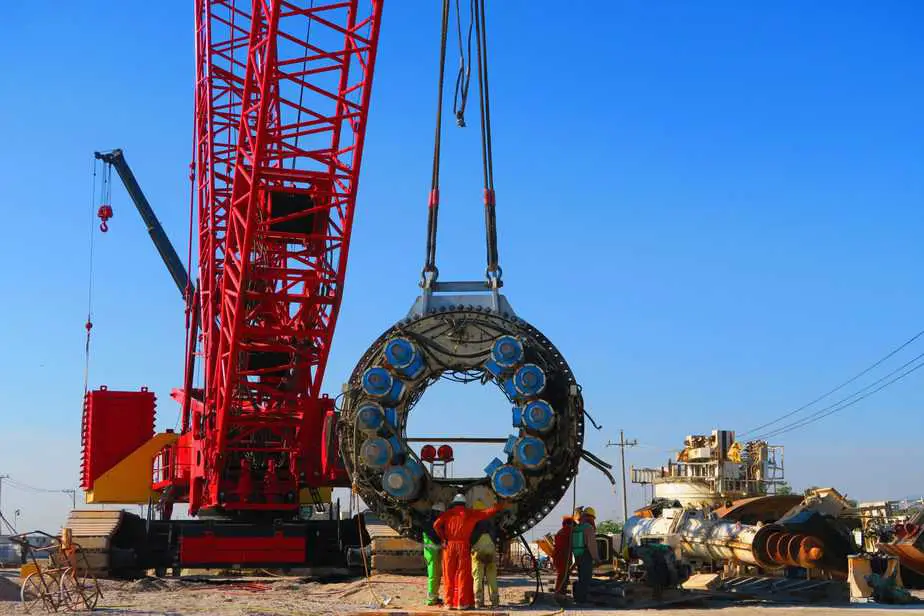 Introduction: The job of a banksman /slinger is to guide the vehicle movement & plants around and on a construction site. We will discuss Slinger Banksman Job Description here. You'd be vital to on-site safety and health as a signaller. Slinger is also involved in the production of modular buildings in industries. The role of a slinger signaller is one of the most important on a construction site. Authority, diligence, and dedication must work closely with the loading groups to provide stable guidance and support to the brickies. Their primary duty is to ensure the supervisors' safety and the security of any other staff or site visitors who may be in danger. A Slinger collaborates with a vehicle driver to maintain the secure operation of equipment on the job site. They use two-way devices or pre-programmed hand signals to interact. Among the most critical positions on a construction site is that of a Slinger Signaller. To work alongside lifting teams, a Slinger must have exceptional skills in offering safety guidance through supervising loads. To keep operators and other site staff secure, the job necessitates excellent observing & concentration skills. They're also known as "signal people." Because the controllers' view of cranes & large vehicles can be restricted, their task is to guide them.
Who is Banksman/Slinger? 
Banksman: A banksman, also known as both a Signaller or Flags Man, is in charge of a particular vehicle. Theoretically, their function is not to direct traffic, but they may be required to navigate traffic at rare times if their vehicles are covering a lane. Unless the vehicle is operational, the Banks Man can seek assistance from a Radar Operator. They can also help the driver move the car from point A to point B. Signallers are specialized operators who guide crane drivers throughout lift activities. Signallers operate railway signals as well as points to monitor train motion through the direction. They ensure the trains are running safely.
Slinger Banksman Job Description
Their main responsibility is to assist the crane and truck driver in ensuring that their maneuvers are secure and do not harm the vehicle and other frameworks. They use a radio and hand gestures to communicate with both the drivers. This is important because the driver would almost definitely not have a clear vision or visibility. According to the HSE, reversing accounts for about a quarter of all vehicle-related deaths at work. Many other reversing incidents are not fatal, but they do cause significant harm to cars, facilities, and property. Depending on conditions and situations on the job, a slinger signaller can use other interaction channels. They may use high visibility gloves, batons to make signals when visibility is impaired by bad weather. They'll also make regular use of two-way radio to interact with machine operators and others on the building site.
What does a banksman/ slinger do?
Here as a banksman/slinger, you'll be in charge of safely guiding moving vehicles on a construction site. You may also be making critical movement suggestions then ensuring that they are communicated to everybody on-site straightforwardly and concisely. In addition to injuries and deaths, an unregulated condition can create serious and expensive damage to vehicles and other on-site facilities. A Banksman has the critical task of preventing these incidents from occurring. But on the other hand, being a Banksman can be a very lucrative career, one that pays for itself to provide a fulfilling, pleasant, or fulfilling position in the workplace. 
A Banksman could be useful in various workplaces, including docks, warehouses, baggage carts, & inventory before selling, with the right skills and certification. A Slinger Signaller serves as an extra set of eyes and ears for the crane operator, who won't even be able to see anything going on all around them. A blocked vision for a Crane Operator raises the danger of loading & raising and putting general site life at risk.
When supporting a truck and crane driver, a banksman must obey the following basic guidelines: 
Banksmen must recognize trouble spots across the site, like enclosed spaces, where mobility would be difficult or dangerous. They can also help direct roads in or around the site and keep people safe if site vehicles need to be driven through unsafe areas. They could also be in charge of monitoring the movements of other machinery, such as cranes or checking that dig sites are clear of obstacles and dangers.
Use a simple signaling mechanism.
Throughout all times, make yourself clear to the driver (Unless the driver cannot see the banker, he or she must come to a complete stop). 
Maintain a reasonable distance from the vehicle so that you can direct it without getting in the way. 
Wear high-visibility gear, a helmet, as well as other suitable personal protection equipment.
Duties of Banksman/Slinger
The following are the responsibilities of a Banksman/Slinger :
Traffic Management
The banksman is now in control of assisting in managing traffic flow, vehicular traffic, but mostly vehicle location on the job site. While doing so, he helps or advises crane operators in their rolling back and unloading responsibilities. Even though there is a large amount of information on the site, the banksman is critical to the seamless running of the business.
Monitoring of Loading Areas
Because the banksman directs traffic flow, she must ensure that the load-carrying equipment is in good condition for every obstruction. She will have to keep an eye on the container and the neighboring loading areas for just about any buried pipelines. The banksman needs to face the risk of an accelerating vehicle not used to seeing him; consequently, a safety management system should be in place to ensure the banksman's safety, particularly as they supervise the bucket and loading regions.
Loading and Unloading
The banksman is frequently called upon to assist in the loading and unloading of trucks and cranes and guide the motion of many other plant machinery. There may well be occasions where there are surplus goods that the loaders cannot accommodate without help.
Some Other Duties
To ensure that the signaling equipment is in good working order, it is put to the test. 
Seeing if there were any train schedule delays, such as maintenance work or accidents. 
Determining a train's direction, taking into account road rules, timetables, and the frequency of trains in service. 
Transferring this data to other control centers, signal cartons, as well as major road guards to ensure that trains easily move from one route segment to another
Certain problems and connection specifications are communicated to train drivers & track staff via phone/radio. 
To guide the trains, manually and computerized systems are used to set/lock track points. 
Changing signals for both the driver to obey using manual/computerized systems 
On a variety of computer monitors, train motions, as well as data, are being monitored. 
Resolving unanticipated events and compiling information
Skills Required to be a Banksman/Signaller
Specific skills that could be advantageous to someone considering a career as a banker or signaller include:
Pay close attention to the details and be thorough.
Understanding of transportation options, prices, and benefits.
Patience and the desire to stay calm in the face of adversity.
Accepts criticism well and works even under duress.
Ability to collaborate effectively with others.
Changeable and adaptable.
Movement, balance, dexterity, and grace are examples of physical abilities.
Public safety & defense awareness.
Ability to use a monitor or a hand-held unit to perform simple tasks.
Medically Fit for the Purpose Which May Include:
Good Eyesight – Not all employees get their vision examined regularly. Additionally, headgear can impair vision and hearing. 
Good Hearing – Not all employees have excellent hearing, and they can miss something which is highly hazardous. 
Aware & Alert – Employees who are tired or sick are more likely to make mistakes and trigger significant accidents.
Capacity to judge distance, width, and speed – Several workers cannot do so adequately due to a lack of training or simply ability. 
Capable of stopping work if it becomes dangerous (Assertive) – Flag controllers must be self-assured enough to take command and interrupt work if it is considered dangerous. This is an attribute that not everybody possesses!
Controlling the Vehicle's Running on the Job:
On the construction site, a Banks-man, Flagman, or Signalman is vital because a fully qualified person working with other coworkers running large machinery and equipment will save lives and cause property harm.
Vehicles which are required for a Banks Man:
Large Forklift
JCB
Truck
Grader
Bulldozer
Excavator
Breaker
Training Required for Slinger bankers
A CSCS card with such a traffic Banksman endorsing and certification is required in the United Kingdom. The CSCS certification takes just one day to complete. An Construction Skills Certificate Scheme (CSCS) seems to be the industry's most commonly recognized skills certification program, with a CSCS card showing that you have the requisite experience and credentials to perform these tasks on construction projects. Even though it is not a legal necessity, many subcontractors or major home builders insist on having a valid CSCS card on their building sites.
There have been courses available in the country to help you become qualified to work as a Banksman. While no formal academic credentials are required for this position, excellent presentation practices are an advantage.
What Qualifications Does a Slinger Signaller Need?
For those interested in becoming a Slinger/Signaller, there are also many certified training choices. The CPCS Slinger Signaller course and the NPORS Slinger Signaller course are the most common. 
People would show potential employers that you have the requisite qualifications or experience by completing an approved course. 
Construction projects must ensure that their staff follows HSE regulations for safely managing or processing equipment, and indeed the slinger signaller job is no exception.
As a result, the Red certified Operator Card or in-house Certificate is the minimum requirement for working as a slinger signaller. 
The slinger signaller should be able to lead a crane operator who's really expected to have an invisible disability of their environment, necessitating the use of a set of hand gestures to assist with maneuvers.
You may also be eligible for a Blue Qualified Operator passport. 
You must have accomplished the HS&E (Health, Safety, & Environment) exam for Operators during the last 2 years before enrolling in a CPCS and NPORS approved slinger signaller course.
Salary Information for Slinger Bankers
You're looking at real-time statistics for Slinger banksman work openings from their dataset to around One million job postings. Here are a few short facts: Throughout the United Kingdom, the median Slinger Signaller wage is 42,937.28 USD a year and 22.02USD per hour. The starting wage for entry-level jobs is 38,857.50USD a year, with most skilled employees receiving upwards of 56,181.18USD per year. The average wage for a Slinger banker is $38,015.20. This is 24.2 percent less than that of the $50,163.93 average national advertised wage. Amey, Rullion Alltrades, and Peterson Springs are the top companies recruiting for Slinger banker jobs. Pay for Slinger banker employment has decreased by 6.3 percent year over year, compared to a 5.1 percent increase for certain employees.
Also read  Teaching and Learning Manager Job Description – Salary & Duties
Latest Slinger Banksman Job Description – Duties & Salary