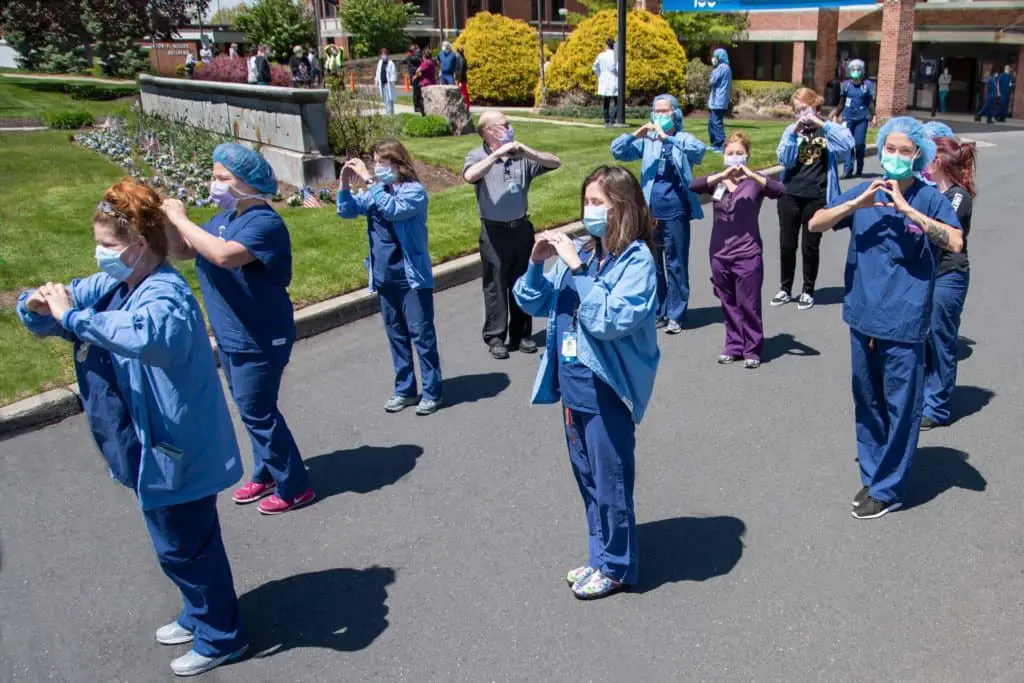 With this sudden pandemic, one thing that has been highlighted is the need for more trained medical professionals to combat such situations. Registered nurses are in demand with the growing medical requirements. Apart from this, if you want to help people, this is an amazing profession for you. We will now discuss it in more detail about the Registered Nurse Job Description in this article over here.
Registered Nurse Job Description
A registered nurse not only works in a hospital. According to your interests, you can work in places like a clinic, government organization, military, school, medical centers, rehabilitation centers, or home care settings. Precision, critical thinking, and communication are important skills if you wish to be a registered nurse. You should be mentally prepared to deal with various emergencies during your work. Depending on where you work, your duties may differ.
As a registered nurse you;
As a registered nurse, you will accompany physicians into various medical procedures, perform required tests, monitor the patient's medications, and record patients' medical treatment.
Monitor test results and perform regular tests to analyze patients' conditions.
Monitor patients and meet their requirements.
In case of emergencies, provide primary treatment to the patients.
Keep note of the patient's medication as prescribed by the doctor.
Effectively communicate with other nurses in the staff.
Interact with family members, assist them in understanding the procedure and measures to be taken after discharge.
Sometimes overtime and untimely shifts can be a part of the job.
Like doctors, registered nurses can also work within the medical specialty of their choice, for which they have to attend specific training programs.
As a registered nurse, you use a wide range of tools and technologies like:
Medical Instruments – These include a thermometer. Oximeter, stethoscope, syringes, defibrillator, blood pressure monitor, and IV pumps. These instruments are usually used for the medical treatment of patients. You learn about them during your courses and training.
Softwares – During your work at a hospital or clinic, you have to manage the schedules of the patients and staff. There are medical reports and statistical data used for which you use different types of medical software. 
Some of these are Microsoft office, Kronos workforce timekeeper, IDX system database, drug reference guides, and many more.
Protective Gear – To attend patients, nurses are exposed to a wide variety of diseases and infections, thus to protect themselves, strict hygienic conditions are maintained, and some materials are to be worn to protect oneself—for example, masks, disposable gloves, shoes covers, hair covers, and disposable gowns.
Skills Reuired
If you want to be a registered nurse then there are some qualities that you will have to engross, like:
Good at organizing different tasks at a time with precision as you will have to handle different patients.
Compassionate towards the patients, treating patients with warmth is important.
You should be able to evaluate and take action on the spot. This will be important as you might deal with emergency patients and critical conditions from time to time.
A good listener and an engaging speaker so that patients are comfortable with you. this also helps when dealing with fellow staff members.
You cannot disclose the health records of any patient to any stranger.
You should be able to handle multiple tasks at a time.
You have to be emotionally strong because you will have to deal with various difficult situations during work. You will see many people suffer through various health conditions; thus, keeping a calm mind and helping them is necessary.
These skills are essential for this profession, through an experience you will learn how to incorporate this into your work.
How To Become A Registered Nurse?
BACHELORS DEGREE. To become a registered nurse, you first have to complete your undergraduate in nursing. Any one of the following programs must be attended by the aspirant:

Bachelors degree in Nursing. It is a four-year-long full-time study program. This course offers you a wide range of knowledge on nursing and healthcare in depth.
An Associate Degree in Nursing. It is a two-year-long program. It provides more in-depth knowledge in comparison to a diploma or vocational classes.
A Diploma in Nursing. Hospitals usually offer these programs. You should check the prerequisites before applying. This program will provide you the basic knowledge you need to work as a nurse.
If you have already completed your bachelor's in some other subject, then you can attend a second-degree program offered by some schools.
Many institutes offer online undergraduate and post-graduate programs.
You will study various subjects during your bachelor's degree or any other course: anatomy, physiology, chemistry, microbiology, statistics, microbiology, patient care, psychology, and healthcare law and policy. A bachelor's degree is much more favored than any other because a four-year program provides you with comparatively more in-depth knowledge. So if you aim to become a registered nurse from the beginning, then pursuing a four-year bachelor's degree will be more favorable for you in the future.
ONLINE PROGRAMS. There are many online programs with as much credibility as the ones offered offline, but before selecting a program for yourself, you should check the following criteria:
Reputation and ranking of the school or hospital offering the course.
At a national level, recognition of the course doesn't end up doing a course with no or very little recognition and demand.
Check if this course will be accepted in the places you want to work.
Check the faculty and their medical experiences in the field.
Check the subjects covered within the course.
Be sure that this course will provide you with proper knowledge and full help to pass the NCLEX-RN exam.
You can check the success of the courses by comparing how many students who took the course passed their NCLEX-RN.
NCLEX-RN

NCLEX-RN or National Council Licensure Examination for Registered Nurses is a nationwide examination conducted for licensing nurses.
You will have to register for the exam at the National Council of State Board of Nursing site.
It is a computerized test, and the completion time is six hours.
If you don't pass the exam, then you can retry in another 45 days.



LICENSING. After passing the NCLEX-RN, you get licensed to practice nursing. There might be some additional steps in different states so you can verify that with the state board of nursing in your desired state. American Nurses Credentialing centers: offer various certification programs. 

Pediatric Nursing. These nurses re specialized and took care of only children ranging from newborn to adolescent.
Cardiac-Vascular Nursing. These nurses specialize in taking care of patients suffering from cardiovascular illness.
Acute Care Practitioner. These registered nurses provide care to patients' health, prevent diseases and manage acute care.
Gerontological Nursing. These registered nurses specialize in handling the health requirements of patients in old age.
Ambulatory Care. They are also called outpatient nurses, and they educate patients, perform tests, and provide treatment under a physician's supervision.
Nurse Executive. It is the senior-most administrative role in the nursing organization. They make administrative decisions, manage the staff and ensure proper functioning. These are just some of the listed courses. There are many more which you can take to advance your knowledge.



EMPLOYMENT. After competition of all the necessities, you can apply for a job in hospitals or clinics or any other settings in which you aspire to work.


FURTHER TRAINING

If you wish to learn more about a specific field, certain training programs and certification courses can help.
You can also pursue a master's degree.
If you want to pursue a doctoral degree in nursing or specialize in a particular area, you can go for a master's degree program. If you wish to become a professor or a researcher in your field, you can further go for doctoral or Ph.D. programs offered by many colleges.
Salary
The average annual salary of a registered nurse is around $70,000-$75,000.
Some states do offer relatively larger sums.
Based on your experience and advanced training, your salary can rise to around $100,000 annually.
Looking at the salary scale, you can see this as a good career option if your main goal is making money.
Duties of A Registered Nurse
As a registered nurse, you work with a variety of patients. Some nurses specialize and work with specific patients. Your responsibilities as a registered nurse can vary depending on where you work and what types of patients you handle.
Some basic duties include:
Observing patients, regularly monitoring their health, and taking note of any changes.
Performing prescribed diagnostic tests and physical exams.
Keeping a record of patients' health history.
Interact with patients and their families regarding their health and treatment plan.
Takin care of minor injuries.
Giving medications to the patients on time.
Meeting the needs of the patients and their comfort.
Making decisions and taking action regarding patients' treatment whenever necessary.
Assisting physicians in medical procedures.
Interacting with physicians and other nurses regarding treatment plans for the patients.
Supervising the staff working under your command.
Nurses work in rotating shifts so that the patients can be monitored 24 hours.
Some registered nurses work in schools, community centers, or at the home of their patients. The duties of these nurses vary from those who work at hospitals and clinics.
There are also travel nurses, they don't work at a particular place instead they travel to places with a shortage of nurses temporarily.
Advanced Practices
They hold a minimum of a master's degree in addition to the basic educational requirements and licensing.
Their responsibilities consist of all those of any registered nurse.
Nurse Practitioners can diagnose, treat and prescribe medications to patients with minor injuries or illnesses.
Nurse-Midwives specifically provide gynecological and obstetrical care.
Clinical Nurses take care of a wide variety of patients of different ages.
Registered Nurse Anesthetics administer anesthetics to the patients.
Conclusion
Registered nurses are of key importance in the healthcare sector. They provide critical healthcare to the coming patients. Millions of registered nurses are currently working in the country. Their demand is only increasing with time to strengthen the healthcare sector. If you pursue nursing not with a vision to help the community but only as a source to make money, you will not be disappointed. Being a registered nurse makes you a decent living. With increasing experience, certified courses, and training programs, you can make yourself more desirable for the role and a good salary. Your role as a registered nurse comprises directly taking care of the patients to supervising staff, maintaining nursing standards, and assisting physicians. Coordinated work is a necessity in this field.
You should maintain the standards among the staff you are supervising. And apart from just working as a registered nurse, you can also obtain a master's degree for specialization and work as an Advanced Practice Registered Nurse. You can also further pursue a doctoral degree if you like to work as a professor or a researcher in nursing. If you are passionate about helping others and have an interest in medicine, you can do very well as a registered nurse.
Latest Registered Nurse Job Description, Salary, Duties