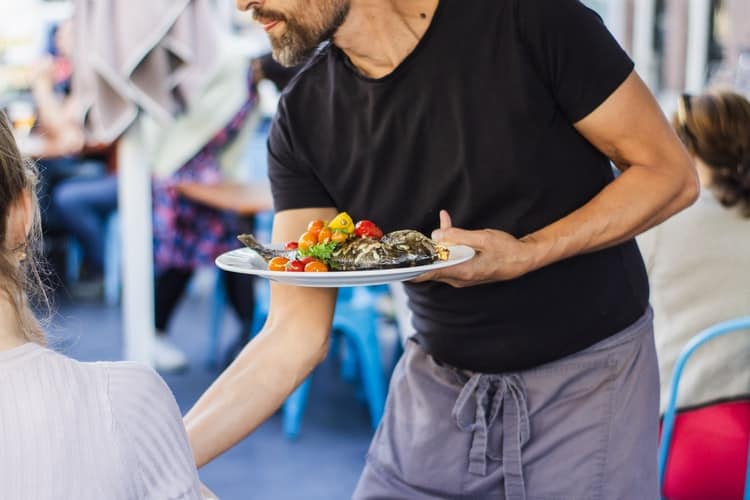 If cooking is your passion and seafood is your style, this great combination perfectly defines you for a Red Lobster job. Do you want your customers to feel the freshness of seafood on their plates? Then you definitely cannot skip past the job opportunities at Red Lobster.
Red Lobster is one of the most prominent seafood chains in the United States. It has attracted customers from all around the world. Red Lobster offers a fine dining experience to its customers. If you want to refine your culinary skills in the world of seafood, then Red Lobster is the right place for you to work at. This article will discuss the job opportunities, salary and requirements to work at Red Lobster, age, the application process, and benefits.
Job Opportunities At Red Lobster:
Red Lobster offers an array of job opportunities ranging from line cook to server jobs. They also have job opportunities as per sectors such as management, corporate, etc. Let us have a look at some of these job vacancies:
Line Cook
Do you like to cook up a delicious meal and finish it by garnishing the meal to catch our customer's appeal? Then, the role of a line cook is just the job for you. As a line cook, you will have to undertake many responsibilities. This includes cooking, plating, and ensuring that the orders placed are ready in tim
You will work under the head chef and coordinate with chefs from different stations to ensure that the meal is cooked properly and up to the restaurant's standards. Your work needs high skills, experience, and good physical and mental strength since you are managing all stations and will basically be cooking most of the meals and, at the same time, comply with your head chef's requests. The pressure on you might be a lot, but if you are up to the challenge, then you should give it a try.
Line Cook Salary: As per Indeed's census, the average hourly salary is $12.29 per hour for a line cook.
Requirements: You should be at least 18 years of age for this job. You should possess the ability to multi-task and cook up some delicious meals. You should also be capable of lifting 45 pounds.
Restaurant Manager Jobs
The restaurant manager's role is of the highest regard as this is a very high post. You are responsible for the restaurant's performance, its quality standards, and maintaining its relevance by brain-storming creative ideas and strategies to keep your restaurant the top-trending one in the market. You are responsible for the following things as a restaurant manager:
Strategize ways to increase the profitability of Red Lobster
Coordinate with the sales team to increase the sales levels.
Prepare marketing strategies and promotional activities to increase the popularity of Red Lobster.
Preparing end of the week report to keep a tab on weekly sales, staff activities, and food items stocked.
Coordinate with the Human Resources department to recruit and qualify candidates who fit the job profile.
Maintain a good relationship with your customers to increase the goodwill of Red Lobster. 
Address the customer queries and complaints, if any, immediately.
Propose the best wine choice to your customers and advise them about the classic meals and food of the day.
Maintain food stock records, accounts of all the departments on a weekly or monthly basis.
According to the particular state the Red Lobster restaurant is based in, you need to ensure that your restaurant complies with all the legal and safety rules and regulations.
Salary: As per Indeed's census, the average hourly salary is $15.18 per hour for a restaurant manager.
Requirements: You should possess a high school diploma or a bachelor's degree. You should be at least 21 years of age. You should have more than a year's experience supervising and more than 2 years' experience in casual dining.
Server Jobs
If you like to ensure that those around you are happy and satisfied, then a job as a server would be perfect for you. Your responsibilities include taking orders from customers and serving their orders. Great personal interaction skills will come in handy in this profession. You have to meet and greet the customers and fulfill any requests they have.
After all, your role as a server plays a significant part in the customer's Red Lobster experience. You need to know the menu thoroughly to recommend some of the best meals of the day or suggest complementary dishes or drinks that will go with your order. It would be best if you made sure that the restaurant is clean and tidy. Maintain good communication with the restaurant manager, chefs, and other staff of the restaurant. Your overall and prime focus should be that your customer has a fine dining experience. It would be best if you also were physically strong with the ability to lift to 30 pounds. You need to possess good communication, interpersonal, and listening skills. You should be able to work under pressure.
Server Salary: As per Indeed's census, the average hourly salary is $12.54 per hour for a server job.
Requirements: You should be of the legal age to serve drinks as permitted by the state you reside in.
Bartender
Do you love coming up with some cool, innovative drinks? Then put your skills to good use with a job as a bartender at Red Lobster. Your responsibility will be to make up some outstanding drinks that complement the food the customer has ordered. Your duties include:
Preparing beverages based on customer's requests or your expertise depending on the situation.
Take orders from customers and serve their drinks on time.
Be interactive and friendly with patrons so that they will come back to the restaurant in the future.
Keeping a tab of all the transactions between you and your customers.
Having a good knowledge of all the beverages to give the best recommendations to the customers. 
You are responsible for preparing and organizing the bar menus. 
You can also be innovative and create your own drinks.
You need to comply with the beverage standards and limitations.
It would be best if you curtailed any inappropriate behavior by customers in a professional manner.
Bartender Salary: As per Indeed's census, the average hourly salary is $11.42 per hour for a bartender job.
Requirements: You should be of the legal age to serve drinks as permitted by the state you reside in. You should be able to lift a weight of 30 pounds.
General Manager
As a general manager, you are responsible for running Red Lobster's operations smoothly and efficiently. You are in charge of all the departments of the restaurant. You need to maintain a good relationship with all the departments so that the restaurant functions smoothly. You are responsible for all the employees working under you at Red Lobster. You need to report your activities to your senior manager. Some duties as a general manager are listed below:
Strategize cost-effective ways to increase the profitability of the restaurant.
Establishing policies as per the restaurant's guidelines.
You need to bring out the best results so that Red Lobster stays on top of the game.
You have to prepare records of financial statements and records of all the activities of each department of the restaurant.
Maintain good relationships with business partners to expand the restaurant's business in other areas.
General Manager Salary: As per Indeed's census, the average salary is $90,602 per year for a General Manager.
Requirements: You should possess a high school diploma or a bachelor's degree in hospitality or a related field. You should have more than 5 years' experience as a restaurant manager. You should be at least 21 years of age.
Email Creative Production Specialist
This is a role that does not require you to be in a chef's role or manager's role. This is more of a designing and creative department. Promotion plays a big role in bringing in customers to the restaurant. You will be required to create innovative, compelling, and eye-catching emails for Red Lobster that includes photos and videos of Red Lobster's menus to entice customers. You should possess a strong background in all the designing tools required for the job.  You may be needed to operate under tight deadlines and collaborate with the marketing department to strategize new ideas to attract customers. You should keep an open eye on all the competitive designs and work accordingly. Communicate with all customers in a professional and friendly manner by email. Maintain a database of all emails and think of ways to design gift vouchers and offers to ensure customers' goodwill with the restaurant.
Salary: As per Jobatic's census, the average salary is $41,800 to $52,200 per year for an Email Creative Production Specialist job.
Requirements: You should be skilled in Adobe Photo Suite, In-Design, Adobe Photoshop, Adobe After Effects, and Adobe Illustrator. You should have a graphic design degree and relevant work experience. You should have more than 3 years' experience in digital marketing.
Manager, Total Quality & Food Safety
The restaurant's sole reliability depends on the restaurant's food quality and safety standards. You have to ensure that the restaurant complies with all the standard protocols and regulations set by the restaurant's state. You will work closely with Red Lobster's Supply Chain Management and monitor all the restaurant departments. You will also have to report to the top-level executives on a weekly or monthly basis. You will also have to collaborate with the auditors, vendors/suppliers, chefs, get a report from them, and ascertain whether they are following their respective rules and regulations. You are required to cooperate with the Pest Control department of your area to ensure your restaurant is pest-free. The customer's trust depends on your role.
Salary: As per Glassdoor's census, the average salary is $48,816 per year for a Manager, Total Quality & Food Safety job.
Requirements: You should possess either a Bachelor's degree, Master's degree, or any other degree related o the science stream. A Master's degree is a bonus. As far as technical skills are concerned, you should have 3 years or more public health or quality assurance experience. You should be registered as a Registered Sanitarian (RS) or Registered Environmental Health Specialist (REHS) in the restaurant chain's state you are planning to work for.
Minimum Age Limit To Work At Red Lobster
The candidate should be at least 16 years of age to qualify for a job at Red Lobster. The reason for setting a minimum age requirement is that the younger, inexperienced individuals will learn a lot of things as they work at Red Lobster. It is a great start to help shape their career for their future. You will learn the art and craft of working at a restaurant as popular as Red Lobster.
Job Application Process At Lobster:
You can visit the official website that is, careers.redlobster.com. There you will see a section for students or grads. Click on that. Then they will ask you for your details. Another way is by visiting the restaurant chain in your city and approach the hiring manager. Enquire about the job positions available and mention the job post you would like to apply for. The hiring manager may ask for your contact details, educational details, or prior work experience if any. If the recruiter shortlists you for the post, they will contact you. You may be asked to give either a telephonic interview or an in-person interview. If the hiring manager hires you for the job, you will be informed of your selection. In case you do not hear back from them, you can call their office within a week.
Benefits Of Working At Red Lobster:
Red Lobster offers its employees various perks and incentives for all the hard work they do. Some of them are as follows:
They would offer discounts on dining if you were to visit the restaurant for a meal. 
You will be paid a pretty competitive amount compared to your peers at other restaurants.
They also provide their employees an end of the year bonus and other such bonuses.
One of Red Lobster's best benefits is providing you with insurance ranging from medical, dental, to long-term disability accidents.
You will also be paid for your time off and holidays.
There is a tuition reimbursement available for younger employees.
You will also be covered legally with a legal plan protecting you from theft to will and trust preparation.
Also read Citi Careers: A Complete Guide
Red Lobster Careers: Job Application, Salary, Requirements & Benefits