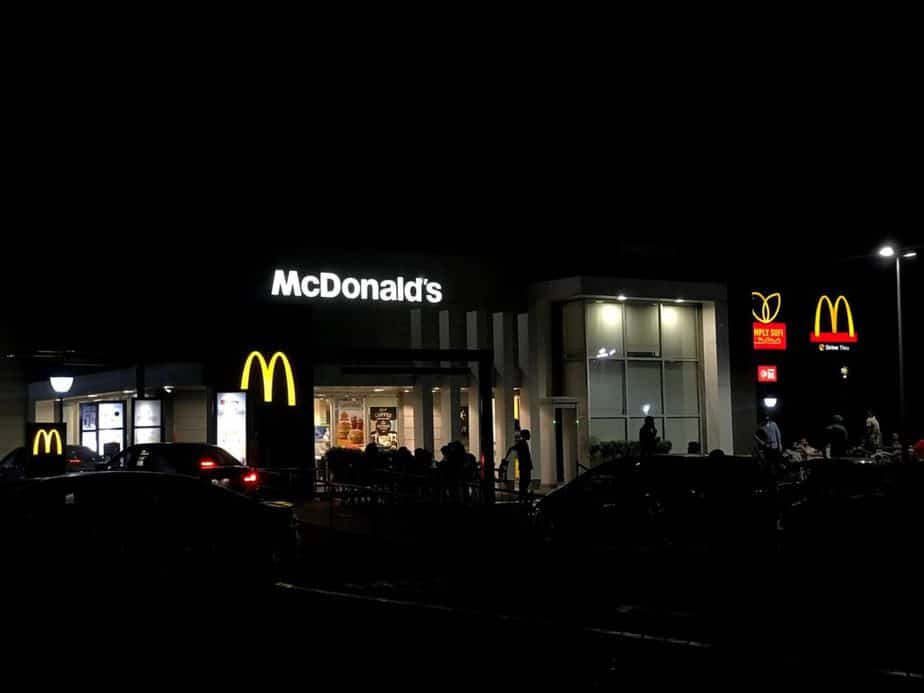 This is a detailed article about McDonald's cook job description. You will learn everything you need to know about this position from the application process to its salary. If you are someone who is looking forward to applying for the cook position at Mcdonald's, this article is going to be helpful for you.
But before moving further with the article, let us give you a quick overview of what McDonald's is?
McDonald's Overview
McDonald's is an American fast-food restaurant chain operating worldwide. It was founded by Richard and Maurice McDonald in 1940 in San Bernardino, California, United States. The company is headquartered in Chicago, Illinois. 
McDonald's is considered to be the leading fast-food restaurant in the world. It is famous for its burgers and fries. 
McDonald's has over 39,000 locations in around 119 countries. The company has been successful in providing jobs to over 1.7 million people.
Cook job description
As a cook at McDonald's, you are supposed to prepare the food items that are on the menu such as various kinds of burgers, fries, nuggets, etc. You have to perform all the tasks in the kitchen area. Once the food is prepared, you need to inform the waiters so that they can take it to the customers and serve it. It is your responsibility to make sure your area is clean once your shift is over. 
As a cook, you must make sure to grill the meat, vegetables, or chicken properly so that the customers won't call out on you for your mistakes. You also must be aware of the fact that you need to prepare everyone's orders on time so that they don't have to wait for too long.
You are supposed to cook the meal according to the customer's preferences. Once the food is prepared, you need to do a nice plating so that it looks clean and appetizing. 
Before the restaurant opens, it is your responsibility to make sure everything is ready for you to cook like the equipment and all the ingredients.
Responsibilities/ duties
1. Ensure the ingredients are fresh
You need to make sure that all the ingredients needed for preparing the food like meat, vegetables are fresh. If there is anything not fresh, you need to order it. You must not be ignorant of this since it is against the company's food safety guidelines.
2. Cooperate with the waiting staff
Once you are done preparing the food, you are supposed to let the waiting staff know that the order is ready. So that they can serve the food to the customers.
3. Follow safety guidelines 
As a cook, it is your key responsibility to follow the company's safety guidelines while cooking. You need to make sure the food is hygienic and not contaminated. 
4. Follow customer's preferences
At McDonald's, people may ask to customize the orders according to their preferences. So, you need to keep that in mind and prepare the food accordingly.
5. Train new cooks
Once you gain some seniority, it is your responsibility as a cook to train the new cooks. You need to guide them on how to use various kitchen equipment, teach them about the company's safety guidelines, and teach them the techniques to cook various food items.
6. Prepare food on time
You don't want the customers to wait for the food for too long otherwise they get impatient and start complaining. So, you not only have to prepare the food well but also on time.
7. Maintain cleanliness
You need to make sure that your kitchen area is clean before starting your shift and after your shift ends. This is to make sure your food is clean and hence there isn't any sort of dirt in it.
8. Ensure all the ingredients are available
Before the restaurant opens, you have to make sure all the ingredients to prepare food for the day are available and also all the equipment is working properly.
Requirements
1. Communication skills
Since you will be working as a team in a kitchen, you must possess good communication skills. You must be able to interact with your coworkers in case you need their help. Your verbal skills must be clear so that you can call out the waiting staff.
2. Time management skills
Another thing required to be a good cook is time management skills. You must be aware of the fact that McDonald's is a huge fast-food chain so the amount of customers it gets daily is huge. Hence, you must be quick on your hands in preparing the food on time.
3. Able to pay particular attention to details
McDonald's is a reputed food restaurant, so the company won't encourage you if you're ignorant in paying attention to the details. They want the food to be perfect and don't want any customers complaining about the food. So you must be paying attention to small details like the quantity, the packaging, or plating.
4. Listening skills
Your listening skills also play a huge role in this position. You have to listen to the order carefully, understand the customer's preferences, and prepare accordingly. In case you have any doubt you must ask for it and listen attentively.
5. Customer service skills
Even though your work needs to be performed in the kitchen area, there might be some time when you need to interact with the customers. For example, in case some customer wants to make changes in the meal or if somebody has some issue, you have to interact with them. In that case, you must provide good customer service.
6. Physical stamina
As a cook in any fast food restaurant, you must be aware of the fact that you need to be on your feet all the time. And in a restaurant like McDonald's, where there are customers all the time, you might be busy cooking all the time. Thus you must possess physical stamina for this role.
7. Multitasking skills
Your multitasking skills will also come in handy since you will be working on preparing multiple items simultaneously like flipping a meat patty and frying nuggets. You have to perform various tasks like preparing and plating and that too on time, so you have to multitask.
8. High school or general education diploma
There is not a specific educational qualification required for this position. However, you must possess a high school or any other educational diploma. 
9. At least 18 years old
You must be at least 18 years old before applying for the cook position at Mcdonald's.
What is the salary of a cook at Mcdonald's?
The average minimum salary for the cook position at Mcdonald's is around $9 per hour and $26,500 annually.
What are the working hours at Mcdonald's?
The working hours as a cook at McDonald's varies depending on whether you are a part-time or a full-time employee. 
For the full-time employees, the working hours at McDonald's are between 8 to 10 hours. For part-time employees, it is around 5 to 6 hours.
If you have a late shift, you might have to work extra hours since the customers might take long before the store closes.
How to get a job as a cook at McDonald's
Application process
The application process of McDonald's is pretty much the same as any other fast-food restaurant. 
You have to apply online for the job by filling an application form in which you will be asked some basic questions that will help them to know you better. Questions like your age, your educational qualifications, your skills, and things like that would be asked.
Steps for the application process at McDonald's:
1. You need to apply for the job online through their official website called careers.mcdonalds.com
2. Click on the Apply button.
3. Select the location and job position (cook) you want to apply for.
4. Fill in the details asked in the form and click on the submit button.
They might ask you to upload a resume in a pdf form as well, so just be ready with one.
Once you submit the form, an email will be sent to you confirming that your application form is received. 
If your application form is approved and the slots are available, you must get a call from them within 2 days of applying. In case you do not hear from them within a week of applying, you can go in-store and ask if there are any interviews you can get on. 
Interview Process 
Once your application form is submitted and got approved, expect to get an email from them within 2 days scheduling a telephonic interview.
The phone interview usually does not last for more than 10 minutes. They will ask you some basic questions such as your availability and stuff like that just to make sure you are a good candidate for an in-person interview. 
After you are done with the phone interview, they will schedule a one-on-one interview for you with the store manager. Here expect the questions to be in-depth and more personal.
But, with the pandemic, McDonald's is hiring people over zoom interviews. Depending on where you live and how the covid situation is, McDonald's will be back to in-person hiring. Though it is hard to say when it is going to happen.
When it comes to zoom interviews, you guys must know that it is more uncomfortable and harder than being in person. Because there are so many things you need to take care of like you don't want to interrupt people or want your computer to freeze. But, you are not going to be disqualified simply because you are uncomfortable or awkward on the zoom. No worries, they get it. 
Lastly, at the end of an interview, you have to fill a form stating your availability and if you have any upcoming holidays.
Orientation
On the orientation day, you will learn all that you need to know about the company. Your manager will give you a tour around the kitchen that you are supposed to work at. You will also be introduced to the important people of the company like the manager or some senior employees. On the orientation day, you need to do some paperwork so be sure to carry your documents like a photo identity card.
What are the perks of working as a cook at McDonald's?
1. They provide health insurance, dental insurance, life insurance, and occupational accident insurance.
2. They provide a 401(k) plan.
3. They provide performance-based bonuses.
4. They provide employee discounts.
5. They provide paid time off.
6. They provide paternity/ maternity leave.
7. They have flexible working hours.
8. They have a friendly work environment.
9. They provide free food occasionally.
10. They provide tuition reimbursement.
What are the downsides of working as a cook at McDonald's?
1. You have to be on your feet throughout your shift.
2. You have to work continuously. 
3. There might not be enough ventilation in the kitchen and you will get sweaty.
4. You need to pay attention to the small details while cooking.
5. There might be customers frequently complaining about the food.
6. The payment is not high enough for the amount of work it takes.
7. You are not allowed to wear acrylic nails.
Conclusion
McDonald's is the world's biggest fast-food restaurant chain. Working as a cook there will teach you a lot about things like time management, multitasking skills, or interpersonal skills. However, to be honest, the wage is not high enough for the amount of work it takes. 
Afterward, you will easily get a job as a cook anywhere else if you have McDonald's on your resume. 
So, this was all about the job description of a cook at McDonald's. Just go through the article and you will learn a lot about this position from the salary, working hours, duties, requirements, advantages, disadvantages, application process, etc.
Frequently Asked Questions
1. Can we become a cook at McDonald's without prior work experience?
Yes, you can still work as a cook at McDonald's even if you don't possess any work history. You will be trained on cooking all the items once you are hired anyway.
2. Does McDonald's pay weekly or biweekly?
McDonald's pays its employees biweekly.
3. Does McDonald's do drug tests?
Yes, you have to go through drug tests once you are hired.
4. Does McDonald's do background checks?
At the time of the interview, you will be asked to go through the background checks just to ensure you don't possess any criminal records, illegitimate habits, or poor reputation in the past.
McDonald's Cook Job- Description, Duties, and Salary