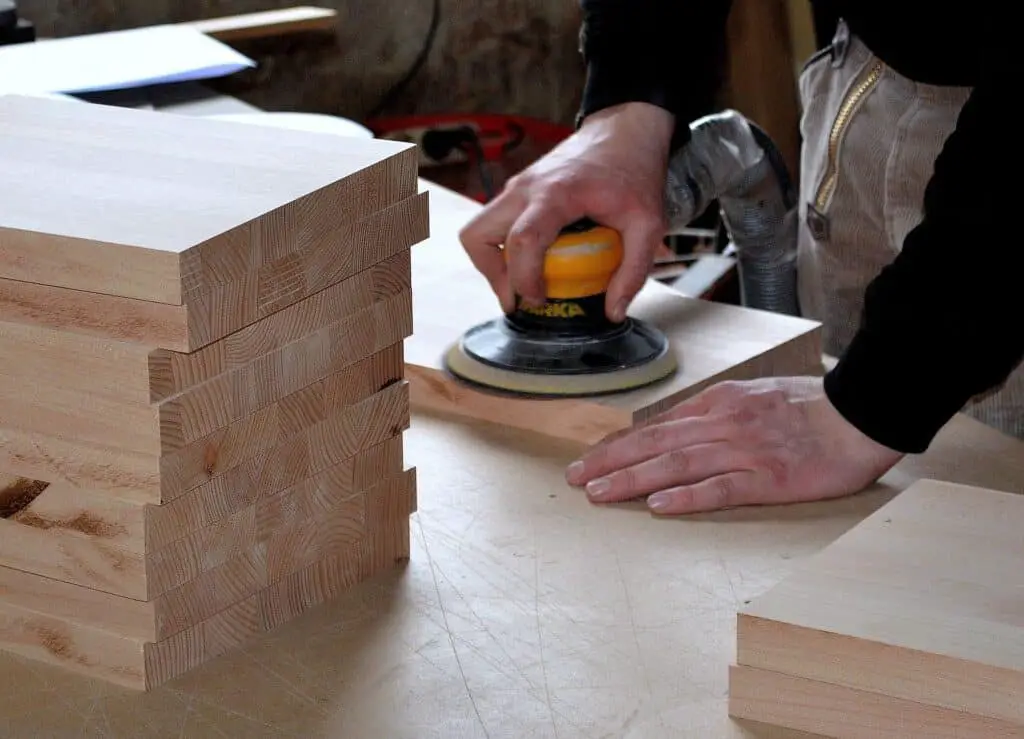 A cabinet maker is a skilled woodworker who specializes in the making of fine and high-quality wooden furniture. We will discuss Cabinet Maker Job Description here. Cabinet Makers are also called Artisans, Builders, and Craftsperson. They are self-employed or can be employed by furniture manufactures, construction companies, and contractors. Cabinet Makers' job involves building, repairing, and installing wooden cabinets, furniture, and fixtures based on client's measurements, specifications, and applications in homes and commercial offices. An artisan working in India earns around 31,900 INR per month, including housing, transport, and other duties. The cost needs of these workers are based on the construction techniques employed with detailing and the customization involved in making the cabinets. The cabinet maker job market is expected to grow by 2.3% between 2016 and 2026.
Cabinet Maker Job Description
To set up and operate different kinds of woodworking machinery and to be able to handle various hand tools to fabricate and repair wooden cabinets to cut, shape, and form wood, and also selecting appropriate materials and fittings for each job site.
Follow the blueprints of furniture to be articulated and plan the sequence of actions involving cutting or shaping. 
Taking proper measurements of interior space, installed the cabinets according to the room's specifications, and created standard and custom components.
To be able to repair the elements of the cabinets that have been sent for servicing.
To use protective and decorative elements such as varnish, paint, and sealant if required.
To ensure that each component of the cabinet is constructed accurately and required touches are given.
Completion of the order of cabinets within deadlines.
Providing quality customer service and advising the customers on proper care of the furniture.
To install hardware such as hinges catches and drawer pulls.
To wear the stipulated uniform in the workplace and take all the necessary precautions to remain safe. 
Job Specifications of a Cabinet Maker:
The job specification of an artisan involves two basic things that are the qualifications needed and the requirements desired to be a professional cabinet maker.
To hold the diploma of High school or an equivalent GED certificate.
Completion of a woodworking training program or a cabinet-making apprenticeship will be an added advantage.
Prior experience of a minimum of two years as a cabinet maker with a history of completed works.
To pay attention to detail and work with a variety of power and hand tools and read blueprints.
Strong communication and arithmetic skills are needed.
To be able to work effectively with a team and to provide good customer service.
The ability to deliver quality furniture in tight deadlines.
To have the ability to choose the right materials, visualize schematics for the appropriate furniture.
To have good physical fitness that includes lifting heavy weights and ease of movement.
Duties or Tasks of a Cabinet Maker:
To build and repair all varieties of wooden equipment such as cabinets, tables, bookshelves, chairs, bulletin boards, etc.
To operate different kinds of machinery such as a planer, joiner, ripsaw, shaper, band saws to assemble and install the furniture.
To fabricate special types of wooden parts, components and repair windows.
Outlining and cutting of wood as per the dimensions given and making sure those measurements are accurate.
Maintenance of all the machinery equipment in working condition and staying under the budget.
To use adhesives for fitting of different cabinet components and applying polish to make ready the furniture.
Selection of appropriate materials and tools and checking the alignment of door handles and side panels.
To sand the surfaces of the wooden parts to remove any evenness.
To maintain the inventory of materials and requisition of purchases as needed for future projects.
To design furniture with the help of computer-aided drawing programs.
To program the computers to operate machinery and program the equipment to perform production tasks efficiently.
To apply Masonite, Formica, or vinyl surfacing materials on the wooden materials.
Money a Cabinet Maker Earns:
The following gives details about the hourly pay of a cabinet maker based on his experience according to pay scale.
An entry-level cabinet maker(less than one year experience) is expected to earn an average of $13.41 per hour of total compensation, including tips, bonus, and overtime pay based on 25 salaries.
An early career Cabinet Maker with 1-4 years of experience is expected to earn an average of $15.11 based on 246 salaries. 
A mid-career cabinet maker with 5-9 years experience earns an average total compensation of $17.45 based on 152 salaries.
An experienced Cabinet Maker with 10-19 years of experience earns an average total compensation of $19.59 based on 155 salaries.
Cabinet Makers with more than 20 years of experience earn an average pay of $22.
Frequently Asked Questions:
What is the average yearly salary of a cabinet maker in the United States?                                                  

Cabinet Makers can earn an average yearly salary of $33,089. The wages can start from $22,059 and can go up to $49,633.



Compare the salary of cabinet makers to other similar careers.                                                              

The cabinet makers make more money than furniture furnishers but less than carpenters.



How to become a qualified cabinet maker?                                                                                                    

Most of the cabinet makers have a trade qualification that is often completed as a part of an apprentice program.
Completing a Certificate III in cabinet making (MSF31113) offers specialized pathways in furniture, bathrooms, or kitchens. These pathways will open up opportunities and provide the specialized skills needed to undertake the requisite work.
Completion of Certificate III in Furniture Making (MSF30213) through a TAFE or a registered training organization.
To gain hands-on experience in the workplace by training under the supervision of qualified Cabinet Makers.



What are the work conditions of Cabinet Makers?

The work conditions for a cabinet worker are:

The standard workweek allotted is 40 hours.
He works indoors, with a team, or alone or with helpers.
This job can be physically demanding and can often require working with high-speed and hazardous equipment.
The workers have to wear protective gear such as goggles and are often exposed to uncomfortable sounds and noises. 
Also read Cabinet Maker Job Description: A Professional Wood Maker
Latest Cabinet Maker Job Description – Duties & Salary