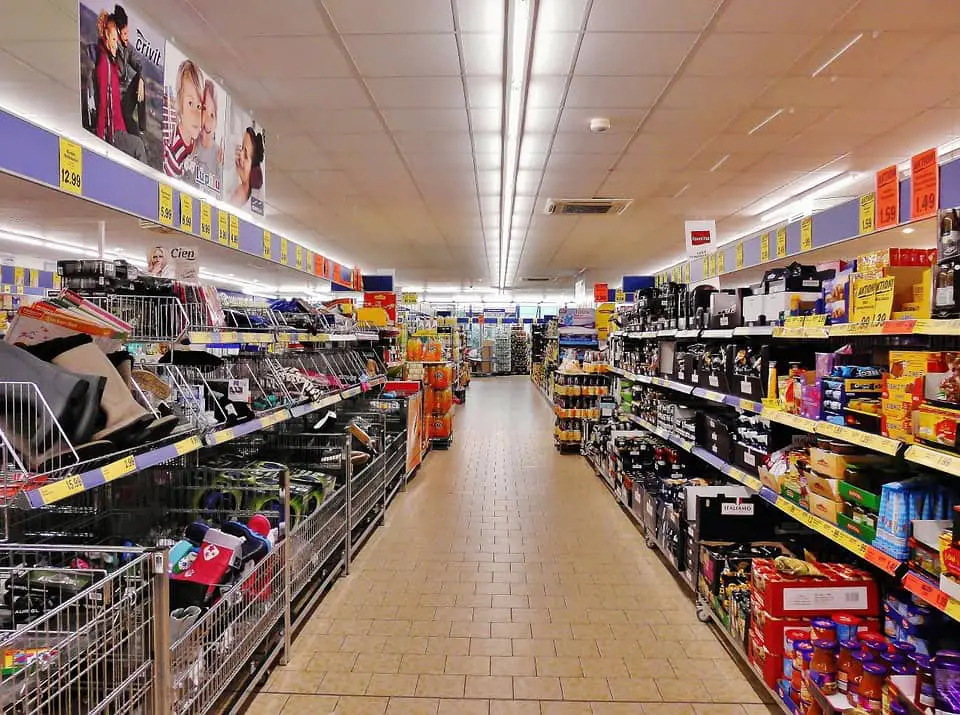 South Eastern Grocers Inc. (SEG), parent company and home of BI-LO, Harveys Supermarket, and Winn Dixie grocery stores. We will discuss Harveys Supermarket Careers here. It was established in 1924 and is one of the largest supermarket companies in the United States. They are located throughout southeastern states- Alabama, Florida, Georgia, North Carolina, South Carolina, Louisiana, Mississippi.  They were #31 in Forbes 2015 ranking on America's largest private companies.
WHY WORK HERE?
If you are looking to work for a value-driven company with its proud history, deep heritage, and is a well-respected brand, then Harveys Supermarket grocery stores and in-store pharmacies are the places to be. You are allowed to provide the best services to the people while being part of their community. A community you will be part of to be your authentic self gives you creative freedom, celebrates your ethnicity, and is culturally inclusive.
Harveys Supermarket grocery stores and in-store pharmacies are a subsidiary of southeastern grocers, one of the largest supermarket chains based in southeastern states-Florida, Georgia, North Carolina, and South Carolina. The company was certified as a great place to work by a survey conducted by the 2019 U.S National Employment engagement study [1].
Harveys Supermarket Careers
There are three main career areas which you can apply for:
Retail Careers
Pharmacy careers
Corporate careers
Internship
RETAIL CAREERS
The primary job responsibilities for an associate are customer service and support. You have to be prompt with customer requests, provide suggestions about products and assist them appropriately. Managing stock, ensuring product freshness, maintain supply to the store, supply cost, and operating various equipment and tools are some of the other tasks you will be required to complete daily.
The individual should demonstrate strong communication, organizational skills, and an ability to deliver customer service expectations. You should be proactive, proficient enough to handle accounts, troubleshoot problems, and comply with company standards and policies.
Qualifications required for associates:
Should be 18 years of age 
Ability to write, speak and understand English proficiently. Maintain a high standard of integrity, knows basic etiquette, and must be friendly.
Must be authorized to work in the United States
The candidate should have a clean personnel background and complete pre-employment drug testing.
The salaried manager will lead, manage, and the team members and associates, to execute various operations on the stores while ensuring a friendly atmosphere in the workspace. They have to manage inventory, address customer complaints, resolve their issues with patience and humility. They have to manage inventory, address customer complaints and resolve the issues.  Take part in the company's recruitment process to select the best-qualified members for your team, by the company's established guidelines.
Ensure the recruits receive the proper training and orientation and observe their performance over time. The ideal candidate should be a natural leader who can identify their member's qualities, work together and establish an efficient work environment.
PHARMACY CAREERS
A pharmacist's role in the public health care system is just as important as that of a physician. For the general public, small ailments and chronic illnesses such as common cold, allergies, and other smaller health issues, they are the first consultants in the field whose advice the general public considers. The position responsible for assisting the pharmacist in preparing and filling prescriptions, greeting and assist customers, manage the medical inventory, which includes
Labeling and pricing the medicine
Entering patient information and their medical details, background information into the computer
Manually organize patient files and records and operate the cashier terminal.
A pharmacist's role in the company would help the candidate build a career in a retail environment. These are the positions you can apply for in Southeastern Grocers.
Pharmacy Technician: The main responsibilities for this role are to assist the pharmacist in filling the prescriptions, entering patient information, handle daily merchandise orders, organize patient records, operate the cashier terminal.


Hourly Pharmacist/Floaters: In addition to maintaining the same job responsibilities as the pharmacy technician, the job requires you to travel to administer vaccines at various locations complying with all federal and state pharmacy laws and regulations. 


Salaried Pharmacist: This position is for experienced pharmacists. A pharmacy specialized degree is preferred.


Pharmacy Management: The pharmacy manager has to supervise the pharmacy's associated operations, consult and advise the patients on their prescriptions.  The manager would be attending the district meetings, communicate with health care professionals about patient needs. Perform medication therapy management, oversee usage and maintain records of controlled substances, conduct monthly quality improvement meetings and associate audits.
Qualifications:
The candidate should be a minimum of 18 years of age
Successfully certified pharmacy technician certification board exam (PTCB) for technicians.
Should possess experience in customer service, a degree in pharmacy, and previous experience as a pharmacist is preferred for the managerial posts.
Must be registered with the board of pharmacy
Should be proficient in English and should be able to understand and follow instructions efficiently.
Should be authorized to work in the United States.
Should have a clean personal and professional background. They are required to complete a pre-employment drug test.
CORPORATE CAREERS
Corporate positions are located in their Jacksonville support center. The various departments are:
Administration
Administrative support
Asset protection
Central procurement
Finance/accounting
Human resources
Information technology
Internal audits
Legal
Logistics
Marketing/advertising
Merchandising
Corporate hourly salaried pharmacist
Store operations 
Supply chain
Real estate facilities
These are some of the positions open in the corporate sector. 
The purpose of the job is to review lease provisions and legal documents for company store locations. They interact with tenants on behalf of landlords. A lease specialist helps potential and existing tenants view properties and rental spaces and lease the property by negotiation and renewal.
The ideal candidate requires a bachelor's degree in Business administration, finance, and accounting. The job requires personnel with three-year experience. Apply here.
The director of food safety will provide scientific expertise regarding food safety regulations and quality systems to protect the brand. You will oversee and manage all retail, stores, and center operations through sanitation and food code compliance and implement the best food safety practices. For a candidate to apply for the role, require a Bachelor's degree in Environmental or Food safety science, a Master's degree in food science, Biology, or Microbiology, and more than ten years of work experience. You should also possess certification in Professional Food safety Designations (CPFS). You can check out the opening here.
Internal Communications and Events Specialist
The job responsibilities for this position include supporting the internal communication and event teams, participating in planning and coordinating company events, developing well researched and written digital content, for example, company newsletter for actively informing associates, the company strategies and initiatives, company's vision and values. It would be best if you had a bachelor's degree in communication, marketing and a minimum of four years of relevant experience in the field. The candidate should be proficient in Microsoft Office, Photoshop illustrator, adobe suite, and design software packages. You can apply for the position here.
These are just some of the openings available on the company website. Check more open positions in their other departments by following the link below.
https://www.segrocers.com/Careers/corporate-careers
How to Apply for an Opening
The first step is to create a candidate profile through the company's career website. Apply for the position you are interested in through the keyword filter field. Ensure you submit your resume through the candidate profile. It would be best if you satisfied the minimum qualification for the position.
A member of the hiring team may contact you via email or phone. They will schedule an interview through phone for store staff positions or schedule an interview in-person for higher positions.
You can also walk into the store(s) you are interested to work in and have a direct meeting and introduce yourself to the store director. This will surely set you apart as a candidate, especially if you are interested in support center roles. 
If you are in any trouble regarding the application process, please contact HR. The contact details are available on the website. You can apply for the open positions by following the link here.
Internship Opportunities
Southeastern grocers provide internship opportunities for talented, motivated, and young individuals. Summer's camper 2 careers program is a paid ten-week internship experience for young talents looking to develop a retail & service sector career. The company offers employment for students and other young talents after the internship period by examining their performance. The ideal candidate for the role should be excellent in customer service. They should have good leadership qualities should be exceptional in team-building activities. The link to apply for the intern is available on their parent company website. The procedure to apply is the same as for other General positions. You have to build a profile on their website. The link to apply for the 2021 internship are available on the company website. The various departments in which you can apply are:
Finance
Accounting
Marketing
Merchandising
Instructional design
Human Resources
Quality assurance and food safety
Asset Protection
Strategic sourcing
Information security and information technology
Supply chain
The internship also provides benefits such as associate discounts at their stores, networking with professionals in various fields, exposure to events that will help you improve leadership skills, and build a community with like-minded people.
Apply for the  2021 internship here.
COMMONLY ASKED INTERVIEW QUESTIONS:
Tell me about yourself. Discuss your recent education, previous work experiences, skillset you have acquired following the experience how you came about the job poster—the reason which prompted you to apply for the role. Keep the answer short, but be specific.


Why do you want to work at Harveys Supermarket? When answering such a question, you should focus on how you can contribute to the role with your previous skills and experience.


What is your experience in the retail business? State your previous work experience and skills and how you can use them in context with the role you have applied for.


How would you deal with an upset customer? The communication and behavioral skills you have and how you would utilize them when dealing with an upset customer.


Where do you see yourself in five years? The skillset you intend to develop by working on this job; reflects your plans, ambitions you will achieve by working for the position. 


Why should we hire you?


How can you offer good customer service?


Tell us about when you had a conflict with another employee and how did you handle it? A very common question asked during the interviews, especially when you work as an associate in a setting where you have to maintain good customer relations and with coworkers in the team. This tests how good you are in interpersonal skills. How do you handle difficult situations?


Why do you think you will be a great addition to our team? Explain how you can work with others in a dynamic environment and the work relations and deal with customers. 


What are your strengths and weakness? The important point to keep in mind is to talk about your strength, qualities in context to the job, your strength in skills-what is it you are good at? Weakness, how did you rectify it or plan to do it, thereby fulfilling your company's role?
Use the official website and learn about the stores, the type of customers which comes in. Educate yourself about the retail grocery industry. Understand the job responsibilities of the position. Prepare answers for the questions given and stay up-to-date on various open positions on their website.
SALARY DETAILS 
The salary details for various roles in different departments are:
Sales associate -$9/hr.-$14/hr.
Cashier-8-12/hr.
Customer service associate-9/hr.
Store manager-$81,068/year, additional pay: $10,019/year.
The average base salary for a Pharmacist starts from $54/hr.
In addition to the salary, the company provides various benefits which include medical insurance, dental insurance. For more details contact their support team.
Also read Postsecondary nondegree award – Career Opportunities
Harveys Supermarket Careers – Job Application, Salary, Age & Interview Questions