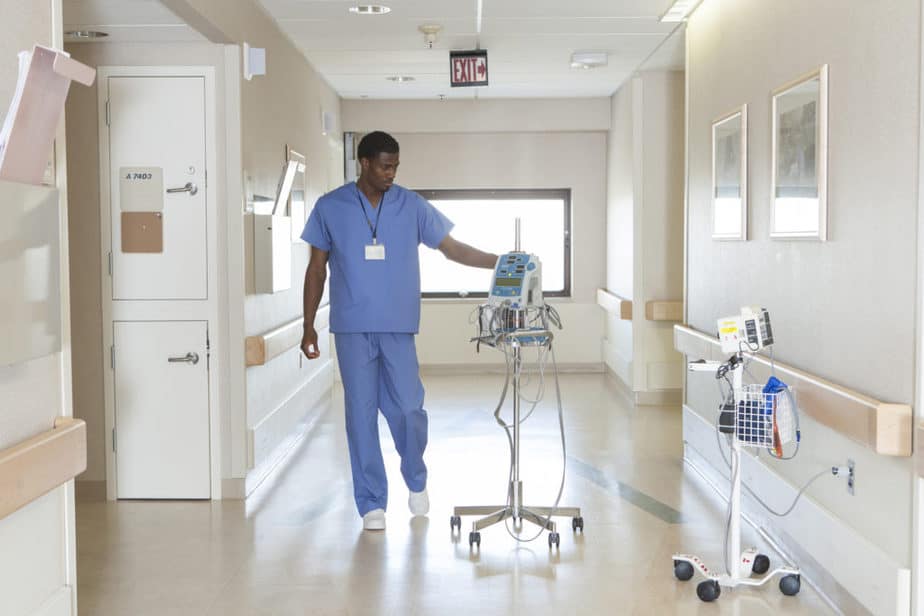 All the medical dramas, be it Grey's Anatomy or House of M.D focus solely on doctors. Never do we see the diligent nurses getting their dues. Jokes aside, becoming a nurse is a dream of many. One of the core members of a medical team, becoming a nurse is one of the toughest professions to be in. One has to clear multiple exams, burn the midnight oil, and not forget the copious tuition fees. But irrespective of that, many people still choose to become nurses and serve people. So, if your curious mind is seeking the answer to "Do Nurses take an Oath?" We do have an answer. Continue reading the whole article to find out more about the nursing profession and how you can become one.
Do Nurses take an Oath?
No. Nurses don't take Hippocratic Oaths.  Hippocratic Oath is a document written by Hippocrates which is considered to be a sacred document to physicians and doctors. Nurses, on the other hand, swear to the Nightingale Pledge written in 1893 by a committee headed by Lystra Gretter. In Nightingale Pledge, nurses pledges to themselves to god, practice profession faithfully, abstains from anything deleterious, and are mischievous, maintain and elevate the standard of the profession, showing loyalty to aid the physician in work.
Education
To become a practicing RN (Registered Nurse), one has to join a course and graduate from such an accredited program. One can choose to do either nursing diplomas, associate degrees, or bachelor's degrees. Besides that, one has to clear the National Council of State Boards of Nursing's National Council Licensure Examination. The exam consists of 75 questions that test one's knowledge. 
A bachelor's degree in nursing takes 4 years to complete. However, if you have your RN first, then it is only 2 years.  RN (Registered Nurse) is of 1 year. But RN has limited career options. They also get paid less than BSN nurses. 
After studying and clearing the exam, one needs to obtain a state license to practice.
Job profile
Nurses have a diverse role to play in medical practice. They take care of the health of a patient and do administrative work such as compiling accurate medical records of patients in the database. The other type of work includes but is not limited to is ordering medical tests, monitoring, reporting symptoms of a patient, or any changes in the condition. Nurses also require to observe the patient's health and modify treatment plans in consultation with doctors. Apart from that, managing, implementing, planning, or evaluating patient nursing charts and plans with fellow nurses. 
The day-to-day working of a nurse consists of physical examination of patients, listening to patients and care for them, drawing blood and other health-related testing, checking for patient's vitals from time to time. There are pre-care and post-care involved that are looked at by nurses only. In simple words, we can say Nurses are doctor's eyes and ears when they are not around.
Skills
Nursing means caring. So it is obvious that people who are into the profession of nursing must be caring and emotionally strong to look after patients. Anyone who wants to become a nurse must be compassionate and strong-minded. 
They need to possess excellent medical knowledge, are energetic and quick decision-makers when needed. They need to have a professional and friendly attitude. Apart from that, they should be familiar with medical devices and have thorough experience in using them. Handling and injecting needles, drawing blood and other tests should be done effortlessly. Empathy, versatility, and open-mindedness are some of the traits required in a nurse.
Salary
The salary of a person in the nursing profession is solely dependent on experience, education, and demand. According to the U.S. Bureau of Labor and Statistics, a Registered Nurse (RN) can get $77,460 p.a. Highest salary a Registered Nurse can get is $113,240 in California.  
In the nursing industry, Nurse Anesthetist (CRNA) makes the highest amount in comparison to other nursing jobs. The mean salary can be $181,040 according to the U.S. Bureau of Labor and Statistics 2019 report.  The second highest place after Nurse Anesthetist (CRNA) is Nurse Midwife (CNM). The mean salary is $108,810.
Who earns more: Doctors or Nurses?
The demand for salary hikes has taken huge support from nurses across the United States in recent times. It all depends upon the experience. In the beginning, the salary of a doctor and a nurse varies. The entry-level doctor can earn $60,910 whereas an entry-level nurse earns about $81,000. 
However, if we speak about the Average Annual Salary after a couple of years of experience, then, after 5-9 years of experience a doctor earns $206,500 annually. For a Nurse, the salary after  5-9 years of experience is $109,820 annually. The highest salary given to doctors and nurses is in California where they can expect to earn around $210,140 and $138,660 respectively. Michigan is the lowest salary state for doctors and nurses with $168,190 and  $108,660 respectively.
What is NCLEX-RN?
NCLEX-RN The National Council Licensure Examination is the examination for nursing practice in the United States of America, the UK, and Australia. The test determines whether one is eligible and safe to practice as a nurse. Nursing test reviews and analyze your nursing school knowledge. It checks your critical thinking skills to make nursing judgments.
The exam pattern consists of multiple-choice, fill-in-blank hot spots, chart/exhibit, and drag-and-drop. Candidates sitting for this exam will have five hours to finish the tests. One can expect to get the result within six weeks.
What are the top nursing colleges in the US?
Here are the top nursing programs offered in the United States. The list has been divided into best bachelor's and Master's programs.
Nursing Bachelor Programs
University of California-Los Angeles
UCLA offers a nursing program to students who have a minimum  3.5 GPA. The course is of four years. Anyone with first-time freshman and junior-level transfer can apply to this course. The application opens in January where you need to submit the UCLA School Application including Statement of Purpose, Resume, and two Recommendation Forms. 
Make sure to check out the deadline before applying for the course.
University of Michigan-Ann Arbor
One can go to commonapp.org to fill the application form. To become part of their nursing program, you need to fill the application with a prescribed fee of $75. Following documents are required to be submitted with the application form
School Report (Common Application) or Counselor Recommendation
One academic teacher evaluation.
Official high school transcript.
Standardized test scores i.e., either ACT or SAT
To know more about the nursing program go to https://nursing.umich.edu/. 
Georgetown University
It offers an amazing nursing program for students around the world. The students in their four years program will understand complex subjects such as biological, physical, and social sciences; and nursing theory. They will be spending 850+ clinical hours in a variety of clinical settings. One can go to their website to know more about the program.
Nursing Masters Programs
Johns Hopkins University
It is a private university offering the best nursing program in the US. John Hopkins offers two types of program by one's educational history
If you have a bachelor's degree other than nursing, then you can choose MSN (Entry into Nursing) Program. However, if you have a bachelor's degree in nursing then go for DNP Advanced Nursing course
Duke University
It provides 11 specialty courses out of which 8 are advanced practice registered nurse majors and three non-clinical majors. For fall, the deadline to apply is December 1 while for the spring session it is May 1. Apart from that, you would also require three professional recommendations. 
To know more about the program check out their website https://nursing.duke.edu/.   
Emory University
To enroll in their Nursing Master's program, you need a bachelor's degree in any other discipline. You need to fill out the form with a fee of $50 with an official transcript from each school attended and resume. 
What should I become: A Nurse or a Doctor?
It solely depends upon a person's ability, interest, and level of skill set. One can achieve anything one wants. However, for that one has to develop such skill sets and knowledge. So try to introspect about what skill sets you to have. If you are more inclined to become a doctor then pursue your course of action accordingly. To become a nurse, one has to follow a different route. Decide early in your career what you want to become to avoid wasting time. Both Nursing and Medical practice have pros and cons. Decide for yourself what makes you happy. 
What are the downsides of becoming a Nurse?
Every career has some negative aspects to it. Nursing is no different. So here are few examples where nursing might not be a good career choice
Long working hours
End number of studying and examination
Late nights at the hospital
Sometimes undervalued
Stress and emotional strain
Exposed to germs
Less vacation time
Physical demand and stamina required
Difficult working conditions
Low pay
However, there are good aspects to it as well. Decide wisely before making any decision. 
Conclusion
Going to nursing school is no piece of cake. One has to study an equal amount of time and put in the effort that one would do for a medical examination to become a doctor. There is no comparison about which option is better. Doctors can't survive without nurses and nurses need doctors to diagnose the patients. So, if you are planning to go to a nursing school, make sure to read and research about the industry. As there are no shortcuts in life, one must study and work hard. One can become a nurse if one follows the guidelines and tries to incorporate the skills set that are necessary to become a successful nurse.
Frequently asked questions
Q. Can Men Become Nurses?
Yes. Nursing is a non-gender profession like doctor and lawyer. One need is knowledge and a compassionate attitude to become a successful nurse.
Q. Can I become a Nurse without a degree?
No. To practice as a nurse in the United States, one has to clear The National Council Licensure Examination (NCLEX-RN). And, to sit for this exam you need your degree either associate's or bachelors. 
Q. What is the punishment for practicing as a nurse without a degree?
One can be charged with a misdemeanor, though felony charges are possible. In case you practice without a license, one can expect jail up to 1 year in case of a misdemeanor. If it is a felony, then as long as 10 years or more. Apart from that, one can also get a penalty that can be $50,000 per offense or more.
Q. Who was the first practicing Nurse in the US?
Linda Richards was the first professional Nurse. 
Do Nurses take an Oath?- Description, their Skills, and Salary