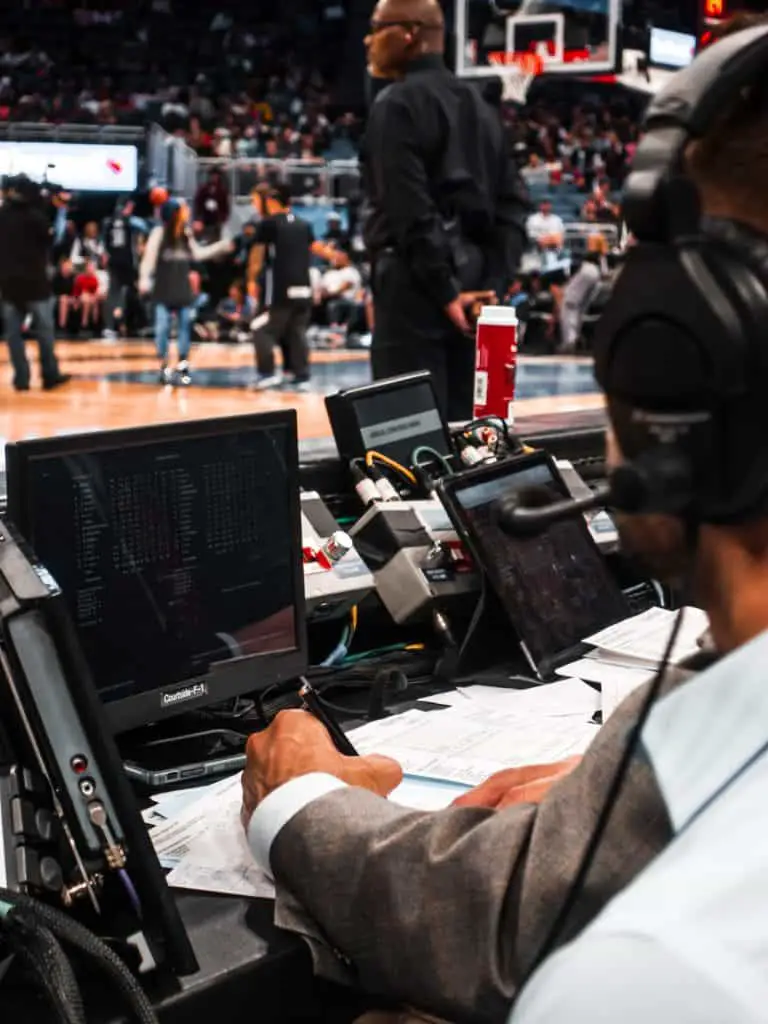 A sports analyst is a person who takes command over the commentating aspect of sports. They either work as a sportscaster or a journalist who creates a report on sports. They get hired by media companies whose prime focus is to follow every detail on sports and every historic or current event related to it. They keep track of sports statistics. 
Become a Sports Analyst
Do you want to become a Sports Analyst? The first thing to keep in your mind is your passion. If sports are what you are passionate about, then you sure can have a career here. Though love for sports is considered an important criterion, other relevant education, training, and experience play a major role in building a career as a Sports Analyst.
Responsibilities of a Sports Analyst
A job as a Sports Analyst provides an opportunity to combine communication skills with knowledge of sports. It requires research for the same. A regular follow-up on the sports events, creating a report based on that, and eventually combining knowledge and statistics to address a large audience even about the minute details related to the game are the most important duties of a Sports Analyst.
Since most companies that hire a sports analyst are media or publishing companies, it is of utmost importance to have great communication, writing, and delivery skills. Some of the sports analysts integrate themselves into a company and work full-time under it. At the same time, the rest of them like to work independently as contractors by connecting to publishers to sell their stories. The difference here lies in the skills an individual carries. A good experience and a good number of degrees that act as leverage while applying to an online media or publishing company prefer to work under those companies. On the other hand, individuals who like being independent while working and are confident enough about the skills they carry opt to work by themselves.
Being a sports analyst is not an easy task. Every day is a new challenge. There's no particular workplace. The locations vary according to the sports event. So, if you are thinking of it as a career, you should be okay with varying locations and traveling to those locations. The work of a sports analyst requires innovation, creativity, energy, patience, and one should know to tackle a high-pressure environment.
Steps to Become a Sports Analyst
To be a successful Sports Analyst, one must have relevant experience, skills, and training.
In this section, you will get a clear idea of the requirements to be a successful sports analyst.
It is obvious to state that you need to have a degree relevant to the field to pursue it as a career. This step is the first to accomplish in the journey. 
The degree in itself has a wide range to choose from. The choice depends on your idea of your future. If your interest lies in the broadcasting aspect, you can go for a degree in journalism, communications, broadcasting, or any other relevant field of study. Likewise, if your interest lies in the statistics part of sports, a degree in statistics or math would be more relevant.
The above degrees are the most common ones to pursue. However, few companies also accept some other degrees such as Bachelors in Political Science or English. It is always an asset to have some additional side courses done to increase your chance of success as a sports analyst. The courses can be marketing, public speaking, broadcast news writing, public relations, etc. Courses in digital marketing, coding, and multimedia design help the media students with graphics, audio, and data to develop stories across multiple platforms.
The second factor is to gain experience. 
Having experience in your work always act as leverage in your resume. There are many ways you can gain experience from. The simplest one is to look for internships.  Internships will help you with the important training and exposure in the field you would enter. It can help you to fetch potential contacts that will increase your chances of employment after college. It will look good on your resume as well.
There are several ways to find an internship. You can contact your college placement cell or professors for the same, or join a college group where you would get to know more about internship options. Get involved in sports and co-curricular. As mentioned before, the work of a sports analyst requires keen observation in every game or event. You need to have great knowledge of sports. You can accomplish the criteria by getting into sports. It will help you to eliminate competition in the highly competitive broadcasting field. Getting involved in the school newspaper team or journalism department is another way to gain experience. Schools and Universities have a broadcasting program that gives exposure to students in the journalism field. Having enrolled in these programs can help you with your experience, and it will also add up to your resume.
The most important task is to create an impressive resume and portfolio.
This step is the lifeline to find a good job. The more you create an attractive resume, the more you increase your chance of getting employed. While creating your resume, you must include the relevant experiences you gained. This can include your internships, students club, or volunteer work. The portfolio should be designed such that it should speak on behalf of your experience. The company should get an idea of you and your skills while having a look at your resume. It can also include projects created as a team or a project created on your own. You can take references from various sources while creating a portfolio, but what matters the most is creativity and uniqueness. You should not fake anything. Remember to mention the skills which are polished and you are good at. Your resume is always your first impression in the eyes of the employer. So, you would want your resume or first impression to be impressive.
Once you are done creating your resume, you can start your job search and start applying.
The key factor here to focus on is always looking at the requirements and relevant skills section of the job vacancy you are applying to. This will improve your chances of selection. Don't apply for jobs where you cannot fulfill the minimal requirements. It would just be a waste of time. Every second matter, so utilizes it wisely. The job search process can be exhausting and disappointing at times. But your efforts will make a difference here. The broadcasting field is very competitive. If you are a fresher with less or no experience, then apply for entry-level jobs. You need to work under someone at first to gain the relevant training and experience. Keep an open mind for every opportunity that is coming your way. Any little opportunity can lead you to your dream path, so never give up. Eventually, you will be living your dream.
Advancement opportunities are always a fair deal.
Sports Analysts who have been in the field for a longer time and have gained a good amount of experience get eligible for such advancements. Within the organization you are already working in or an opportunity to shift to a bigger market. These opportunities are tough to fetch and once you get hold of it, keep in mind that these opportunities come with new responsibilities and challenges. These advances allow you to polish your skills, learn something new and also offer higher pay. Experience plays a leading role here. You do not have to focus on finding such opportunities. It will come your way once you start working religiously in your field.
How Much Does a Sports Analyst Earn?
According to the Bureau of Labor Statistics reporters, the average salary of broadcast news analysts comes to around $43,490 per year in the United States.
Other relevant job titles and their salary:
A News Reporter earns around $38,647 per year
Radio Announcer earns around $14.73 per hour
Broadcast Engineer yearly salary comes around $62,635
Whereas, Reporters earn around $42,509 per year
The salary of a sports analyst can go as low as $41,000 per year to as high as $120,000 a year, according to Glassdoor. These figures can help you have an idea of how much one can make as a sports analyst. However, salary information can never be precise. It depends on various factors such as your job location, the experience you carry, your resume, and the courses you completed for the same. Entry-level jobs for freshers do not have much salary to offer, but you can use the opportunity to gain experience so that with due course of time you reach your expected salary. You can always look and explore new opportunities to polish your skills and train well in your field.
Frequently Asked Questions
Often people come up with questions related to becoming a sports analyst. Here are the most common questions asked, along with the answers. This will help you clear your doubts.
What skills are required to be a sports analyst?
Here is the list of skills required to be a sports analyst. Computer skills are of utmost importance because their work requires a lot of editing and creation. Stamina or energy is needed to keep up with the broadcasting industry's high pressure and fast-paced work. Their work can be stretched for hours. You need to have a curious mind to follow up on events and create stories and reports continuously. It is a continuous process. As mentioned before, communication skills carry a great weightage here. Journalists are asked to communicate all over broadcasts and media in front of an audience. Unbiased nature is required so that every cast, race, or person with the same amount of respect. It is necessary to publish a genuine researched story. Last but not least, interpersonal skills. Having a good network can always work in a journalist's favor. Moreover, teamwork is needed to work efficiently. So, it is important to maintain a good, healthy relationship with colleagues. 
What is the employment scenario in the field of journalism?
This question has no precise answer, but there has been a 10% decline in the employment of reporters and broadcast news analysts over the next decade. The decline is due to a decline in advertising revenue in radio, newspapers, magazines, and television.
Will I get to travel after becoming a sports analyst?
Sports analyst jobs require a lot of traveling to a varying location that depends on the events you need to attend to create a report and analysis. However, the frequency and distance to travel depend on other factors, one of which is your workstation location. What designation you have also played a major role. It also depends on the category of your job.
Do I need to have a degree for a sports analyst job?
In almost every field, employers ask for an undergraduate degree relevant to the post you apply for. Having an undergraduate degree is a minimum requirement. For a sports analyst job, the employer usually prefers a degree in journalisms or statistics. Some candidates work on their resumes better by adding up some experience certificate and degree. This increases their chances of getting seen by the employer. At the same time, some of the candidates focus on pursuing additional courses to polish their skills.
Job Profiles for a Sports Analyst
If you focus on researching more about a sports analyst, you will find ample vacancies in the United States. Some of the big cities such as New York, Texas, Las Vegas have greater job opportunities. Some of the most common job profiles are;
Sports Performance Analyst
Investment Analyst
Digital Sports Analyst
Football Video Analyst
Revenue Analyst
Sports Science Data Analyst
Business Analyst
Boxing/MMA Video Analyst
Customer and Technical Support Analyst
Strategy Analyst
Inventory Analyst
Likewise, you would find many other job profiles relevant to those mentioned above in many other cities. You can go through the job vacancies, compare your skills with the company's requirements and if you feel you can do justice to the work, then feel free to apply.
Remember, establishing a career is never an easy path. It requires patience, effort, and hope. Failure is always a lesson, so try hard until you are satisfied with your achievements. 
How to Become a Sports Analyst in 2021?