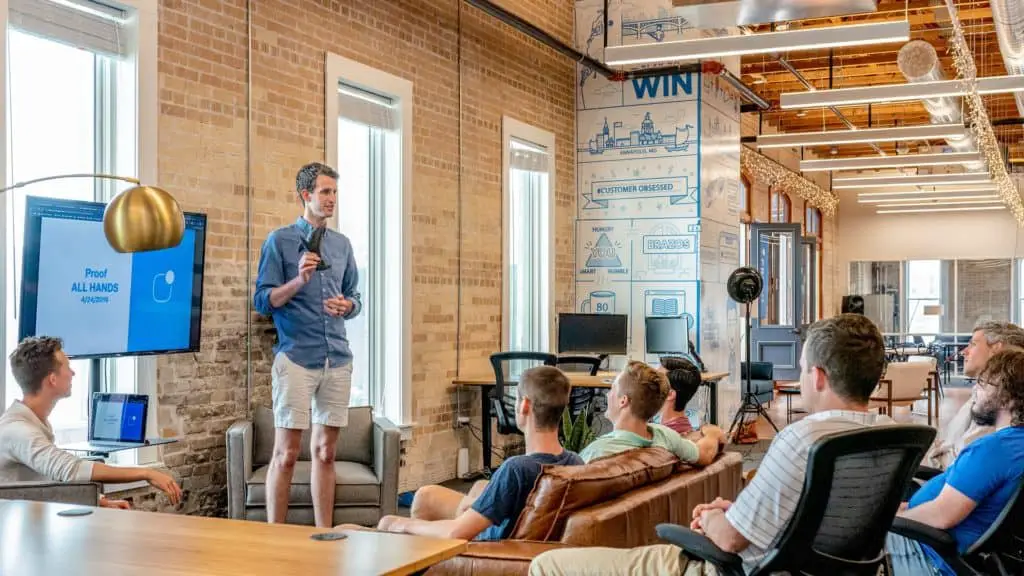 This is a definite question you can expect when you're taking a Product Manager interview. So, knowing and practicing better with common interview questions will help you excel in the interview. You can start by listing out your abilities and skills that can help you as a Product Manager. Besides your skills, showing how passionate you are will give you an edge. You have to be confident and swiftly answer all questions asked in an interview. There's a lot more to know about the Product Manager role and the method of answering interview questions. Continue reading the following sections to comprehend them all. 
Why Do You Want To Be A Product Manager?
Whichever job interview you go to, the interviewer will ask 'why you want to do that job?' or 'why you want to join their company?' These questions will give your interviewer an idea about how you will work in their company. There is no single precise answer for the question, 'Why do you want to be a product manager?' that fits every individual. But there are some essential tips that you can utilize while answering.
Know Your Skills And Abilities
Whenever a person knows his strengths and weakness, they are most likely to succeed than others. Therefore, it is better to start with your abilities and skills list while answering the 'Why do you want to be a Product Manager?' question. So, if you have prepared them beforehand, you will plausibly not waste any time thinking. Then, to make it better, go through the below list with essential skills or abilities required for a Product Manager.
Leadership
Effective Communication
Negotiating Ability
Technical or Marketing Expertise
Problem-Solving Skill
Research and Analytical Skill
Quick Learning
Objective Formulating and Prioritizing Objective
Strategic Thinking
Although somewhere or the other, these skills will be required in your Product Manager job. It is wise to ask yourself a question whether do I possess this skill/ability. Don't tell all of them to impress your interviewer. The following section will prove that you shouldn't lie about your skills.
Skills And Practical Implications 
It is not at all appealing when you tell a list of your skills/abilities. Your interviewer can find all those details in your resume. But you also cannot miss out on this part. The key is, you have to tell your interviewer your skills along with some practical implications. It can be any small incident in your life. If you don't think you have such incidents, you tell how that specific quality will help you as a Product Manager. For example, you can speak about your experience as a leader in your school or college to illustrate leadership skills.
You can also tell them a single situation where you had to apply a bunch of your skills.
Don't elaborate too much; keep them all short and simple.
Never exaggerate things while explaining any incident.
While trying to shorten your answer, don't just try to give an overall picture. Be more specific but short at the same time.
Here is another example of how you can keep your answer short and specific simultaneously. When our college project took too much time, I prioritized and cut down on unwanted tasks, which helped us complete them faster. This shows my problem-solving skill and prioritizing ability. 
Passion Can Make A Good Finish
This part is the most relevant and is the direct answer to the question. If so, why we have to speak about our skills and abilities? That is like an initiation to your actual answer. You must also know how to glue both the parts so that together they make good sense. Let us see about this in more detail.
You can tell the interviewer how the skills/abilities you have said before fed your passion to become a Product Manager.
Next, you can add details about something you learned specifically for the Product Manager job.
Finally, you can tell the employer how excited you feel to be working as a Product Manager.
If you had any previous experience, tell them about the satisfaction and excitement you got from that job.
Show a little excitement in your words too, and that will convey more meaning.
Never compromise on the uniqueness of your answer while covering all those key points mentioned here. Unique answers than perfect answers can surely impress your interviewer.
Responsibilities of a Product Manager
Without knowing what a job is about, you can't give good answers to your interview questions. However, if you know well about the Product Manager's responsibilities, you can use them in relevant places.  
Define Product Definition
Set Product Vision 
Determine the Success of Each Stage
Recognizing Customer Needs from Research Data
Interpreting Data to Set Constraints
Motivating and Managing Team Members from Different Disciplines
Communicate with Stakeholders 
Prioritize Objectives
So, Product Manager is a multi-tasking role where you have to fulfill all these responsibilities efficiently.
Answering Interview Questions
Even a person meeting all necessary criteria and with good skills may not perform well in an interview. So, an interview is the most important process where you get the job apart from your qualifications. Here are the steps that you can follow to succeed in your interview.
Sit in a good posture – Never sit slouching in front of your interviewer. Your posture and gesture will be the first thing your interviewer will notice about you.
Be confident – You might feel nervous while attending an interview, but never show them off. Try to look confident, and practice will give you that confidence.
Try to answer all questions – Even if you don't have a definite answer for any question, don't skip them. Whether your answer is right or wrong is not what the interviewer wants first. Try to answer the question with whatever you feel will be the answer. Otherwise, you can state, 'I don't know about that, but I will learn about it'. 
Don't take too long while answering – Not all questions will be from the questions you have prepared. At this time, you may need to think a little before answering. But, only taking a little time to ideate will be good. If you take more time, it will create a poor impression. 
Prepare for the unexpected – Make pretty good preparation so that you can perform better in any situation. For instance, let us take that your interviewer has asked, "Why do you want to be a Product Manager? How will you answer without speaking?" In the interview, you won't have much time to think, and you might not get ideas at that time. If you have already prepared for this situation, you will answer it somehow. For example, you can draw a pictorial representation to answer.  
Conclusion
Though it may look like a simple question, you cannot find an answer quite effortlessly. Even if you find one, that will not be appealing to your interviewer. You might need to do some little thinking and preparation to get the exact answer you're searching for. By now, you must have gained some idea about answering the "Why do you want to be Product Manager?' interview question. Next time when your interviewer asks you this question, we are damn sure that you will give the best answer.
Frequently Asked Questions
Why should we hire you? You should explain your plans and your capability as a Product Manager. How you will perform and how you can give your best at the job is what employers expect as your answer.
Why do you want to work for our company? Tell your employer/interviewer what made you apply for a job at their company. Always give good and valid reasons, and avoid mentioning salary package as a reason. Point out some of the company's achievements in your answer. Then, address the company's goal and vision and how that inspired you.
Is it OK to take some time to answer interview questions? Yes, a bit of silence for thinking is good. But never make it too long and keep your thinking time within 10 seconds. Then, if you still don't have something to answer, try to buy time. You can buy time by discoursing in general before actually going into the answer. For instance, you can state, "I think the appropriate answer for this question is."
Tell me about some tactics you will be using as a Product Manager. This question discourses about your future performance as a Product Manager and unique things that will highlight you, among others. You have to assume yourself working as Product Manager in that company and think about it. Some fascinating ideas will pop up in your mind. If you have prior experience in this role, you can put forward some points that you have already applied.
How long should I take to answer a question in an Interview? The time for each question varies based on the nature of that question. On average, the time length for answering a question is between 10 seconds to 3 minutes. For credential verification questions, the timing should be within 15 seconds. Taking too much time while answering will be seen by an employer as a severe issue.
Why Do You Want To Be A Product Manager? How To Answer Interview Question