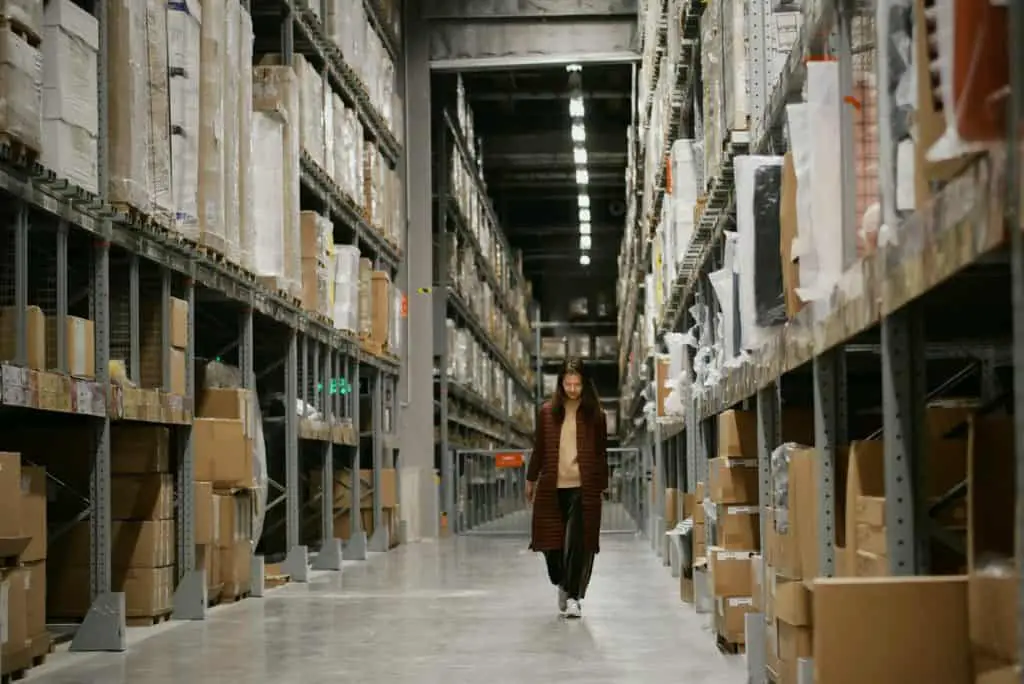 The job of a warehouse worker has become one of the most important positions in the US industry today. Getting interviewed for the job is no longer an easy task and is considered to be as important and valuable as any other interview. Since this industry has undergone a massive change in terms of transitioning to be more developed, so has the interview process. Organizations all around the world have tweaked the process to better understand which candidate is perfect for the post. Today's topic- Warehouse Job Interview Questions.
To get a better idea of the kind of questions that you will be asked and expected to answer, we have collected a set of sample questions that you are most likely to be asked during the process. These samples will not only help you prepare well for the interview date but also assist you in understanding the mindset of the interviewers while they are interacting with you.
Warehouse Job Interview Questions
Why would you like to work for our company?
There are not one but multiple reasons for your company being at the top of my list. Based on my research, I have noticed that you value customer relationships and satisfaction. I admire and respect that your company wants to build lasting relationships with its customers and not only hear but also implement the feedback it receives. I am excited to work for a company that understands the importance of its target market.
Are customer service skills important as a warehouse worker? Why?
Yes, they are. Positive Relationships with clients are one of the most essential factors that lead to a successful and profitable business. These days, reviews and positive support from your consumer base have become one of the most important parts of defining a leading company. In fact, my favorite part of the job is to communicate and build long-lasting relationships with my clients to make sure they not only support but also trust us. 
What is your process of organizing and ensuring the accuracy of shipments?
Using the warehouse management software and ensuring teamwork are two processes that work the best for me. With or without software, I like to make sure that my team members know their personal duties and are sure to coordinate with one another. Completing orders, receiving shipments, and achieving daily objectives are a must to ensure the accuracy of the job we do.
Describe some tasks you achieved in any of your past roles.
My work mainly consisted of packaging, labeling, storing, and organizing inventory for the times of shipment. Initially, we lacked teamwork and all of us used different methods that we thought were best suited. This not only led to confusion but also wasted a lot of time. After collaborating and communicating, we started using color-coded matrices to prioritize orders and categorize shipments. This has drastically improved the shipping process of my previous company.
How would you approach a customer about lost or stolen shipments?
I have previously been in this situation and I feel that I have learned from my past course of action and am now prepared to deal with it properly in the future. It is important to be patient with the customer and make sure to not give them any false hopes. Since everything is now digital, I would help my customer locate their receipt number online and track the shipment order. I would take time in explaining to them what the issue is and end the conversation on a positive note, with a proper follow-up in the future.
How would you handle conflict at the workplace?
I feel that differences of opinion and often, misunderstandings are a common part of any workplace environment. If ever there is a disagreement at work, I would like to be direct and understand each involved individual's perspective before reaching a solution. If the issue is petty and between teammates, I would like for them to solve it under my supervision. However, if the problem is ethics or violation-related, I will not hesitate to involve my supervisor and alert them of the happenings at the warehouse.
What do you do to stay physically fit?
This job needs hours and hours of standing and moving around the warehouse to ensure efficiency and productivity. I maintain a healthy diet with a blend of all types of foods and exercise regularly. My personal workout routine does not interfere with my work hours and takes place in my off time. Apart from this, I make sure my fellow mates are following all safety-related guidelines, especially those that require proper lifting techniques. 
What is the most positive feedback you have ever received from a supervisor?
My Time Management skills have often been complimented upon by multiple supervisors. This skill has helped me to easily complete my weekly objectives and goals. Secondly, working well under pressure and even lending a helping hand to my fellow colleagues is another skill that I possess. I am always there to support my teammates when they need assistance. 
What are some of the challenges you have faced in your previous jobs as a warehouse worker? Could you solve them?
Thankfully, I have not faced many challenges in my previous jobs. However, one worth mentioning is about the inefficiency of the shipping process. Since the last organization I worked at was a startup, many orders were often sent to the wrong customers. Yes. I, along with my teammates, could solve this problem. We decided to implement a system where we create separate tracking methods for returns and new shipments.
Are you familiar with using Warehouse Management Systems? (WMS) 
Yes. I feel that WMS ensures productivity and the completion of set goals. I have ample experience with 3PL Central WMS, a third-party management software that not only helps in managing a variety of inventories but also collaborates with third-party organizations. While this software has significantly reduced the workload, I am excited and eager to learn about more software.
How much does a Warehouse Worker earn? 
The job of a Warehouse Worker has always been undervalued and employees have been paid way less than they deserve, all around the globe. It is only in the last few years that warehouse workers and their hard work has earned the value and importance it deserves. According to the 2021 statistics, Warehouse Workers earn an average of $28.979 per year. The estimated hourly basis is $12.62, ranging from $9.71 to $17.92 per hour. Apart from this, you have the option of working overtime and earning extra too. 
There is not just one reason that explains the drastic change in the high demand for jobs in the warehouse. However, the one reason that sums it all up is the fact that billions of items are shipped worldwide every year and it is the warehouses that do the most important job of storing and maintaining inventory. If you draw a comparison between the years 2000-2021, you will see a clear increase in the income of these workers as well as the incentives provided to them.
What are some challenges that are faced by Warehouse Workers?
Even if it is the US, the conditions in which the workers have to work and produce productive outcomes still need to drastically improve. While some challenges are ongoing and long-term, others may occur out of nowhere and require an effective solution spontaneously. While we do not have control over most of the hardships taking place at a warehouse, there are a few common challenges that the warehouse workers can be made aware of beforehand and be prepared to handle effectively. 
Poor Facility Layout – Insufficient space or poor use of the space available tends to have a major impact on sales and profits. To avoid this issue, it is recommended to have in place a good layout of the land and make the management familiar with it. This familiarity will ensure the safety of items, effective inventory, and maximize the use of equipment and labor. A tip is to make sure that the highest inventory items are placed at the highest accessible place so that it is convenient for the workers to locate them.

 
Inaccurate Inventory – Inaccurate inventory leads to inaccurate information, which in turn leads to inefficient processes. This not only limits productivity but unnecessarily wastes time too. The best solution to this is to use automated systems that provide you with real-time and accurate information. While some warehouses may find it difficult to afford modern technology, automated systems are of variety, ranging from reasonable to expensive models. 


Demand Seasonality – Fluctuations in demand cannot be predicted since they take place due to factors that are outside the control of the warehouse operations. What you have control over is to make sure that the communication between your warehouse and other entities regarding transport, manufacturing, delivery, etc. is on point. Secondly, you can make it a point to rearrange items where ones with high demand are more accessible as compared to the ones with low demand.
A job as a warehouse worker is an entry-level job. The fact that it requires both basic, as well as advanced skills, makes the interview process lengthy and time taking. The questions asked will be of variety and will require a blend of both your personal as well as factual knowledge. No matter what kind of question you are asked, be sure to be well researched about the organization and stay prepared with strategies that you would like to implement to make the warehouse operations effective and better.
Frequently Asked Questions 
How wise is it to cross-question or ask direct questions to the interviewer?
It is completely normal and in fact, a good idea to go prepared with a list of questions about your roles and responsibilities as well as the company beforehand. Asking questions is not an indication of a lack of preparedness but it shows that you are inquisitive and curious to know more about your prospective job role. 
Too much practice leads to confusion during interviews. Is this true? 
The phrase "Too much practice" is subjective. It differs from person to person and while for some it may have a good outcome, others may end up messing up due to last-minute nerves. However, this is not in your control. Instead, what you can do is start preparing the way before the interview and only go back to the main pointers 2-3 days before the interview day. While practice is never a negative habit, practicing till the very last moment can create confusion and panic. 
What are some of the job-related skills that are needed to impress the interviewers?
To succeed in the warehouse career, here are a few skills that are a must for you to develop and acquire – 
Teamwork: It is important to work effectively with your fellow workers to accomplish tasks on time.
Problem Solving: These not only require your ability to think on the spot but also use reasoning and analytical skills to solve both easy and difficult problems. 
Communication: Make sure your communication skills are appropriate, accurate, and easy to understand.
Flexibility: Warehouse environments are ever-changing and you need to make sure to adapt and adjust to more than one department and move around a variety of work settings.
Decision Making: Using both critical thinking and problem solving to make decisions quickly and independently.
What are a few duties of a warehouse worker I need to know before deciding to go in for an interview? 
Even though this depends on which post you have applied for, here are a few basic duties you may be expected to perform- 
Transportation and completion of deliveries to and fro vendors. 
Processing shipments by ordering and loading orders 
Storing and taking stock of inventory safely and properly. 
Taking place of equipment maintenance in equal time intervals 
Storing the shipments such that the ones in high demand are easily accessible. 
Warehouse Job Interview Questions- With Simple Answers