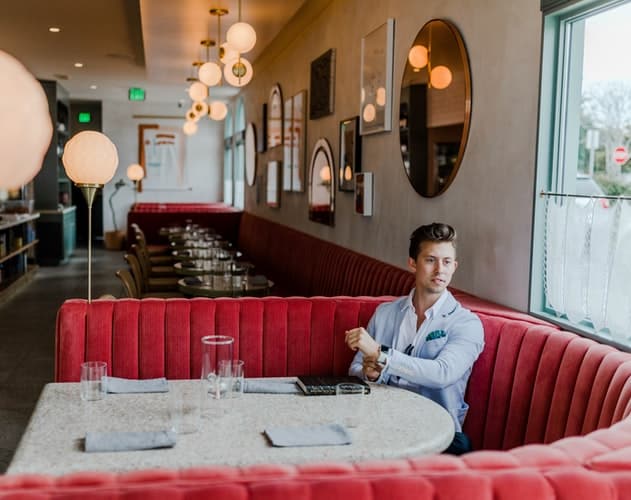 Top Restaurant Interview Questions
We will discuss Restaurant Interview Questions you can ask in your interview.
When we enter a restaurant as customers, we like to see a well-organized place where the staffs are well-trained and disciplined. When we enter a restaurant that provides a wacky service and not so great good, we come out from there disappointed, thinking our money just got wasted. And seriously, why wouldn't we be thinking that? The restaurant business may look easy from the outside, but the people engaged in this work know how much training and skills this job needs.
Working in a restaurant does not only mean cooking and serving food to the customers, cutting bills, and cleaning the table up. It is a job which is supposed to provide service to others after all and that too, face to face. The employees there require a number of diplomatic skillsets to make a place for themselves in that job. Whether we are talking about cooks, waiters, managers, receptionists, or any other employee- it is necessary for them to be well-trained before they are given their designated positions.
Restaurants have been a part of our society for quite a long time. Originally originating during eighteenth-century France, this business was specially established for serving food, drinks, and other delicacies to the customers. And ever since then, this field has kept on growing, and we can actually see its impact in today's society. It does not matter whether it is a lavish and expensive five-star restaurant in the city or a small local food store. Customers are attracted to these places because of the food and of the services provided. And to make these two basic necessities possible, the staff of the restaurant comes in.
In any field of work, we know that it's not that easy to hire employees, restaurants being no different. Yes, it is a fact the staff members must cooperate in providing the best service possible for the costumers. However, interviewing and hiring suitable workers for the restaurant is the work of the manager. Being a supervisor in the business, the job of a manager can be quite problematic at times. For example, when a waiter ends up spilling the food or the service may not be good. In these situations, the customers can get upset, and here, the manager is called up who deals with them decently, trying their best to settle it down as quickly as possible.
As it is up to the manager to appoint good employees, they have to be very careful with their choices. There are a lot of variables one needs to consider when it comes to hiring the right person. The factors include age, attitude, work ethic, availability, how they present themselves in front of the customers, and the list can go on. As I said, restaurants are not just a place where food is served. It is a diplomatic field of work that requires a lot more than your generic academic skills.
So, how does a management plan to appoint decent employees in a restaurant? Well, of course, like any other job, here also they take an interview where they ask a number of questions before deciding on the candidate. If you are new to the restaurant manager position, you may be thinking about what kind of questions you can ask the candidates. If you open the net, surely you will find a long list of questions that can assist the candidates beforehand and help them prepare answers for the interview. And I am not saying it is a bad idea to be prepared. But do those previously prepared answers can tell you about their real-life skills and abilities? Even if you have been a manager for a long time, this doubt can keep lingering in your head while you interview a candidate. Of course, you cannot help this situation, but at the same time, you have to be very careful with your choices.
During interviews, sure a manager cannot turn into Professor X and start reading the candidate's mind to make sure whether they are really capable of the job or not. However, you will have to ask them such questions that can help you know whether they are going to be a liability or an asset to your business. To avoid those memorized answers, you need to get deeper while interviewing a candidate. And if you need so help with the questions, you can ask them. Here is a list of a few you can take suggestions from.
These questions will help you understand the candidate in a better manner while avoiding any canned answers.
1. WHY DO YOU WANT TO WORK HERE?
This is one of the most basic questions asked during almost every interview. Though that does not mean it is unnecessary. In fact, this is one of the most important questions asked to a candidate to let the interviewer understand why the candidate wants to work in this field, especially in a particular place. Of course, there are chances of you getting cliched answers such as "I have always wanted to work here because of how amazing this restaurant is" or "This is one of the best restaurants in the city." However, don't let the candidate stop there. Dig deeper to understand why they want to work here. They might be halfhearted regarding the job but are using this answer to get entry there easily. You will have to understand their motives, and this question can help you know that about them.
2. WHY ARE YOU INTERESTED IN THE RESTAURANT INDUSTRY?
Being a part of the restaurant industry is not as easy as it sounds. We all know that there are even courses out there to train individuals to become a part of restaurant and hotel management. This question may look similar to the first one; however, it helps you understand the candidate's reasoning more precisely. Their CV might be saying that they have done a number of training courses but you need to understand their ambitions more deeply. Answers such as "the work pay are really great here" or "it is an easy and comfortable job for me" can be a red flag as they clearly suggest that they are not very serious about this industry. Have them think more about the question thoroughly.
3. WHAT WOULD YOU DO IF THERE IS A CONFLICT INVOLVING YOUR COWORKERS?
Restaurants are supposed to be full of employees. It sure does not have the regular office look, but this industry heavily depends upon teamwork. It is a workplace where cooperation between the employees is its biggest asset, and conflict can affect their teamwork. The employees need to remain level-headed in such stressful situations where their emotions get the best of them.
When you ask this question to a candidate, you will get to understand their maturity level, their ability to handle stress, how they hold themselves accountable for problems, and their ability to deal with difficult personal situations. While you hear their answer, you may also get a glimpse of their personality and how emotionally mature they are. Constant arguments and holding grudges against your coworkers are considered very unprofessional in every field of work. It affects the relationship between coworkers and disturbs the decorum of the workplace, which can lead to a number of troublesome situations. If you hear answers which point towards the candidate's nature and personality, you will be able to make a proper decision.
4. WHY DO YOU THINK THAT YOU ARE SUITABLE FOR THIS JOB? WHY SHOULD WE HIRE YOU?
This question goes beyond the answers mentioned in the candidate's CV. The restaurant industry is just not about academic skills; its success or failure depends heavily upon the skills as well as the personality of the employees working there. You cannot just hire candidates who may look great according to their resumé but don't have proper social and communicative skills. An individual knows their potential better than anyone else. And during an interview, if a candidate is able to remain confident while telling you about their set of qualities, it will help you understand better about them.
5. HAS THERE EVER BEEN A TIME WHEN YOU EXCEEDED YOUR CUSTOMER'S EXPECTATIONS WITH YOUR SKILLETS?
One of the most important aspects of the food or the restaurant industry is the customers' service. If you are interviewing a candidate who has experience in this field, this is a question you should definitely ask them. There are chances that they may lie about their experiences to make a good impression, but it is also up to you as the interviewer to be a keen observer and listener. Being honest and confident during an interview is necessary for a candidate. And if you ask such a question which checks their confidence and honesty, you will be able to understand their worth in your business. The references they give will help you understand how much their method of working can be helpful for the restaurant.
6. ACCORDING TO YOU, WHAT IS "HOSPITALITY"?
In a field of work where providing service to customers is its biggest priority, this question will help you understand what hospitality or service means to the candidate. According to the dictionary, the meaning of hospitality is "the friendly and generous reception and entertainment of guests, visitors, or strangers." However, when you ask this question to a candidate, you will get to understand their definition of "hospitality." Their understanding of this term, considering the restaurant industry, will help you get an insight into how the candidate is willing to provide service to the guests. Whether they are willing to provide their assistance at the time of need and maintain their composure during a dire situation, responses like such can be impressive. However, if it is too big of a difference between the interviewee's answer and what you expect, then they might not be the right choice for the job.
7. GIVE ME A REASON WHY SHOULDN'T I HIRE YOU?
Instead of going for the question "why should I hire you," which I mentioned above, you can also twist the question a little to understand the candidate's reasoning abilities. While giving an interview, what every interviewer searches for in a candidate is their skills to sell themselves. If the candidate gets too desperate regarding the job, it may not leave a very good impression. But if they manage to show their confidence through their answers, then it can leave a lasting impact on you. And if you are able to find such a candidate who impresses you with their response to this question, you should definitely consider them for the job.
8. ARE YOU ABLE TO MAINTAIN YOUR COMPOSURE DURING EXTREME STRESSFUL SITUATIONS?
The working environment in a restaurant can get out of control sometimes. There are no guarantees regarding how many customers there will be each and every day and if a time comes when the restaurant has to serve a large number of customers at the same time, it can get pretty hectic and stressful. In these dire situations, what matters the most is the employee's ability to maintain their composure. Costumers can be demanding and can even get a little rude at times, but if the worker can handle the situation with ease, that's a great achievement. When you ask this question to the interviewee, their answer will tell you whether they can handle their emotions in such a state or not. After all, it is necessary to keep your emotions in check around a professional environment.
9. WHAT IS YOUR BEST QUALITY?
Like I said, and I am sure you are already aware of, there are a set of qualities one needs to have to get a job at a restaurant. If you ask them this question, they will definitely be able to point out their biggest strength which will suggest their potential. You may be expecting answers such as "I am very good with people", "I am able to keep my composure during stressful situations," or "I am focused". These qualities are very significant in the restaurant industry. However, if you end up hearing answers such as "I am very good with calculations", which has no link with the restaurant industry, the candidate might not be a good option for the job.
10. NAME A QUALITY THAT YOU LACK.
This question can be a very good follow-up to the previous question I mentioned above. Of course, when will ask this, you are not expecting them to point out their weakness but rather be very careful how they are answering it. If they end up saying that they are not very good with people or they have a bad temper, it will be a red flag then and there. Instead, if they choose to answer it in a more diplomatic manner where they also counter their own weakness with their strength, it will suggest their ability to work on their weaknesses. There is a possibility that you may end up thinking that the candidate is humble by telling you about their weaknesses. But if you fail to judge their answer properly as well as their way of answering, you can face some problems later.
11. TELL ME HOW ARE GOING TO DEAL WITH AN IMPATIENT CUSTOMER?
While working in a restaurant, it is pretty common to attend to a few customers who may be very rude and impatient. These people can get very nitpicky about the food and services provided at a restaurant and can even cause quite a ruckus. In these situations, it is necessary for the employees to remain calm and composed while also being convincing and polite towards the customers. If the candidate is able to answer this question while pointing out their method to handle such a situation, you can judge them on that basis. If the response meets your expectations where you get to learn their ability to handle such stressful situations while also looking at their strong points, consider them for the job. But if they gave a halfhearted answer and show reluctance in their abilities, they might not be the best choice for it then.
12. WHAT KIND OF CUSTOMERS DO YOU DISLIKE? DO YOU WANT TO SERVE SUCH PEOPLE OR NOT?
There is no questioning the fact that prejudices run everywhere. There are also chances that the candidate you are interviewing might not be comfortable with serving a particular kind of customer. Let's say that they have done pretty well in the interview till now, but here, they show a little reluctance. Of course, they will be a bit hesitant about giving their response, but as the interviewer, it is also your duty to know where the person can give their fullest and fall behind. You may consider the person for the job while keeping this point in mind. After all, this will help you maintain balance at the workplace.
13. DO YOU THINK PROVIDING "GOOD SERVICE" TO YOUR CUSTOMERS IS EQUIVALENT TO PROVIDING "EXCELLENT SERVICE"?
This can be a pretty tricky question as it demands the difference between good service and excellent service. If the candidate is able to differentiate between these two by giving valuable points as well as showcasing their skillsets, it can help you decide how much of an asset such a candidate can be to your business. If their response is similar to your expectations, give them a chance. If not, then let it be.
14. TO YOU, WHAT DOES BEING A TEAM PLAYER MEAN?
In every job, there are times where you are given a chance to be the leader, whereas, in other situations, you are supposed to follow your superiors. In the restaurant industry as well being a team player is as important as in other industries. And while you ask this question to the interviewee, you will be able to understand their definition of "team player." If by their response you can get an insight into their working habits and their skills, you will be able to come to a conclusion.
15. HOW DO YOU SPEND YOUR TIME WHEN YOU'RE NOT WORKING?
You may think this question is a little personal, but really, it's not. Learning a little about how the candidate is spending their free time can be helpful. Maintaining a healthy lifestyle along with performing well at your work can get pretty difficult. But if the candidate is able to handle this situation even after having a busy schedule, it shows their skill of handling their professional as well as their personal life. And it sure is a positive point to focus on.
16. ARE YOU WILLING YOU DO OVERTIME?
There are times when employees are needed to do overtime at restaurants as well. It can occur due to many customers coming together or maybe due to parties or social events; in such situations, employees are needed to work there for a longer period of time. Knowing about the candidate's preferences as well as their capability will give you an insight into how much they are dedicated to this job.
17. DO YOU THINK IT'S ALRIGHT TO DISOBEY THE RULES OF THE RESTAURANT?
Another tricky question will be to test the candidate's quick thinking. Rules sure are meant to be followed, but there can be times when employees need to bend the rules in order to serve the customers. If the candidate is able to come up with a clever response, they will make a good addition to the business.
18. IS IT OKAY TO MISS THE DEADLINE TO MAKE A DETAILED WORK?
At a restaurant, the employees are supposed to work with speed and accuracy. Whether it is them missing the deadline or missing the detail, it can become problematic for them. A candidate's answer to this question will again give you an insight into their problem-solving skills and quick thinking.
I hope these questions will help you out during your next interview as the interviewer. Whatever questions you ask, be sure to listen and observe the candidate's response properly. Who knows, you may end up choosing a really great employee next time.
Also read How Long After an Interview is a Job Offer Made?
Restaurant Interview Questions You Can Ask in 2021