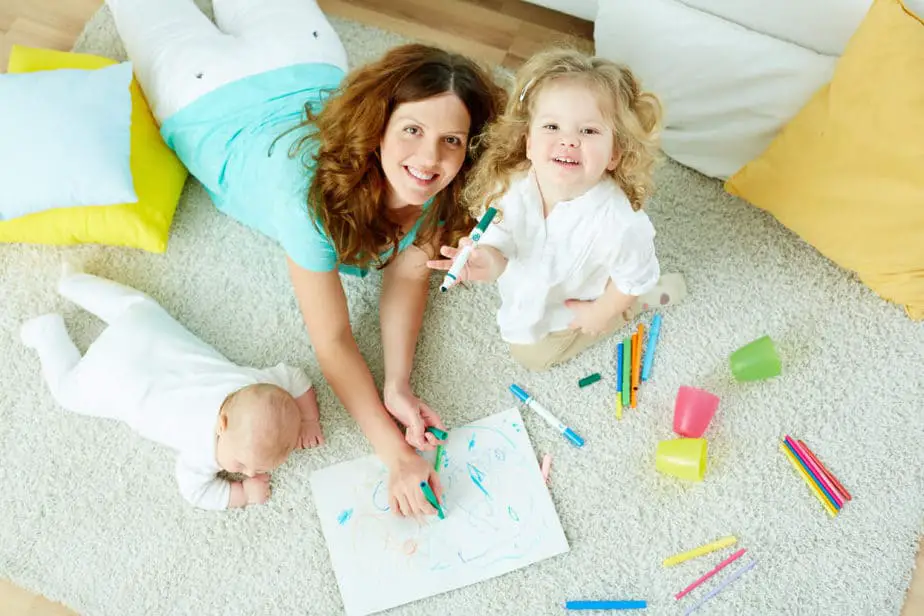 These questions dig into your nanny capabilities, expertise, and qualifications. The example interview responses demonstrate how to create replies that will please the future employer. These questions are frequently asked for nanny employment, whether you are searching for a live-in nanny job or searching for a part-time nanny job. Let's know some Nanny Interview Questions.
Nanny Interview Questions
What prompted you to pursue a job as a baby sitter?
The interviewer is most often a parent or family caretaker, or a representative from the a childcare service. Some applicants will try to acquire a job as a babysitter since they are unsure what sort of work they want, but they also have babysitter skills and want to accept a babysitting job as a means of income till they determine what they want to do. Simply by having childcare experience doesn't really make you a good babysitter. Utilize your response to this question to prove to the employer that you care about children, prefer to spend quality time with them, and appreciate the gravity and duty of protecting the health and safety and well-being of tiny human beings.
Answer:
When I was in ninth grade, I began watching kids for relatives and realized my passion for taking care of kids. Originally, I babysat to supplement my income. I found how enjoyable this was to interact with, nourish, and educate children of all ages as I spent a lot of time with them. I liked becoming a part of their growth and also being able to assist and shape into who they would become. Apart from the enjoyable parts of the work, to be a babysitter is a significant responsibility in which you must always be monitoring and expecting in order to keep the kids safe. It needs skill and good judgment to preserve a mix of enjoyment and involvement with the kid while keeping them safe from harm or disaster. Long story short, while I'm on the job, I turn off my smartphone and concentrate solely on the child's pleasure and wellbeing.
What would you do if you disapproved with the parenting methods of a household with whom you started working?
The employer wants to know how you might deal with various parenting techniques and strategies than your own. They are employing someone to take care of children and therefore are seeking for somebody to fill in for them when they are unable to take care of their kids. You should not have to approve of their style of parenting as a babysitter, and unless their approach is damaging to the kid, you should be able to execute the job you were paid to do, which involves agreeing with the family's requests.
Answer: Thankfully, I have not experienced this situation. While accepting a position as a baby sitter, I would try my best to determine if we will have matching perspectives, particularly on critical topics like how to teach or motivate a kid. If our techniques were extremely different, I would study about the family's approach and make absolutely sure it would be something I could apply. I would gladly adopt the family's method unless I believed it was detrimental or unhealthy for a kid. It is preferable for a child's caretakers to remain consistent. There are numerous ways to bring up a child, and just because one method differs from another does not make it good or bad.
What are the most essential quality of a successful nanny?
The employer may have had their own views about what makes a good nanny. This question is being asked by the employer to determine what you believe are by far the most essential aspects of your employment. Consider what is most essential to a parent while putting their child in the hands of someone else, before the meeting. While discussing this issue, highlight such traits and prove to the recruiter that you possess them.
Answer: I understand that by caring for somebody else's kid, I am being entrusted with the care of someone important to them. For me, this implies that security comes first. A nanny must ensure that the kids are safe and sound, and must have the ability to take corrective measures immediately if something goes wrong. Secondly, an excellent nanny must be reliable and honest. The parents should know that I would do everything they want of me and that I am completely honest. Thirdly, a great nanny must be completely involved. She has to set her smartphone aside, sit down on the floor with the kids, and offer them her undivided attention. Lastly, a skilled nanny should make the kids feel safe and happy while their parents are away. Other traits will be crucial depending on the maturity of the kids and the demands of the position, such as whether the nanny will mostly interact with the kids or whether there will be schoolwork or other tasks.
Explain me regarding your babysitting history.
This question inquires about your expertise, but it also provides a chance to demonstrate your love for youngsters. Even though you should address the issue with the obvious facts about your numerous positions and the term of the employment, you must also bring the jobs to life by speaking about the kids, their names, ages, and warmly discussing some of their excellent qualities and why you love them. This indicates that you have a strong relationship with kids and that caring for them is much more than a job for you. 
Answer: I've been taking care of kids since I was in ninth grade, when I started babysitting for my friends. I got a job at a childcare near the end of the semester, and it became apparent to me that I truly like working with young children. I found myself wishing I could spend a lot more time with the kids rather than being spread so thinly over so many. I wanted a job as a babysitter so that I could get to know fewer kids on a profound level and have a greater effect on their lives. For the past ten years, I have been working as a babysitter. I worked as a nanny for the Geller family for the first six years, where I was a nanny to Peter and Jessica, who were two and six years old when I started with them. They were the loveliest kids, and we all enjoyed going to the playground and making cookies in play doh. We regularly send Holiday cards and Skype every now and then. Then, over the last four years, I've been babysitting for the Wilsons, who had two lovely girl twins who were 4 years old when I began. We video called even though they had relocated out of country. They were really nice girls. As their parents were working a lot, we spent so much time together throughout the week, on Saturdays and occasionally overnight, and I would even accompany them on holidays to care after those lovely children.
Explain me about the most difficult aspects of working as a babysitter.
The employer wants to know what you consider to be the most tough and demanding aspects of the work, as well as your degree of tolerance and whether or not you enjoy spending time with kids. Just use it as a way to showcase that you will be aware of the job's obstacles, but also that your passion of taking care of children equips you to cope with any obstacle.
Answer: As a babysitter, one of the most difficult tasks is understanding the many viewpoints and goals of the parent, especially when dealing with family members who may not be connected with their parenting method. Even though it is difficult, it is critical for me to understand the different methods and viewpoints of the family members so that I can help both of the parents feel more at ease. Both parents must believe they can put their faith in me and that I appreciate their objectives.
If one kid doesn't love completing schoolwork or getting a shower, how would you make chores like some of these more enjoyable or simpler for them?
This question allows you to demonstrate how you tackle difficulties. It allows you to discuss a few of the strategies you've used in the past to conquer any especially challenging regions. Make use of your response to demonstrate that you have tolerance and strategies for dealing with situations like these.
Answer: I don't believe there is an one solution since kids are all unique. A sticker board works nicely for certain kids. Some react positively to receiving a reward for completing their assignment. Some students enjoy homework time since it allows them to spend quality time with me discussing the task and assisting them in understanding it. So, in order for me to discover what works, I'd start by trying to get to know the kid. It may take a little more time to decide what is best for a certain kid.
What would you do if your child threw a temper tantrum?
While working with kids, angry outbursts are not unusual. The employer wants to know how you might cope with all of them and how you supervise your kids. This question allows you to discuss the best techniques you have implemented in the past while dealing with a kid who is throwing a tantrum. 
Answer: When it comes to angry outbursts, I think it's best to ignore them. Of course, if the youngster is in danger of injuring themselves or others, I would separate them from the area. By ignoring the meltdown, the youngster learns that a tantrum does not provide the desired result. The youngster craves attention, and by dismissing him or her, you are denying him or her that attention. After the tantrum has passed, it is essential to engage with the kid and discuss why their conduct is inappropriate. I worked as a nanny for a four-year-old and a baby. The older kid tossed stuff on the floor as I was nursing the infant. When I told him to clean up the mess he resisted and threw a fit. I ignored his temper outburst, and he settled down. I then talked to him, clarified why his conduct was unacceptable, and gently requested him to clean up his stuff. When he did, I thanked him for following through on my request.
Have you undergone any first aid training?
As the person in charge of their kids, the recruiter will want to hear that you can handle cuts and bruises and understand what to do during an emergency. If you haven't received any recent training, some companies may offer you with that before you start working for them. Verify your credentials well before interview to make sure you're up to date on your training, and present documents of any qualifications you have.
Answer: As a babysitter, it is my responsibility to keep the kids safe and, in the event of an emergency, to learn how to provide basic first aid. I receive monthly first aid training to keep my abilities current and relevant. My certification was renewed this January and is now good for another two years. If you want to view it, I also have copy with me.
Explain me about your hobbies with the kids under your supervision.
The recruiter wants to know how involved and attentive you would be with the kids. To the degree that you know the ages of the kids you will be responsible for in the potential position, customize your response to that age group. You would want to demonstrate that you will not be lying on the sofa fiddling with your smartphone, but instead be fully involved in a variety of things to make the days interesting and engaging for the needs of the child. 
Answer: The kids in my previous job were roughly about the same age as yours, between four and seven years old. They enjoyed video games, but their parents restricted them computer usage to one hour each day. The kids and I built plots based on their favorite games, in this example, Candy crush and Angry bird, to involve them and combine their passion for their games. We played out the plots, sketched them, and tried spelling words in them. The kids had fun while not being glued to a monitor for hours and hours by attempting to discover hobbies that were linked to their computer gaming interests. They also enjoyed doing scientific projects that I devised using common kitchen items. They were usually simple and convenient, but the kids had a great time combining the contents. We were quite busy in general. We enjoyed playing card games like UNO, and our activities were truly limitless. They were mostly exhausted at the end of the day.
Do you have any domestic chores that you refuse to do?
In addition to taking care of the kids, every household has unique requirements. Prior to your interview, thoroughly read the job description to ensure that you are acquainted with all that is stated. If you learn anything new during the discussion that you would prefer not do, be honest straight away. Don't tell your family you're willing to go to any length to acquire the job. Also, be truthful regarding your degree of expertise with specific tasks. If you are asked to sew but do not know how, be truthful and express your passion to improve. And if you're not truthful, there will be consequences the first time you damage an item of clothing by sewing it incorrectly.
Answer: I reviewed the job advertising and agree with all it says. I anticipate cleaning up after the kids, preparing food for the kids and the family, and so on. After meals, tidy up the kitchen, wash the household laundry, replace the covers on everybody's beds, and perform minor cleanup as time allows. I am also willing to run errands. I am here to assist you, so please let me know if there is anything else I can do for you.
Further questions you can ask
Do you have a car? How many tickets have you gotten in the previous three years, if so?
How adjustable are you in terms of your working hours?
Explain me what you'd do if a youngster in your care began choking.
How do you introduce etiquette to young kids?
How would you react if a kid came out in hives and did not have any allergic reaction?
Can you submit vaccination documents proving that you have received all of your vaccinations?
Please share your thoughts on smacking disobedient kids.
What do you enjoy best about your job as a nanny?
Which age category do you like to supervise?
What are your thoughts on kid discipline?
How does a normal day at your former position look like?
What is your least favorite part of being a nanny?
What do you estimate your talents to be?
How do you handle a crying child?
What kinds of activities would you employ to keep the kids amused on cloudy days?
Are you willing to monitor the kid,s friends if they come over?
How do you feel about sleep training?
What has your experience been like with toilet training? How would you want to go about toilet training our kid?
How would you organize a normal day for our kids?
What types of foods and amount quantities would you provide to the kids?
What do you believe your flaws to be?
How at ease are you assisting the kids?
Which of your areas are your weakest? and your strongest?
Do you know how to swim? Would you be willing to take the kids swimming?
What are your thoughts about using a smartphone while caring for children?
Why must we pick you over the other applicants?
Explain me regarding your cooking skills.
Have you ever had to cope with a crisis while caring for children? Please tell me about it.
What do you consider the most difficult about dealing with a kid?
How do you feel about homeschooling?
Which age range do you consider the most difficult to deal with?
Where do you stand on bringing our kids to lessons or birthday parties away from home?
What is your fondest recollection of the kids you dealt with in your previous position?
Summarize a typical day in the life of our kids that you would plan
What amount of screen time do you believe is ideal for kids?
Are you willing to stay over on occasions?
What are your thoughts on a kid's sleep routine?
What do you think are the finest educative activities for kids?
What is the highest number of kids you have tended for at one time?
Do you have any expertise with allergic kids? Inform me about that as well if that's the case.
What would your present or past employer say about you?
How would you inform me on my kid's day?
When the interviewer has done presenting their questions, they may ask if you have any for them. If they don't, you should go ahead and ask them. If they don't, you should go ahead and ask them, asking questions indicates that you are informed about your position and are interested in it. If you don't know enough about the kids you'll be babysitting for, express your interest in them by asking questions. The responses to your questions might assist you in determining whether the agency or family is a suitable fit for you.
What do you anticipate from a baby sitter?
What are your kids' names and ages?
What is it vital for me to learn about each one of your kids?
Is there a regular routine in place for the kids?
What role do you envision a caregiver playing in your family?
What disciplinary tactics do you employ with your kids?
How frequently do you expect needing overnight stays, for how long, and how much ample notice can you normally provide?
What additional obligations and chores do you believe a babysitter ought to be prepared to take on?
Is there a car available for transporting the kids to their events?
What is the most difficult aspect of having a baby sitter?
When interviewing for a position as a nanny, it might be daunting, especially when you're being questioned personally by the family. The interview is an opportunity for you to display your nanny abilities and expertise while also allowing the agency or family to learn more about you.
Nanny Interview Questions- With Simple Answers