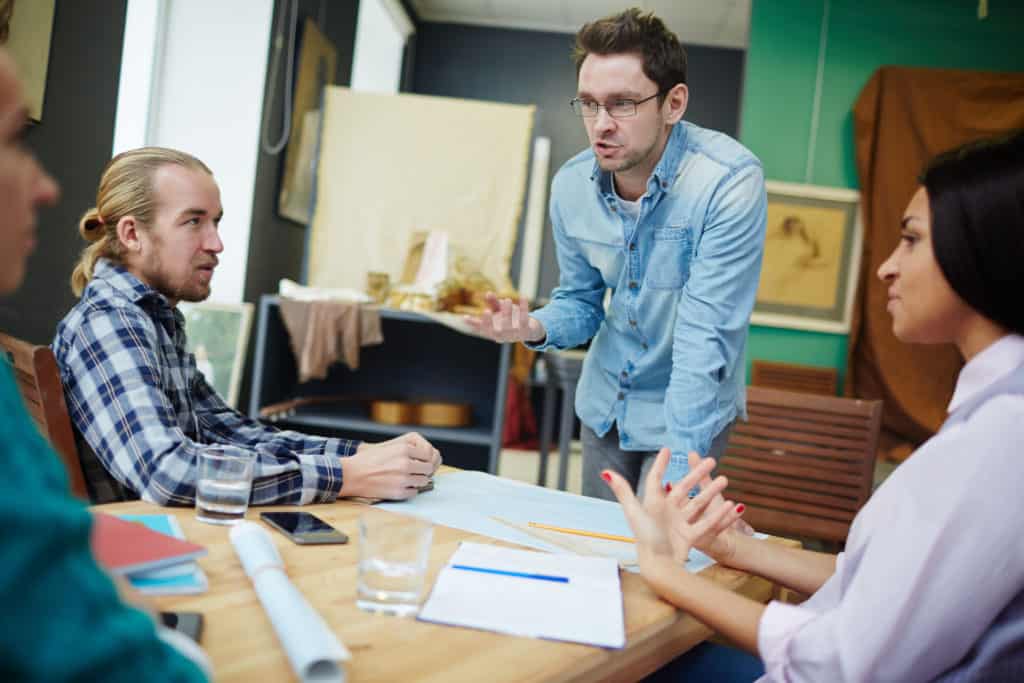 With the rise in exciting new technology, templates, and media in instructional design and lesson planning, there was never a more interesting time to be an instructional designer. And if you are aiming to become one for the future, then you are probably aware that, like all other jobs, his will also require you to go through an interview. So, apart from preparing your resume and a portfolio f your work examples, you will also need to prepare for that interview. Here in this article, we look at some of the important questions that could be asked in an interview for the role of an instructional designer. So, by the time you finish reading this, you should have a fair idea of what to expect in that interview. 
An instructional designer is typically expected to work closely with subject matter experts to design courses and curriculum for various subjects. Educational institutes, coaching centers, and online training portals all hire instructional designers to design courses that benefit their students and attract more customers. Generally speaking, individuals with a background in teaching and sufficient experience in education are considered for this role. Companies prefer persons who are organized in their approach and possess a sufficient degree of basic subject knowledge. They must also have good communication and people skills. They have to work with experts and other individuals in different capacities while designing curriculum and be well-versed with the modern tools and technologies used in the business.
Instructional Designer Interview Questions
An interview for that position will obviously be made up of questions designed to test these aspects about a candidate. The following is a list of broad questions that one might expect in such an interview, accompanied by ideal ways of responding. Let us take a look:
What is your design process?
The interviewer needs to know about the candidates' methods in their work if they are hired to understand whether the candidate's approach is suitable for the company. While it can be tempting to respond to this question with a broad overview of one's methods, it is better to take the interviewer through a brief, step-by-step journey through the candidate's design process, including their daily routine, working style, the design models they prefer using, etc. A detailed answer will also show that the candidate is experienced in this field and knows what they are talking about. The candidate should also refer to proven theories and methodologies of instruction design in their response to display their experience and mention their organizational and project management experience, as sometimes instructional design positions include management duties.
Tell us about your work experience outside of instructional design.
While interviews for most other jobs will not include any talk about any extra experience outside the field in question, this is important in a job as an instructional designer because most individuals migrate to this area from other fields. Therefore, the interviewer wants to know how the candidate's previous professional roles have prepared them for this position. Companies are enthusiastic about hiring instructional designers from diverse backgrounds as long as their skills are suitable for the specific position. Therefore, it is important to be honest in one's answer and tailor their response according to the role's needs. For example, if the position requires creating a course on calculus, the candidate would be in a good position if they have any prior experience teaching mathematics. On the other hand, if the candidate does not have any teaching experience, they should highlight how their job experience will e helpful in this role, constructing an answer that includes as many phrases from the job listing as possible.
How would you wok effectively with subject matter experts?
Instructional designers are not expected to be experts on the subject matter. They are supposed to consult with others who supposedly know more about the subject than they do to come up with a good course. The interviewer needs to know that the candidate is adept at extracting crucial information from the experts and presenting them in a way that is coherent and easily digestible.  Apart from that, they should also be enthusiastic about working collaboratively. The candidate should talk about how they would explain the needs of the course to the experts, including scheduling sessions with them where they can sit down together and come up with authoritative material. If the candidate has any previous experience dealing with any difficult experts while designing a course, they should definitely talk about it to show the interviewer that they know how to handle themselves in such situations. 
How would you judge the success of a course that you have designed?
The interviewer needs to know what standards the candidate holds themselves accountable to see whether they will be an asset to the company. A candidate with decent standards will be competent and will have a performance-oriented approach. On the other hand, a course is valuable only if they fulfill a set of pre-set objectives. A good way to answer this question is to talk about any past working sample and mention the learning outcomes and key performance indicators established and the results they gave. If the results were not satisfactory, the candidate should also mention why they think it was so and what steps they have taken to avoid such failure in the future. Talking about different approaches such as gamification and why they are effective will tell the interviewer that the candidate has the right kind of standards for the job.
What digital tools are you comfortable working with?
Instructional designers are expected to be proficient in the various digital design tools available in the market. Also, some companies prefer a certain set of tools for themselves, so the interviewer needs to know whether the candidate is familiar with the already used tools at their company. It is important to be absolutely honest while discussing one's proficiency levels. We recommend doing some basic research about the company before showing up for the interview to know what tools are already in place. The candidate should focus their answer on the tools required for the position while briefly mentioning the others they are familiar with. A candidate with a wider range of experience will be favored for the job. if the candidate does not have sufficient experience, they should display an eagerness to learn and adapt on the job
Tell us about the learning design theories you like and why.
The interviewer would like to see how well-versed the candidate is in different theories in learning design. A candidate does not need to be an expert in every major theory out there, nor do they need to know about every one of them. However, they should display some basic knowledge about design theories and differentiate between the major ones, such as Bloom's Taxonomy, Maslow's Hierarchy of Needs, Merrill's Principles of Instruction, etc. A candidate who is opinionated about learning theories will impress the interviewer by coming off as someone who has their uniqueness and can bring something new to the table. If the candidate finds a particular theory helpful, they should explain why and in what scenarios they would recommend it.
Tell us about how you plan to make your courses more engaging.
While it is the job of the subject matter to provide the content of the individual courses, it is the duty of the instructional designer to make it interesting and attractive for the students. The candidate should talk about how they would employ creative approaches to digest the content by using different multimedia elements easily. An effective way of answering this question is by referring to a past work from one's sample portfolio. The candidate should present the interviewer with some interactive elements they designed for a course, such as a quiz or a simple game, and talk about the success metrics. This will show the interviewer that the candidate knows how to make their courses interesting and an asset for the company.
What would you do if you disagreed with the original lesson plan for a course?
An instructional designer should be comfortable sharing their opinion on the courses that are being designed, even if it means going against the majority opinion. They need to be confident in their individuality actually to contribute to a project. The interviewer would like to see how the candidate would communicate their disagreements, making anyone feel slighted. The candidate can list some constructive questions they like to ask before they greenlight a project. They can also talk about any experience when they disagreed with the direction of a project and its reasoning. They should talk about how they handled the discussion and what it resulted in. it would be good to go into as many professional details as possible.
How would you teach instructors to use an e-learning platform?
It is not uncommon for instructors who use courses to need some technical assistance. More often than not, the responsibility of teaching instructors how to use technology to their advantage while teaching falls on the shoulders of the instructional designer. The candidate needs to display a patient and sensitive approach to teaching instructors. They should talk about specific instructional methods they prefer using and if they feel a need to work directly with the instructors.  The interviewer should feel that they can trust the candidate to help instructors use their materials effectively. A proper way of indicating competency in this regard is to talk about the experience in providing technical support. The candidate should walk the interviewer through how they seamlessly helped the person identify the problem and rectify it. This will show that the candidate will not face problems doing the same thing in the future. 
Tell us what you like about our company.
The interviewer wants to see if the candidate has done their research before coming for the interview. We recommend going through the company website at least once to understand their vision and mission statement and their broad goals. The candidate should be able to list some aspects of the company they admire and talk about how their personal values align with the company's ideals. A candidate who knows enough about the company to give an informed opinion on it will come off as diligent enough to go that extra mile for the job, something the interviewer would like to see very much. Such a candidate will be considered an easy hire.
Conclusion
While instructional designing is definitely a job in the education sector, it involves more than just coming up with instructional material. You have a definite idea of what to expect in an interview for that role by now, and we are confident that you can ace that interview. If you want a job that requires you to be creative and use your problem-solving skills while preparing courses for students to learn from, then this is perfect for you. After all, it is quite satisfying to know that you contribute to the education of so many people with your skills.
Frequently Asked Questions
How do I dress for the interview? You should dress professionally. A sloppy appearance will tell the interviewer that you do not take the job seriously, and you will probably be given a very short interview after that.
Is a degree in graphic design necessary to be an instructional designer? There is no set degree required for an instructional designer. A Bachelor's or a Master's degree in any subject is looked on as good education for the job. however, graphic design skills are definitely a plus for an instructional designer.
Also read My career journey starting as IT admin to Co-founding 6 companies
Latest Instructional Designer Interview Questions