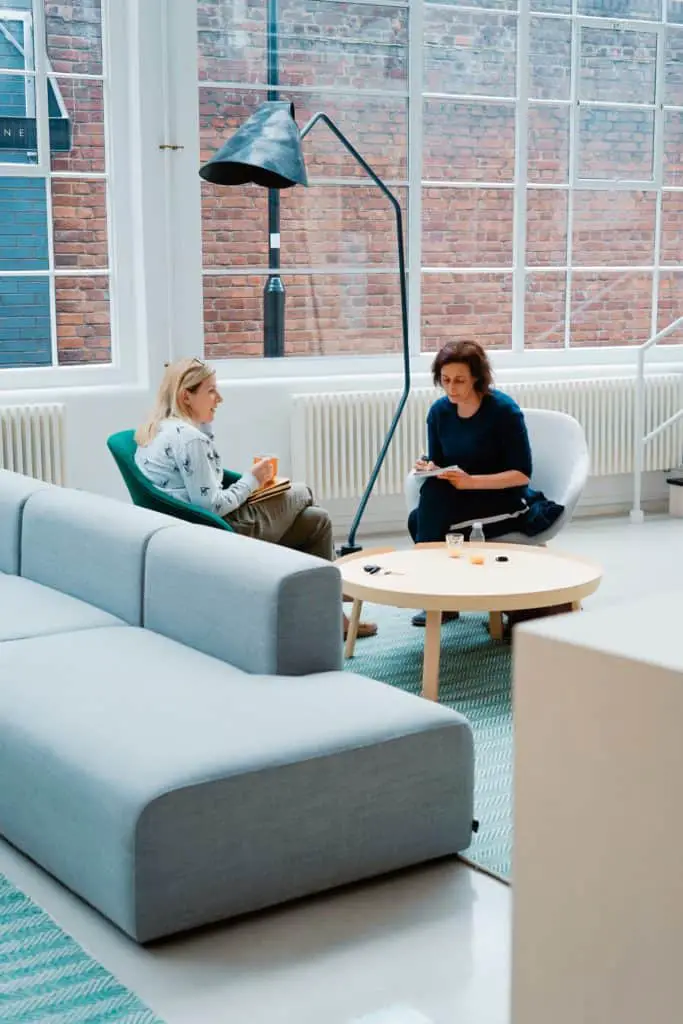 A pioneer in offering a wide variety of strategy, consulting, digital, technology, and operation solutions, working in Accenture is considered a far-fetched dream by many industry professionals. However, though candidates compete for neck and neck while appearing for case interviews that pose challenging cases and thought-provoking follow-up questions, using a well charted-out strategy, anyone can transform their aspiration of working in Accenture into reality.  So, in this article, we are going to present some of the Accenture Case Interview Questions here.
Accenture case interviews are a decisive stage in their recruitment process. Accenture stands out from the rest because written case details are handed out to the candidates at the very start of their case interviews. In broad terms, case interviews are of two types: (a) candidate-led case- where a candidate is given a single big case and is autonomous during the problem-solving process; (b) interviewer-led case wherein the case is controlled by the interviewer who poses several separate questions. Accenture case interviews are essentially a mix of these both.
Components of Accenture Case Interviews
Accenture Recruitment Process
The entire recruitment process at Accenture consists of three rounds: 
Resume Screening
On-campus Behavioral Interview 
In-office Interviews
A crucial component of Round 3, case interviews last for around one hour, wherein candidates are presented with a business case/problem. Next, the interviewer assesses you by focusing on your thinking pattern, analytical ability, and problem-solving skills.
Accenture Case Interview Questions
Aimed at analyzing candidate's well-structured problem-solving approach, Accenture case interviews combine interviewer-led and candidate-led formats with three types of questions:
| | | |
| --- | --- | --- |
| The Great Unknown | The Parade of Facts | The Back of the Envelope |
| Presents very few details assessed a candidate's ability to enquire about additional information demands a well-structured framework relying on fresh and accurate facts. | Presents abundant (sometimes even unnecessary) information assesses a candidate's ability to condense fundamental issues demands in-depth fact-based analysis. | Asks a key question while presenting little information assets a candidate's analytical and logical abilities demands a coherent thinking pattern process and a relative easiness with numbers. |
After a cursory look at the question types, let's delve deeper into the details concerning each question type along with their respective case examples and recommended approach:
The "Great Unknown" – This is the most common question type in Accenture case interviews which hardly gives you any details. Great Unknown's question bank aims to examine your ability to explore relevant and essential facts. 
Case Example
Your client is a leading producer of silicon-based circuit chips. Unfortunately, they have witnessed a constantly declining market share over the past three years. You have been hired to help them understand the factors behind this occurrence and what they could do to reverse this market trend.
Recommended Approach
As a candidate, you must proceed with asking these sorts of questions:
Has the company undergone any substantial cost increment in the past few years? 
Are there any new technologies in the industry that are earning market share?
What is the competitive advantage of the company (as in superior quality, diverse range, etc)?
The "Parade of Facts" – Presenting to you a plethora of information, the Parade of Facts' questions want the candidate to maneuver through a large pool of jumble of facts to get the hold of the problem's core and ascertain what details are relevant to the given key issue. 
Case Example
The client is a leading water bottle manufacturing company that wants to sell earthen bottles. They wish to enquire whether the market is big, could they earn substantial profits and how they could stand out from the competition. Some additional details given are as follows:
Consumers are currently buying $50 billion plastic water bottles per year
The product comes in different varieties with water holding capacity ranging from 1 gallon up to 4 gallons
The product is fragile and needs proper handling
The product is presently available in limited consumer test at $5 per cup
Recommended Approach
As a candidate, you must ask the following kinds of questions after considering the chief issue in this case that is to find out the market size and business profitability:
What is the approximated market size of the product?
What are the elements of the company's pricing structure?
What prices are consumers affirmative about?
The "Back of the Envelope" – These questions give little to no information and heavily rely on mathematical skills. In Back of the Envelope questions, candidates are asked to estimate the quantity of some daily-use items.
Case Example
Estimate the total number of food delivery drivers in Manhattan.
Recommended Approach
Assuming that Manhattan has 8 million people, you can estimate the market size by segmenting the population. Presume that Manhattan's population comprises 35% adult men, 35% adult women, and 30% children. Assuming that children don't order food and 60% of adults do so, estimate the average number of food deliveries opted by each man and woman per week. You can safely assume drivers are called 3 times a week in total. Hence, the total market size (per week) is 8 million people x 60% x 3 food delivery rides = 14.4 million food delivery drivers.
Steps To Solve Accenture Case Interviews
Solving an Accenture case interview involves six major steps:
Listen to the case. First of all, the candidate would receive a description of the case from the interviewer. This description could range from a couple of sentences to a long or even full page of details. You must consciously note down the most significant tidbits of information by paying attention to the context, the company, and the objective.


Clarify the problem. A crystal clear understanding of the business problem and its objective is pivotal for solving the case without failure. Thus, you must ask queries in order to clarify the business problem at hand. Subsequently, you should confirm the case objective with the interviewer to begin the case with the right approach.


Decompose the problem. In this step, the candidate is required to deconstruct the business problem rigorously and lucidly manner by creating a framework using which you could disintegrate complicated problems into smaller fragments.
Accenture's Case Interview Workbook presents the following infographic on creating frameworks for solving various kinds of cases: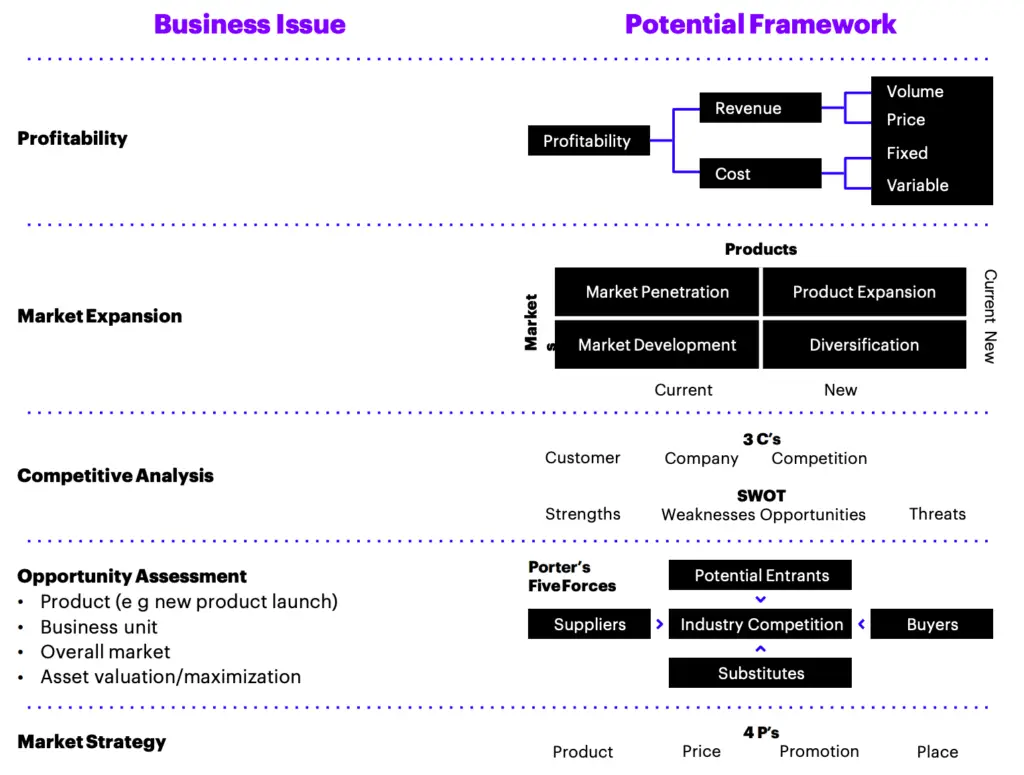 (Source: Accenture Case Interview Workbook) 
State your hypotheses. One must now list out possible hypotheses that precisely address the presented business problem. By noting down hypotheses, you would be able to better analyze and channelize your time in answering the correct questions.


Test your hypotheses. The moment you have got your hypothesis, the candidate will have to conduct analyses to further polish the hypothesis. On one hand, if your hypothesis goes completely wrong, you would have to formulate another hypothesis, while on the other hand, if the hypothesis is right, you must narrow it down and further fine-tune it.


Summarize your findings. This is the last step wherein you have to finally present your recommendation alongside the supporting rationale behind it. Later on, the interviewer may tell the candidate what actually happened with the business case that they worked on. Here, you must not panic if your approach is not similar to what really happened as candidates are not assessed on their answer but the overall process.
Essential Tips to Crack The Accenture Case Interviews
Following are some of the essential tips given to professionals preparing for Accenture case interviews:
Familiarizing with Case Examples. You should routinely analyze examples of candidate-led and interviewer-led cases to acquaint yourself with problem-solving methodologies.


Strengthening the Basics. Become a master when it comes to using hypotheses, issue trees, the Mutually Exclusive, Collectively Exhaustive (MECE) principle, and solution frameworks so that when the D-day comes, your quiver would have all the sharpened arrows to use.


Fully Understanding the Question. As a candidate, you just cannot afford to spend more than a half-hour in developing a flawless answer to a misinterpreted question. After consciously considering the problem, you should repeat it to the interviewer to cross-check.


Asking Insightful Questions. One must not hesitate in asking pertinent questions to the interviewer. Be it the full form of an acronym or you want to verify the details or anything else, a smooth flow of communication can make or break an Accenture case interview.


Performing Mock Interviews. What could be better than simulating a case interview environment beforehand? You could find a former consultant who could assist you in practicing case interviews.
Noting down the interviewer's feedback and constantly improving upon them would make you a top-notch candidate. Accenture not only looks for typical qualities in its consulting applicants like problem-solving skills, ambitious attitude, and leadership skills but also emphasizes soft skills such as poise, confidence, handling pressure, seamless communication, listening skills, business enthusiasm, decisiveness, and efficient time management. Thus, it is of prime importance to do in-depth research about Accenture and its previous projects. You could include these examples while answering specific project-related questions if you wish to outshine other candidates.
Frequently Asked Questions
Does one need to have an IT background for solving Accenture cases? Although IT-related knowledge is not necessary for management consulting positions, Accenture interviews may have IT-focused. Other than some IT-specific cases (e.g: Burger King's market share going down), the candidate could solve the case content-wise just like other case interviews.
Do Accenture case interviews rely heavily on mathematics? No, Accenture case interviews test candidate's consulting math just like other consulting firms and primarily look for structured problem-solving abilities with a systematic decomposition of complex problems and drawing executable long-lasting solutions.
Accenture Case Interview Questions 2021 [Updated]